Sipping in the Walla Walla Wine Region with Ashley Trout of Book & Bull Cellars
When I visited the Walla Walla wine country last year I had the chance to stop and sip at Brook & Bull Cellars. Not only did I fall in love with its Petit Verdot, but the story behind the winery too. There's always so much more beyond the bottle that I want to sip in.
I didn't have the chance to speak with the owner/winemaker, Ashley Trout during my visit BUT I recently attended one of her virtual wine tastings where I learned even more about her Walla Walla winery and background as one of the few female winemakers in Walla Walla (and the United States). You guys, she's a total rock star!
I'm super exited to share a recent interview I had with Ashley Trout over Zoom, aka a 2020 Covid-vintage interview. We chat about her journey into the wine industry and becoming an award-winning winemaker. Ashley also shares information on her two wineries, including her nonprofit winery, Vital Wines. AND, a little insights into the 2020 vintage and ideas on fun things to do in Walla Walla.
If you're panning to visit the Walla Walla wine country, make sure to add Brook & Bull Cellars to your sipping list. In the meantime, you can sip in a little Walla Walla right now. Cheers!
Ashley Trout of Book & Bull Cellars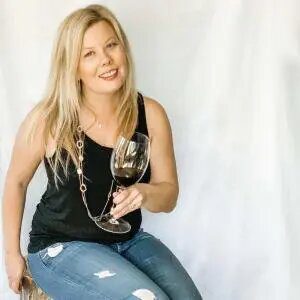 Elaine Schoch (pronounced the German way – Shock) is the editor and founder of Carpe Travel as well as an award-winning travel writer, wine judge, certified by the Wine & Spirit Education Trust (WSET) Level 2 and certified American Wine Expert. She is married to The Husband and has two kids, Princess One and Two – who's interest and knowledge in wine is quite extensive. Not to mention the stamps in their passports.