Exploring wine country from the comforts of home
Virtual wine tastings have become quite popular given the current state of the world. They serve as a great way to get together – social distanced – while sipping in wine country from the comfort of our own couch. (They also make for a perfect holiday gift for your wine and food loving family and friends.) But how do you pick a virtual wine tasting? What do you look for? And who is offering them?
These are all questions I found myself asking when a client recently reached out for help coordinating a virtual wine tasting for them and a partner to celebrate the completion of a project they'd been working on. (Virtual wine tastings aren't just for a "girls night out"! They can make for fun, socially distanced corporate events too.)
It turns out there are a variety of virtual wine tastings you can do. Be it a private virtual wine tasting for just your friends and family, a virtual wine tasting open to the public that's hosted by a wine shop or winery, and local restaurants hosting virtual food and wine pairings and more in-depth virtual wine tasting classes.
Given the variety to sift through, I've pulled together a collection of virtual wine tastings that bring wine country to you so you can sip in the holiday season with your friends and family no matter where you are. (I also pulled a few that just look fun, such as virtual wine tastings designed specifically for history and music lovers!) Note, I didn't pull a lot of local restaurants since you guys are all over the world! So, check with your favorite local restaurants to see if they're hosting a virtual food and wine tasting, and if they're not – recommend that they do!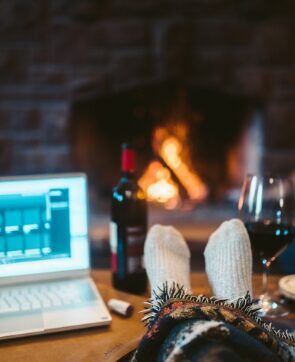 Wineries Offering Virtual Wine Tastings
If you have a favorite winery you want to revisit and/or one you want to explore, check online to see if they're hosting any virtual wine tastings. More and more have opted to offer this type of experience, even if it's just on a private level. You will need to purchase – ahead of time – the wines they plan to discuss during the virtual tasting. Keep in mind that if you're having these wines shipped you're going to want to get them at least a week ahead of time to ensure the bottles can "rest" before opening them.
Here are a few wineries offering virtual wine tastings I know and personally recommend.
Chateau Montelena, Napa Valley, CA
The legendary Chateau Montelena in Napa Valley offers a fun and educational virtual wine tasting that's as immersive and encompassing as if you were at Napa Valley estate yourself. You can experience the rarest of vintages to new releases and have the option to pair with food and learn how to prepare these pairings as well.
If you are interested in experiencing a virtual tasting with Chateau Montelena you can choose from a variety of options, including a virtual tasting and wine package where the selected wines (see variety of options here) are sent directly to all the participants followed by a fun and educational virtual tasting. Participants can also enhance the virtual tasting experience with culinary pairings in collaboration with the winery's artisan partners (The Lobster Shop, Stemple Creek Ranch, Liberty Duck, Journeyman Meat Co, Petaluma Pie Co and more) and can even take this option to the next level by adding on a cooking tutorial with a local Napa Valley Chef that will walk the participants through the process of preparing whatever pairing they've chosen.
Wine packages range from $125 – $1,325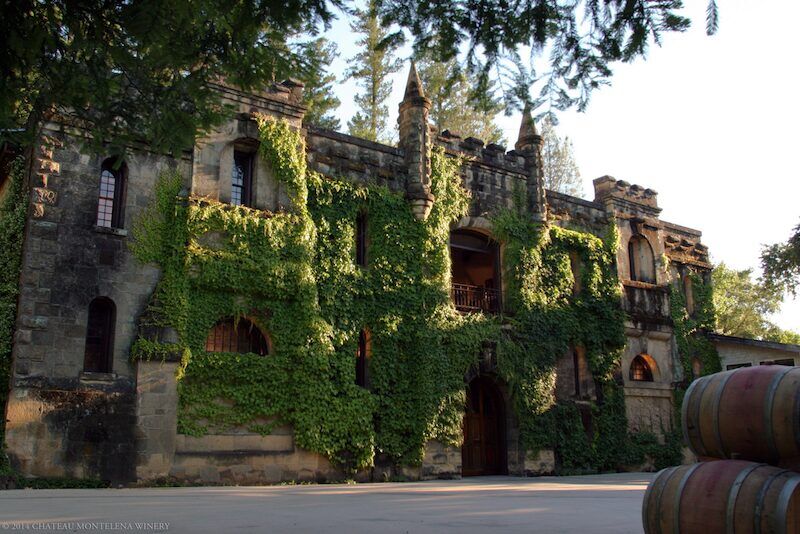 Gary Farrell Winery in Sonoma, CA
In March, Gary Farrell Winery in Sonoma County's Russian River Valley began offering three different virtual tasting experiences, each with a different theme and each hosted by one of the winery's estate sommeliers via Zoom.
The Pinot Noir Terroir Tour includes three single-vineyard Gary Farrell Pinot Noirs and costs is $220. The 94+ Point Wine Collection tasting includes three single-vineyard Gary Farrell wines (one Chardonnay, two Pinot Noirs) that have scored 94 points or higher and costs $185. The third virtual wine tasting is the Vineyard Icons – Library Flight which includes three single-vineyard Gary Farrell wines (one Chardonnay, two Pinot Noirs) sourced from iconic Russian River Valley vineyards. The cost is $205.
The wines are shipped to guests and a Zoom link is provided for the date of the reservation, when an estate sommelier conducts the tasting.
Get more details on their virtual wine tastings.

Brook & Bull, Walla Walla WA
If you're looking to explore and sip in Walla Walla wine, Brooke & Bull is a great winery to uncork. The virtual tastings are private events hosted by Ashley Trout, the winemaker. Not only is she an award winning winemaker, but she's a lot of fun to sip with. I've personally attended one of her virtual wine tastings and highly recommend it. The cost will depend on how you choose to customize your virtual wine tasting. Get more details.
Markham Vineyards, Napa Valley, CA
Markham Vineyards in Napa Valley has been offering many different virtual wine tastings from personalized tastings, to large group zoom tasting events to paired tastings featuring cheese experts, harvest dinners with two bottles of wine paired with a meal kit.
Markham District Appellation Virtual Tasting Series includes a 30-45-minute tasting for $115 for a set of three wines – 2018 Sauvignon Blanc, 2018 Chardonnay, 2018 Merlot. Details on the virtual wine tasting.
The Private Virtual Holiday Tasting offers a guided tour through the history of the winery, talks about the winery's estate vineyards highlighting Markham's sustainability initiatives, and tastes the wines with you, giving you a dedicated, hosted experience and platform to exchange thoughts, stories and ask questions. It's like having your own personal wine coach. Details on the virtual wine tasting.
 "Virtual experiences are a terrific way to connect with friends and family from afar. Particularly as we go into the difficult winter days, virtual wine tastings give us an outlet and change of pace as we stay home to keep ourselves and our families safe. "

Markham winemaker Kimberlee Nichols
Pence Vineyards, Santa Ynez Valley, CA
Pence Vineyards is offers a Virtual Three Course Wine Dinner expertly prepared by Chef Jake Francis of Valley Piggery and curated by General Manager Stephen Janes of Pence Vineyards and Winery. The cool thing is they can ship these dinners anywhere in the United States!!! (Could be a very fun way to "get together" with your family this holiday.) It's $250 per couple and includes three distinct course paired with three bottles from Pence Vineyards. More details on the virtual wine tasting and dinner.
Kuhlman Cellars, Texas Hill Country
Ninety percent of Texas wine is sold in Texas, but you can still sip outside of the Lone Star State through a virtual wine tasting. I suggest you look into Kuhlman Cellars. Not only is their wine remarkable but it has received international acclaim with two gold and three silver medals by Concours de Lyon for its wines. Winemaker, Bénédicte Rhyne is originally from Provence and has been pioneering wine in Texas for the last decade. If you're able to request her for your virtual wine tasting do it, she's amazing wealth of knowledge and very entertaining.
Get more details on the virtual wine tastings at Kuhlman Cellars.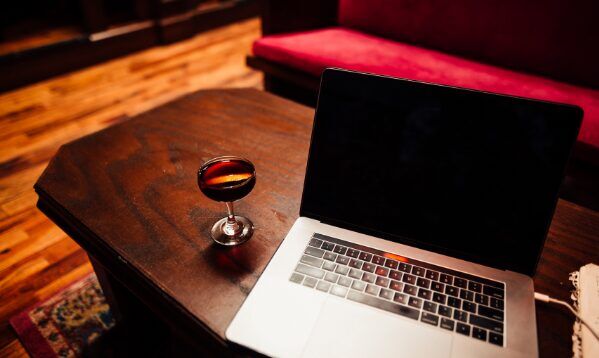 Virtual Wine Tastings with Your Own Private Sommelier
Samantha Sommelier
Samantha Capaldi is a sommelier, wine consultant and Instagram super star. Her tastings are both fun, tasty and educational. One of the fun things about Sam's tastings is the variety of offerings, such as sipping through Italy or comparing the same grape varietal like a Pinot Noir made in France and another from Oregon.
Sam will send everyone professionally designed wine tasting grids, wine tasting mats, custom wine and food pairing guide, along with a Wine 101 guide. She will link you to specific wines for you to purchase online through her partnered wine shop. They will be all bundled together, discounted, and ready to go to make the process easier for your tasting. Her tasting fee is $50/per person for parties of three or less and $40 for four or more. Get more details on her virtual wine tastings.
Sunday School Wine
Mallory and Martin Smith are two wine professionals in Portland, Oregon, who started Sunday School Wine and offer a variety of virtual wine tastings along with wine education classes. With their private virtual wine tastings each participant (or each location) will get three bottles of three different styles of from some of their favorite small-production wines. Details on their private virtual wine tastings.
As for their classes, they'll cover everything from the wine basics (how do I talk about wine, purchase it, or know how to express what I like?), to the wine world's fire-y hot topics (what the f— is orange wine, and isn't all wine "natural"?) and introduce you to a variety of winemakers around the world. Details on their classes.
Virtual Wine Tastings to Sip in a New International Region
Sip in Hungarian Wine
Taste Hungary is a multi-tiered company, dedicated to showcasing Hungarian cuisine and wine. The company is both a and wine tour company in Hungary, a wine tasting cellar and shop in Budapest. If you want to learn about Hungarian wine, this is it!!
 "We never planned on doing virtual wine tastings doing before Covid hit, but we've had a lot of success (and great feedback), so we will definitely keep doing it! Customers love the idea of bringing unique entertainment/combined with education into their home …we're providing as much education as we can! For us, virtual wine tastings have become a valuable way to make personal connections with customers during this time.  "

Carolyn Bánfalvi, Co-Founder
Taste Hungary offers two types of virtual wine tastings…including free Facebook Live tastings where they announce the wine in advance, and you can order it if you want, or just tune in and enjoy the tasting. You can also schedule your own Private Virtual Wine Tastings. You order the wine, and they'll ship it to all participants.
Get more details on the Taste Hungary Virtual Wine Tastings.
Bubbles in Champagne
Cynthia Coutu is the founder at Delectabulles is a Canadian champagne instructor and guide based in Paris. She focuses on champagnes made by women in her classes, and only take guests to visit champagnes estates/houses where women play an important role. That is when people were traveling. Today she's brought her tours online. Since bubble lovers live all around the world, she does not ship the champagne but provides a recommended list of champagnes to sip during the variety of virtual wine tastings she offers. Those tastings include Bubbly Badasses, which focuses on women in the history of Champagne. You can also select her Pairing Champagne and Food tastings, deep dive into all the factors that influence the taste profile of a champagne (the theory) and recommendations for pairing (the practice).
Virtual Wine Tastings for the History Lovers…
Penn Museum, Philadelphia, PA
Although not a winery, the Penn Museum in Philadelphia (one of the world's top museums of archaeology and anthropology) offers a virtual wine experience like no other. The Penn Museum's online Ancient Alcohol: After Hours-Tour + Wine Pairing uncovers 9,000 years of wine culture around the globe. It's a BYOW but they recommend bringing a rosé, Gewürtztraminer, and Sangiovese of your own preferred brand, as you discover the role of wine throughout history—from agriculture and trade to social life and religion, virtually explore how our ancestors partied like it was 7000 BCE.
There are two virtual wine tastings coming up: Saturday, Dec. 12, 2020 and Friday, Jan. 22, 2021
Cost per person: $10, BYO wine.
 "We launched our virtual Ancient Alcohol: After Hours tour (focused mainly on beer) in 2020. It included a section about wine in Ancient Greece—and how the Ancient Greeks would play a game that involved throwing wine at friends. But, we knew that there was a lot of interest in expanding the tour to focus on wine throughout time, especially for connoisseurs. During the pandemic, we wanted to bring the content of our "in person" Ancient Alcohol specialty tours into a virtual format, expanding access to our research and collections."

Jill DiSanto, Penn Museum
Virtual Wine Tastings for the Music Lovers…
Five Senses Tastings
Five Senses Tastings is focused on curating (now virtual) full-sensory tasting experiences that meticulously pair music, wine, food and sweet treats in perfect harmony. During one of their full-sensory tastings, you will be led through two to three different "acts" of music, wine, and other treats. Each act pairs – which can be customized – includes one wine with a piece of music and a cheese or sweet treat— in total, that's two to three wines, pieces of music, and treats per 60-75 minute tasting.
For their private tastings, the cost per person is typically between $75-$150 per person, and the event hosts anywhere between 10-100 attendees.
 "We think the value in a virtual tasting— especially a full-sensory one— lies in its ability to help us, as we like to call it, "switch off to switch on." Virtual tastings offer us the opportunity to practice mindfulness, as well as an escape from everyone's least favorite symptom of social distancing: the mundane-yet-exhausting days blurring together."

Kala Maxym, Founder of Five Senses
There are a variety of virtual wine tastings out there to sip in. Whichever route you go, enjoy and raise a glass to sipping in a little wine country. Cheers!