CARPE TRAVEL WINE 101:
GET TO KNOW THE GRAPES
Tempranillo ​(tem-pra-nee-yo) is a red wine grape coming from northern Spain's Rioja and Navarra wine regions.
A vigorous grape, it requires a great deal of work in the vineyards to manage quality. With vines the world over, Tempranillo wine varies in style from juicy younger expressions to serious, structured fine oak-aged wines.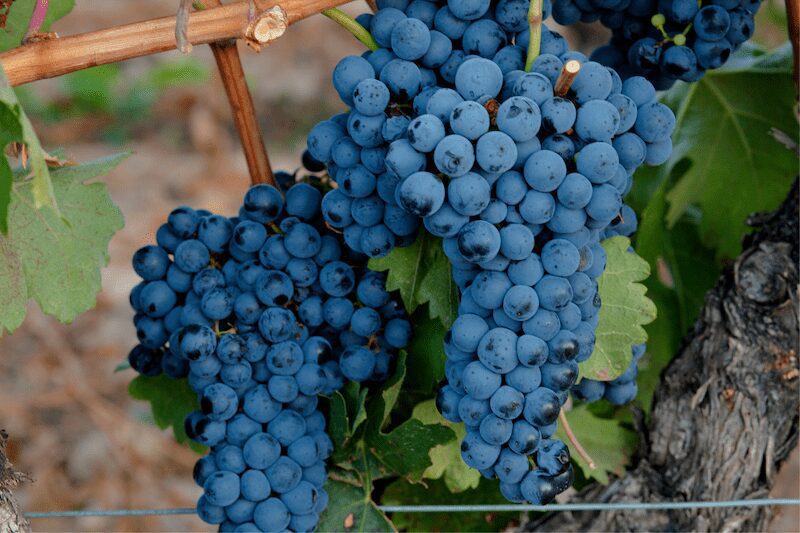 Dominant flavors include red and dark fruits of cherry and plum mixed with earthy, herbal, leather, and tobacco leaves.
The taste profile of Tempranillo varies greatly on the winemaking style, but there are characteristics that continually shine through. Wines from the Tempranillo grape tend toward medium- to full in body with moderate to high tannin and moderate acidity.
Oak aging is common with traditional winemaking styles typically utilizing American oak. Today, more modern styles are adopting the use of French oak. The oak aging adds vanilla and cocoa powder flavors.
While the Tempranillo grape does not naturally have high levels of acidity, regions with high diurnal temperature variations (high / low day to night temp fluctuations affecting ripening patterns) support sugar and color pigment development in the day while the cooler night temps preserve acidity, making the most of the grape's natural characteristics. That said, high altitude creates ideal temperature variations yielding bright, lively, and fruity wine with a perfect balance of warmth and zest.
FUN FACT
In 2020, the Tempranillo grape was listed as the third most planted variety around the globe.
WHERE TO FIND THE Tempranillo Grape
The bulk of the world's Tempranillo grapes are grown in Spain (with 80 percent of all Tempranillo vineyards) as well as Portugal (best loved in port wine) and Australia. In addition, this vigorous grape is showing up in different parts of the world in warm, sun-drenched climates.
The vines do best in high elevation regions like in burgeoning Mexican wine regions including Central Mexico and Baja. In the USA, find Tempranillo in New Mexico, Texas, Arizona, Walla Walla, southern Oregon, and more.
SPAIN
In Spain, Tempranillo reigns supreme in Rioja and Ribera del Duero and at the base of nearly all the red wines made. To speak a little more to oak, American oak is the traditional barrel used by Rioja winemakers. The flavor profile shows a great integration of the vanilla and coconut notes. Moving west to Ribera del Duero, you see more French barrique and second or third-pass (reused) barrels. Toning down the oak notes lets the grape's fruit come out with the oak flavors more nuanced. But we are starting to see the two styles coming together, bringing out the best of both.
PORTUGAL
Portugal's Douro Valley is well known for the Tempranillo wines; here the grape is called Tinta Roriz. Find dry table reds as well as the country's signature Port wine. Unlike in Spain, it is used blends versus a single variety wine.
Other names to look for when exploring Tempranillo wine
Aragones
Cencibel
Santo Stefano
Tinta de Nava
Tinta Roriz
Ull de Llebre
When is the Right Mood for Tempranillo Wine?
Fireplace Wine
Chili Cookout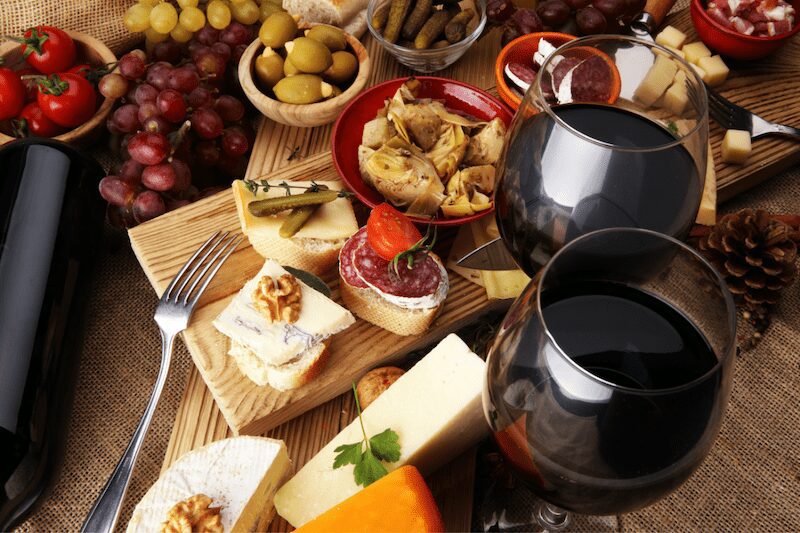 HOW TO ENJOY TEMPRANILLO WINE
TEMPRANILLO FOOD PAIRING
Enjoy Tempranillo wine with roast lamb, pork tenderloin, BBQ, Mexican food. 
PRACTICAL TIPS FOR TEMPRANILLO WINE
Glassware: Try Syrah glasses. Shaped a bit taller than Cab glasses with a mild taper at the top, the glass was crafted to put emphasis on the fruit while allowing tannins to soften through air contact.
Shelf life: Five to 10 years.
Bottle prices: For a younger Tempranillo wine, expect to spend about $10-$20. For an aged bottle, $25-$35.
TTEMPRANILLO WINE RECOMMENDATIONS
Looking for Tempranillo recommendations? Here are a few suggested sips.
Carpe Travel collaborated with Valerie Quintanilla to compile the grape varietal overviews. Valerie and her son Il Ragazzino reside in Barolo, Piedmont, Italy, by way of Denver, Colo. She runs a custom Italian travel planning business while moonlighting as a marketing consultant for European wine and travel companies. She has been featured in Wine Enthusiast, Food & Wine Magazine, Open Skies (Emirate Airlines inflight magazine), and more. Follow her expat and wine chronicles here https://linktr.ee/valeriekq.