The Walla Walla wine region in Washington state has many well-established wineries dotted amongst its hillsides together with popular tasting rooms in its historic downtown. In recent years, many young wineries have been established at the Regional Airport of Walla Walla just north of downtown thanks to the wine 'incubator' program created to help fledgling wineries take off. Today, the area has been dubbed as the Walla Walla Airport District and is one of THE places for wine lovers to visit and sip-in Walla Wall wine country.
I have to admit, I was totally intrigued when I learned about the wine incubator program. Having worked with tech startups most of my career – the one that's not all about wine – I've seen my share of start-ups fail. When it comes to starting up a winery, the difficulties and expenses can be so much that people just don't – or can't – even make a go of it.
The Walla Walla wine incubator program acts as a runway for winemakers to take flight as it provides just about everything winemakers need to get started – equipment, space, marketing, etc. You know, all the things that are SUPER expensive for most small businesses when they're starting up.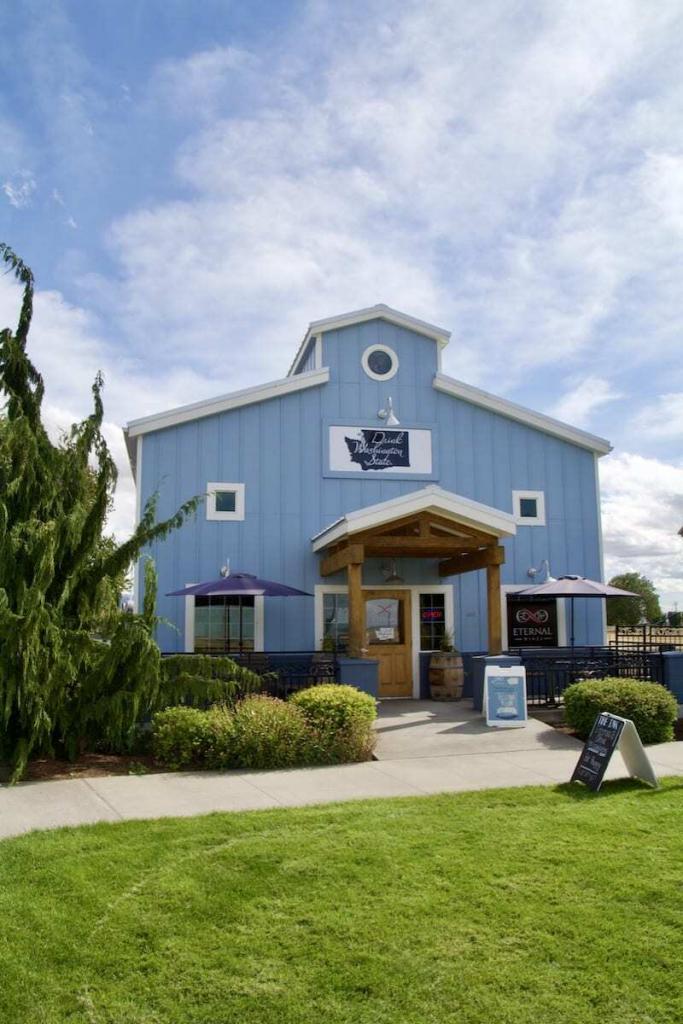 The Walla Walla wine incubator program was made possible by two prominent names in winemaking, Norm McKibben of Pepper Bridge Winery and Dr. Myles Anderson of Walla Walla Vintners. Working alongside the Port Authority, they created a program that would help the graduates of the Walla Walla Community College Enology and Viticulture program. The wine incubator program is funded by grants from both the Port and the state.
The Walla Walla Community College Enology and Viticulture program is a two-year hands-on wine education program preparing students to enter the world of winemaking. I have to admit, it's a program I would personally love to take…I just need to convince the family to move to Walla Walla. 😉
Let's Talk About the Walla Walla Airport District Wineries
Wineries in the Walla Walla Airport District are located on land that once the hospital for the Army Airbase during the Second World War. When the buildings were demolished in 2000, Piper Avenue was transformed into a collection of winery incubator buildings.
The Incubator buildings were built to help new wineries improve their chances of creating a successful business and to keep costs down during the first few years of operation. Each Incubator building was purposefully designed and built to be able to accommodate a standalone, 2,000 case production winery and tasting room.
From Small Beginnings
Once a winery is accepted into the program, they can take advantage of production and tasting room space at reasonable prices. Plus, they had the option to access resources in the Walla Walla Institute for Enology and Viticulture, Walla Walla Wine Alliance and the Walla Walla Small Business Center. They're also able to draw on the experience and expertise of existing winery and vineyard owners in the area. Wineries are encouraged to 'graduate' from the program within six years. During this time, the case production of each winery is limited to the 2000 capacity while the initially inexpensive rent on their space increases incrementally.
To date, the program has been the springboard for many successful local wineries, including Walla Faces, Adamant Cellars, Trio Vintners, Cavu Cellars, Lodmell Cellars and Kontos Cellars. I had the chance to sip in Kontos Cellars new tasting room in downtown Walla Walla. I highly recommend you check it out. The wine is stunning and the winemaker – Chris Kontos – is usually on-hand to pour so you'll be in great company.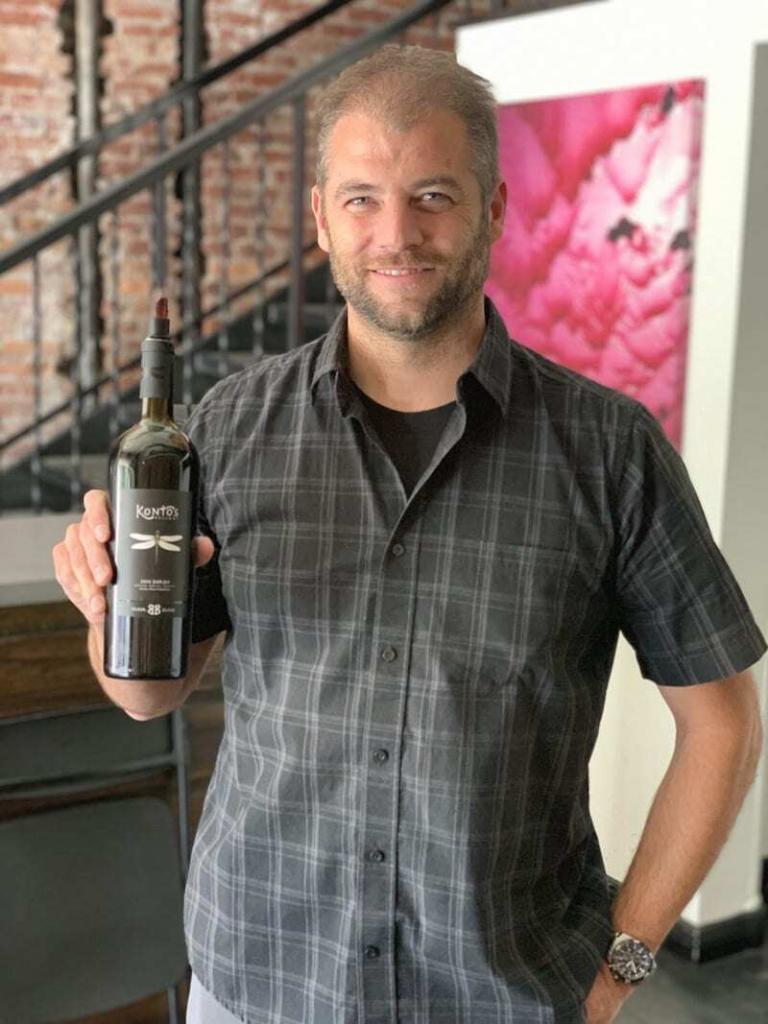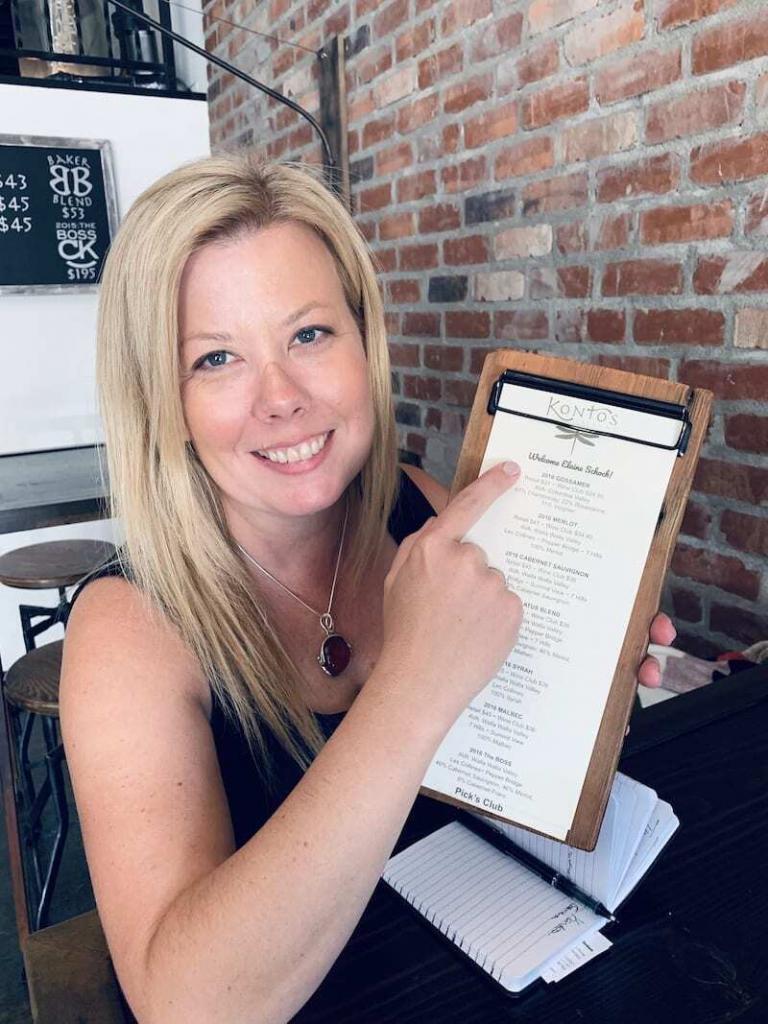 A Distinctive Alumni
Notable wineries and graduates of the Incubator program include…

Adamant Cellars which was established in 2006 by Devin and Debra Stinger. As owners and winemakers, they are passionate about producing outstanding wines featuring Walla Walla AVA varietals.
Cavu Cellars, set up by Joel Waite and his parents, Jim and Karen, was accepted as an Incubator tenant in 2008. Joel had previously been a student of Walla Walla Center for Enology and Viticulture. The winery's name came from the old aviation weather acronym, 'Ceiling and Visibility Unlimited' as a nod to the airport location and the fact that Jim was a former Army pilot.
Dunham Cellars: Following a 6-month internship at Hogue Cellars in Prosser, Washington and a spell as an Assistant Winemaker in the Walla Walla Valley, Eric Dunham convinced his parents to help him set up Dunham Cellars in an old Second World War airplane hangar at the local airport. David and Cheryll Blair joined the enterprise a couple of years later.
Wineries of the Future
As wineries graduate from the program, other tenants move into the Walla Walla Airport District. Currently, the Incubators are home to…
Eternal Wines: Winemaker Brad Binko had a dream of creating 'age-worthy wines that show a place and time' and he's achieved this with the production of single vineyard Rhone varietals – Syrah, Marsanne, Roussanne, Grenache Blanc and Viognier. Talk about making a dream come true…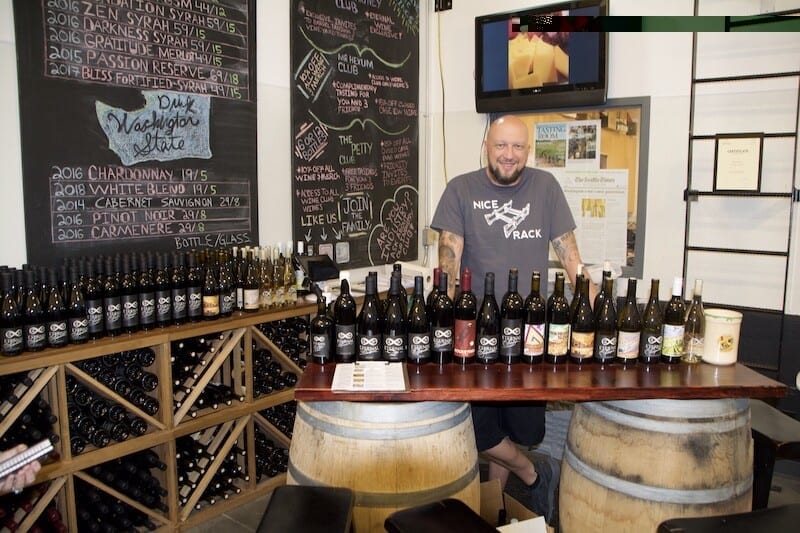 I had the chance to meet and chat with Brad on my visit to Eternal Wines and absolutely loved everything I sipped. As a certified sommelier, Brad ran fine dining wine programs in Charleston, SC before moving to Walla Walla to attend the WWCC Enology and Viticulture program. Upon graduating, he was accepted into the Incubator program and is quickly rocking on his wines. his fortified Syrah is A.M.A.Z.I.N.G.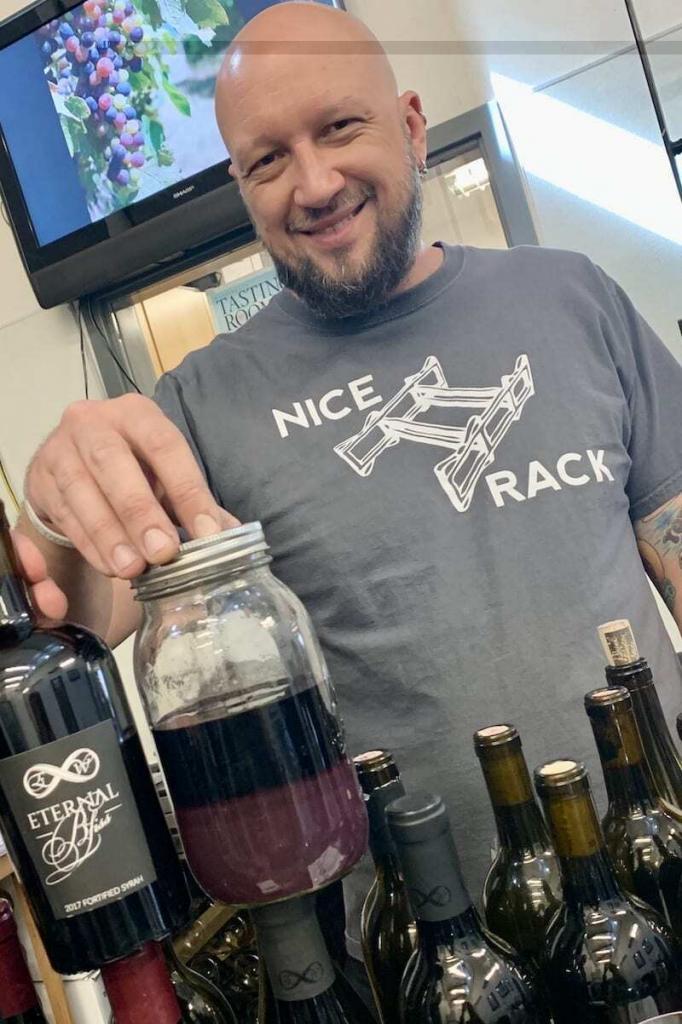 One of the more fun things he's doing is this sister label, Drink Washington State which is focused on blends from the individual AVA's in Washington. I think it's fun to showcase each AVA and they're offered at an amazing value. This line has a larger production, is ready to drink and delish! Just look at all the awards the wines have received.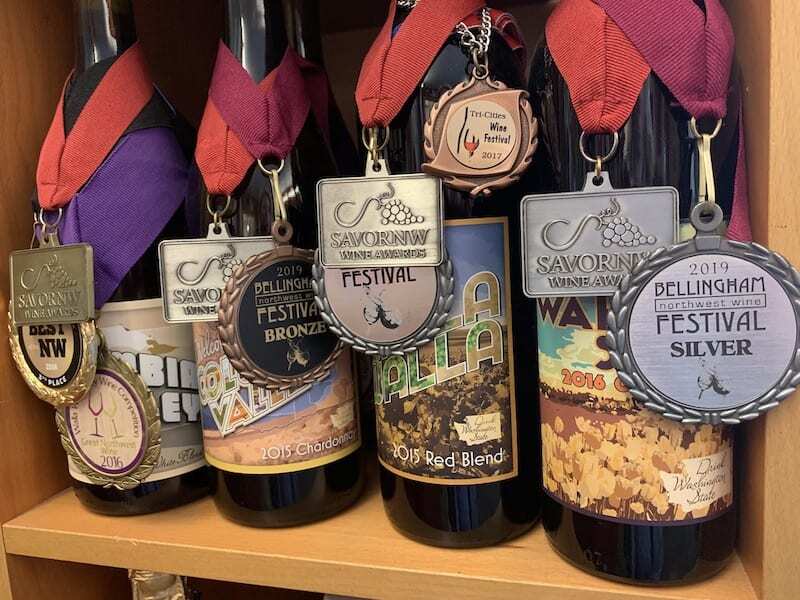 SMAK Wines: Owned and operated by Fiona Mak, SMAK focuses exclusively on making rosé wine. She – and I – are adamant that rosé isn't just a summer wine but an extremely versatile wine in its own right. Using different varieties of grape and methods of winemaking, Fiona has created different rosés to suit all seasons. (Say hello to rosé every day!!) To celebrate the seasonal variations, the tasting room at SMAK changes its appearance too. Pay a visit between 11am to 4pm from Thursday to Sunday.
Dillon Cellars: Located at 596 Piper Avenue, Dillon Cellars produces small lot Chardonnay, Merlot and Syrah wines using modern methods and tools alongside some of the age-old techniques that characterized hand-crafted wine. The owner, Mark Dillon Leahy, has extensive experience of winemaking under his belt having studied and worked in nine winemaking regions across France, Spain, Portugal and the USA.
Golden Ridge Cellars: Headed up by Michael Rasch, the Golden Ridge Cellars produces award-winning Cabernet Sauvignon, Merlot, Cabernet Franc and Malbec made from grapes from their vineyard in the Walla Walla AVA.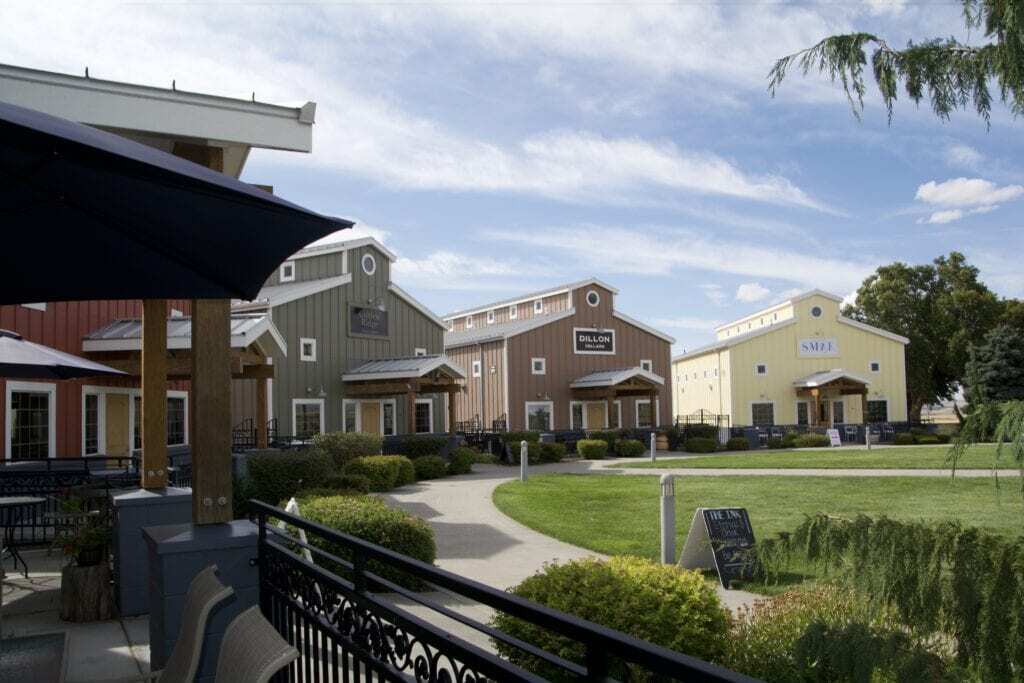 Walla Walla Airport District = Perfect Walking Wine Tour
In addition to the incubator wineries, the Airport area is home to over 20 wineries. In addition to the wineries mentioned above, you'll find 428 Wines, Buty Winery, Cougar Crest Winery, Ensemble Cellars, Five Star Cellars Winery, James Waite Winery, JLC Winery, Revelry Wines, Stephenson Cellars, SYZYGY and Tamarack Cellars Winery.
Their tasting rooms are housed within old hangar buildings, Second World War mess halls and firehouses. And, as they're all located in close proximity to each other, it's a great way to spend a day exploring the wines of Walla Walla Airport District.
If you like this, you'll love these…