Do you have a list of 'must-see' places? If you're like me, most of the places on that list probably have at least something to do with wine. Well, here are five more to add to your list. Whether you're an oenophile or just a history buff/grape nut, these historic American wineries are absolutely not to be missed!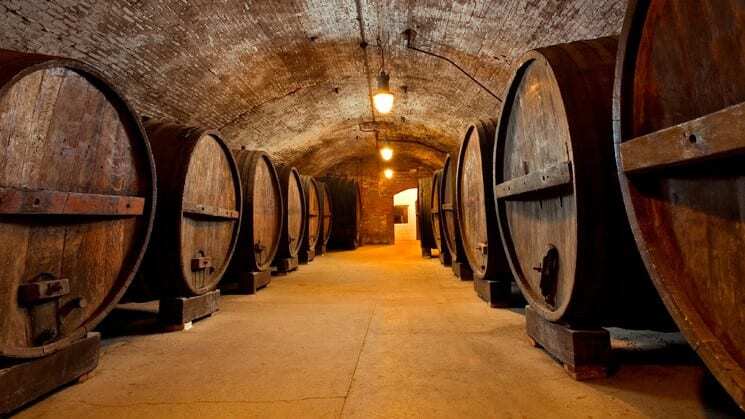 Brotherhood Winery, New York
We'll start our historical tour off with America's oldest continuously operated winery (since 1839). The winery was started by a French Huguenot immigrant cobbler named Jean Jacques. He bought land and started planting grapevines in the Hudson Valley in 1810. By 1839, it was time to build cellars and start making wine. Mr. Jacques' original cellars are still a part of the oldest and largest wine cellars in the country.
The rest of the extensive underground labyrinth was hand excavated in the late 19th Century when the Jacques family sold the winery to New York City wine merchants Jesse and Edward Emerson. The Emerson brothers blended their new, high-quality wine with a lower quality product being produced by the Brotherhood of the New Life, a Utopian commune they represented. When the commune dissolved, the brothers renamed their winery in its honor.
When National Prohibition started on January 16, 1920, it was a death knell for most of America's wineries. Not so with the Brotherhood Winery! It managed to stay afloat by continuing to sell sacramental wines, along with 'medicinal' port. Only with a prescription from a doctor, of course!
By the end of Prohibition in 1933, the winery was off and running. It had approximately half a million bottles of its signature Grand Monarque sparkling wine in its cellars. Louis Farrell, the owner at the time, was dubbed the 'Champagne King of America' because of this treasure trove! He was also the person responsible for starting 'wine tourism' in this country.
Where: The winery is part of the Hudson Valley's 80-mile Shawangunk Wine Trail. It's about an hour and a half drive north of NYC. See our wine travel guide to New York.
Tours and Tastings: $8 and $10 respectively, or $15 for both.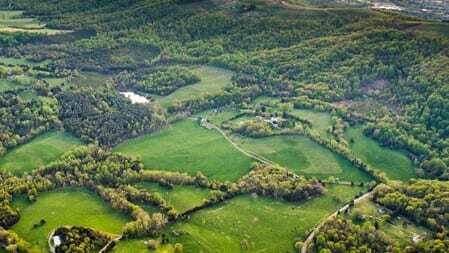 Jefferson Vineyards, Virginia
With a history that dates back to the origins of America, Jefferson Vineyards is a true American classic. The origins of this Virginia vineyard date back to 1773 when Thomas Jefferson and Phillip Mazzei chose this site as Virginia's first wine company. The company held 38 shareholders including many well-known Colonists such as Jefferson and George Washington. Sadly, during the Revolutionary War, in 1774 the vineyard was destroyed.
Cut to 1939 the revival of the was property begun by Shirley and Stanley Woodward Sr. In the following 40 years the site acquired more historical land and was placed under conservation easement. Notable visitors include President Harry S. Truman. In 1981 Shirley and Stanley hired Gabriele Rausse who planted Chardonnay, Cabernet Sauvignon, and other grape varietals to the property establishing two vineyards on the property and restoring it back to its original use. In 2013 Jefferson Vineyards won a double gold medal for their 2013 Viogner at the 2014 San Francisco International Wine Competition. For the past 40 years, three generations of Woodwards have curated Jefferson Vineyards, and they continue to do so today.
Where: Charlottesville, Virginia along the Virginia Wine Trail, between Monticello and Jame's Monroe's Highland.
Tastings and Tours: Tastings and tours are currently available by reservation, so make sure to call in and book your spot before they fill up.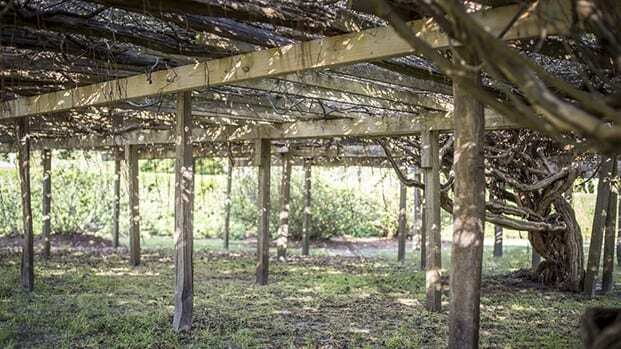 The Mother Vine, North Carolina
The Mother Vine is a massive scuppernong grapevine (a variety of muscadine) that is believed to be America's oldest cultivated grapevine. In 1585, the second wave of English settlers arrived at Roanoke Island on the Outer Banks of North Carolina (the first batch vanished in one of America's greatest mysteries). They found a land so overflowing with grapes that Sir Walter Raleigh described them as "covering every shrub and climbing the tops of high cedars." Naturally, they used the bounty as the basis for a vineyard. The Mother Vine is believed to date back to that early vineyard.
Jack and Estelle Wilson are the current 'keepers of the vine' and welcome polite visitors to visit this incredible American treasure. As Estelle says, "We might own the land but the vine belongs to all people."
Where: The Mother Vineyard subdivision is on the sound side of Roanoke Island, approximately two miles south of Fort Raleigh.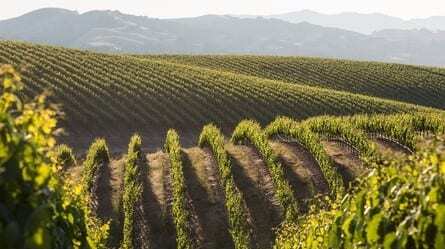 Wente Vineyards, Livermore, CA
The country's longest, continuously operated family-owned winery, Wente Vineyards was founded in 1883. This vineyard is still managed and operated by the Wente family, who have a proud history of wine advocacy. Best known for their Chardonnay, the Wente clone, which was introduced in 1912, is now responsible for over 75% of California Chardonnay wine.
Five generations of Wente's have worked on and loved this historic vineyard, and it is loaded with amenities that make it a luxury location to visit.
Where: Livermore, California
Tours and Tastings: Wente offers a variety of tour and tasting options including "Sunday In The Caves" which provides a wine and cheese pairing experience in their historic sandstone caves for $45 a person.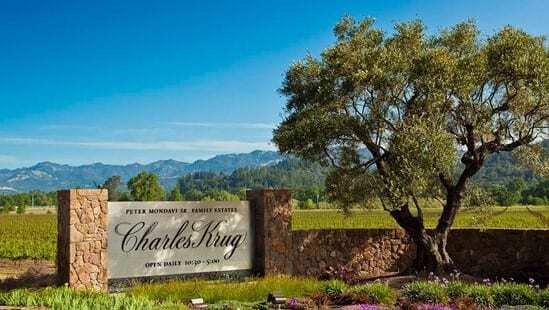 Charles Krug Winery, Napa Valley
In 1861, Charles Krug established what is today Napa Valley's oldest wine estate. The winery that really started it all and helped lay the groundwork for what Napa Valley is today.
The Mondavi Family purchased this already iconic estate in 1943, where Peter and Robert Mondavi ran it together with their father, until Robert left in 1966 to open the Robert Mondavi Winery. Peter and his children have since run Charles Krug, marking 75 years and four generations of the family business. (Peter died in 2016. His children carry on the family business and legacy of his wines.)
Fun Fact: Charles Krug is home to California's very first wine tasting room.
Tastings: Tastings are available daily at $45 per person.
Pleasant Valley Wine Company, New York
The Pleasant Valley Wine Company became America's first bonded winery soon after its founding in 1860 by Charles Davenport Champlin and 12 other businessmen. It has changed hands several times in the 160 years since. It's currently owned by a local family.
In 1865, the winery began making Sparkling Catawba. Just two years later, that sparkling wine won an honorable mention award at the prestigious Exposition Universelle in Paris. It was the very first American sparkling wine to win a European award. In Vienna in 1873, the company's American champagne won first prize and was awarded the first of its many European gold medals.
In 1980, eight of the original winery buildings were placed on the National Register of Historic Places, a fitting tribute to the long and significant history of this important American winery.
Where: The village of Hammondsport is on the south end of Keuka Lake, one of New York's famous Finger Lakes (it's the Y-shaped 'finger').
Tours and Tastings: Guided tours of the winery are $5 per person. Self-guided tours of the world-renowned Great Western Winery Visitor Center are free. Wine tastings are free except for groups of 8 or more, which are $3 per person.
Stone Hill Winery, Missouri
Originally established in 1847, Stone Hill Winery in Hermann, Missouri was the second largest winery in the United States before National Prohibition hit and destroyed this blossoming industry, putting a halt to wine production. Before this point, Stone Hill had grown a world wide reputation, winning gold medals in eight world's fairs, and by the 1870's, they were shipping 1,250,000 gallons of wine per year.
New life was breathed into the winery in 1965 when the winery was bought by local farmers Jim and Betty Held. Together, with their four children, they moved into what remained of the winery and began a long renovation project to restore it to its former glory. Their mission: producing and marketing exceptional wine and placing Hermann back on the map as a renowned wine-producing area.
Fast forward to present day, and Stone Hill is Missouri's oldest and most awarded winery. Their team is again producing wines that are receiving international acclaim, and they have won more than 4,000 awards since 1991.
Where: Hermann, Missouri as one of seven family-owned wineries on the Hermann Wine Trail.
Tours and Tastings: Regular tours are $5 per person and occurring daily on the hour. They include six samples. Stone Hill Winery also offers additional private and group tour options if you are looking for a more tailored experience, including their Grapes to Glass VIP tour and tasting.
Inglehook Winery, Napa Valley
The Inglehook Winery was founded in 1879 by Gustave Niebaum, a Finnish ship captain turned fur-trader turned vineyard owner. He produced America's first Bordeaux-style wines. Some of the greatest red wines ever produced came from this legendary winery in its heyday under then-owner John Daniel Jr. (Gustave's great-nephew).
From the end of Prohibition until the sale of the winery in 1964, Inglenook Winery was revered for its Napa Valley Cabernets. Unfortunately, no one has discovered the secret to those amazing wines. After passing through many hands, the winery now rests firmly in the palms of Francis Ford and Eleanor Coppola, who share John Daniel Jr.'s desire to produce some of the finest red wines in the world.
Where: The Napa Valley.
Tours and Tastings: $65 per person for a walking tour and seated tasting of wine and artisan cheese pairings, $55 for the tasting without the tour.
Buena Vista Winery, Sonoma
Hailing as the first premium winery in California, Buena Vista Winery has a colorful past sure to delight wine and history enthusiasts alike. The winery was founded in 1857 by the self-proclaimed "Count of Buena Vista," Agoston Haraszthy, who was a flamboyant character that immigrated from Europe in 1840 in search of "purple gold" in Northern California. His immigration is rumored to be fueled by tales of political exile and intrigue.
Despite the Count's untimely death in 1869 in a crocodile-infested river in the jungles of Nicaragua, the winery continued to endure. It is now managed by the Boisset Family Estates who are committed to continuing the vision and legacy that the Count first brought into fruition 150 years ago.
Where: Just outside the town of Sonoma. While you're in Norther California, take a look at all there is to do.
Tours and Tastings: The winery is open for tastings and your year-round. Parties of 7 guests or less are $20 per person. Groups of 8 or more are $30 per person.
Baker-Bird Winery, Kentucky
Fun question: Which American winery is the only one to have survived a Civil War battle? Why the Baker-Bird Winery, of course! This winery is also famous for being the oldest commercial American winery that still owns its original vineyard. In fact, those vineyards are on the National Registry of Historic Places. The winery buildings are too, only they're listed separately!
This winery likely owes a debt of gratitude to Nicholas Longworth, who championed American winemaking in the area in the early 1800s. Abraham Baker, Jr, grandson of distiller John Baker, had purchased the land in 1798. Perhaps inspired by Nicholas Longworth, he built the winery in the 1850s. By the 1860s, half of all the wine drunk in America was coming from this area!
Where: Augusta, KY, on the southern bank of the Ohio River in the historic Ohio River Valley.
Tours and Tastings: There are two tours available at $10 per person each. The 30-minute Historic Winery Tour covers the history of winemaking in the Ohio River Valley. During the 40-45 minute Cellar Tour, visitors get to bottle wine like it was done in the 1850s. The winery also offers cheese tastings to pair with wine or bourbon for $12 – $15 per cheese plate.  
Sip In More Wine 101…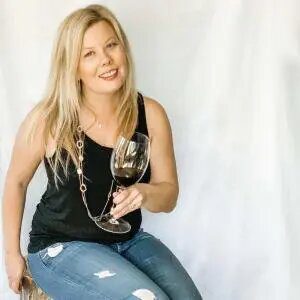 Elaine Schoch (pronounced the German way – Shock) is the editor and founder of Carpe Travel as well as an award-winning travel writer, wine judge, certified by the Wine & Spirit Education Trust (WSET) Level 2 and certified American Wine Expert. She is married to The Husband and has two kids, Princess One and Two – who's interest and knowledge in wine is quite extensive. Not to mention the stamps in their passports.