Pinot Noir and Chardonnay are two of my favorite summer wines. This summer I discovered two new favorites from Phelps Creek Vineyards in the Oregon wine country. I recently had the privilege to interview its winemaker, Alexandrine Roy who brings a bit of old world to new world winemaking. Alexandrine is a fourth-generation winemaker at Domaine Marc Roy in the village of Gevrey-Chambertin in Burgundy France. She joined Phelps Creek Vineyard to make a special Cuvee of their Pinot Noir. She has since taken over as the director of winemaking while also maintaining her role at Domaine Marc Roy. Talk about a commute… She visits four to six times a year to check in on the vines, right about the time she's finished bottling wines in France she heads back to Oregon for harvest. All for the love of wine…
A little on Phelps Creek Vineyard…
Phelps Creek Vineyard is a small boutique winery in the Oregon wine country focused on estate grown Pinot Noir and Chardonnay. The vineyard is located in the Columbia Gorg and compromised of 30-acres. Phelps Creek Vineyards emphasis on quality over quantity is apparent in it's wine; it only produces 5,000 cases.
A chat with Alexandrine Roy, Winemaker at Phelps Creek Vineyard…
You're a fourth generation vigneron, is this something you always knew you wanted to do?
I was never asked the question really. It came out naturally as I was growing up. I don't think you can decide to "be" a Vigneron when you were born from parents who run an estate, where you are supposed to represent the fourth gen
eration.?In this case, you are a Vigneron or not. That's it. And, there is definitely no doubt that I am a Vigneron.
How long have you been making wine?
While I was a student, I did my first vintage in 1999 at the age of 19, for a training period at Pommard, Burgundy. Then, I did another training period in winemaking in 202 in Bandol; which is located in the South of France.
I did my first vintage in my own place in 2003, when I took over the estate along with my parents. Then in 2004, I had the chance to work as well in Australia in the Victoria area and in 2005 in the Marlborough region of New Zealand, in addition to my own winemaking in Gevrey-Chambertin. And, in 2007, I met Bob Morus, owner of Phelps Creek Vineyards at the International Pinot Noir Celebration.
He offered me to join his team as a guest winemaker and since 2012, I am responsible for the totality of the wine production there. So, talking about numbers, I did 10 vintages in Gevrey-Chambertin, this year is the 7th one at Phelps Creek vineyards, for a total of 22 vintages!
How did these other regions influence your winemaking?
I learned a lot about how the general organization functions at each location. Because the facilities and companies were so large, it was not possible for me to transfer the winemaking techniques to my own property's practices.
I was working with chemistry at the facilities during my training period. This was helpful because I learned how to apply chemistry to fix a problem in case you meet an issue in the winery. In general, I do not use chemistry for my winemaking; it is only used if I encounter a problem.
You're originally from France, what brought you to Oregon to make wine?
First, I would respond with the Pinot Noir grape varietal. If there were no Pinot noir grapes in the area, I don't think I would have been interested in making wine in the area. Then, the place: Oregon- and especially the Gorge is such a fantastic place to be and to grow Pinot Noir.
I consider myself very fortunate to have my estate and make wine from one of the most acclaimed wine region in the world. But I am still very open minded and consider this relationship to be a chance to learn more about this grape by working outside my boundaries, experiencing new things and getting more experience too.
Are there things about the Columbia Gorge AVA that you find unique for growing wine?
I definitely think Phelps Creek Vineyards has a great location for Pinot Noir and I am very excited to work with those grapes on volcanic soils. The expression of the grape is then completely different of what you can experience somewhere else. I like the natural balance and body that you can get if you are smooth with your grapes, and the elegance. I am not looking for over-extracted Pinot Noir, but really looking on the freshness, elegance and balance. This is a place where I can make it.
Clearly there are differences in winemaking in Oregon and Burgundy, France. What are some of the differences that you have found to be useful and/or/not useful?
I have been very surprised about the alcohol content, which is found in wines in Oregon. In Burgundy, we are looking more to keep the acidity rather than the alcohol. So as a consequence, the dates of harvest seem "late" to me in Oregon. So I prefer earlier picking since I am working at Phelps Creek Vineyards.
Then, I think in a general way that the Burgundian techniques can apply to the Oregonian Pinot, but the reverse looks much more challenging to me. The main difference between those two wine regions, I would say is the need of "control". As a new wine country, I feel like the winemakers here freak out about losing control, so they do a lot of oenologic interventions just to make "sure" that everything is going to be okay.
For example, I prefer native yeasts wheras most of the winemakers of the area do not. I like longer cuvaisons compared to my predecessor with tannins coming from the wine, whereas he preferred to have shorter skin contact and have tannins coming from the wood of the barrels.
But, I wouldn't work exactly the same way with Oregon grapes than as I do with my estate grapes in Burgundy. Because even if the grape variety remains the same, we need to remember that the place, climate and terroirs are obviously not the same between Burgundy and Oregon.
So you have to adapt yourself to the grapes and try to do your best with it.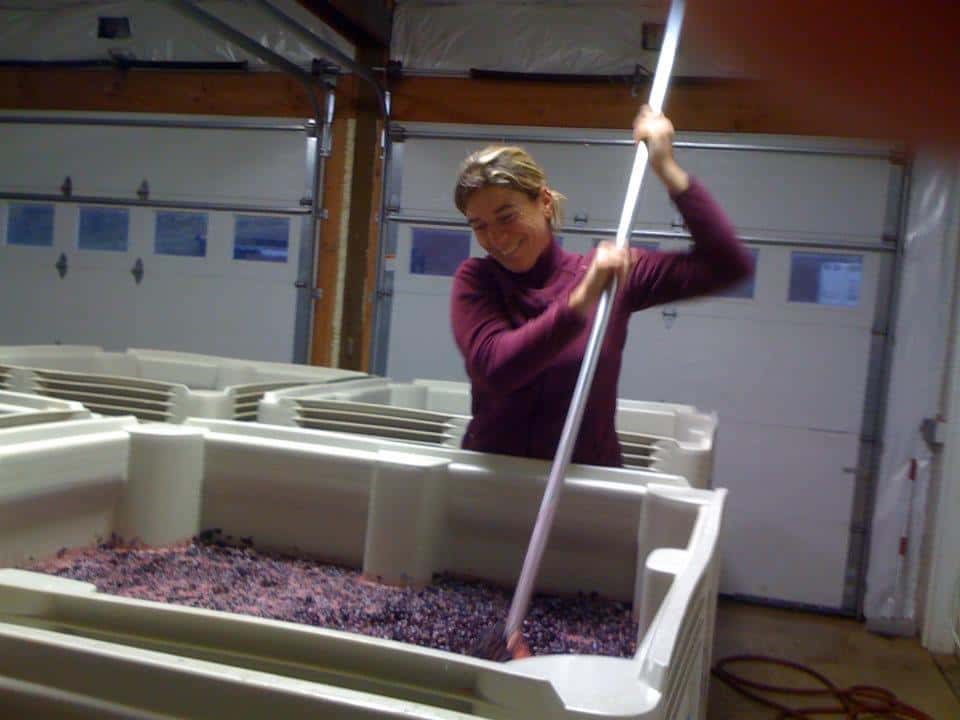 What is your winemaking philosophy??
Great wines are born in the vineyards (not in the winery).
So I work as much as I can in my vines to produce the best fruits as possible and then, in the winery, it is easy. I am a very low interventionist person in the winery, because techniques rub out of the typicity* of the wine. So, I just give direction to the wine, but I try to be as respectful and gentle as possible to reveal it at its best.
*Typicity describes the degree to which a wine reflects its varietal origins and demonstrates the signature characteristics of the grape from which it was produced.
Any updates on the 2013 harvest? What type of year do you expect 2013 to be?
2013 has been nice and sunny in Oregon. As a consequence, harvest was earlier than usual. Fruits were clean and pure, with a nice maturity and good balance. With such top quality grapes, I guess the wines will be charming even when young, and interesting as well for cellaring because they will have the potential to develop complexity while aging. So, it will be nice to follow up with this vintage.
What grape varietals do you get most excited about to drink and produce?
I really love working with Pinot Noir. It is so far the most exciting grape to work with because it is very challenging. The grape variety can't stand mediocrity, so it always requires the best of yourself.
Tasting Pinot is always a kind of surprise. Depending on who makes it, where it comes from, how old it is… There are so many parameters which can influence the way it will taste. That is always very exciting!
I also love drinking Riesling. To me, Riesling can be incredible wines with very good aging potential (which is very rare regarding white wines).
What grape varietals do you find more challenging to grow and/or to produce than others?
Pinot Noir, for sure.
When did you fall in love with wine? Do you remember the wine that was "the one" that started it all? Is there a story behind it?
As my parents are vignerons, the first wines that I tired were wines from our own property; it is such a long time ago that I can't remember when it was and which wines it was. All I know is that I had so much pleasure by smelling the glass, and so many emotions came through. I really trust there is a message in a bottle of wine. This message was probably derived from how much my father loves his vineyards and his work. You can feel the love of the vigneron in his bottles.
Besides your wines, what are a few of your favorite wines?
I love some Mourvedre, Syrah and Nebiolo for the reds. Riesling, Chardonnay, Gewurztraminer and Muscat for the whites.
Visiting Phelps Creek Vineyards
Tours and tastings at Phelps Creek Vineyards are available daily from 11am-5pm. They also offer some fun wine experiences / wine tours that look worthwhile. I don't know if I'd rather ride horses through the vineyard or do yoga. Ok, yes I do know and it doesn't involve yoga. Take a look if you're going to out that way.
Have you been to Phelps Creek Vineyards? Tried their wines? What did you think?