Beale Street in Memphis is known as the birthplace of rock and roll, most recently it also took the honor of being named the top Favorite Iconic American Street by The 10Best Readers' Choice via USA Today. Two of my other favorite entertainment Meccas joined Beale Street on the winners list: New Orleans' legendary Bourbon Street and The Strip in Las Vegas.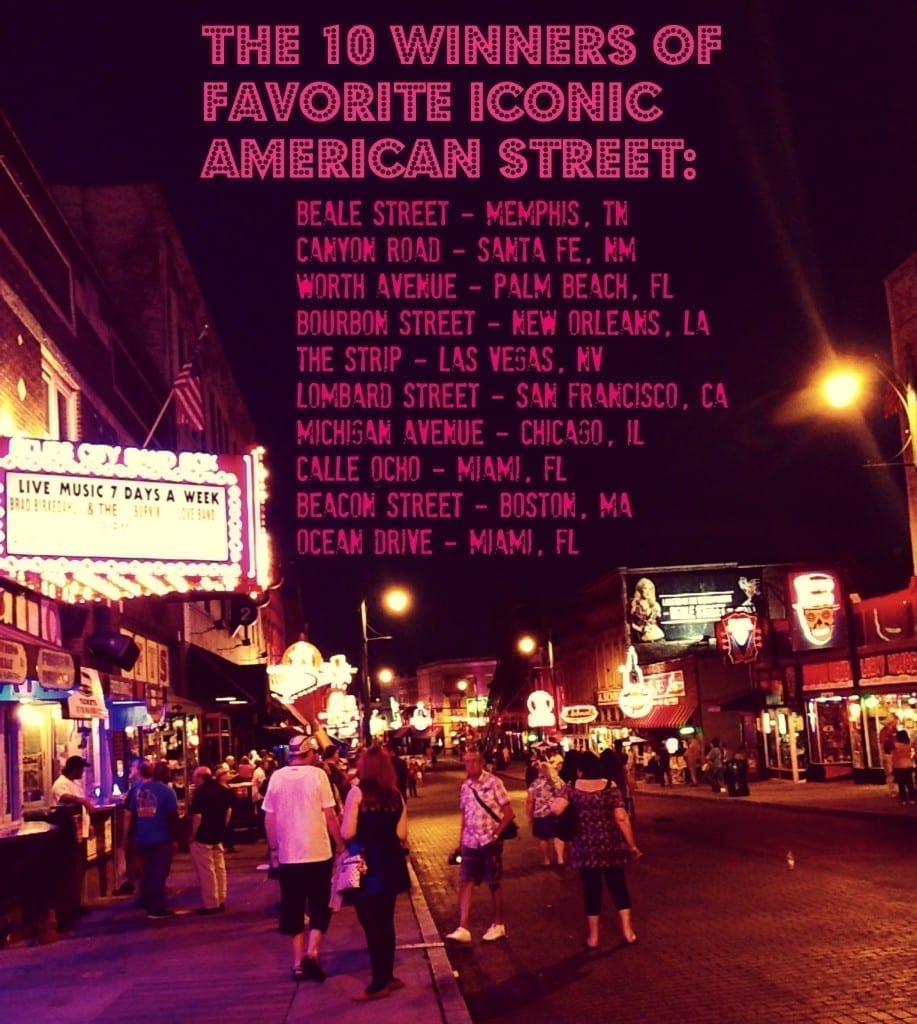 I recently had the opportunity to explore the Beale Street entertainment district on my visit to Memphis and it's definitely iconic. The infamous Beale Street is actually fairly small as it's only made up of three blocks, which are closed to cars. These three blocks are lined with nightclubs, restaurants and retails shops that seem to always be rocking. During the day, Beale Street is a bit quieter but you can still find live music spilling out from one of the restaurants. At night though, Beale Street is alive with a variety of different music from delta blues, jazz, rock 'n' roll, R&B and gospel – it's all there.
A Little History Lesson on Beale Street
Originally Beale St had been home to traders and merchants given it's easy access to get goods to/from the Mississippi. It wasn't until the 1860's that traveling musicians began performing on Beale St that it began to become a popular place for people to visit. And in 1899 Robert Church, the first black millionaire in the south purchased the land around Beale St and created Church Park at the corner of 4th and Beale. The purpose of the park was to give musicians a place to gather and play their music. This was the pivotal change for Beale St. This was when it began to transform into a social gathering place AND a musical mecca. In 1966, Beale Street was declared a National Historic Landmark. Despite this national recognition of its historic significance, Beale was a virtual ghost town after an urban renewal project went sour, driving people out of town. In 1973, the Beale Street Development Corporation was formed and redevelopment of Beale Street began taking off. As part of this success, Beale Street was officially declared the Home of the Blues by an act of Congress in 1977.
Beale Street Today
Today you can walk down Beale Street and hear music spilling out of the bars and restaurants that line the street. Stop into B.B. King's, Silky O'Sullivan's, Rum Boogie Café or the Hard Rock Cafe and they're bound to have live music going – day or night.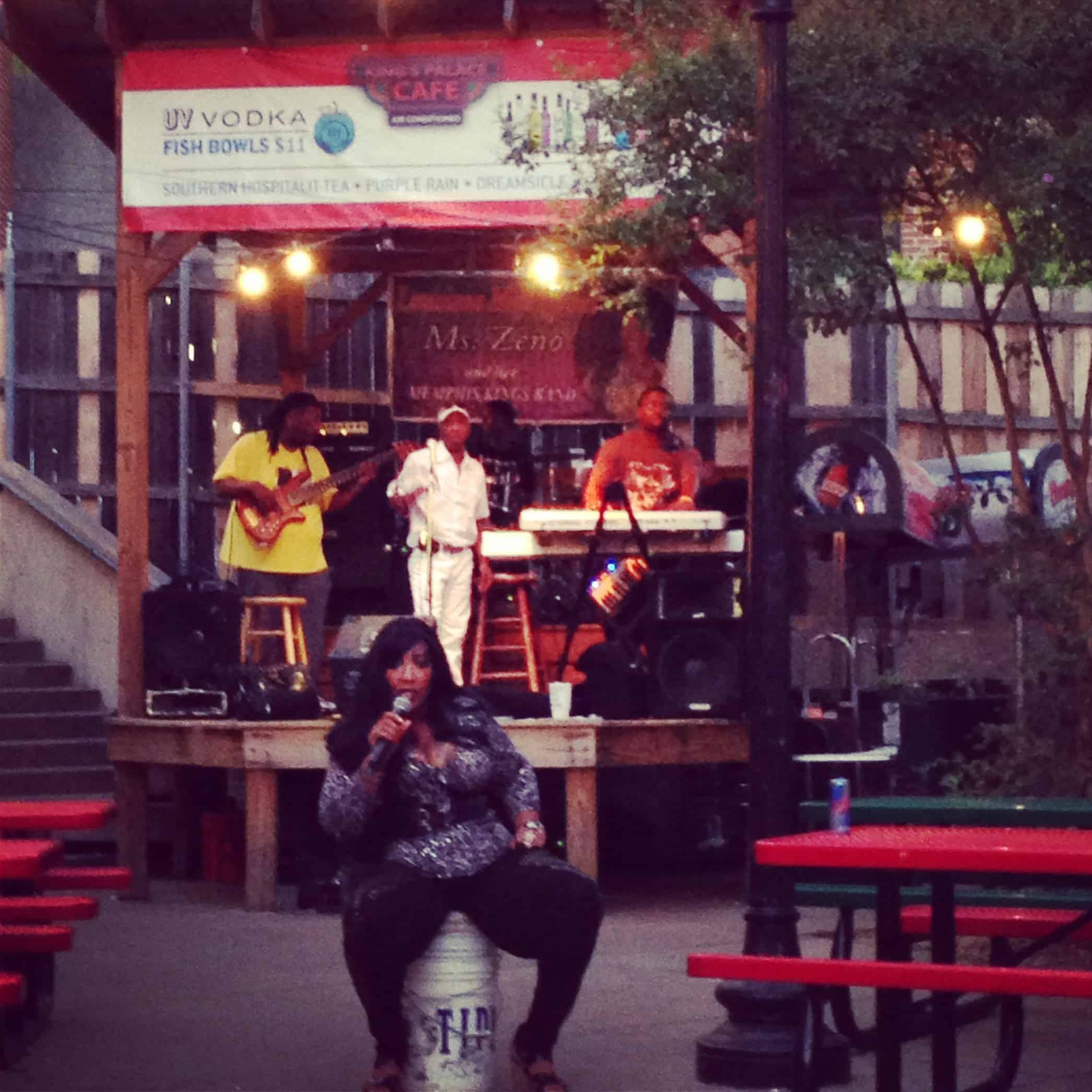 In the evenings and weekends there are street performs working hard to entertain visitors to Beale Street. Watch out though as many are running up and down the three blocks doing crazy back flips, leaps and twists. If you like their show, make sure to give them a little tip; cash that is. (Don't be surprised to have a big white bucket pushed into your chest asking for payment.)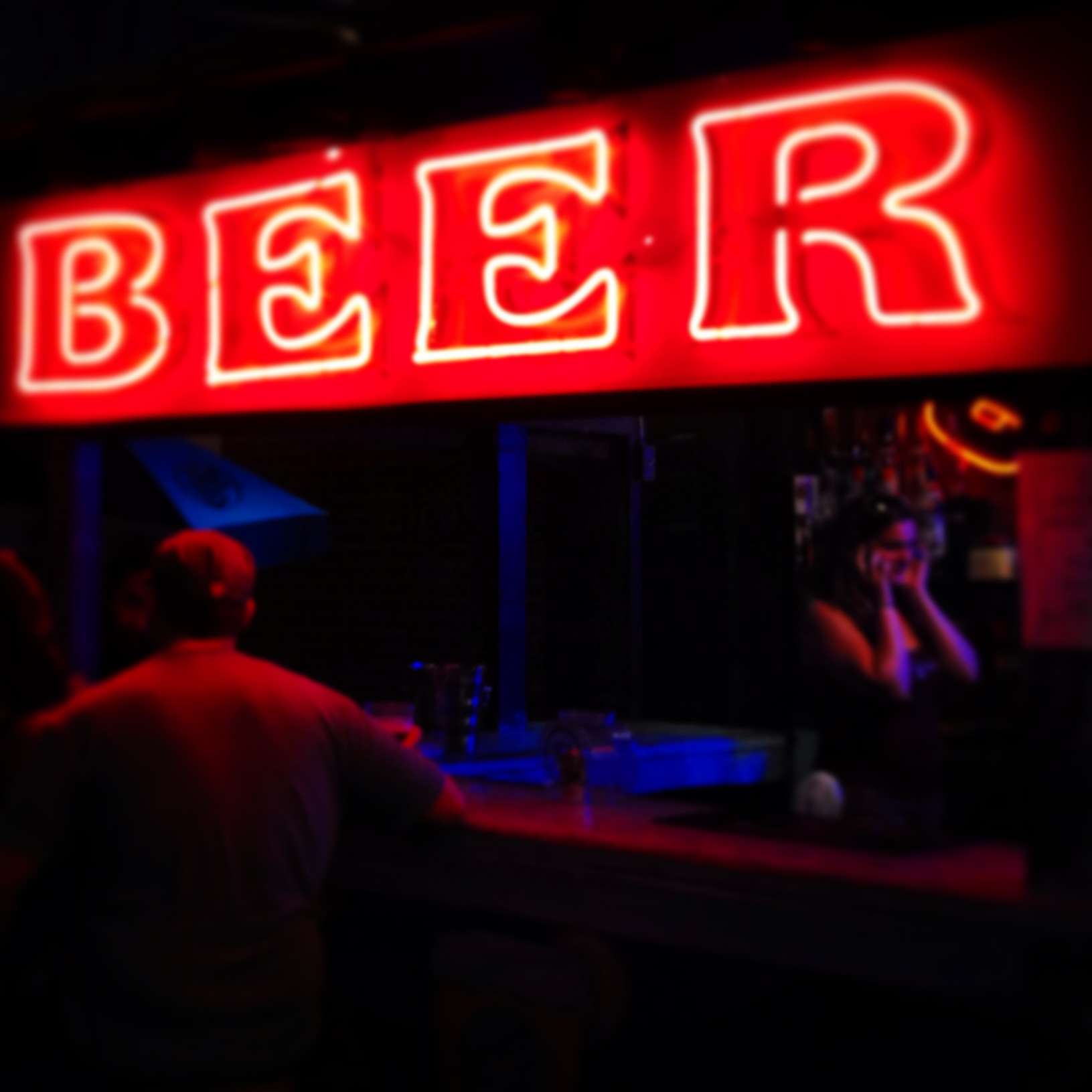 Beale Street Brass Note Walk of Fame
As I was walking down Beale Street I happened to look down and was surprised to see a brass musical note and hand prints. I had not realized there was a "Beale Street Brass Note Walk of Fame". As part of the redevelopment efforts of Beale Street, Beale Street Brass Note Walk of Fame was created as a tribute.
"To offer a tangible embodiment of the many talented people who had put Memphis music and Beale Street on the world map."
There are 127 musicians, disc jockeys, promoters, and music supporters honored in the Beale Street Brass Note Walk of Fame. I have to admit, it seemed like a lot fewer when I was walking the street though. But I did recognize many of the musical legends so many of us love – Elvis, B.B. King, Al Green, The Blues Brothers, Johnny Cash, Otis Redding and Jerry Lee Lewis along with so many more…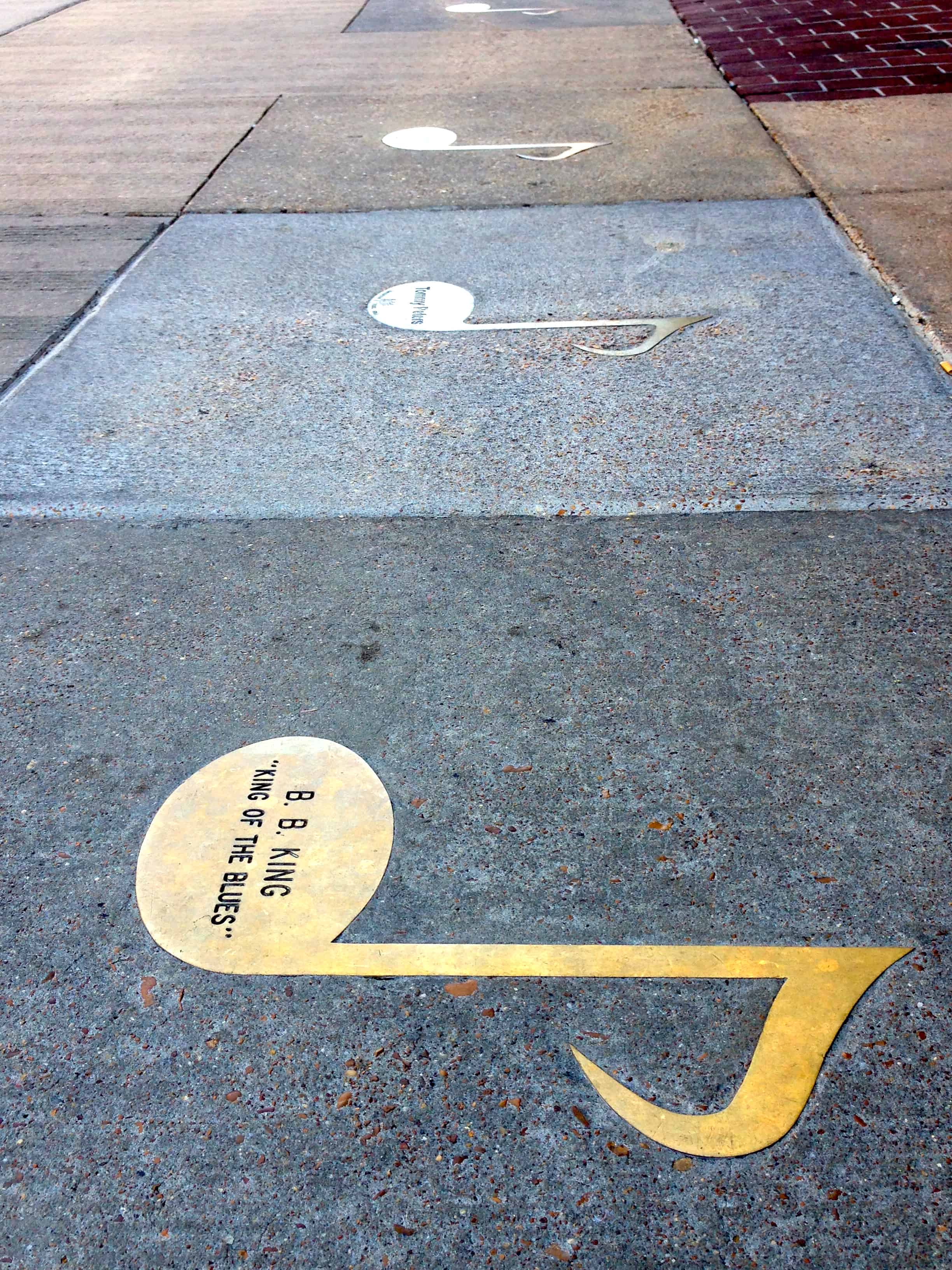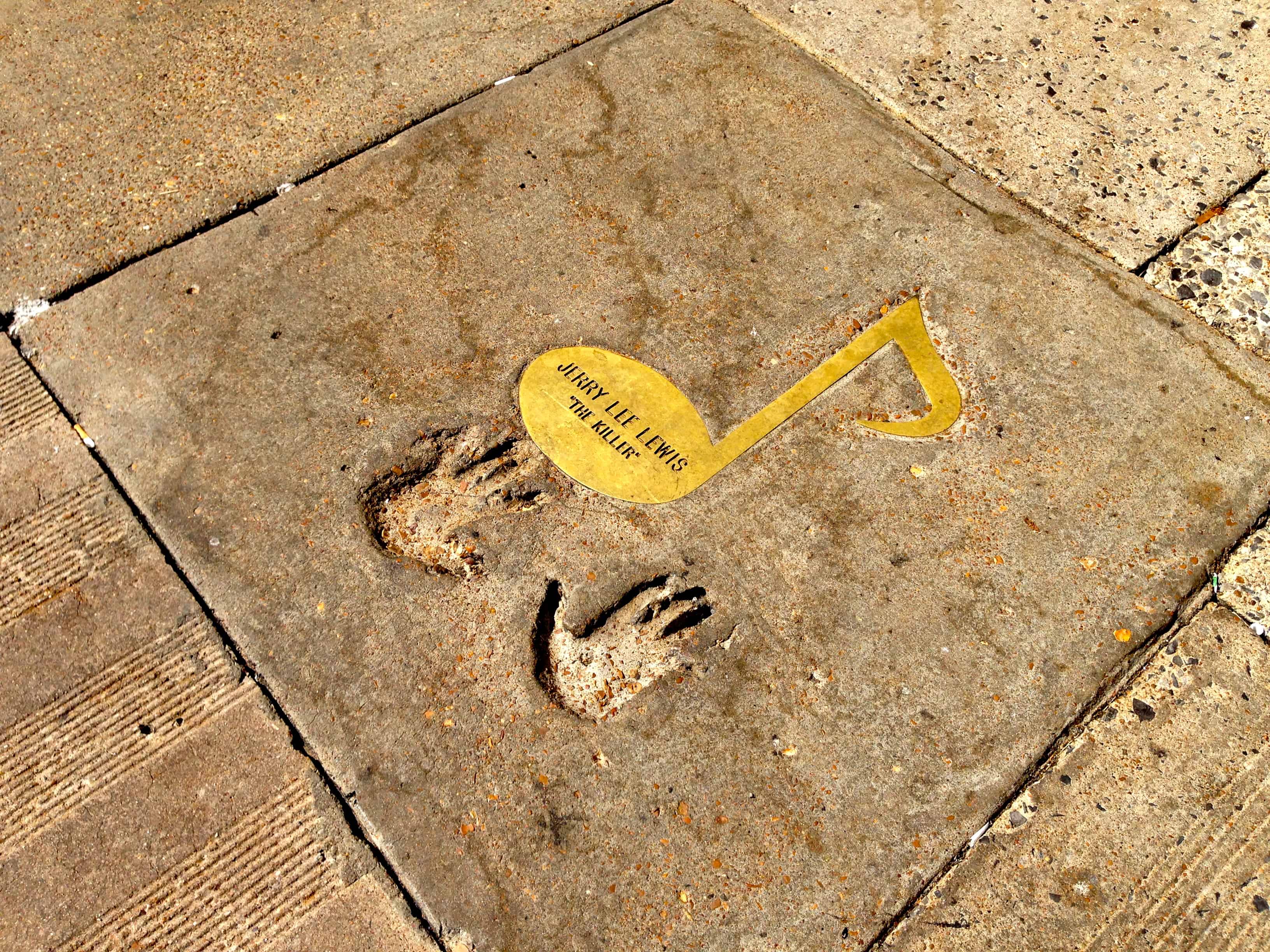 Have you been to Beale Street? What did you think? Do tell.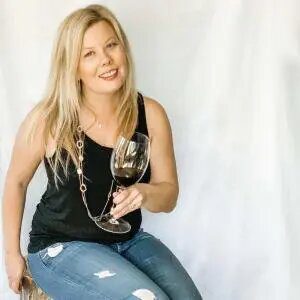 Elaine Schoch (pronounced the German way – Shock) is the editor and founder of Carpe Travel as well as an award-winning travel writer, wine judge, certified by the Wine & Spirit Education Trust (WSET) Level 2 and certified American Wine Expert. She is married to The Husband and has two kids, Princess One and Two – who's interest and knowledge in wine is quite extensive. Not to mention the stamps in their passports.