Our Tennessee Wine Travel Guide shares a brief history of the state's wine country, terroir, where to sip, where to stay and things to do beyond the vines.
When we think of Tennessee we think of music. Memphis Blues, country, bluegrass, southern gospel, and even rock-n-roll. All trace back to Tennessee. After all, Tennessee is home to some of the greatest country and Americana artists of all time. From Dolly Parton to Elvis, Patsy Cline to B.B. King, Garth Brooks to Johnny Cash, music colors the landscape.
Tennessee is also known for its Great Smoky, Appalachian, and Blue Ridge mountains, signature whiskey, and bourbon, Tennessee Walking Horses, Cherokee Nation Native American culture, and Civil War historical sites. Southern hospitality and southern cuisine are legendary across the country. You can't forget Memphis BBQ and Nashville Hot Chicken. And, while its state drink is milk (some might say whisky), Tennessee also produces award-winning wine.
Our guide explores Tennessee wineries and its wine country to help you curate your own grape escape. If you're looking for more, we can help you plan your Tennessee sip trip too.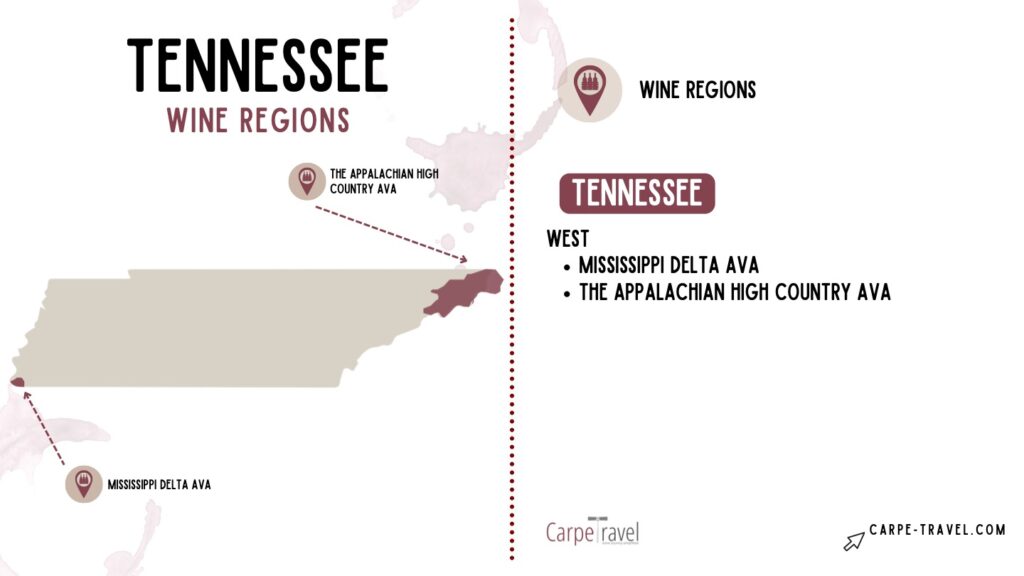 WHERE IS TENNESSEE WINE COUNTRY?
Around Nashville, there are 33 wineries. This area is known as the Middle Tennessee wine region. The East Tennessee wine region is home to 34 wineries and sits along the mountain range on the route from Chattanooga to Johnson City.
BEST TIMES TO VISIT
Summer in Tennessee is filled with festivals, harvest and heat. For those who don't like to sweat, plan to visit Tennessee wine country in the Fall – September through November. The Spring months – April-May – are warm but great too, especially since you may get to see bud break.
Tennessee and its wine industry are divided into three distinctly unique cultural districts called Grand Divisions along with two American Viticultural Areas (AVAs).
After extensive research and a lot of back and forth with the Tennessee Farm Winegrowers Alliance, the Tennessee Department of Agriculture and the TTB, the government source that approves and regulates AVAs we can confirm Tennessee is home to two AVAs. Both the Mississippi Delta AVA and Appalachian High Country AVA are multi-state AVAs that cross into Tennessee. The state is however divided into three distinctly unique cultural districts called Grand Divisions. We expect to see more AVAs approved within the Grand Divisions in the coming years.
Tennessee Wine Grand Divisions
West Tennessee: On the route from Memphis to Paris there are eight wineries. There are three wineries in this region that fall into the Mississippi Delta AVA; Delta Blues, Old Millington and De Terra.
Middle Tennessee: Around Nashville, there are 33 wineries
East Tennessee: On the route from Chattanooga to Johnson City there are 34 wineries along the mountain range. This region is also home to the Appalachian High Country AVA. The anchor vineyards in this AVA are the Wataugua Lake Winery and the Villa Nove Vineyards & Winery.
The Mississippi Delta AVA was created in 1984 to showcase the unique geography and terroir of the 6000 square mile region on the east bank of the Mississippi River that spans from Memphis, Tennessee, to Vicksburg, Mississippi. The Mississippi Delta AVA has a humid subtropical climate that is best suited to French-American hybrid grapes or native varietals that can withstand the heat and humidity, and are resistant to some of the ailments Vitis Vinifera can exhibit in similar climates. The Tennessee sector of the Mississippi Delta AVA region only has a handful of wineries and vineyards. Most of Tennessee wine is produced in Middle and East Tennessee.
The Appalachian High Country AVA is in the East Tennessee Wine Grand Division and includes Johnson and Carter counties. Primarily located in North Carolina and Virginia, the AVA was designated in 2016. It encompasses 2400 square miles with 71 acres under vine although most are located in North Carolina and Virginia. The anchor vineyards in Tennessee are the Wataugua Lake Winery and the Villa Nove Vineyards & Winery.
TOP GRAPES
Tennessee grows dozens of French-American hybrids, native grapes, and some Vitis vinifera. These are most widely grown in the state.
Red Wine Grapes
Catawba
Chambourcin
Chancellor
Concord
Norton
Noiret
In the mid-1800s German immigrants established a thriving wine grape growing and winemaking industry in the western and middle parts of Tennessee near the Mississippi River.
Within a few years, 1128 acres were under vine, producing nearly 65,000 gallons of wine annually. The wine grape growing industry flourished across the state until 1919 when National Prohibition decimated the prosperous industry.
The early 1970s brought together a few wine-curious Tennesseans interested in growing grapes in the "America at its best" state. By 1973, seven people formed the Tennessee Viticultural & Oenological Society to explore wine-growing options for the state and to place emphasis on best practices for the new Tennessee wine industry.
In 1982 the Tennessee Wine Growers Association was formed to promote Tennessee wine, best practices, education, and marketing for Tennessee wine growers and producers. The Tennessee Wine and Grape Board, a sector of the Department of Agriculture was established shortly thereafter. By 1978, 125 acres were planted with grapevines.
Highland Manor in Jamestown opened in 1980 as the first licensed winery in the state. Tennessee wine pioneer, Fay Wheeler, along with his friend Judge William O. Beach, were instrumental in passing the Tennessee Wine and Grape Act in 1977, which allowed for wineries to open even in "dry" counties, oversaw Highland Manor's first crush and vintage. It was in 1985 the founding of the Viticulture Advisory Board took place and by 2018, 67 wineries predominately located in Sevier, Lewis, and Shelby counties.
Plan Your Tennessee Wine Country Vacation
With more than 70 wineries in Tennessee, there is a lot to choose from. In each of the itineraries we've included great sipping spots. Drum roll for our top three…
White
Squirrel
Beachaven
Highland
Manor
CAN'T MISS TENNESSEE WINE FESTIVALS
SipTN Nashville is an annual event that takes place in June in Nashville. It is your passport to the wines of Tennessee all under one roof. Tickets are just $65 (2022 prices) for an afternoon filled with local artisan crafts, wares, and more than a hundred Tennessee wines, ciders, and meads, all accompanied by Tennessee Southern cuisine.
Nine Lakes Wine Festival showcases the very best Tennessee wines that the Nine Lakes region has to offer. Located in Oakridge, the dates and ticket on-sale will be announced in the spring of 2022.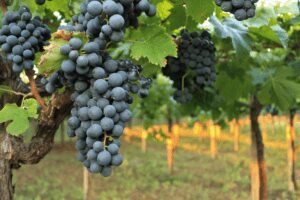 When it's time to take a break from wine tasting, Tennessee has plenty to keep the fun going. Here are a few favorites.
If you are near Memphis, visiting Graceland is a must! While in town head over to Beale Street, the birthplace of rock and roll. The Peabody Hotel is an excellent place to rest your head when visiting these two attractions.
Great Smoky Mountains National Park and the Tennessee Whiskey Trail are two totally separate things to do in Tennessee but both had to be on this page – MUST DO'S.
Named after country singer Dolly Parton, Dollywood is one of the most popular attraction in Tennessee – more than three million visitors per year!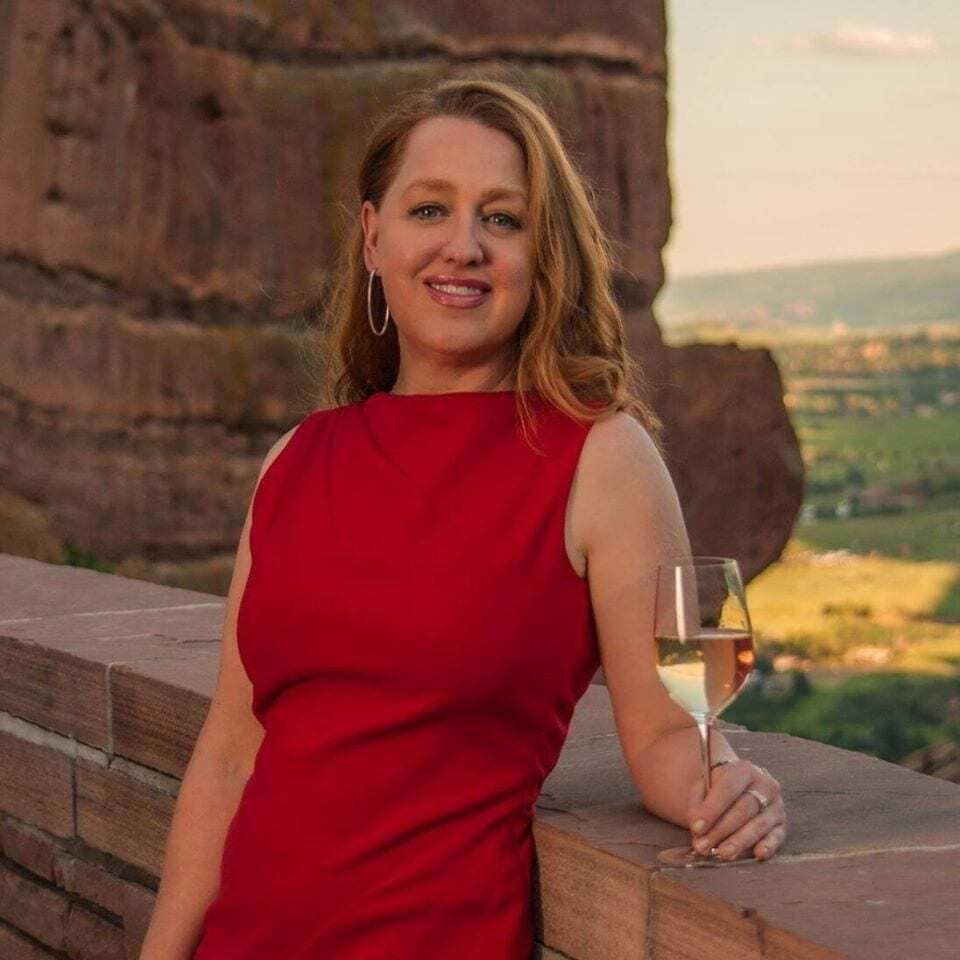 Simone FM Spinner is a top-rated university wine lecturer and certified sommelier with thirteen advanced wine certifications, a bachelor's and master's degree in wine studies, and is pursuing her doctorate studying the socioeconomic and cultural effects of climate change on wine. She is a sought-after wine consultant, public speaker, and published author. She organizes wine events and international wine tours through her company Wine Rocks & Chasing Grapes™©. Her website is WineRocksLLC.com