Our North Carolina Wine Travel Guide shares a brief history of the state's wine country, terroir, where to sip, stay and things to do beyond the vines.
While North Carolina's official beverage is milk, it is best known for its adult beverage scene including incredible craft ciders, distillers, breweries, and nearly 200 wineries. There is a lot to sip in when visiting North Carolina!
WHERE IS NC WINE COUNTRY?
The main two areas for visiting NC wine country include Ashville and Lexington. North Carolina boasts at least seven dedicated wine trails designed specifically for visitors to explore wine country with tasting room stops and predetermined, sequential trails winding through NC's wine regions.
BEST TIME TO VISIT
North Carolina is predominantly a humid subtropical and maritime climate with lush rain forests in the highlands and windy coastal plains along the Atlantic coast. The peak season for visiting NC wine country is August – October given it is harvest. This will be the most expensive and crowded time of year for a wine country vacation BUT maybe the most unique and memorable. Spring is also a perfect time to visit given the mild weather and budding vines (March-May).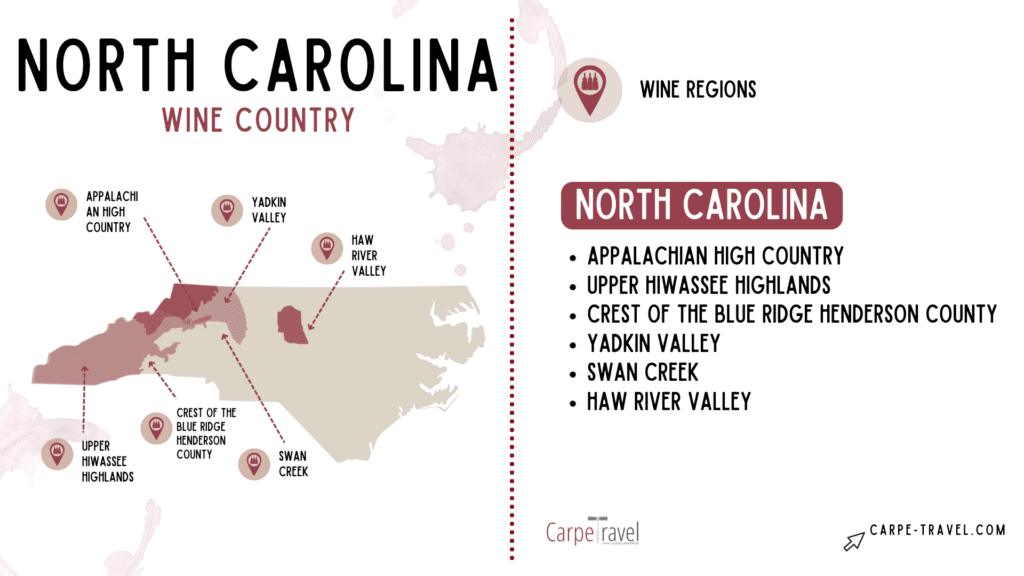 North Carolina has always been an agriculture haven, when it comes to viticulture, it continues to grow. The most recent AVA in North Carolina – Crest of the Blue Ridge Henderson County – was established in 2019. When it comes to wine in North Caroline, the state is divided into three wine regions consisting of 200 wineries and six designated AVAs.
North Carolina has always been an agriculture haven, when it comes to viticulture, it continues to grow. The most recent AVA in North Carolina – Crest of the Blue Ridge Henderson County – was established in 2019. When it comes to the state of wine in North Caroline, the state is literally divided into three wine regions consisting of 200 wineries and six designated AVAs.
American Viticultural Area (AVAs) are designated wine-grape growing regions with specific geographical, climate attributes, and grape varietal production. These geographical boundaries define the wine and everything that goes into it. Everything including what grapes can be grown and how the wine is grown and is produced.
The Appalachian Mountains is also home to three designated AVAs.
– Appalachian High Country AVA, 10 wineries and 21 vineyards
– Crest of the Blue Ridge AVA, 14 wineries
– Upper Hiwassee Highlands, 3 wineries
The Coastal Plains stretches from Corolla in the north, to central coast Wilmington, and all the way to the southern Outer Banks. It's the largest region, covering roughly 45% of NC. It does not have any official AVAs – yet – but is home to many wineries and vineyards.
The Piedmont is located in the middle of the state, between the Coastal Plain and the Mountain regions is given this name. Hence it's name, the French meaning "foot of the mountain". Home to three AVAs, Piedmont is one of the main North Carolina wine regions to sip in. Given its close proximity to the major cities of Greensboro, Winston-Salem, and High Point.
– Yadkin Valley AVA, 36+ wineries
– Swan Creek AVA and Haw River Valley AVA's are sub regions of Yadkin Valley.
TOP GRAPE VARIETIES
North Carolina is known for its sweet dessert wines but wineries also produce sparkling, dry table reds, rosé, and white wines. North Carolina is famous for its native Scuppernong grape and Scuppernong sweet wine. The Scuppernong varietal is a part of the Muscadine grape family (Vitis Rotundifolia family).
While Scuppernong is a popular grape in North Carolina, most wineries focus on commercially successful European grape varietals that are Vitis Vinifera varieties, including the usual suspects: Cabernet Franc, Cabernet Sauvignon, Merlot, Chardonnay, Sauvignon Blanc, and Pinot Noir.
Some of the more interesting wines produced in North Carolina are from hybrids, native grapes from the Vitis Rotundifolia varieties, and other European grapes. (Scuppernong is a Muscadine grape from the Vitis Rotundifolia grape family.)
WHITE WINE GRAPES
Traminette (hybrid)
Scuppernong (Vitis Rotundifolia)
>Magnolia (Vitis Rotundifolia)
The world's oldest cultivated grapevine has been growing on Roanoke Island, North Carolina for more than 400 years. The island is also home to North America's first European settlement.
The grapevines of North Carolina were first mentioned in 1524 by Florentine explorer Giovanni de Verrazzano. Soon after, North Carolina was officially discovered by Sir Walter Raleigh in the 1580s on one of his expeditions to the New World at the behalf of Queen Elizabeth I.
In 1584, his explorers, Philip Amadas and Arthur Baslow landed on Roanoke and Bodie Islands. They noted that the lush coastline was studded with twisting vines loaded with musky, fat, globe-shaped grapes called Scuppernong. The greenish-bronze hued fruit takes its Native American Algonquian Tribe name for the Scuppernong Lake and River that reaches all the way from the mountainous western region of North Carolina to the Atlantic coast.
Scuppernong is a Muscadine grape from the Vitis Rotundifolia grape family. (Most wines we are familiar with come from grapes like Cabernet Sauvignon and Chardonnay, part of the Vitis Vinferia.)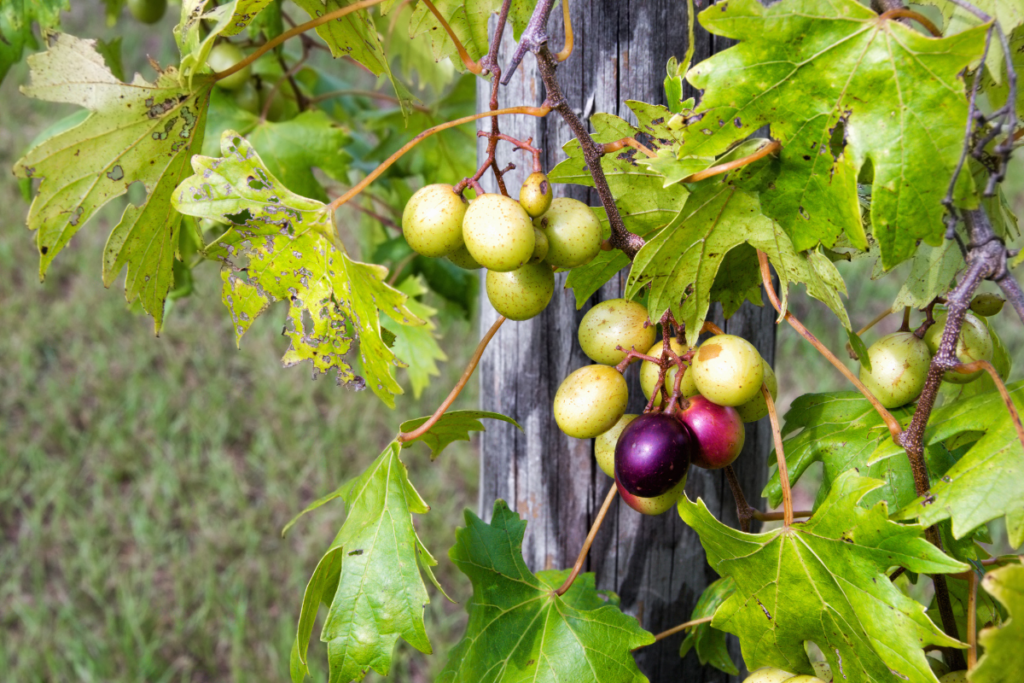 Scuppernong Wine Health Benefits: Muscadines are packed with 88 healthy phytonutrients and polyphenolic antioxidants known to help protect the body from free radicals, which contribute to degenerative diseases.
Roanoke Island's 400-year-old Mother Vine was first mentioned in writing in 1720, but legends go much further back in history, into Native American historical lore.
Roanoke Island may sound familiar to history buffs because it was home to the Lost Colony of 1587. Under the governorship of John White, a group of 117 British settlers landed on Roanoke Island in August of 1587. White returned to England for supplies, and due to wars with Spain, was delayed in his return until August of 1590. To his perplexed surprise, there wasn't any trace of the settlers or their possessions, except one carved work on a wooden post, "Croatoan." They had vanished and the mystery of their disappearance has never been solved.
Colonialists and plantation farmers raised Scuppernong / Muscadine grapes alongside more traditional European varietals, French hybrids, Vitis Labrusca, fruit orchards, and tobacco fields. The Scuppernong is particularly well suited to the warm and humid climates and are known for their sweet, musky, rustic wines.
Wine was always an important agricultural commodity to early Americans and North Carolina was a main wine-producing state in the budding new country until the mid-19th century. The Civil War, followed by Prohibition destroyed much of the successful commercial wine industry and it languished for decades after.
North Carolinian wine has begun an exciting resurgence, in part, to the efforts of William A. V. Cecil and the Biltmore Estate who explored wine production as early as 1971. Around that same time, regional farmers began to devote plots of land to vines and before they knew it, North Carolinian wine was making its mark again.
With 200+ wineries in North Carolina, there is lot to sip in. To help narrow down your sipping choices, we have some of the top North Carolina wineries to pour into.
Biltmore
Winery
Childress
Vineyards
Banner Elk
Winery & Villa
Definitely don't miss North Carolina's acclaimed Biltmore Estate, the most luxurious, largest, single family home in the country complete with its own vineyard and winery.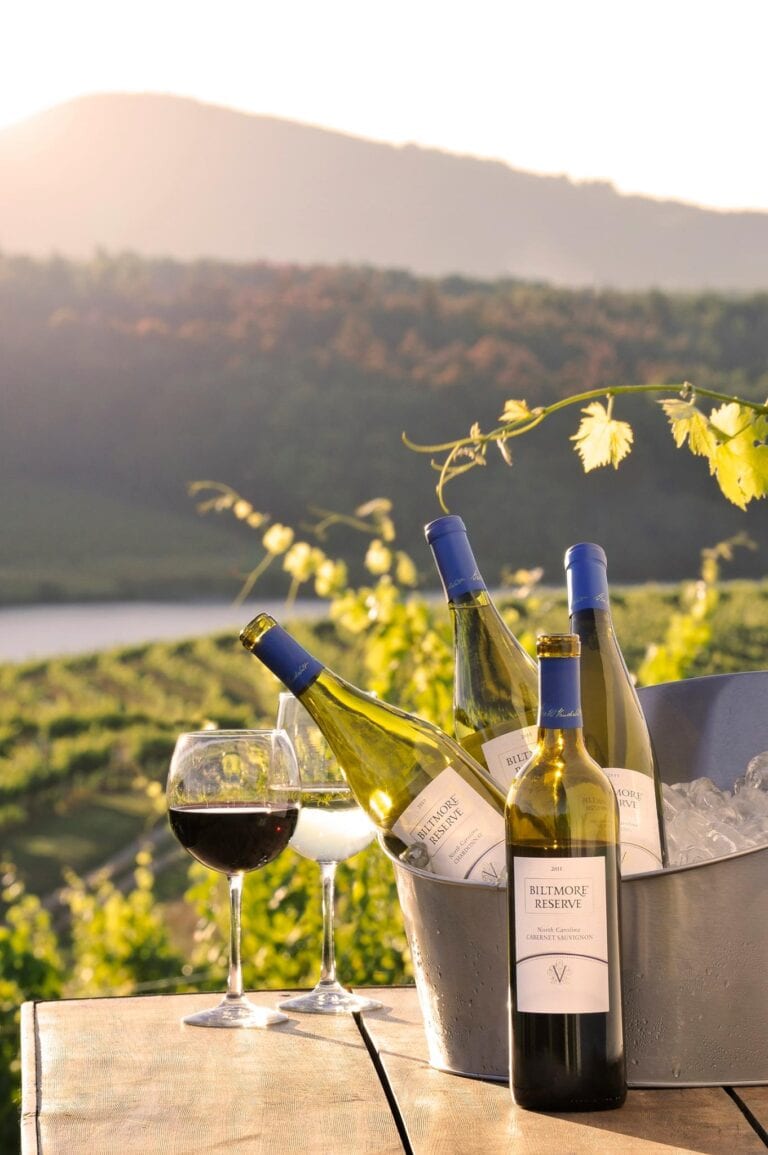 Planning Your NC Wine Vacation
WHERE TO STAY
The Inn on Biltmore Estate
The Village Hotel on Biltmore Estate
Cottage on Biltmore Estate
Asheville:
Fly: Asheville has its own commercial regional airport just 9 miles from downtown.
Train: Amtrak's closest station is in Greenville, South Carolina, on the Crescent Route and about an hour's drive.
Car: Rental cars and car-sharing options are abundant in and around Asheville.
Lexington
Fly: Lexington has its own regional airport called Davidson County Airport that serves as a flight school hub, a private charter service, and a light duty, non-commercial, regional airport.
Train: Amtrak has a hub 15 minutes from Lexington.
Car: Rental cars and car-sharing options are abundant in and around Lexington.
WHERE TO EAT
Asheville: Check out or complete dining guide to Asheville's Best Restaurants. Here are a few of favorites.
Karen Donatelli European Bakery
Chai Pani
Wasabi
Lobster place
Jerusalem place
12 Bones
Curat
Lexington: Don't miss the Barbecue Tour. #SoYum! Twelve spots, 3 days, deep dive into historic bbq Hickory smoked, never "pulled" pork. (There's even a Historic Barbecue Trail to devour!!)
CAN'T MISS NORTH CAROLINA WINE FESTIVALS
North Carolina Wine Festival: A 20+ year-old wine festival with an on-going mission to educate the public on wine appreciation and the wine quality of our North Carolina vineyards. It has become the longest-running and largest wine festival in North Carolina. The festival travels to three cities throughout the year – Clemmons, Midtown Park at North Hills and Selma – bringing with it North Carolina wines, breweries, spirits, and ciders paired up with chef-inspired treats too.
Annual Highlands Food & Wine Festival: The four-day-long festival features world-class food from renowned local and regional chefs from across the Southeast for exquisite culinary experiences capped with live music from today's top artists, fine wine and spirits, specialty dinners and more.
Sip in More of North Carolina Wine Country…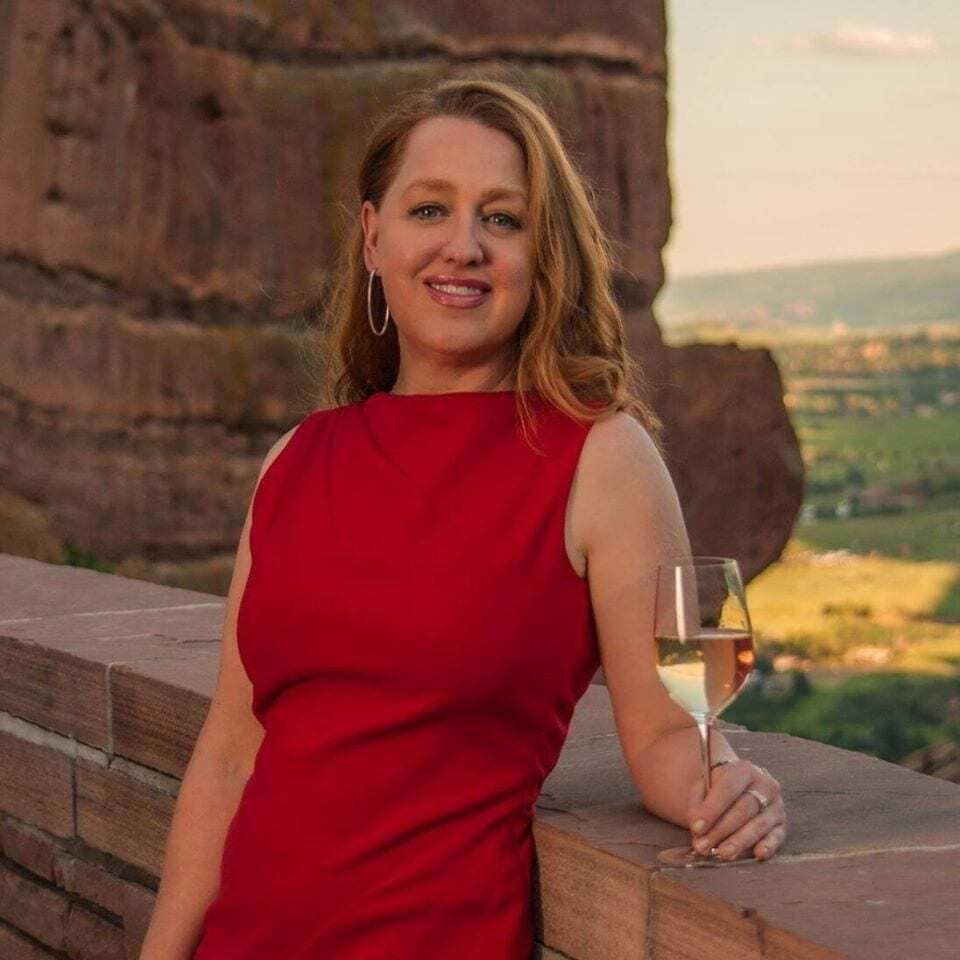 Simone FM Spinner is a wine writer, consultant, judge, speaker, and published author. She is a certified sommelier with 13 advanced wine certifications, a bachelor's and master's degree in wine studies, and is pursuing her doctorate researching wine, climate change, and legacy. She is the Women of the Vine & Spirits 2020 WSET Diploma scholar.