Our Arizona Wine Travel Guide shares a brief history of the state's wine country, terroir, where to sip, where to stay and things to do beyond the vines.
There's more to Arizona than desert and cacti, the state is ushering in a new era of viticulture. With three prominent wine regions in the state, Arizona is an exciting – and budding – region to sip in.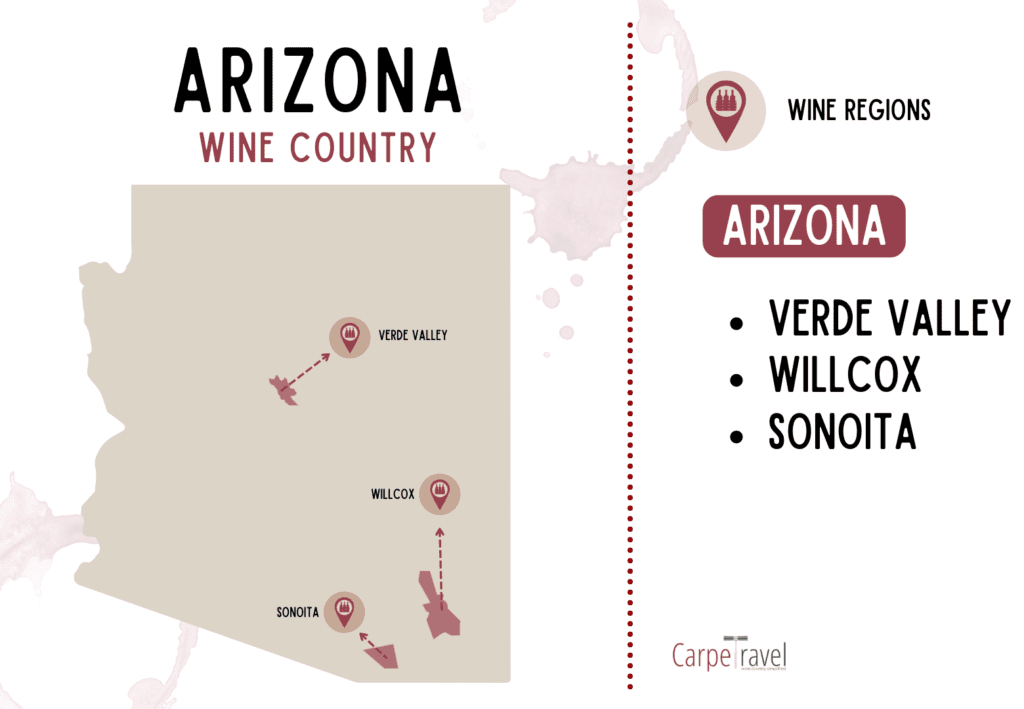 WHERE IS AZ WINE COUNTRY?
Arizona's wine regions are near major cites making for an easy wine country getaway. An hour from Tucson you can sip in the Sonoita AVA or head an hour east to the Willcox AVA. The Verde Valley is just north of Phoenix, about a two-hour drive and sits in the ever-growing popular escape of Sedona.
BEST TIMES TO VISIT
The Spring and the Fall are ideal times to visit the Arizona wine country. However, keep in mind that Tucson and Sedona sit at higher elevations, making them great summer escapes since the temperatures are cooler than other areas in Arizona.
Arizona has three official American Viticultural Areas (AVAs) – wine growing regions. (The Verde Valley was approved in Nov. 2021.)
It might surprise a lot of you to know that Arizona has an ideal climate for growing grapes. Given the state's variations in elevation, there are a variety of different climates. In other words, it's not ALL desert. It's also important to point out that wine regions thrive between 30-50 degrees of latitude of the equator. Arizona sits close to the 40 degree mark. Making it an ideal wine growing region. PERFECTION!!
The variety of elevations and high-altitude combined with the Diurnal Effect (the extreme swing in temperature from day to night) and dry weather (the monsoon season provides the needed moisture) produces distinctive grapes that are bold and savory.
SONOITA AVA
About an hour southeast of Tucson, the Sonoita AVA was established in 1985; the state's first AVA. It includes the towns of Sonoita, Patagonia and Elgin which all sit between 4,500 – 5,200 feet elevation. The elevation is key for the thriving viticulture…as well as tourism. The temperatures range from the 80s – 90s during the heat of the summer, making it one of Arizona's great escapes.
WILCOX AVA
Willcox AVA is where the majority of Arizona's fruit is grown. The AVA is surrounded by the Chiricahua Mountains and Dos Cabeza Mountains on the east and the Dragoon Mountains are on its westside. The main towns in the area include Willcox, Kansas Settlement, Turkey Creek, Pearce and the overall Cochise and Graham counties.
VERDE VALLEY AVA
Another prominent wine region in northern Arizona is known as the Verde Valley, the state's newest AVA. The Verde Valley is just north of Phoenix, about a two-hour drive and sits in the ever-growing popular escape – the town of Sedona. The Valley is also home to the towns of Jerome, Camp Verde, Cottonwood and Clarkdale.
TOP GRAPE VARIETIES
Some of Arizona's highest quality white wines include Viognier, Malvasia Bianca and Chenin Blanc. Varietals native to the Rhone Valley have also been widely successful in producing some of Arizona's most popular reds. Pour Into More of Arizona's Grapes.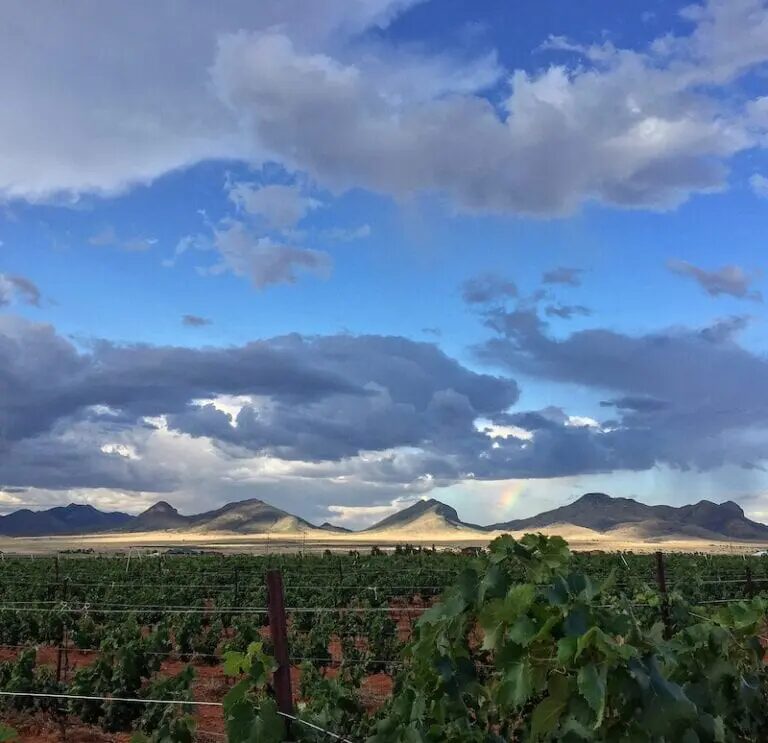 Arizona is one of the oldest wine producing regions in the United States. Its rich and well aged wine history dates back to the 16th century when Spanish Jesuit priests began producing wine for religious sacramental ceremonies.
Like most wine regions in the western United States, Arizona's was rooted by Catholic priests moving north from Mexico, establishing churches and planting vines for sacrament. Father Eusebio Francisco Kino is believed to be the Jesuit priest to have brought wine to Arizona…along with 24 missions in southern and northern Arizona.
As the region grew in population so did the demand for wine. Leading setttlers to begin planting and producing their own local wines. It was the settlers who drove the growth of wine production and the industry in Arizona for next 100 years…
When National Prohibition took place in 1920, Arizona's budding wine industry was snipped. It wasn't until the early 1980's that a rebound began.
Following a study conducted by Dr. Gordon Dutt  in 1970 that "demonstrated the feasibility of various wine growing regions," The Arizona Farm Winery Act was developed helping to reestablish viticulture in Arizona.
Long story short…
My friend Christina Barrueta wrote a book on Arizona Wine, A History of Perseverance & Passion. (You should read it!) I've summarized a little from her interview with Dr. Dutt.
Dr. Dutt was working in research at the University of California – Davis and came to Arizona for a project. Having lived among the vines in Cali the fact there weren't any in Arizona struck him as odd. There was after all elevation, climate shifts during the day and night as well a some moisture. Leading him to think wine could be grown and produced in Arizona. Dr. Dutt and his team planted Vitis Vinifera that could sustain dry climates, resulting in Arizona's first wine production since National Prohibition.
Dr. Dutt's research led to The Arizona Farm Winery Act in 1982 that established. (It takes several years for vines to grow and produce wine, hence the longer period of time.)
The first licensed wineries in Arizona were formed shortly after the enactment of the new law with Dr. Dutt himself establishing Sonoita Vineyards. Today, the wine industry continues to grow and there are more than 110 wineries, vineyards and cellars throughout the region. Sip in More of Arizona Wine History
AZ wine tasting rooms have been a opening all over Scottsdale and Tucson, creating Urban Wine Trails. But sipping among the vines is still the ultimate wine country experience. With 110 Arizona wineries to explore, the challenge becomes narrowing it down.
Callaghan
Vineyards
High Lonesome
Vineyard
Merkin
Osteria
Annual Spring Willcox Wine Country Festival
Sips & Skies Wine, Beer and Spirits Festival
Sedona WineFest
Plan Your Arizona Wine Vacation
WHERE TO STAY WHEN VISITING ARIZONA WINE REGION

---
---
You will miss out on a lot of things to do in Arizona wine country if you don't go beyond the vines. The Arizona wine regions are home to so many fun activities, especially given the close proximity to major destinations such as Phoenix, Tuscon, and Sedona.
When visiting Willcox hit the downtown. It's a sweet couple of blocks with an astonishing amount of history and personality packed in.
Get outside for biking, hiking and to sip in the views. Striking landscapes in the Dragoon Mountains offer hiking opportunities that are accurately described as out-of-this-world.
If you're wine tasting in Phoenix, hike Camelback Mountain, a prominent landmark that can be seen throughout the city and visit he Desert Botanical Garden.
Sip in More of Arizona Wine Country…
More Resources for Arizona Wine Country