TRAVEL NOTICE: If you decide to travel to the Arizona wine county, please check the status of the places you are visiting. Given the current climate, many may have restrictions in place. Stay safe!
After a year at home dreaming about cycling through vineyards, sipping on new releases in tasting rooms, and picnicking in the sunshine, we are finally able to travel, albeit more domestically right now. So, why not visit a new wine region in the United States? Emerging wine regions are some of the most exciting and innovative destinations in the country. Which brings me to wineries in Arizona's Willcox AVA, in Cochise County.
This beautiful high-plains desert is surrounded by some of Arizona's most impressive mountain peaks and has a perfect climate for agriculture and grape cultivation. Not only are the winemakers cutting edge but the wines are surprisingly delectable. One of these Willcox wineries is Aridus Wine Company.
Featured Willcox Winery
Aridus Wine Company
The popular Aridus Wine Company is a custom crush facility that opened in 2012 after the owners purchased 40 acres of vineyards in Turkey Creek, Willcox AVA, in 2009. Aridus sources fruit from Tombstone, Arizona; Mimbres, New Mexico; and California. Winemaker, Lisa Strid expertly blends grapes from various terroirs into single varietal and blended wines. Read my Aridus Wine Company winetasting notes.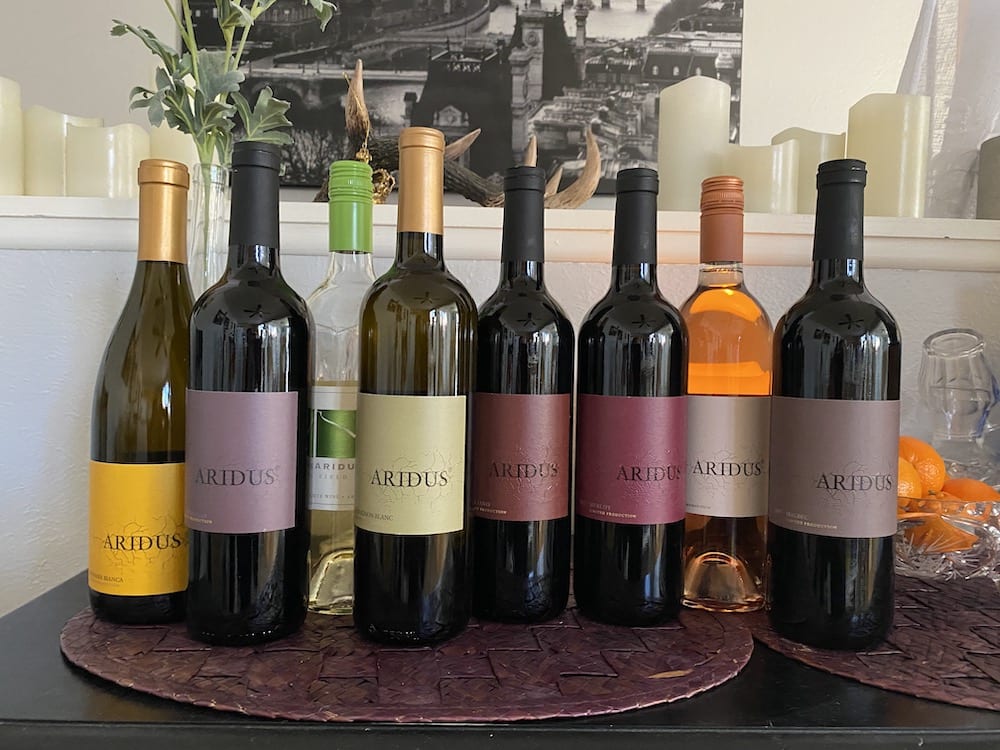 While most of the fruit is sourced from desert climates, the relatively high-elevation of the hilly and mountainous terrain tempers the vines from the heat. At 5,200 feet in elevation, warm days and cool nights protect the vines providing complexity and personality to the fruit and subsequent wines. Aridus Wine Company produces lush red wines, aromatic whites, and refreshing rosés.
The owners, Scott and Joan Dahmer, have their eyes on sustainability and built their tasting rooms and winery with repurposed steel, reclaimed lumber, concrete, and natural stone for a modern aesthetic and a low-carbon footprint. Each space is uniquely beautiful. While Aridus Wine Company is technically one of the many Willcox wineries, it also has a tasting room in Scottsdale.
The Willcox tasting room is located less than a mile away from the winery. It is within walking distance to a historic movie theater, museums, rustic shops, restaurants, and other local tasting rooms.
The Aridus Scottsdale tasting room was previously an art gallery space in the Old Town Arts District in Scottsdale and is within walking distance to restaurants, art galleries, museums, and entertainment. Both tasting rooms require reservations.
7173 E. Main Street, Scottsdale, AZ 85251 | 145 N. Railview Ave., Willcox, AZ 85643
The Willcox AVA, nestled in Cochise County and the Sulfur Springs Valley, was established in 2016 and is Arizona's largest wine region with 85% of all Arizona wine grapes grown here.
When to Visit the Willcox Wine Country
Plan your visit to sip in Willcox wineries for spring or autumn. Not only is the weather perfect, but you will be able to catch the Willcox West Fest in April, Willcox Wine Country Spring Fest in April and the Willcox Wine Country Autumn Fest in October. All of these Arizona wine festivals make for an easy way to sip in many Willcox wineries in one place. (More Sip Worthy Willcox Wineries to Visit.)
Sip in More Arizona Wine Country