7 Day Arizona Wine Tasting Itinerary
By Darla S. Hoffmann, Contributing Writer
Arizona is home to three official wine regions, each is near a major city making for an easy wine country getaway. Depending on your location, you can find the best route to taste wine across the state. Although this north-to-south one-week itinerary will only scratch the surface, the journey will surely arouse your senses and give you a taste for the Arizona wine country.
TIPS FOR VISITING ARIZONA WINE COUNTRY: I recommend visiting two to three wineries daily for two nights in each AVA. Calling ahead to make reservations is recommended. It's best to take in the atmosphere each winery creates for you.
An American Viticultural Area, or AVA, is a specific type of appellation of origin used on wine labels. An AVA is a delimited grape-growing region with specific geographic or climatic features that distinguish it from the surrounding regions and affect how grapes are grown. -TTB
Wine Tasting in The Verde Valley
The Verde Valley is the state's newest AVA. It is just north of Phoenix, about a two-hour drive and sits in the ever-growing popular escape – the town of Sedona. The Valley is also home to the towns of Jerome, Camp Verde, Cottonwood and Clarkdale.
Day One: Verde Valley Wineries
Alcantara Vineyards, conveniently located off the exit heading from the valley, has light bites and a beautiful grassy area for picnicking. Another adventurous way to visit is via their water-to-wine kayak excursion on the Verde River. From there, head over to Page Springs Cellars. I recommend slowing down to enjoy lunch in their bistro, then visiting the tasting room and art gallery. Try their Mules Mistake red blend. Just down the road is Javelina Leap; grab a glass and take in the views of spacious grounds amongst the vines. Their highly awarded Legacy Zinfandel comes from their Estate Vineyard overlooking Oak Creek.
Day Two: Verde Valley Wineries
Visit D.A. Ranch Estate Vineyards; the wines are 100% estate grown from their vineyard located in Cornville. Full-bodied reds are front and center here. It is a tranquil property for special events and large family gatherings. Then, head toward Clarkdale and stop at the Southwest Wine Center at Yavapai College, an industry and community resource. They have a fully operating tasting room, and the students do everything from vineyard to bottle; it's an extraordinary experience. Finally, make Chateau Tumbleweed your fun last stop of the day. Taste a good mix of French and Italian varietals; small bites are available.
Where to Eat and Stay in the Verde Valley
The Tavern Hotel, Penthouse, and Cottages are the perfect place to stay and play. The Tavern Grille, located in the historic building that originally housed the longest-running single-screened theater in the United States, is open for lunch and dinner daily. They offer a terrific menu of burgers, lavosh, street tacos, and pasta. Additionally, Pizzeria Bocce is a trendy hangout with great food. They serve hand-stretched artisan pizzas handcrafted by their chef and culinary expert. Open for dinner daily and lunch on weekends. The patio sits on the corner of Main Street and has fire pits and Bocce Ball courts. You can book the Bocce Penthouse above the restaurant, an exquisitely decorated 2-bedroom, 2-bath apartment with a full kitchen and private patio.
Side Trip Options
If you decide you want to spend one more night up north, visit the historic town of Jerome. Dine and stay at the Clinkscale. Make a point to stop in Four Eight Wineworks to try wines made by Heart Wood Cellars and The Oddity Wine Collective. Or break up the drive and stop in Old Town Scottsdale. Visit the Scottsdale Wine Collective to try local wines and have dinner at Merkin Old Town.
Wine Tasting in Willcox
Willcox AVA is where the majority of Arizona's fruit is grown. The AVA is surrounded by the Chiricahua Mountains and Dos Cabeza Mountains on the east and the Dragoon Mountains are on its westside. The main towns in the area include Willcox, Kansas Settlement, Turkey Creek, Pearce and the overall Cochise and Graham counties.
Day Three: Willcox Wineries
Pillsbury Wine Company makes beautiful Rhone-style reds and delicate unique whites. I highly encourage visiting when the owner, Sam Pillsbury, is available. Inquire about their wild wine dinners amongst the vines. Try the Rose of Grenache. Pillsbury also has a tasting room in Cottonwood. Next up, visit Carlson Creek Vineyards, the brand new 15,000-square-foot winery that opened in 2022 and features an exposition kitchen. Be sure to taste their highly acclaimed Malbec. They also have tasting rooms in Cottonwood or Scottsdale. Across the street is Bodega Pierce; they make lovely whites and a range of reds. Try their Pinot Noir. They also have a tasting room in Clarkdale.
Day Four: Willcox Wineries
Hang out at Zarpara Vineyard and Winery and enjoy the small patio or walk about the vineyard enjoying the views. They make a fabulous Sangiovese. Moving on, take a load off at Birds and Barrels Vineyard. It's a tremendous final stop to enjoy a large patio and gaze at the vineyard. Although they do not have food on-site, you are welcome to bring dinner. You can expect big reds like Petit Verdot here.
Where to Eat and Stay in Willcox
Minutes from the vineyards, Tirrito Farms is a working farm, restaurant, bar, and private event space. The food made with fresh ingredients is from the property or locally sourced. There are also several Airbnb rooms available for lodging. Rhumb Line Vineyards is another excellent place to spend the night; their Farm Quonset Huts are minutes from the vineyards and are equipped with a kitchenette and an outside grill. Accommodations are perfect for stargazing and nightcaps from the day's leftover wine. For a more rustic experience, downtown Willcox has Big Tex BBQ, motels, and a KOA for RV parking.
Side Trip Options
Visit the Chiricahua National Monument to hike or to see the hoodoos about 30 minutes south of Willcox. Nearby in Pearce, Arizona, there are a few hidden gems worth visiting, including LDV Winery and Four Tails Vineyard. Both make delightful big red wines. Spend the night at Cochise Stronghold, A Nature Retreat.
Wine Tasting in Sonoita
Day Five: Wineries in Sonoita
About an hour southeast of Tucson, the Sonoita AVA was established in 1985; the state's first AVA. It includes the towns of Sonoita, Patagonia and Elgin which all sit between 4,500 – 5,200 feet elevation. The elevation is key for the thriving viticulture…as well as tourism. The temperatures range from the 80s – 90s during the heat of the summer, making it one of Arizona's great escapes.
Day Six: Wineries in Sonoita
Autumn Sage Vineyards is a stunning destination property where they have a soft heart for family and welcome all to sip in the tasting room and grounds. Try the Sagrantino. Staying on Elgin Road, stop in Callaghan Vineyards, one of the longest-running wineries in Arizona. Callaghan is known as a helping hand for industry newcomers; learn about how Arizona wine evolved and taste Rhone-style varietals.
Day Seven: Wineries in Sonoita
Los Milics Vineyard is one of the newer properties and is majestic with its views and architecture. Tempranillo and Monastrell are popular varietals here. Casitas for lodging are coming soon. At last, Rune Wines is a soulful point in the high desert and the best spot to watch the sun go down. Sip their Wild Syrah and Rhone varietals featured in some of the highest-ranked restaurants in the valley.
Where to Eat and Stay in Sonoita
Babacomori Ranch is a family-owned and operated cattle ranch since 1935; it is a phenomenal vacation rental for groups of up to ten people. The private home has a full kitchen and patios with remarkable views. About seven miles from Elgin Road, the house sits at the end of a slightly graveled road. Additionally, The Sonoita Inn, an 18-room boutique hotel on SR-HWY 82, is a lovely and convenient place for lodging. Rooms are available in occupancies of up to four people. For dining, The Steak Out Restaurant & Saloon is the ideal menu for those who want a taste of southwest cooking. The most popular items are cut-in-house steaks, barbecue ribs, chicken, and burgers. Live music is available many nights. Moreover, The Café is a bustling local hangout with a bar, patio, and dining room seating. You won't be left hungry with comfortable offerings like sandwiches, pasta, and catfish.
Side Trip Options
Tucson is a wonderful final stop if you aren't ready to end your trip. The Arizona Wine Collective in Phillips Plaza is a bottle shop-style bar with select Arizona wines. Try a bottle of Laramita Cellars if you didn't get the chance along the way.
Sip in More of Arizona Wine Country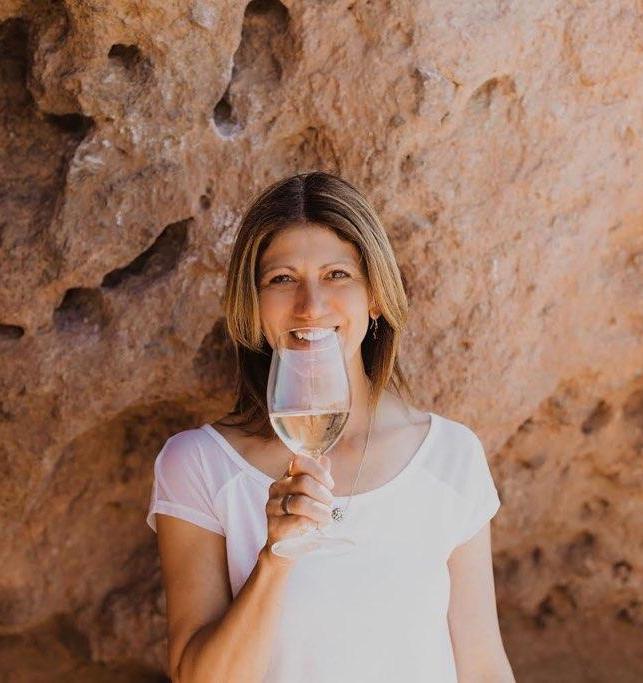 Darla Hoffmann
Darla Hoffmann is a wine and travel journalist, Certified Sommelier, Certified Specialist of Wine, and owner of About Wine and Travel, a wine education and marketing company.
She is a freelance writer and, has her own blog on wine and travel throughout the world. She was the lead writer for AZ UNCORKED, The Arizona Wine Guide and wine columnist for the Somm Insider section of the AZ Food & Wine Magazine. She is currently a contributing writer for The Food, Wine, and Travel Magazine, which is the Official Magazine of IFWTWA, The Official Blog of the Society of Wine Educator's Wine Wit & Wisdom and a variety of other publications. She is also a current member of the International Food, Wine & Travel Writers Association (IFWTWA), North American Travel Journalists Association (NATJA), GuildSomm, The Society of Wine Educators, and The Wine Century Club.