Wine Tasting in Phoenix – Where to Sip & Stay
Written in partnership with Hotels.com.
Did you know that Arizona is one of the oldest wine-producing regions in the United States? Yes, Arizona has a rich wine history that dates back to the 16th century when Spanish Jesuit priests began producing wine for religious sacramental ceremonies. There is more to Arizona than just desert and cacti – the state is ushering in a new era of viticulture! With more than 100 Arizona wineries, vineyards and cellars – there is a lot to sip in.
With Phoenix being one of the major spots in the state I wanted to share a few tips for you wine lovers who want to do some wine tasting in Phoenix. This became ever so necessary for me to do after my last visit when just about every restaurant I went to did not carry wine from ANY Arizona wineries. It makes me sad when local industries don't support each other… Especially since there are some excellent wines being produced in Arizona. So, I've been on a mission to create a list of spots to do wine tasting in Phoenix for all of you lovely wineos.
The main Arizona wine regions are located in the southeastern portion of the state near Tucson, the states two designated American Viticultural Areas (AVAs) – Sonoita AVA and the Willcox AVA – are also located in this area. But, most of the state's population and tourist spots are located in the Phoenix area. Soooo, many wineries are opening tasting rooms in downtown Scottsdale, resulting in an urban wine trail. In other words, it's super easy for locals and visitors alike to sip in Arizona wineries. (Need more ideas on things to do in Scottsdale?)
Wine Tasting in Phoenix
Ok, so to be clear, the wine tasting rooms in Phoenix I've noted are actually in downtown Scottsdale. Seeing as Scottsdale is a suburb of Phoenix and a buzzing hub of the area, it's easy to use them interchangeably.
Aridus Wine Company
7173 E. Main Street, Scottsdale
Wines to Try: 2016 Montepulciano, Petite Sirah, Tempranillo, Mourvèdre, Malvasia Bianca and any of the Tank wines
Opens Daily at Noon
https://www.ariduswineco.com/
Carlson Creek Tasting Room
4142 N. Marshall Way, Scottsdale
Wines to Try: The GSM – Rule of Three and Malbec
Opens Daily at Noon
https://carlsoncreek.com/
LDV Winery Tasting Room
7134 E. Stetson Dr., B-110; Scottsdale (west of Scottsdale Rd. & south of Camelback Rd.)
Wines to Try: Any of the Grenache and Petit Sirah
Open Daily at Noon
https://ldvwinery.com/
Merkin Vineyards & Caduceus Cellars
7133 E. Stetson Dr., Ste.#4; Scottsdale
Wines to Try: Dos Ladrones, Anubis, Le Cortigiane Oneste, Tarzan rRed
Open Daily at 11 AM
http://merkinoldtownscottsdale.com
Salvatore Vineyards Tasting Room
7064 E. 5th Avenue; Scottsdale
Wines to Try: Passion Cellars Malvasia Bianca, Salvatore Sangiovese, Salvatore Chardonnay, Passion Cellars Malbec
Hours: Monday-Friday Open at Noon; Saturday & Sunday Open at 11 AM
Staying at a hotel that is nearby locations you plan to visit is one tip not to overlook. I've teamed up with Hotels.com for this article and wanted to note that for wine tasting in Phoenix staying at a hotel in old town Scottsdale – or nearby – will give you the most flexibility and walkability. A few I suggest include Scottsdale Marriott Old Town, W Scottsdale, Aloft Scottsdale. For more of a resort, you'll have to drive in for wine tasting but a few amazing, nearby spots include The Phoenician, Hyatt Regency Scottsdale Resort & Spa at Gainey Ranch and Royal Palms Resort and Spa.
Wine Bars in Phoenix
Well guys, there are a lot of wine bars in the Phoenix area BUT I didn't find a lot that featured (let alone carried) any Arizona wines. Soooooo, stick with the wine tasting rooms if you want to stay local. I did find Jamie's Wine Bar at Wrigley Mansion to have a decent list of wines from Arizona wineries. Its crazy, intensive wine list includes a ton of wines from around the world, which has earned it the ranking as one of Wine Spectator's America's Top 100 Wine Restaurants.
The following are some cool wine bars in Phoenix but, their selection of wines from Arizona wineries is pathetic. So, if you're trying to sip local, these won't be your spots. (It would super cool to see them offer an Arizona wine flight in the future!!!)
If you're interested in learning more about Arizona wine, take a peek at the Carpe Travel Arizona Wine Travel Guide. If you're a cork dork like me, my friend Christina Barrueta wrote the book on Arizona wine. Literally. Arizona Wine, A History of Perseverance and Passion. It's a great way to learn more about Arizona wineries and the overall landscape.
Sip In More of Arizona Wine Country…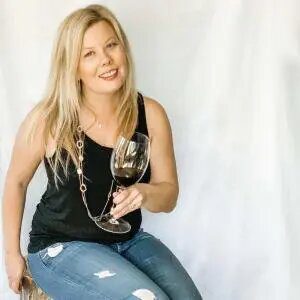 Elaine Schoch (pronounced the German way – Shock) is the editor and founder of Carpe Travel as well as an award-winning travel writer, wine judge, certified by the Wine & Spirit Education Trust (WSET) Level 2 and certified American Wine Expert. She is married to The Husband and has two kids, Princess One and Two – who's interest and knowledge in wine is quite extensive. Not to mention the stamps in their passports.