TRAVEL NOTICE: If you decide to travel to the Arizona wine county, please check the status of the places you are visiting. Given the current climate, many may have restrictions in place. Stay safe!
Arizona is one of the most exciting and innovative emerging wine regions in the country. Its Willcox wineries are shaping the wild west of wine regions.
Raven Adrian, Contributing Writer
Truly the wild West of wine regions, Willcox, Arizona has a rich history and even richer community. Less well known than its older sister AVA, Sonoita, Willcox is the dusty powerhouse of Arizona wine grape growing. With more than 20 wineries in the designated Wilcox AVA, there is a lot to sip in – not only in terms of wineries but history, nature and a lot of activities.
American Viticultural Areas (AVA) are designated wine grape-growing region in the United States distinguishable by geographic features, with boundaries defined by the Alcohol and Tobacco Tax and Trade Bureau (TTB).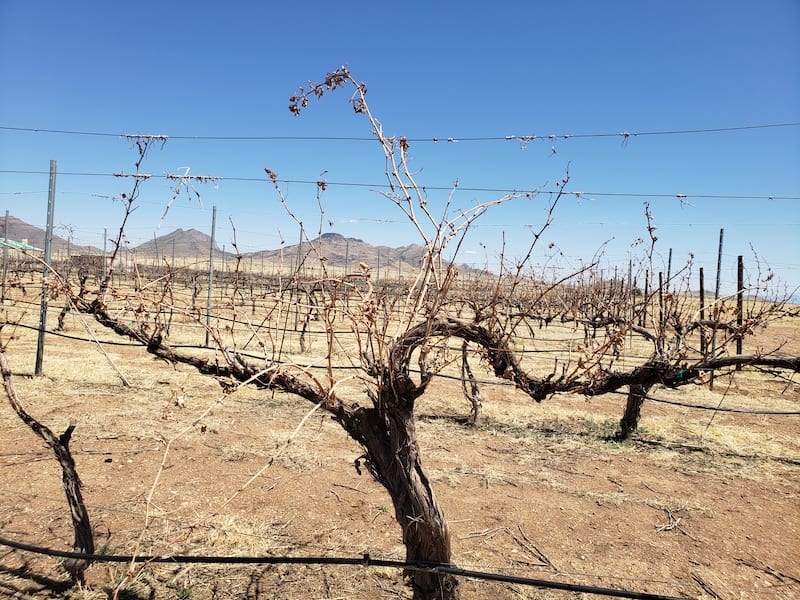 Getting to Know the Willcox Arizona Wine Country
With over 75% of the state's grapes coming out of the vineyards in Willcox, the region supports a strong agricultural industry.
The high desert climate provides a very desirable (and necessary) diurnal temperature swing (up to 50 degrees in the summer.) Monsoons in July and August provide a welcome influx of moisture for a lush and protective canopy growth. The vineyards are surrounded by the incredibly beautiful Chiricahua and Dragoon mountains and planted at elevations of up to 5,500 feet.
Like California and Texas, the history of the area as a wine region began in the 1700's with missionaries planting grapes for the purposes of sacramental wine. Now, the focus is on quality wines in an increasingly modern style, with the Willcox dust providing a linking characteristic for wines that allow the terroir to show. Sandy and gravelly soils drain more easily here than the clay heavy vineyards of Sonoita, which lends itself to more early ripening grapes.
The town of Willcox was a major stop on the railroad, falling almost exactly halfway between El Paso and Phoenix, the local attractions reflect that history. The other major claim to fame is being the hometown of country singer/movie star, Rex Allen. While you're here, make sure you have your radio station tuned to the classic country station founded by Mr. Allen, 98.1 KHIL.
Willcox Wineries You Shouldn't Miss
As one of the newest Willcox wineries, owners Edie and Tom are making serious wine with a very laid-back vibe. They participate in local wine coalitions such as the Pearce Wine Trail and annual festivals. Two standouts in their current line up are a Riesling (crisp and fresh with the most interesting red berry notes) and the dark and elegant Tannat. They have some exciting and experimental plantings of Nebbiolo and Cab Franc that are yet to be bottled.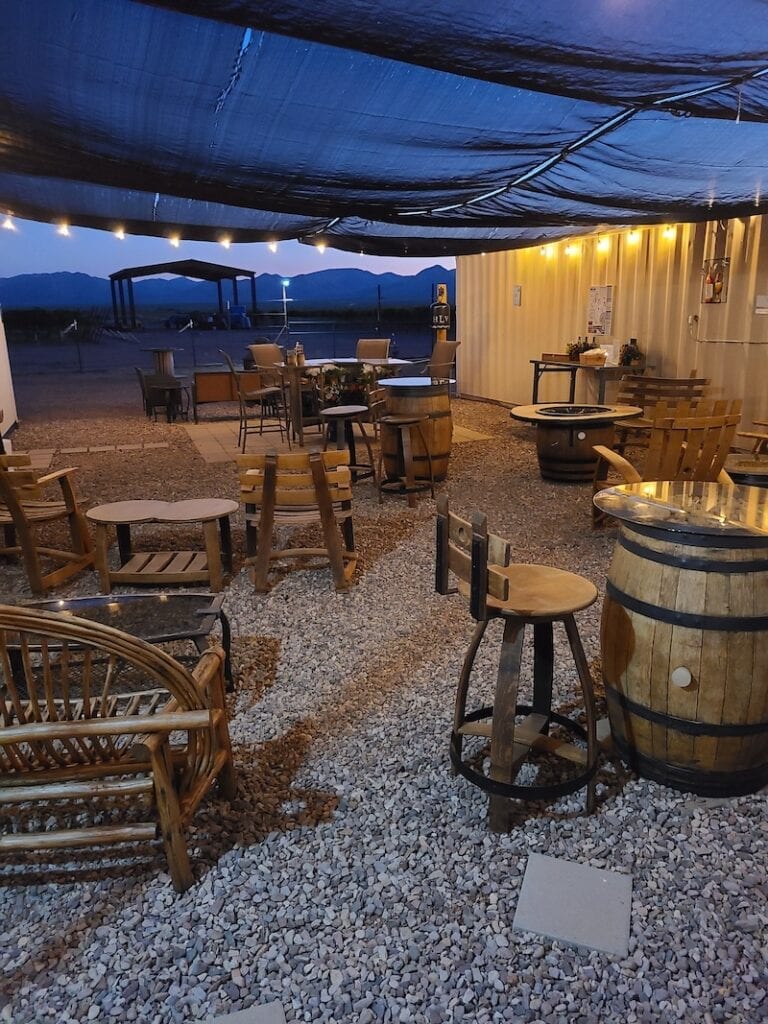 Rife with references to Star Trek, Hitchhikers Guide to the Galaxy and computer programming, the major energy here is disruption of the status quo – in the best way. Even newer than High Lonesome, this is definitely a winery to keep your eye on. They are breaking onto the scene with a fun line up, including a very cerebral and delicious orange wine that they are calling their Amber Riesling.
Mediterranean grapes like Grenache, Aglianico and Tempranillo still reign here, but surprises abound in style and new plantings like Riesling and Tannat.
Aside from the sweeping view from the tasting room, the best thing about your visit here is the tapas menu that is available alongside the tastings. These wines are made in the more traditional American style – lush and fruit forward, and the food complements them well. It's a great way to pause and enjoy a mid-day break from winery hopping.
Growing only nine varietals on 26 acres, owners Ruth and Jim Graham have a very focused approach to the wines they put into the market. With winemaker Mark Phillips at the helm, they are building their reputation with a focus on the growth and marketing of the region as a whole. The Golden Rule vineyards are situated right next to a pistachio grove, also owned by the Grahams. It's quite a novelty to sit in the tasting room sipping and snacking while learning about both the vine and pistachio plantings. The desert friendly trees are planted intentionally with each male in range to pollinate a harem of up to 14 female trees. Nuts.
An architecturally beautiful tasting room and crush facility, these guys make a lot of wine. So many styles and varietals that it can be difficult to find your bearings at first. Once you set on a course though, you'll have fun plying through their array of Arizona and New Mexico bottle offerings. This is a perfect option for a first stop as you'll really get an idea for which varietals are shining in the area, and which are still finding their place. (More on Aridus here.)
Among other wine-related celebrations, Willcox hosts a wine festival twice a year.
Other Activities to Mix Into Your Willcox Wine Tasting
There are two coffee shops, conveniently on opposite ends of the wine route. Depending on your imbibing wine tasting itinerary, you can start your day at the Talking Irons Coffee Saloon in Pearce or at Source of Coffee in Willcox, both shining with community and comfort.
Downtown Willcox is a sweet couple of blocks with an astonishing amount of history and personality packed in.
You can visit the museums honoring hometown heroes Rex Allen and Marty Robbins, the historic western/art deco theater and (most importantly for this guide) a rapidly growing number of tasting rooms – six at the time of writing. There are also a few spots to eat lunch including a Texas BBQ joint inside an old rail car paying homage to the glory days and a You-Cook-Em steak joint.
Striking landscapes in the Dragoon Mountains offer hiking opportunities that are accurately described as out-of-this-world. Piles of rock formations known as hoodoos are plentiful and eerie. The Heart of Rocks and Massai Point are two great trails in Chiricahua National Monument. Exceptional places for bird watching, the Apache Station and Playa Wildlife Area are both within a very short drive of wine country.
Also worth a visit are the locations that served as battlegrounds and/or refuge for the Apache Indians during the 30 plus years of conflict with the U.S. Army. Ft. Bowie and Cochise Stronghold among them are peaceful environments that no longer belie their tumultuous pasts. For more education on the subject (and a nice place to have a picnic lunch) the Amerind Museum and Research Center has been promoting knowledge and understanding of the Native Peoples of the Americas since 1937.
On your way South from the freeway, you'll pass through the old Wild West town of Tombstone, AZ where you can watch a mock shoot out of the OK Corral and take photos in the replica gallows. If your palate has grown wine weary, you should stop for a refreshing pint at the Tombstone Brewing Company. There are also trolley tours, mine tours and ghost tours aplenty.
These vestiges of those glory days of prospecting and fortune finding are receiving new life in the business models and adventurous attitudes of the wine industry in Willcox. It's only getting more exciting from here.
Have you sipped in any Willcox wineries? Which ones are your favorites?
Sip in More Arizona Wine Country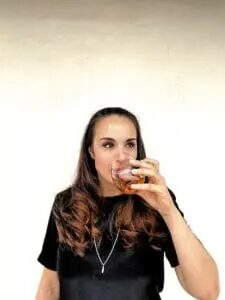 Raven Adrian
A recent transplant to Arizona, Raven Adrian is driven by all things that inspire laughter and curiosity. This led her very naturally to a career in wine and hospitality. She is a Certified Sommelier (CMS) and spent 18 years enmeshed in the restaurant industry of NYC. With the help of the Sonoran Desert and a cat named Moose, she is recovering well.