Who doesn't love a good wine festival and in colorful Colorado at that. The state is home to two wine regions 100+ wineries and several wine festivals to sip it all in. Here are a few Colorado wine festivals to work into your plans.
At the time of this posting most of these annual wine festivals have released their 2021 dates. (More wine festivals to sip in – California Wine Festivals, From A to Z: Top Wine Festivals in Every State Not to Miss.)
September 10-12, 2021, Aspen, CO
Each year, FOOD & WINE hosts its FOOD & WINE Classic in Aspen, which has become one of the nations premier culinary events with the world's most accomplished winemakers, celebrity chefs, and culinary experts coming together in one breathtaking setting – the base of Aspen Mountain. Foodies will delight in the range of food and wine offerings both in the grand tasting pavilion as well as the carefully curated seminars.
The 2021 show is on hold.
Named by Fodor's Travel as one of the top 10 wine festivals not to miss, the Annual Denver International Wine Festival is a must. It's become the premier International Wine & Food Festival in the Rocky Mountains. (The 2021 dates have not yet been released.)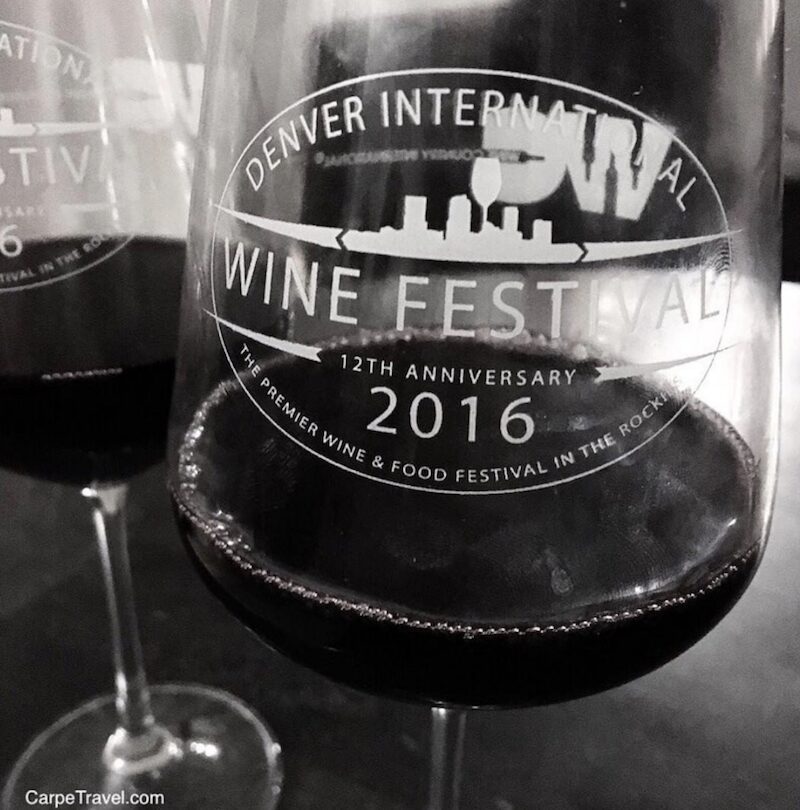 September 23-26, 2021, Telluride, CO
Since 1981, Telluride has hosted the prestigious Telluride Wine Festival. The festival is a beautiful gathering of the local culinary community, enthusiastic visitors, vintners and chefs from around the world. Also happening within the four days of world-class wines and cuisine are amazing modern-cuisine, cooking classes, a "Celebration of Colorado" featuring local wines and spirits, cooking demonstrations, cocktail classes and samplings of unique and deliciously prepared foods.
July 29th-31st, 2022
The Breckenridge Wine Festival is a unique wine and small bites festival held in the heart of the Rocky Mountains. Indulge in exciting wine seminars taught by master sommeliers and food pairings that will tantalize the taste buds as you take in the amazing mountain views.
September 18 & 19, 2021, Palisade, CO
Colorado Winefest is the state's largest and oldest wine festival featuring dozens of Colorado wineries, live music, a grape stomp, chef demonstrations and seminars. It's no surprise it has been voted the Best Wine Festival in the U.S. by USA Today's 10Best.
September 16-17, 2021, Vail, CO
The annual Taste of Vail has been rated among the nation's best spring food and wine festivals by Forbes, USA Today and The Travel Channel. During this year's annual, four-day event as many as 5,000 people are expected to taste, sip and soak in the Vail Valley. The event features world-class restaurants, fine wine poured by winemakers and winery owners from renowned wineries throughout the world, interactive cooking seminars, the iconic Mountain Top Tasting sensory extravaganza at the top of Vail Mountain, and the famous Grand Tasting auction as well as other exciting events.
August 12-14, 2021
The Vail Wine Classic is a three-day weekend of wine tasting in the heart of Vail. Winemakers from all over the world bring wines for visitors to sip and sample while noshing on local appetizers. Wine dinners and paired lunches make the weekend even more delicious.
October 6-8, 2022 Denver, CO
Ok, we know it's not wine but it's super fun and is the largest collection of U.S. beer ever served, in a public tasting event plus a private competition. With Colorado being king of craft beers, it only makes sense to hit the GABF to explore craft beers from around the U.S. and the world.
---
SIP IN MORE COLORADO WINE COUNTRY