Most people know Telluride, Colorado for its world-class skiing. After all, there are 1,700 acres of powder that entice visitors every winter. That, coupled with the fact that Telluride sees the sun for 300 days, and gets 300+ inches of snow, make it a skier's paradise. However, there are so many seriously fun things to do in Telluride in summer that winter looks boring.
This summer Telluride was one of our stops during the the Crazy Family Colorado Road Trip. It had been aloooong time since we had been back to visit what remains one of my absolute favorite Colorado towns. So, I felt it was time to update this post with some new things to do in Telluride in summer. What are your favorite summer activities in Telluride? Let me know if the comments.
Things to do in Telluride in Summer
Bear Creek Trail
This is one of those things that you simply must experience at one point in your life. Hiking the Bear Creek Trail is amazing. There are several trails that branch off, and the hike will take you upwards of 1000 feet. However, the payoff is amazing. The view that you get of Bear Creek Falls is well worth the effort. As a bonus, the trail head is right at the end town making it an easy one to do when your staying in Telluride.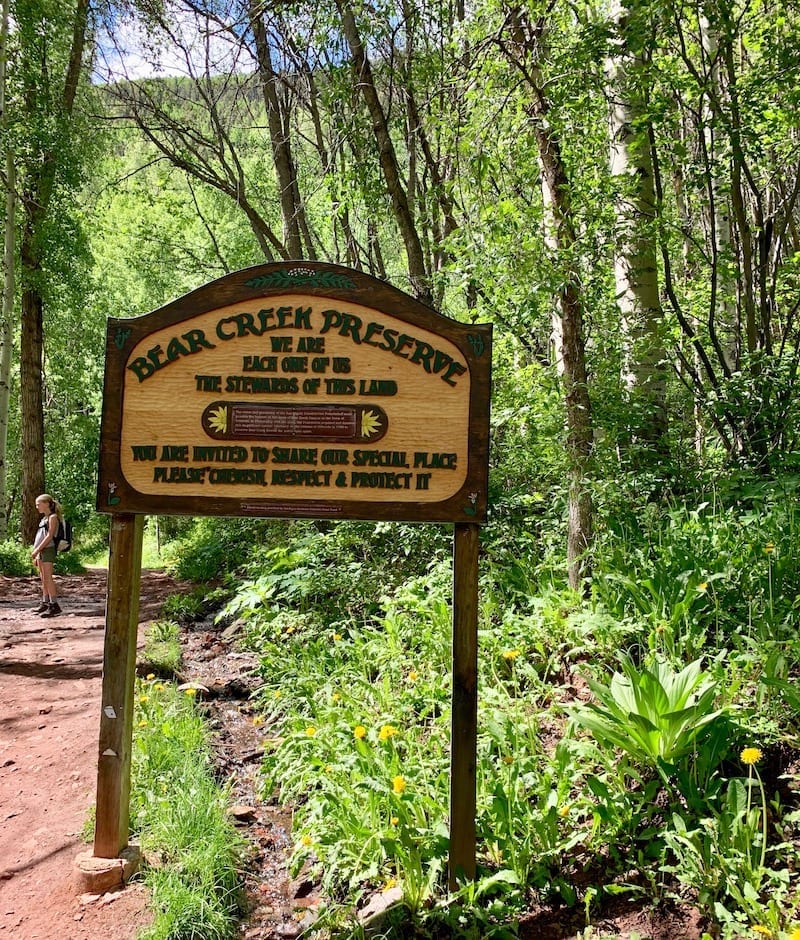 Telluride Historical Museum & Walking History Tour
Telluride is one of Colorado's famous mining towns and home to one colorful history. Getting a little insight into its past is a must if you're going to really try and soak this town up. And, Telluride makes it easy for you to do with the Telluride Historical Museum. Housed in the former hospital, the museum has more than 9,000 artifacts and more than 1400 pictures to show you what life was like in Telluride's early days. Check the museum hours before you go as they do vary during the seasons.
If you're able to take the walking history tour offered – DO IT! The small town has so much history just along the streets and knowing the stories makes your stay so much more interesting. I absolutely loved this tour when I did it!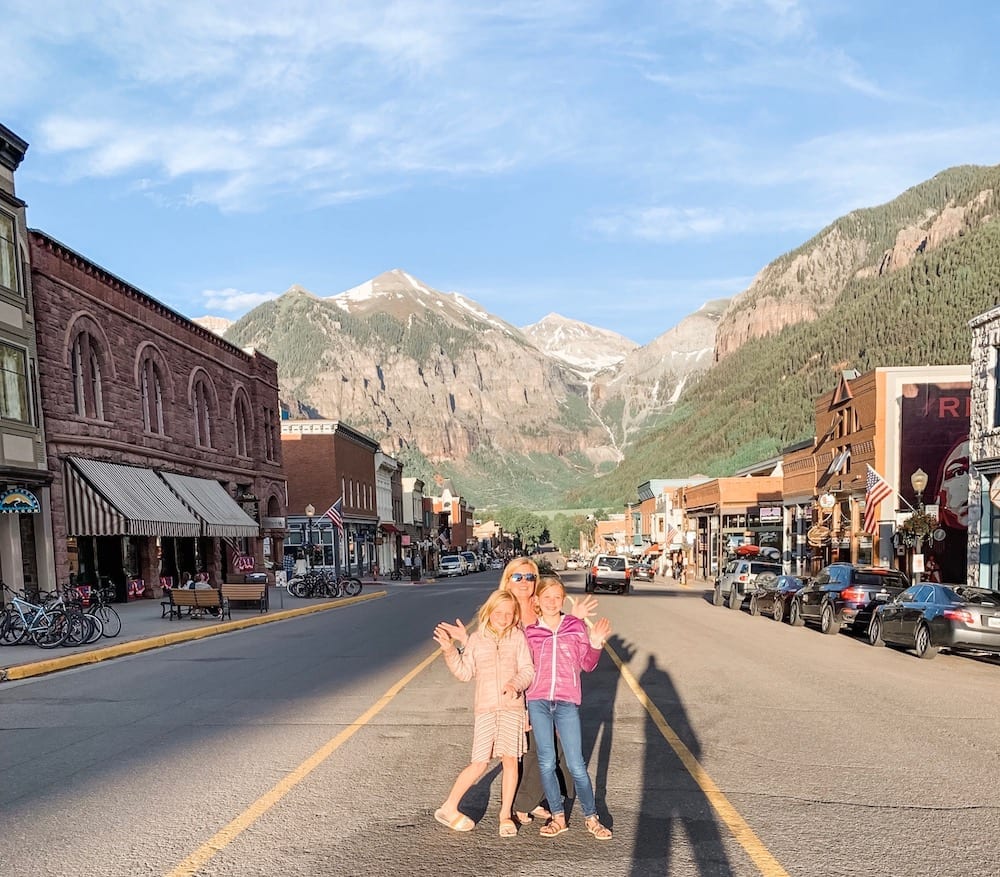 Hike, Bike or Drive to Bridal Veil Falls
At the end of the town of Telluride is a spectacular view of Bridal Veil Falls, the tallest free-falling falls in Colorado – 365 feet in height! It's nearly impossible not to be enticed to hike, bike or just drive up to get a closer view. The hike is about four miles round trip.
Paddle Board & Kayaking

There have been several summers where you can paddle board on the San Miguel river that runs alongside town. But, not when I was here this summer. The waters were way too high and fast given the crazy snow from the winter months. Kayaking was happening though, albeit I saw a few guys on the river and had a little anxiety for them… With that said, you can easily head over to Trout Lake which is about 15 minutes from town. You will need to arrange to have boards delivered to you since there isn't an outfitter onsite. (Call Telluride Outside or Mountain Adventure Equipment)
Ridgeway State Park is another great option. It's about a 45 minute drive and is a great place to spend the afternoon SUPing, picnicking and just soaking in the views. During our visit there were two outfitters onsite where you could rent SUPs. If not, there is are a few spots right in the town of Ridgway where you can grab one.
Ride the FREE Gondola
The Telluride/Mountain Village gondola is a one-of-a-kind transportation system – the first and only free public transportation system of its kind in the United States. This 8-mile, 13-minute ride offers incredible 365-degree views of the San Juan mountains. It connects the town of Telluride with Mountain Village making getting up to the slopes in the winter much easier and giving you the chance to explore the hills and the village during the summer months. There are four stops along the way. The first is the San Sophia Station, where you can access the trails, Allred's Restaurant and the Nature Center. Visiting Nature Center's are hit or miss for me, but this one is really interesting and gives you context on the wilderness surrounding you. The next stop on the route takes you down into Mountain Village and drops you off at the Gondola Plaza. Continuing on the gondola you will reach the Mountain Market, the Post Office, and Mountain Village Town Hall.
Eat & Shop Local
Don't be fooled by Telluride's old west appearance, this town is a culinary mecca. With 60+ restaurants in Telluride and Mountain Village you could spend the entire visit munching your way through it. A few of my absolute favorites include the following.
Rustico – Amazing Italian food with one of the best wine lists I've ever seen…and, that says a lot.
The Coffee Cowboy – Telluride has changed a lot over the last few years but this staple remains unchanged. Thank God. Grab coffee, lattes and smoothies in the morning and sit back and enjoy the views of Bridal Falls.
The Butcher and the Baker -OMG. The place is home to the most amazing breakfast sandwiches. I highly recommend you grab one before a hike and have them make you a sandwich for lunch so you can picnic alongside the trail later in the day. Just to be clear, they have a lot more than just sandwiches on the menu, but I'm not sure why you'd order anything else.
The New Sheridan Chop House – Go for dinner but brunch is good too. The bison steak is a must!
Baked in Telluride – Great grab and go breakfast sandwiches, lunch and pastries.
Grilled Cheese Stand – I don't know the name of this food vendor hanging out on Main Street but holy heck! The MOST AMAZING grilled cheeses ever and for a reasonable price.
Wine lovers take note! Colorado has an amazing wine region not far from Telluride. Get the Colorado Wine Travel Guide!
Fly Fishing
Since you are in Colorado, and rivers abound, why not try your hand at fly fishing. You may also prefer to do some good old family fishing at the kids fishing ponds at the town park or alongside the San Miguel river that runs alongside town. If you're more into the fly fishing, the Gold Medal Dolores and San Miguel rivers are the perfect place to get your casting elbow loosened up. They feature great trout and can be a true paradise for an angler. Make sure you get a fishing license at the local sporting good store (or online).
Telluride Community Pool
I don't know about your kids, but all mine want to do on vacation is swim. Give them a few hours at the pool and I can get them to do just about anything else. It's become one of my tricks – bribery – in getting them try new things…aka, "if you do this history tour with me, we can go to the pool afterwards." With that said, we hit the Telluride Community Pool on our last trip and they had a blast scaling the climbing wall and playing hoops in the kids swim area. One thing to note – that I loved – is that kids will have to pass a swim test if they want to play on the climbing wall. It's in the deep end so the life guards want to make sure everyone can swim to the sides when they fall.
Telluride Bluegrass Festival
I should really say, any festival since Telluride is home to so many during the summer months. But, my favorite would have to be the Bluegrass Festival. This occurs every June (40+ years running), and draws thousands of people to the area. A four day event, the Telluride Bluegrass Festival features some of the most well-known bluegrass acts to ever pick a guitar or strum a banjo. Beware though, during this time hotel rates have been known to skyrocket and camp grounds are filled, but if you are a bluegrass junkie you probably won't mind. The more the merrier. Just plan ahead so you can get a place to crash.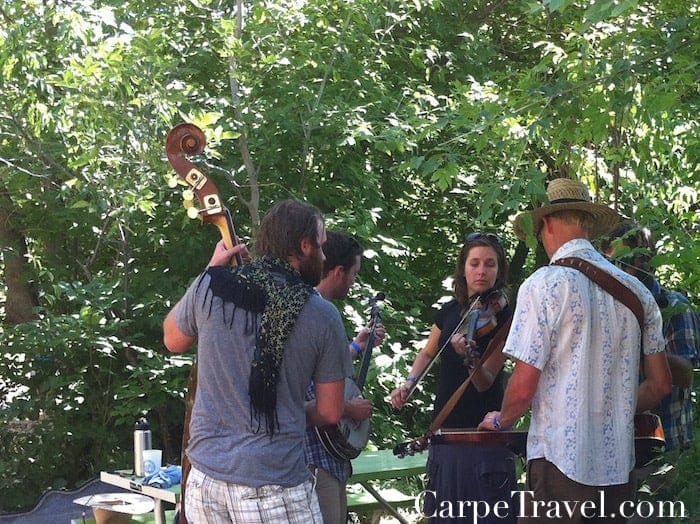 Golfing in Telluride
The Mountain Village area of Telluride is home to an excellent golf course. Tee up for an afternoon and try your hand on the fairways tucked inside the beautiful San Juan mountain range. Rates vary according to the season, and it's one of the more popular summer activities in Telluride so you definitely need to call in advance to reserve a tee time if you want to golf in Telluride. The Mountain Village golf course has a US distinction. It is surrounded by the highest concentration of mountains with an elevation of 14,000 feet. This creates some pretty breathtaking scenery.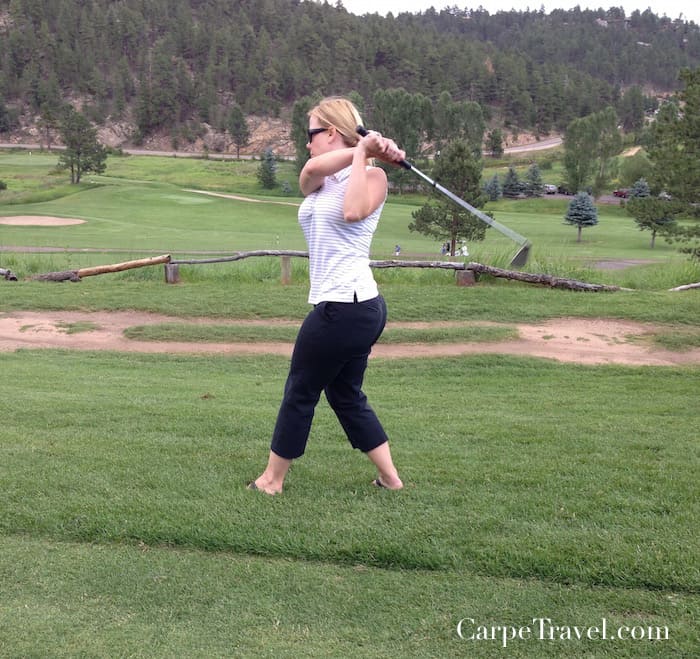 Horseback Riding
Saddle up and hit the trails in true Southwestern style with a horseback ride. There is nothing like the trail life with it's wide-open spaces, highlighted by the majestic mountains. Feel like a true cowboy or cowgirl as head out across the plains. Need more? Add on a chuck wagon dinner with an overnight trip for a full southwest experience.
Off Roading in Telluride
Before it was a ski resort town, Telluride was a mining Mecca. As such, there are many abandoned mines. It creates a sort of ghost town experience. You can see the mines if you are up for doing a little off roading or seriouse hiking. The 4 x 4 trails are popular, especially at the Imogene Pass. You can take a guided tour or rent one of their vehicles to go on a self-guided experience. The trail features moderate to extreme roads, which means adventure is sure to be had! (I highly suggest you don't take your own car, which is what we did. Otherwise, you may literally find yourself stuck on the side of the mountain with no where to go.)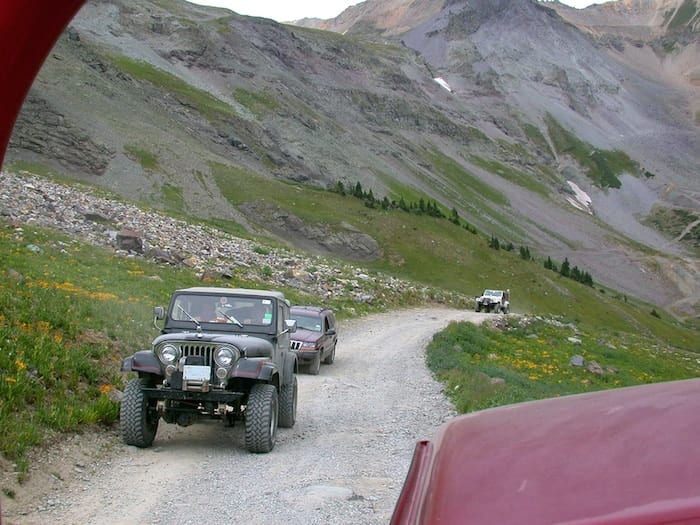 Camping in Telluride
Camp among the mountains in a wide-open field and see Telluride at its finest. This is one of the absolute best summer activities in Telluride… It's also one of the most affordable ways to enjoy the area. There are designated camp grounds in Telluride inside the town park, as well as other surrounding areas a short 20-minute drive away. Private campgrounds are available too. Obviously, rates will vary depending on location and the type of campground and campsite you choose, so do your homework. Something to keep in mind when booking your campgrounds – elevation. Depending on the time of year you may find yourself dealing with snow.
One of my favorite sites is Matterhorn Campsite, near Telluride in Lizard Head Wilderness. There are several around this area as well in case you can't get a spot here. I mean just look a this view…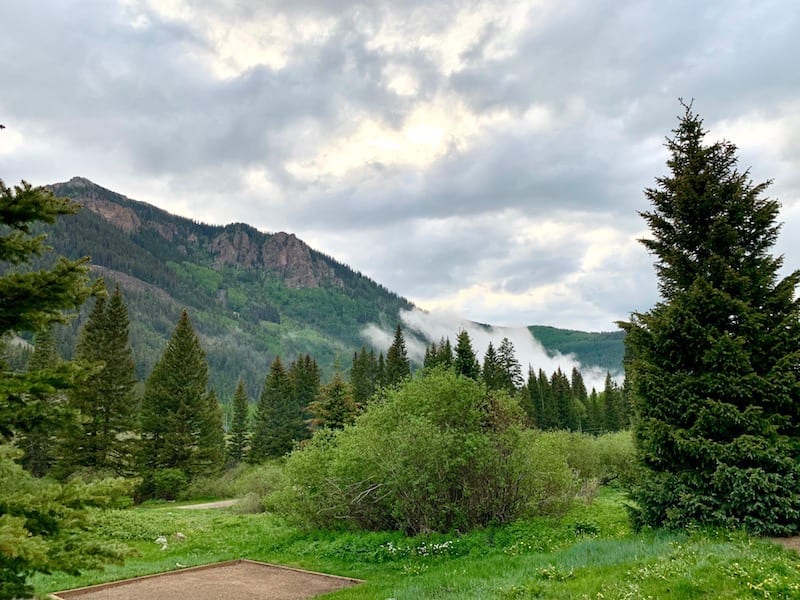 Telluride is so much more than just a skiing destination, you could spend your entire summer there and not experience all that the mountain region has to offer.
What are some of you favorite things to do in Telluride in summer?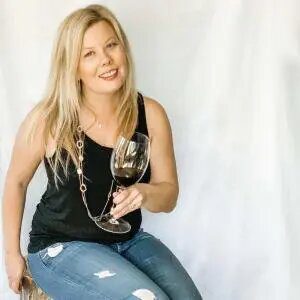 Elaine Schoch (pronounced the German way – Shock) is the editor and founder of Carpe Travel as well as an award-winning travel writer, wine judge, certified by the Wine & Spirit Education Trust (WSET) Level 2 and certified American Wine Expert. She is married to The Husband and has two kids, Princess One and Two – who's interest and knowledge in wine is quite extensive. Not to mention the stamps in their passports.