Where to sip in the best of the Colorado wine country
When you think of visiting Colorado, going to wine county may not come to mind. But, that was on the top of my list when we set out on our crazy family Colorado road trip. The Husband agreed to let me have three days to sip in Colorado's Grand Valley AVA and many of the amazing Palisade wineries. (He's a smart guy who likes to keep the peace…and knows I NOT a big road trip lover.)
While the highlight of the road trip for me was discovering some of the best Palisade wineries in Colorado's wine country, the family was reminded that we can enjoy wine country together given there are so many things to do besides sipping.
Whether you're road tripping through Colorado and want to sip in a new experience, or are a wine expert or just love drinking wine, here's my list of the best Palisade wineries to sip in. (Road tripping soon? Here are 27 things to add to your road trip packing list.)
Palisade Wineries Not to Miss
Colterris
Colterris is a name synonymous with the area. The name itself was derived by combining the first three letters of Colorado with the 'terris', the Latin word for 'from the land'. Colterris owns and farms 100% of its vineyards and all their wines are produced from 100% Colorado grapes which, thanks to the favorable eco climate, volcanic soils and water from the Colorado River, ensure intense fruit flavors and a rich color. Not only is Colterris is one of my favorites but its recognized as one of the best Palisade wineries through its multiple award winning wines.
Make Sure to Sip… Cabernet Franc, Rose of Cabernet, Malbec, Merlot
Plum Creek Winery
Owned by Sue Phillips, Palisade's Plum Creek Winery was one of the first vineyards to produce fine wines from 100% Colorado grapes. Founded in 1984, they have 65 acres of vineyards in Palisade and Paonia and place their focus on growing grapes that are best suited to the climate and terrain as they understand how this is crucial to producing quality fruit in a high-altitude climate.
Plum Creek Winery is one of the oldest, most award-wining Palisade wineries AND in all of Colorado. To date, their wines have been awarded over 400 medals in international, national and regional competitions. You can sample these flavors for yourself inside the tasting room or outside on the patio or picnic area. Make sure to buy what you like there as you won't be able to order wines later for shipping, at least not at the time of this posting.
Make Sure to Sip… If you can, try them all because you won't be able to get them outside of the tasting room. (You can't even ship or order them online!?!) A few of my favorites include their Grand Mesa, Redstone Reserve – both the Merlot and Chardonnay, and I can't resist a good Colorado Cabernet Franc.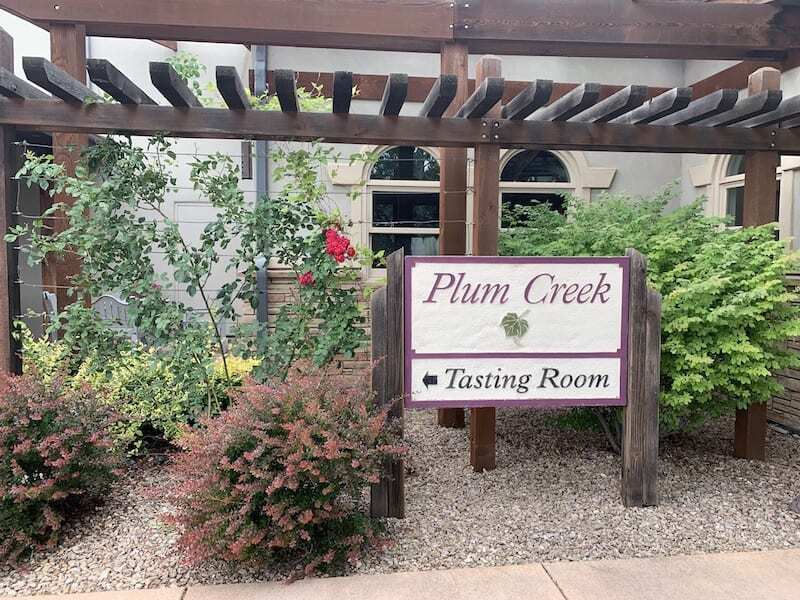 Bookcliff Vineyards
It's not often that engineers turn their attention to winemaking, but John Garlich and Ulla Merz's passion and appreciation of wine saw them do just that when they founded Bookcliff Vineyards. During the late 70s and early 80s, after attending many wine tastings, they started to arrange similar events for their friends. With a strong belief that Colorado-grown grapes could produce great wine, in 1999 they became grape growers and winemakers using sustainable farming practices. Now they are celebrating over 20 years of winemaking in Colorado and have been the winners of the Colorado's Governor's Cup twice with their wines made from 100% Colorado-grown grapes from their vineyards in Palisade.
The Bookcliff Vineyards Palisade Tasting Room is open daily from May through to October. You can still visit between November and April, but you should contact the winery for opening times.
Make Sure to Sip… Cabernet Franc Reserve, Cabernet Sauvignon, Cadenza, Crescendo (blend of Syrah, Cabernet Sauvignon, Petit Verdot, and Souzao, Ensemble (Bordeaux blend), Malbec
Red Fox Cellars
With seven acres and seven varietals, Red Fox Cellars is a family owned and operated Colorado winery that produces estate-grown wines. Rather than follow set wine making traditions, they take a bit from here and a bit from there to produce wines that are unique to them – and that's what makes their wines so special. Their barrel aged wines, Italian varietals like Nebbiolo and Barbera are fun (and tasty) to sip. Visiting the rustic tasting room at – 695 36 Road, Palisade – makes for a great stop if you're riding/biking the Fruit and Wine Byway. The outdoor area offers a lot of shaded seating, corn hole (perfect for the kids!).
Make Sure to Sip: Bourbon Barrel Merlot, Barbera, Bourbeaux, Nebbiolo, Long Day Tempranillo Rose, Rye Whisky Barrel Aged Cabernet Franc, 44 Red Blend
De Beque Canyon Winery
Founded in August 1997 by Bennett and Davy Price, DeBeque Canyon Winery gets its name from the long canyon that holds the waters of the Colorado River as it flows from the mountains to Grand Valley. Grape grower Bennett had already designed and established vineyards throughout the state for other growers and wineries, and so thought it was about time that he turned his attention to creating his own.
The fertile terrain coupled with warm days and cool nights throughout the growing season help to create the intense flavors which characterize their wines and De Beque is renowned for its full-flavored, oak-aged wines, rich blended Ports and premium white wines. The De Beque tasting room is located at 351 W. 8th Street in Palisade and is the perfect place to try out their Bordeaux and Rhone varietals.
Make Sure to Sip… Malbec, Tempranillo, Cabernet Franc, Gewurtztraminer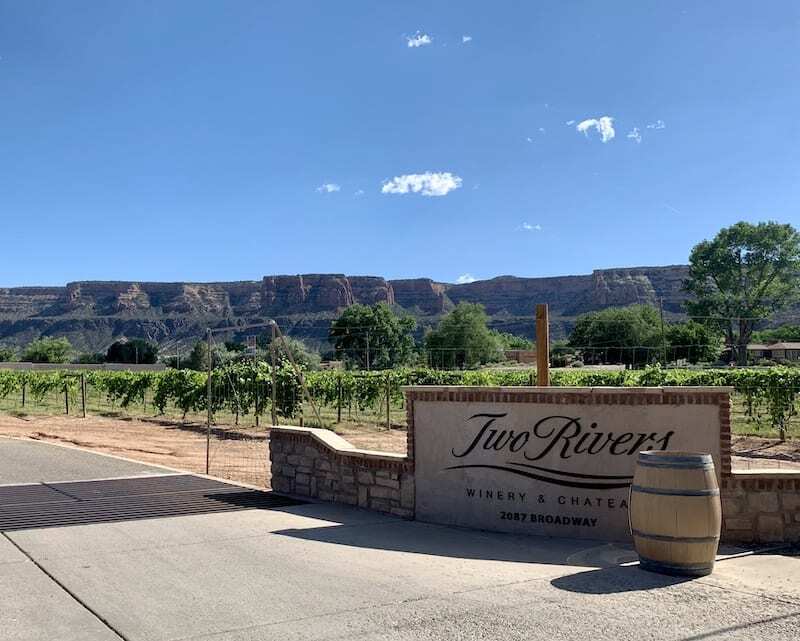 Two Rivers Winery and Chateau
Technically his family-owned and operated winery isn't located in Palisade, but it's close enough. Two Rivers Winery and Chateau lies nestled between the gateways of Colorado National Monument in Grand Junction, which is about 20 minutes west of Palisade.
In 1999, owners Bob and Billie Witham acquired 15 acres of vacant land in the Redlands area of Grand Junction and built the Two Rivers Winery and Chateau. Today they produce a variety of award-winning wines which can be tasted and purchased in their tasting room. You can also opt to tour their facility and see the winemaking process up close or simply indulge yourself in the breathtaking scenery that surrounds the vineyard as you sip their wine.
Make Sure to Sip… Riesling, Chardonnay, NV Port, Vintner's Blend (Syrah and Cabernet Sauvignon)
Visiting Palisade wineries is a memorable experience for both wine connoisseurs and amateurs alike, especially when you're biking the Palisade Fruit & Wine Byway. I've found the local winemakers are friendly, unpretentious, and sooooo down to earth. Many will be working the tasting rooms and doing the tours themselves. They love to share the fruits of their labor with you…and in my case, my kids. Princess Two learned so much on our last visit to Palisade that she's added becoming a winemaker to her growing list of things she wants to be when she grows up.
If you like this, you'll love these…
Sip in More of Colorado Wine Country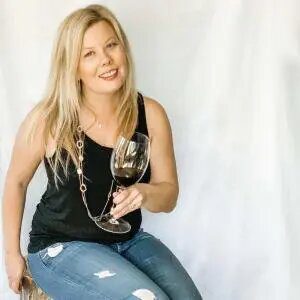 Elaine Schoch (pronounced the German way – Shock) is the editor and founder of Carpe Travel as well as an award-winning travel writer, wine judge, certified by the Wine & Spirit Education Trust (WSET) Level 2 and certified American Wine Expert. She is married to The Husband and has two kids, Princess One and Two – who's interest and knowledge in wine is quite extensive. Not to mention the stamps in their passports.