While rum may dominate glasses in Hawaii, wine has its place on the Islands. All 50 of the United States produce wine, including Hawaii.
Our Hawaii wine travel guide is designed to help you explore Hawaii's wine scene. Be it on the Big Island, Maui or Oahu, the three Hawaiian Islands producing wine. This guide differs from our other guides given the number of wineries in Hawaii. However, the wine scene in Hawaii is anything but small. With that said, we have included a short history, overview of the terroir, wineries in Hawaii, recommendations on wine bars and restaurants, as well as hotel recommendations on the three islands producing wine. Cheers to always exploring new wines!
Wines have been produced on tropical islands for centuries by the Spanish, Portuguese and Greeks. When it comes to Hawaii though, wine is still a budding industry.
It wasn't until 1974 that the first winery in Hawaii was established on the island of Maui, Tedeschi Winery (renamed to MauiWine in 2015). Twenty years later the second winery in Hawaii opened, Volcano Winery on the Big Island.
According to MauiWine, when they planted their first 23-acre vineyard in 1974 they began experimenting with making sparkling pineapple wine from the plentiful pineapples grown on the island. The project was just an experiment meant to setup the sparkling production once the vineyard reached maturity. Today their Maui Blanc pineapple wine is one of their bestselling wines. They produce many other still and sparkling wines as well.
Rum, vodka and craft beers have dominated glasses in Hawaii but that's slowly changing as more wines in Hawaii are produced and become distributed off the island. To date, there is one American Viticultural Area (AVA) and three wineries in Hawaii – MauiWine on the island of Maui, Volcano Winery on the Big Island and Oeno Winemaking on Oahu.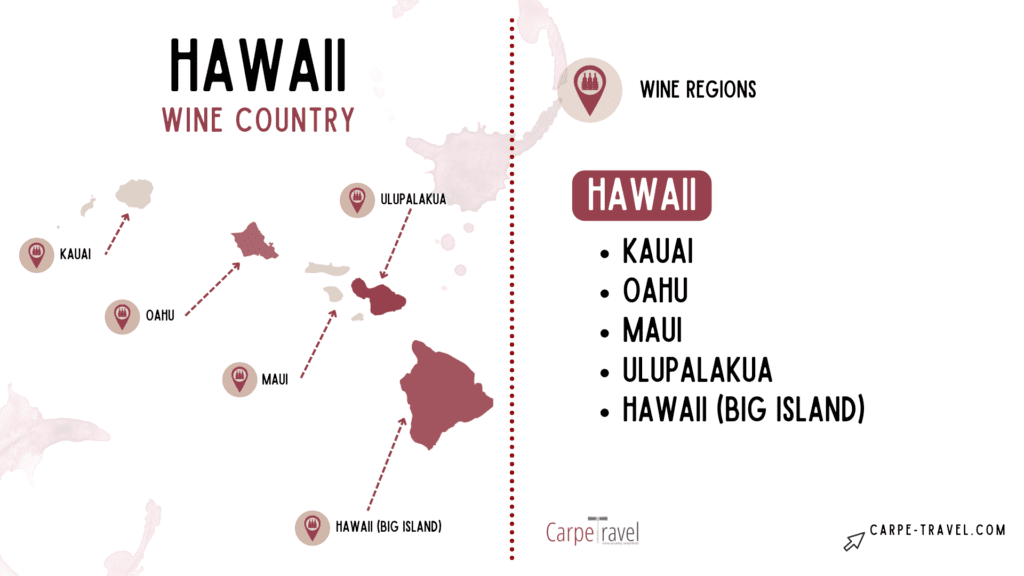 The first AVA in Hawaii was approved in July 2021. Mark Beaman, winemaker at MauiWines, lead the charge for establishing the Ulupalakua AVA, located within the 18,000-acre Ulupalakua Ranch on the island of Maui. It is approximately 70 acres, with about 16 acres of vineyards.
The island of Maui is the second largest of the Hawaiian Islands and where most of the wine in Hawaii is produced. However, both the Big Island and Oahu are producing wines too.
The Hawaiian Islands offer some of the most unique vineyards in the world given they live on volcanos, particularly The Big Island since it is still home to an active volcano. The higher elevation areas of the islands, the volcanic mountains and ridges, as well as the rich volcanic soil are key to successful viticulture in Hawaii.
Wineries in Hawaii mainly produce fruit wine such as guava and pineapple wines. Sparkling pineapple wines are particularly popular. Vitis vinifera is growing as well with grape varietals such as Viognier, Chenin Blanc, Syrah, and Malbec becoming the most widely grown. One of the more unique grape varietals used for producing wines in Hawaii is Symphony, a cross between Muscat of Alexandria and Grenache Gris.
WINES PRODUCED IN HAWAII
Pineapple wines are the mainly produced in Hawaii. Refreshing, not overly sweet and totally delicious – especially the sparkling wines. Pineapple wines can also be produced more frequently given the fruit harvests every few months.
Given the humidity in Hawaii, all wines – pineapple and those from grapes – are fermented in stainless steel tanks. For vitis viniferia (wine made from grapes) oak staves are sometimes added for flavor and texture for the wines.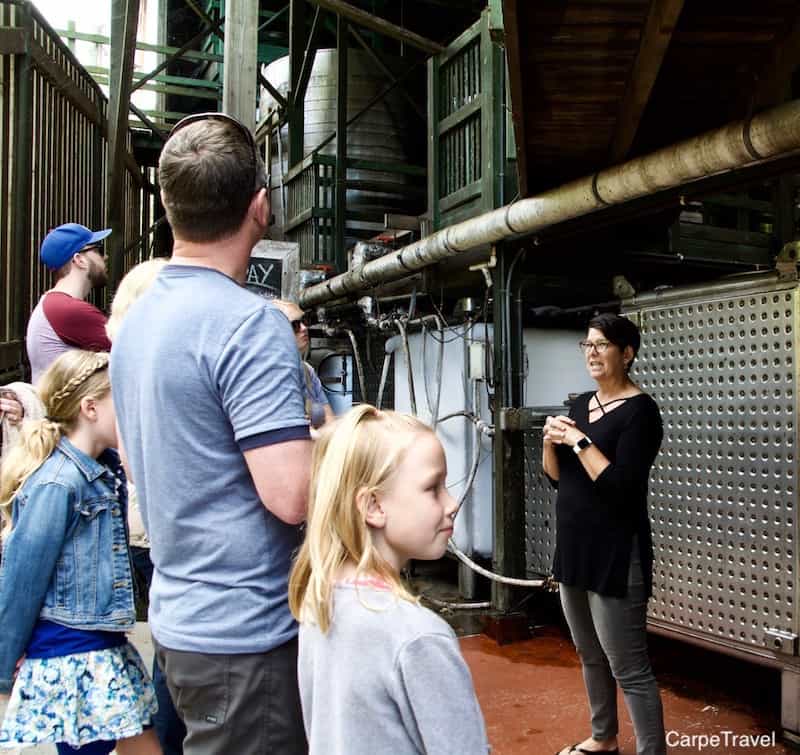 With three wineries in Hawaii – all on different islands – the choices are pretty easy, but when you add in wine bars it gets a lot more complicated and interestingly delicious.
MauiWine
(Island of Maui)
Volcano Winery
(Big Island)
Oeno Winemaking
(Island of Oahu)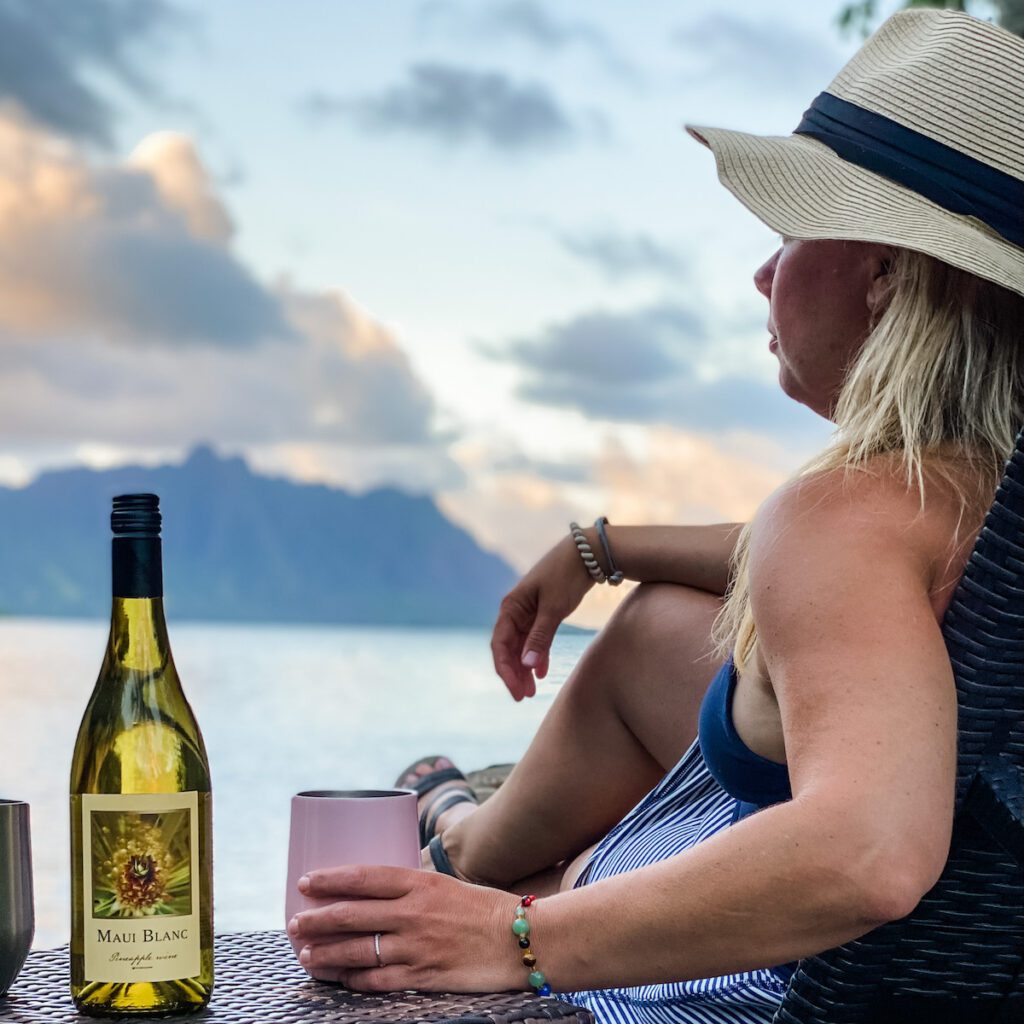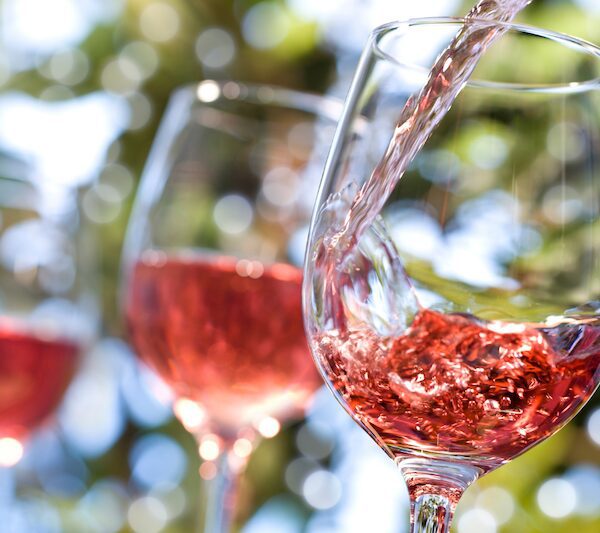 MUST SIP HAWAII WINE FESTIVALS
The Hawaii Food & Wine Festival is the premier epicurean destination event in the Pacific. Set in the lush island paradise of Hawaii, the Festival will take place over several weekends on multiple islands, featuring a roster of more than 100 internationally-renowned master chefs, culinary personalities, and wine and spirit producers.
Sip in More of Hawaii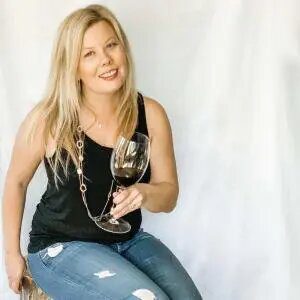 Elaine Schoch (pronounced the German way – Shock) is the editor and founder of Carpe Travel as well as an award-winning travel writer, wine judge, certified by the Wine & Spirit Education Trust (WSET) Level 2 and certified American Wine Expert. She is married to The Husband and has two kids, Princess One and Two – who's interest and knowledge in wine is quite extensive. Not to mention the stamps in their passports.