Luxury, seclusion, nature at its finest – all on Oahu's fabled North Shore
Aloha! On our first trip to the Hawaiian Islands we visited both the island of Oahu and the Big Island. Prior to our visit The Husband made one request for our first stop on Oahu – "to stay in one place and just relax for a few days". In other words, he didn't want me dragging the family out to explore the town or other sites, at least for the first leg of the 10-day trip.
That one request changed everything. In a sense, it simplified things since the only site I required everyone to visit on Oahu was Pearl Harbor. I had already figured out it was near the airport and could easily be done on our last day before flying to the Big Island. This meant we could essentially stay anywhere on Oahu since we didn't have to be near certain areas… BUT being a busy body I needed to find an area – or resort – that could entertain me and the kids for four days yet give him the seclusion and lounge chair to not move from. Enter Turtle Bay Resort on the North Shore.
Pool. Golf. Beach. Hiking trails. Horseback riding. Biking. Snorkeling. Surfing. ALL IN ONE PLACE! To top it off, there are also seven, yes SEVEN onsite restaurants many of which are award-wining. And, it's one of the top places to see turtles, albeit we didn't see any! Next time, I'll shoot for a turtle tour.  During our stay on Oahu I can honestly say I followed through with The Husband's request. We didn't venture far from Turtle Bay Resort. There was simply no need…the following review explains why. (If you're on Oahu, make sure to review our Hawaii Wine Guide.)
Location
Turtle Bay Resort is located in the famed North Shore of Oahu in Hawaii. The resort sits on 800 acres of undeveloped, protected land located at the northern tip of North Shore, about a 15-minute drive from the Historic Haleiwa. For surfing lovers, the resort is located near legendary surf breaks Pipeline, Sunset Beach and the big wave mecca that is Waimea Bay. The property is situated between the shore lines of Turtle Bay and Kuilima Cove, where you'll find a mixture of sandy beaches and jagged volcanic rocks that stretch for miles. Guests can enjoy multiple public beaches, many of which are secluded given their lack of easy access. (All beaches on the Hawaiian islands are open to the public.)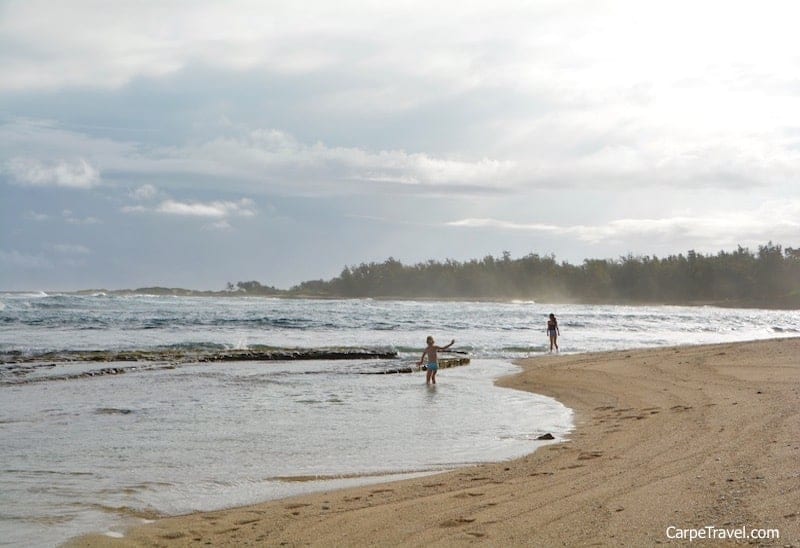 Getting to/from Turtle Bay Resort
The resort is nearly 45 minutes from the Honolulu airport. You can take the public bus, but allow for at least an hour to get there. I personally recommend renting a car or taking a taxi. If you rent a car, be prepared to pay parking fees at the resort. Note, at the time of this posting Uber and Lyft are not available on the island. If you do not plan on leaving Turtle Bay Resort very often you can get by on using the public bus system and hiring a taxi to and from the airport. If you choose to use the bus, make sure to download the DaBus app so you can check times, routs and stops throughout Honolulu.
TIP: Given it's seclusion on the island, there are not taxi's waiting outside of Turtle Bay Resort. You will need to have the resort call a service ahead of time.
If a taxi is your preference, I personally recommend Mahalo Cab, a locally owned taxi and tour company in Honolulu. The hotel arranged for us to have a driver pick us up at the hotel to take us to Pearl Harbor before our flight to the Big Island. (You can arrange everything directly with Mahalo Cab yourself using its online app or by calling.) Along the way, the driver shared information and fun facts about the areas we were driving through. We essentially had a private tour of half the island! Next time we go to Honolulu I plan to hire Mahalo Cab for the day to give us a full tour! I also wanted to note the driver saved us a ton of time and headaches by taking us to the airport first so we could check in our luggage at the drive-in drop-off. It was wonderful not to have to figure out how to deal with our luggage to the offsite luggage check at Pearl Harbor.

The Rooms at Turtle Bay Resort
The rooms at Turtle Bay Resort vary from studio bedroom cottages to standard rooms to suites with a separate living space and villas with multiple bedrooms and fully-functional kitchens. Since we were traveling with our kids we chose a suite that had a king bed and separate living space with a pull-out couch for the kids to share. Ideally we would have booked a villa to save on dining costs but there weren't any available. In hindsight, I'm glad we didn't book a villa as they are further away from all the resort activities and the dining options at the resort were worth checking out – multiple times.
I want to point out that the "separated living space" in the standard room is a partial wall that doesn't reach the ceiling and does not have a door to enclose the space. In other words, if you want to have your kids go down early and then stay up you will need to escape to the patio since staying in the room will keep them awake. If you need – or want – to have privacy, book adjoining rooms.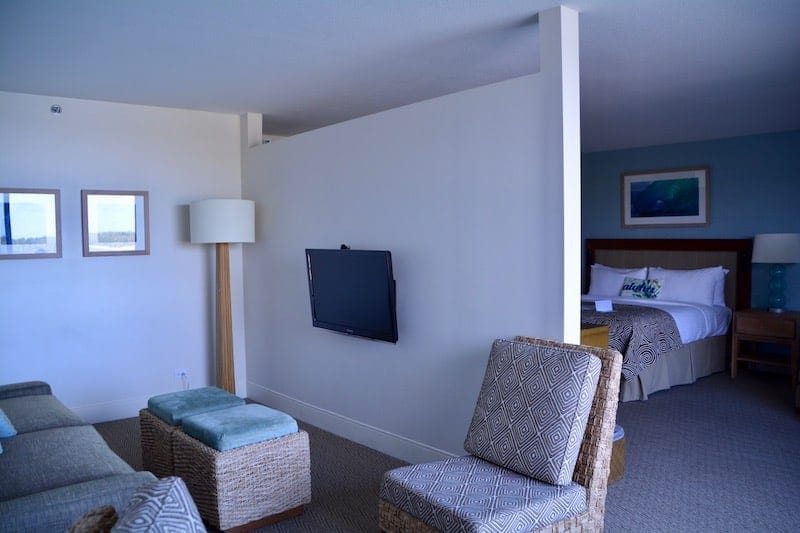 With that said, the room itself is spacious, updated and well decorated with a Hawaiian theme. The views from the balcony are stunning, allowing you to sit back and watch the enormous waves North Shore is famous for. (TIP: You must specify and pay for a room with an ocean view.)
The bathrooms at Turtle Bay Resort are a complete retreat. Seriously. They're huge and include a double sink, separate shower and soaking bathtub with a view.
The Amenities at Turtle Bay Resort 
There are a multitude of activities and services at Turtle Bay Resort. These are just a few I've highlighted. If you stay at the resort check-in with the staff working at the Guidepost. These guys and gals can answer any questions you have, help plan out your day and make all the arrangements needed on the spot – or in advance. It's one of more useful services I've seen at a resort in a long time.
Trail System and Beaches
Turtle Bay Resort sits on 800 acres of protected, natural preserve, which allows guests – and the public – to enjoy multiple beaches, many of which seem hidden but are easily accessible via the resorts extensive trail system. This trail system will lead you to multiple beaches, take you into town or send you deep into a wildlife preserve.
My favorite morning jogging trail took me along the Turtle Bay beach to Kawala Bay Beach Park where I came across The PillBox, a historic WWII bunker. It's just a tiny concert structure along the beach but it served a mighty role during the war… I lucked out one morning when I took my kids for a walk along this trail, we nearly stumbled on a Hawaiian Monk Seal sunning itself on shore. It literally blended in with the volcanic rock that was scattered along the beach. It was the "seal watchers" standing guard that alerted us to divert our course. These "seal watchers" are volunteers who sit along the beaches to protect the seals from people who get too close. While they are there to protect the animal – and the people – they are also there to help educate. We learned a lot about how the Hawaiian Monk Seal makes its way around the islands and how to protect it given it is now the most endangered marine life in the Western Hemisphere.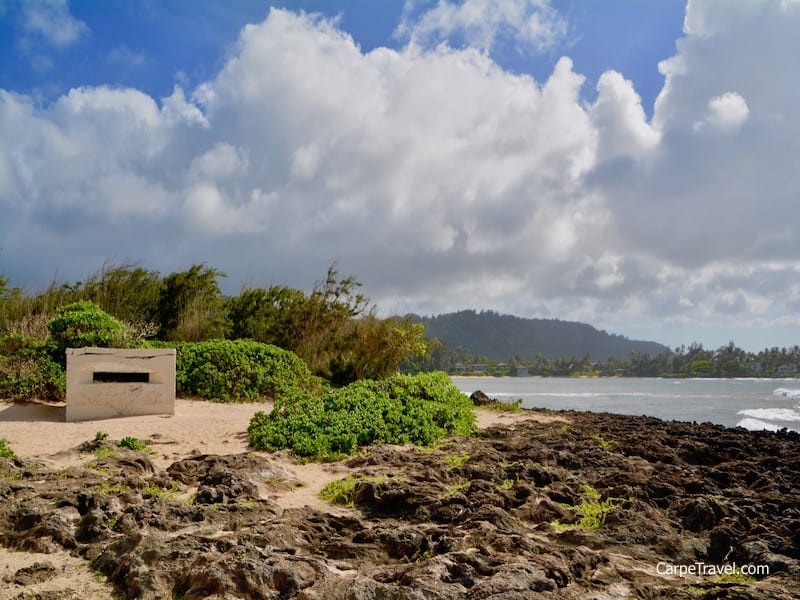 When you reach Kawala Bay Beach Park you will find calm waters, a stunning sandy beach and the second largest Banyan Tree in Hawaii. This single tree is an amazing expanse of multiple trunks and vines. It's been used as the filming location for multiple TV shows such as lost and movies including the Pirates of the Caribbean. Hidden Beach, a calmer swimming area great for snorkeling and paddle boarding.
Following the trail along Kuilima Cove to Kahuku Point we had set out to find Keiki Pool, a natural pool formed in 1946 after a tsunami pushed up two ocean bedrock formations creating an enclosure protected from the massive waves and undertow of the North Shore. This created a calm and safe swimming, perfect for kids. Along the way we discovered several hidden fishing spots the locals were taking advantage of. Once we reached Keiki Pool I regretted not grabbing some towels and a picnic from the café at the hotel beforehand. Keiki Pool makes for an idyllic spot to spend the day with your kids snorkeling, playing in the sand, and soaking in the views. If you really plan ahead you can do some amazing fishing next to the pool. We saw several locals catching lunch and dinner.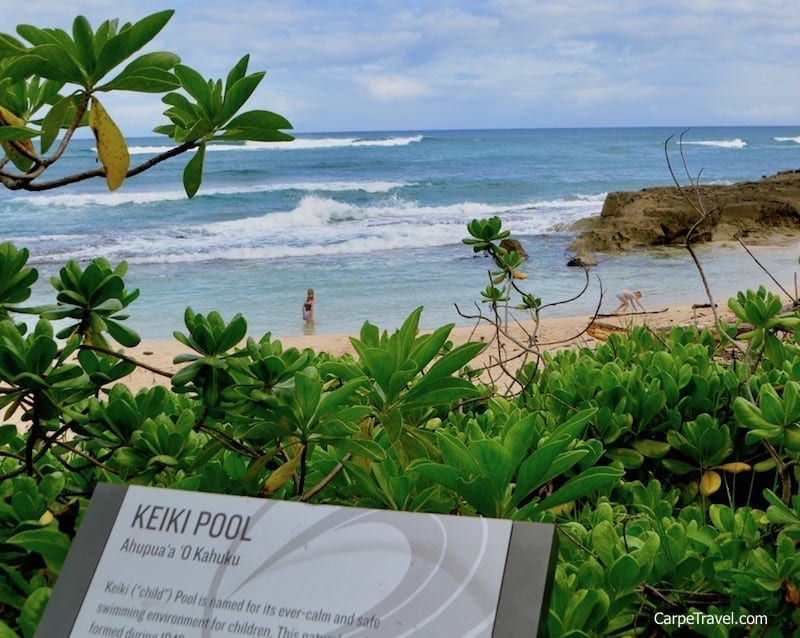 For bird lovers, Turtle Bay Resort is home to a bird preserve located on what's dubbed the Yellow Trail. I have to admit, I found it quite difficult to locate. I followed the signs along the trail system to access the entrance during one of my morning jogs only to find myself in the middle of the Palmer Golf Course. Luckily one of the members of the golf staff rode over on his cart and pointed me to the trail head.
The Yellow Trail is located in-between the 9th and 10th tee. You will need to wall through the rough of the course to reach the trail head if you want to do the one-mile loop. It's obvious this trail is rarely used given the lack of easy access and the overgrowth along the loop. I do suggest trying to find it though. It was amazing to see the colorful birds peeking down to see their new visitor…oh, and the music they created was like a natural symphony.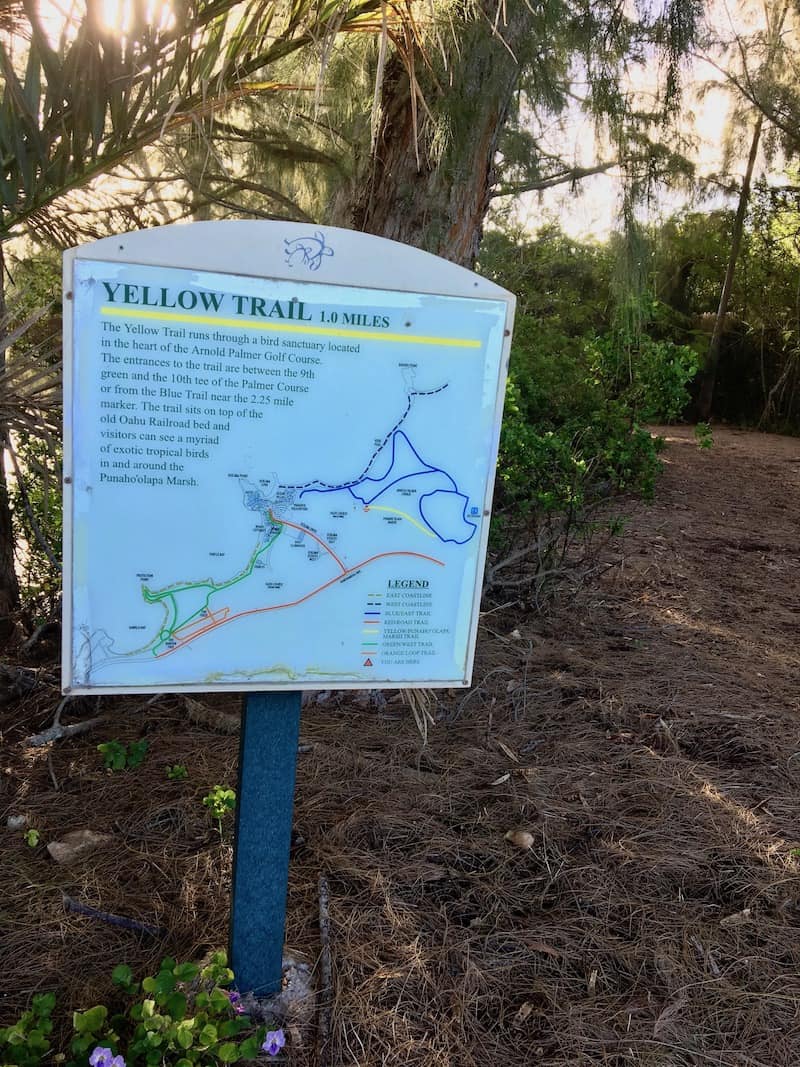 Complimentary Snorkeling Equipment, Floats & Sand Toys
Guests at Turtle Bay Resort are provided complimentary snorkeling equipment and floats for 1-2 hours without charge. Following that time, it's $12 for the day. Sand toys are provided free of charge for kids.
Surf and Paddle Boards/Lessons
North Shore is famous for its surfing. If you're interested in renting a board or taking a lesson Turtle Bay Resort offers both onsite through the Hans Surf Shop. Group lessons are about two-hours and cost $100. Private lessons and semi-private lessons are also available.
Spa
Turtle Bay Resort offers a full service spa. You will need to make reservations for all services. Additionally, if you want to use any of the facilities the spa offers, such as the steam room, you will be required to pay an additional fee. For instance, a steam in the steam room will cost you $25.
Gym
There is an onsite gym with weights, treadmills, bikes and elliptical. I suggest skipping it though and hitting one of the jogging trails along the beach or do and outdoor morning yoga session.
Shopping
Forget your swimsuit, need an extra sundress, or just want your own snorkeling gear? There are two onsite stores within Turtle Bay Resort. You can purchase a complete wardrobe – suites, cover-ups, sandals, running shoes – to GoPro's and Ukuleles in Water Shed. And, you're not going to be paying a huge mark-up. The Husband had forgotten his running shoes and was able to grab a pair in here. I don't typically encourage these types of bigger purchases since they can be extremely overpriced. But, I did the online price comparison of the shoes he purchased and they were the same in the boutique as they were via the brand's website. This might be one of the first hotel boutiques that I love…
If you just need sunscreen, aspirin, water bottles, wine or grab-and-go snacks there is more of a convenience store that has everything and more.
Bike Rentals
With more than 800 acres to explore, renting a bike will help you see everything in no time while also allowing you to ride into town to explore even more.
Golf
Turtle Bay is home to two spectacular Oahu golf courses designed by some of the most prominent names in golf and architecture – Arnold Palmer and George Fazio. The Palmer Course has been named as one of the "Top 100 Golf Courses in the US" according to Golf Digest.
Horseback Riding
Horseback rides along the beach, yes! There are several different riding options you can choose, from sunset options, to group and private options ,as well day camps for kids. The latter sounds like an amazing experience my kids – who love horses – would have died for. Alas, the day camps are not offered everyday and didn't fit into our schedule…next time. Instead we opted for a 45-minute horseback ride that took us along Turtle Bay to Kawale Bay.
Pool
There is one HUGE pool area at Turtle Bay Resort, which includes one large pool, an adjacent child's pool, a hot tub and smaller pool with a water slide. The pool area has an outdoor bar and grill with poolside service to those wishing to stay at their lounge chairs or cabanas.
WiFi
Free WiFi that works. Quickly. Consistently.

Dining
There are seven onsite restaurants at Turtle Bay Resort. During our stay we hit each one, and a few of them more than once. There is also a delicious food truck scene about a mile away from the resort that you can either drive or bike to.
Roy's: Roy's was my favorite spot at Turtle Bay Resort. The food was outstanding and the beach front locations was impeccable. If you go, try the Butterfish, assuming they have it. It will melt in your mouth…
Pool Side Dining: The pool area has an outdoor bar and grill with poolside service for those wishing to stay at their lounge chairs. The menu includes some standard poolside fare such as chips and salsa, quesadillas and hot dogs. However, it also includes some Hawaiian favorites – Poke bowls, fish tacos, pulled pork tacos. Stick with the local favorites. The Poke bowls and fish tacos were delicious!
Pa'aki: Is only open for dinner. It specializes in Hawaii's fresh seafood. Anything you order will be AMAZING. Ask to sit by the window or patio to see the sunset over Turtle Bay.
Kula Grill: The Kula Grill is open for breakfast, lunch and dinner. The restaurant has an extensive – and affordable – wine list. The menu has a variety of options to please even the pickiest eaters, aka kids. Always try to sit on the awesome deck, especially to watch the sunset
Coffee Shop and Bar: Go here for breakfast. Grab a hot egg sandwich, breakfast burrito or pastry. Get your Kona coffee or a latte. You can eat it there while lounging in one of several cozy arm chairs overlooking Kuilima Cove. Or, do what I prefer and take it your breakfast out to the beach for a morning picnic. The beach at Kuilima Cove will have lounge chairs an umbrellas set up every morning by 6am.
The café also serves salads and sandwiches for lunch, making it a perfect spot to grab items for a picnic out at Keike Pool. I also found, breakfast at the café is about half the cost as Kula Grill. (The kids and The Husband spent $70 for breakfast at the Kula Grill, compared to the four of us getting breakfast for less than $40.)
Rates at Turtle Bay Resort
The rates will vary from $300 to $1000+ per night based on the type of room you book. Prices may increase or decrease depending on the season. I typically find better rates when I book directly though the hotel. However, for Turtle Bay Resort I found the same ocean-view room available for $200 less per night on TripAdvisor, that's a HUGE price difference! Make sure to check your options before booking directly through the hotel. BOOK YOUR STAY AT TURTLE BAY RESORT NOW!
The Bottom Line
Turtle Bay Resort is a great resort on the North Shore of Oahu. It offers seclusion for those seeking peace and quiet. A multitude of activities for people such as myself who can't sit still. The ability to be swept away in the natural beauty of Hawaii at every path your turn down. And, a friendly and helpful staff who make your stay more than a visit, but rather a true experience. We would definitely stay here again.
Have you stayed at Turtle Bay Resort? Other hotels or resorts on the North Shore of Oahu? Share your experiences in the comments!
Save
Save
Save
Save
Save
Save
Save
Save
Save
Save
Save
Save
Save
Save