In-Depth Review of the Luxury All-Villa – Family Friendly – Beach Resort in Maui
The Westin Nanea Villas is one of the newest hotels in Maui, and definitely takes its accommodations to an elevated experience for guests.
Named after the Hawaiian word for "tranquil", the Nanea definitely was designed to try and provide a sense of tranquility to its guests. However, the oceanfront hotel is situated along 16 acres of Ka'anapali Beach, home to several additional hotels, high-end shopping, spas, various restaurants and activities. The crowds can offset the tranquility…but it can still be found.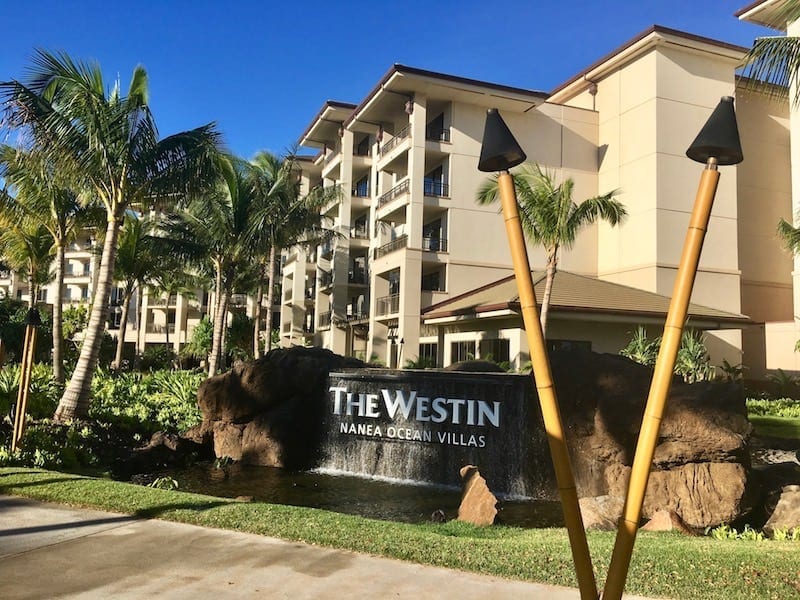 LOCATION
Located on the northwest coast of Maui, the waters at Ka'anapali Beach are calm(er) and home to Hawaii's coveted white sand beaches.
To get to the Westin Nanea Villas, it's most efficient to fly into Kapalua Airport, which is only about a 10-minute drive to the hotel. However, most flights from the mainland go into Kahului Airport, about an hour drive to the hotel. Either plan to rent a car and drive or take a taxi. If you rent a car, the hotel does charge a daily parking fee.
ADDRESS: 45 Kai Malina Parkway, Lahaina, Maui, HI, 96761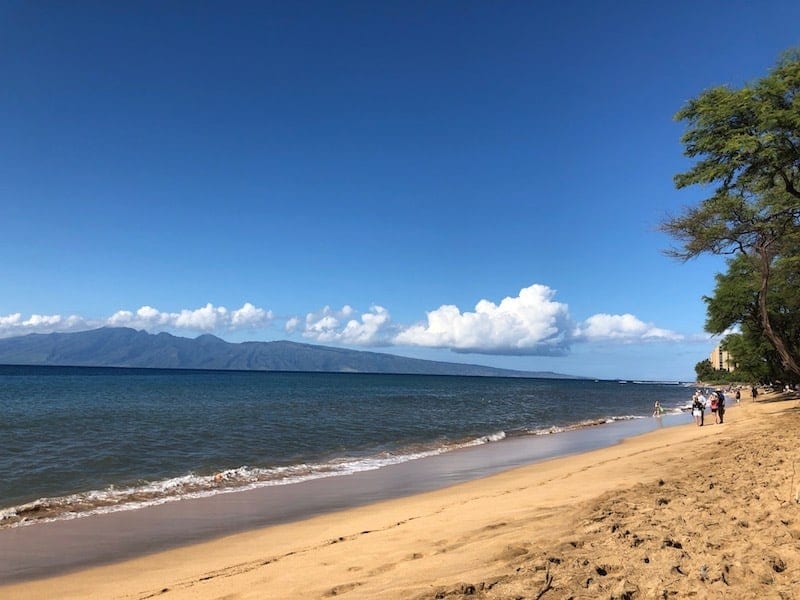 THE ROOMS AT THE WESTIN NANEA
The Westin Nanea Villas are the newest resort in Maui. The villas come in either a one, two or three-bedrooms. All include a dining room, as well as a fully-equipped kitchen, private veranda with an outdoor dining table. The luxurious master bathrooms feature a large shower, a stand-alone soaking tub and a double-sink vanity, while living areas provide a wardrobe armoire, a queen-size sofa sleeper and a Bose sound system.
We stayed in what is deemed as the "Resort View" two-bedroom villa. The view was not at all of the resort but rather the mountains, making for a beautiful sunrise view each morning.
AMENITIES AT THE WESTIN NANEA
BEACH
The Westin Nanea sits on Ka'anapali Beach, which has been noted as a "gem" by several travel guide books and magazines. It's a white, sandy narrow beach that stretches for miles. There was no shortage of recreational activities along the beach, including snorkeling, paddle boarding and scuba diving. The resort offers two full-service watersport centers to assist with these and other activities.
PADDLE BOARDING
You should expect to pay a pretty penny if you don't have your own gear. For instance, one hour of paddle boarding will go for $50.
During our visit in January, the tide was fairly rough so snorkeling wasn't very easy or exciting for the kids. For better snorkeling you'll need to walk down to Black Rock, which is at the north end of Ka'anapali Beach or drive over to.

POOL
The large pool feels as if it was designed to be an oasis, with secluded nooks, private cabanas, two large, heated whirlpools and portions of the seating areas overlooking the ocean. My kids loved the waterside and children's play area, while The Husband and I soaked up our pool time in the immersed pool loungers.
My one irk with the pool was its pool chair policy, or lack thereof. Most Westin properties I have stayed at have a pool chair policy, stating the pool chairs are only for active users. In other words, you can't set your things down to save your spot and then head to the beach for a few hours. That was not the case at the Westin Nanea.
This is actually one of my pool etiquette pet peeves. But, we too ended up taking part in at…after the towel guys suggested we save our spots. Mind you this is not a typical Westin policy, at least not ones we have stayed at before. I even walked down to a few of the larger Westin resorts along the strip where I clearly saw the pool chair policy signs placed around the pool decks.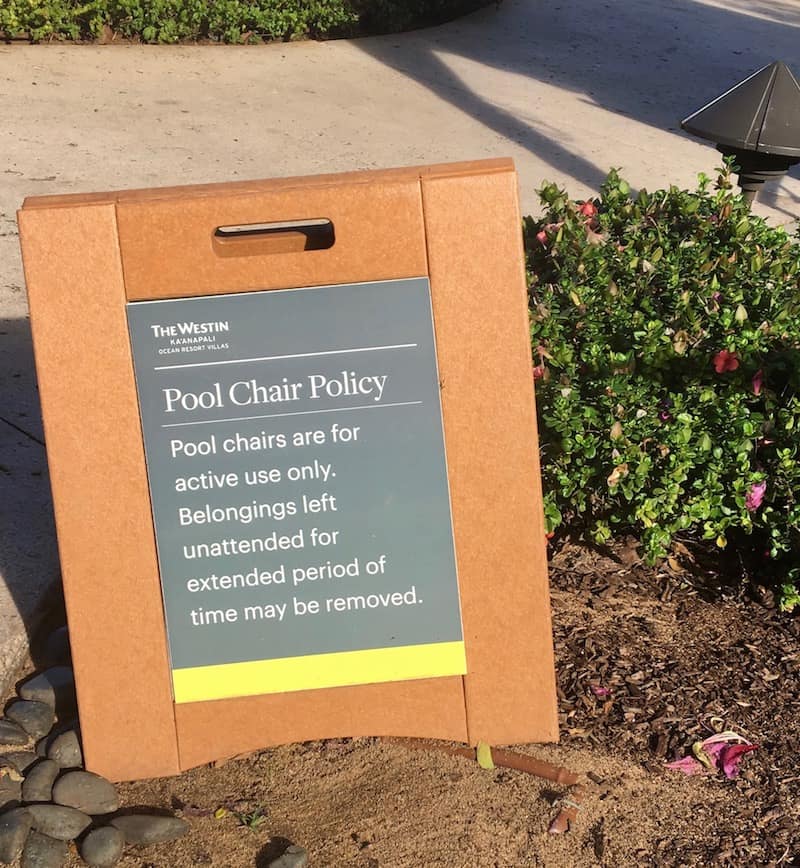 DINING
The Westin Nanea has two true restaurants onsite. The Inu Pool Bar and Mauka Makai, a fine dining restaurant. The pool bar is open for lunch and dinner and throughout the day for snacks. If you go, the Poke' Bowel is awesome! Mauka Makai is also open for lunch, as well as dinner. However, for lunch it's the same menu as Inu, which is quite annoying if you're there for several days and want different options.
Kauhale Market, a small coffee shop and grocery store is also located onsite. It's a great place to grab a latte, pastry, breakfast sandwich, snacks or a salad, as well as a bottle of wine.
Given the Westin Nanea in situated among several other hotels, you're not limited to these two dining options. I highly suggest going next door to Duke's for a sunset dinner on the beach. The food it outstanding, the service is excellent and the sunset is spectacular. (Get the Butterfish if it's on the menu!)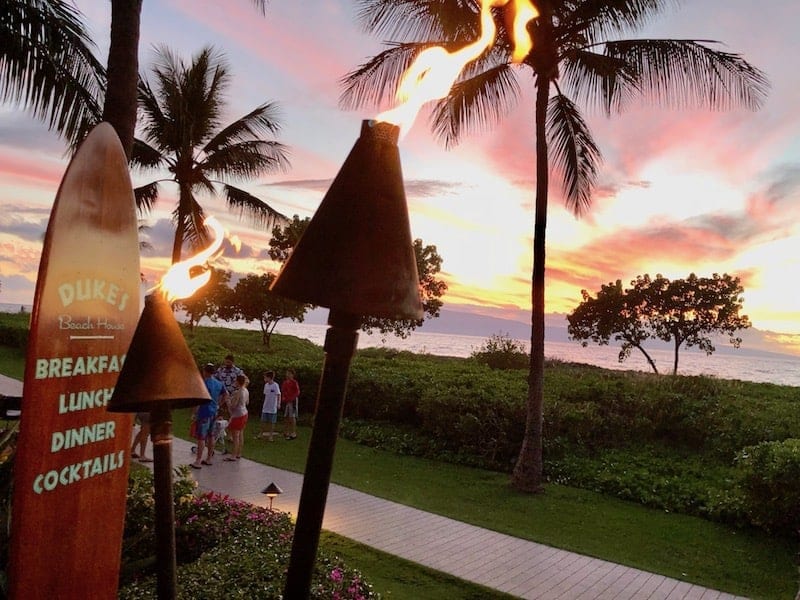 Pailolo Bar & Grill at The Westin Ka'anapali Ocean Resort Villas is also a great spot to grab lunch and a laid-back dinner.
There is a large grocery store and shopping center within walking distance from the Westin Nanea. During our stay we hit the store a few times for breakfast items and to create our own sunset picnic at the beach. Grab some Poke' at the deli and a few other favorites and you're set. (It was the most economical meal of the trip!)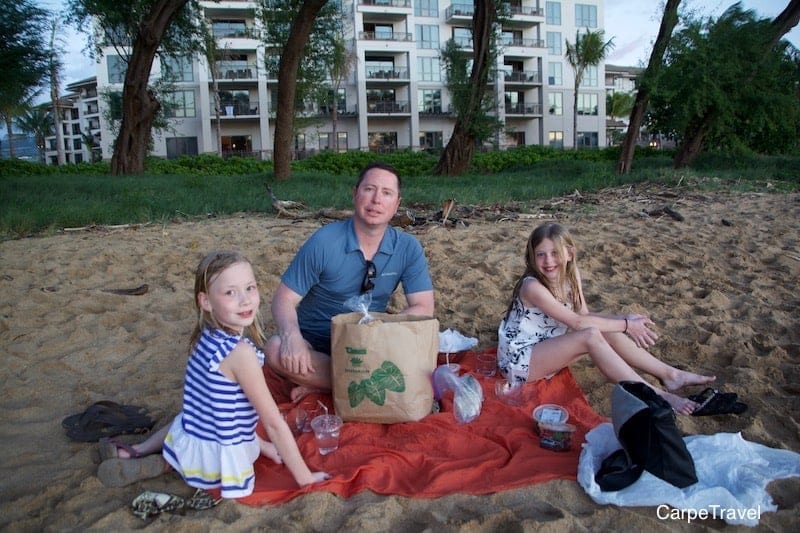 OUTDOOR BARBECUE GRILL STATIONS
I don't know why I love outdoor BBQ grill stations but I do…especially when you're staying somewhere with a full-kitchen and AMAZING seafood options at the local grocery. It's easy to grab a few pieces of fresh fish and prepare your own sunset dinner.
The stations at the Nanea are spread out throughout the outdoor seating areas so you and your family can secure a grill and a table along with some privacy to watch the sunset and enjoy a homecooked meal.
FITNESS
While the Westin Nanea does offer a fitness center filled with tread mills, ellipticals, bikes, and weights with a fabulous view of a waterfall, I recommend you take your workout outside. For one, the fitness center gets very loud and crowded. I found myself more stressed doing working out in here…once I headed outside for a jog on the beach-walk it all melted away.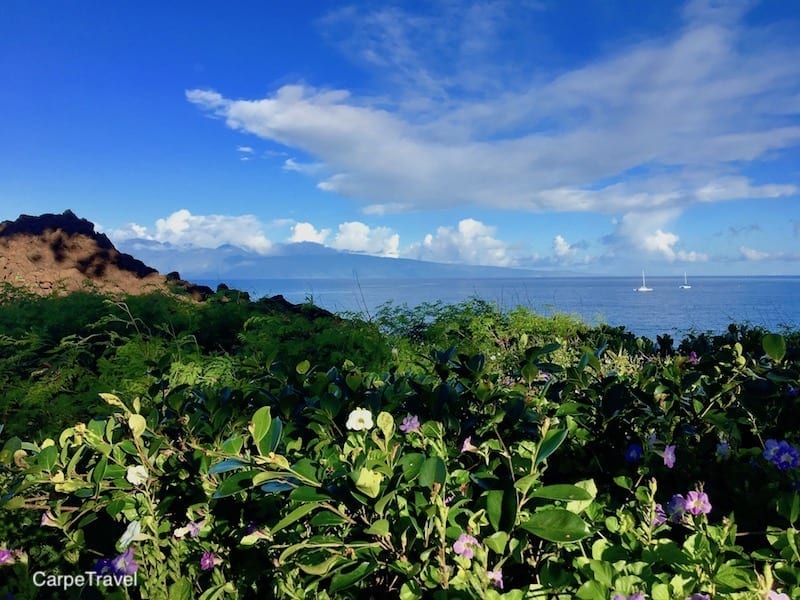 If you follow the beach-walk you'll find yourself a few miles down at the Sheraton and Black Rock. It's important to note that the beach-walk runs out after about half a mile and doesn't pick back up until another half mile. During that time you'll be making your way through a series of other resorts. It's really rather annoying… I suggest skipping that route and just walk or run directly on the beach. It's less crowded and much prettier.
KIDS CLUB
Kids ages five to 12 can take advantage of the Kids Club. There are half-day and full-day activity options. The Princesses decided to opt-out of going to the kids club since the pool and beach sounded more appealing. There didn't seem to be any "Parents Night Out" activities at the Kids Club, but check the schedule during your stay to see if one is available.
RATES AT WESTIN NANEA
The Westin Nanea is not cheap, but when you're traveling as a family of four or more and want a full kitchen, beds for everyone and luxurious amenities, it's a deal. Expect to pay $600-$1,300 a night, depending on the size of the villa.
The Bottom Line
The Villas are simply amazing. Truly elevated accommodations. The pool is great. The white, sandy beach is beautiful. However, the area has been heavily developed by resorts and offers visitors amenities among amenities. In other words, you never have to leave the resort…which isn't the best way to explore the real Maui.
If you stay at the Westin Nanea, which I do recommend, I strongly encourage you to get outside of the resort. Go explore Lahaina, Maui Wine, hike Twin Falls, drive the road to Hana and then stay and explore Hana for the day.
The Westin Nanea is a great place for families to stay, but just remember to get outside of the resort walls.