Our Indiana Wine Travel Guide shares a brief history of the state's wine country, terroir, where to sip, where to stay and things to do beyond the vines.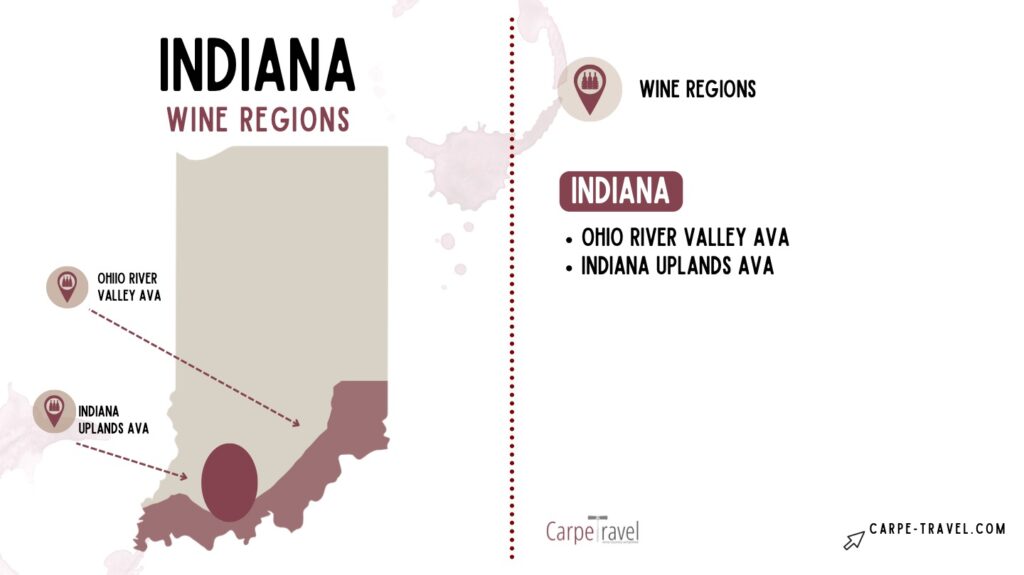 WHERE IS INDIANA WINE COUNTRY?
Indiana has a thriving wine community across the state. The best way to immerse yourself into Indiana's wine scene is to focus on the regions around one of the state's major cities and wine trails. 
– Fly into Gary or Chicago for access to the South Shore Trail just to the east of both cities. Take I94 east from Gary.
– The State Line Wine Trail along the border between Illinois and Indiana is in a remote agricultural region and can be accessed from Champaign, Illinois or Indianapolis. Take I70 southwest from Indianapolis or I74 east from Champaign. 
– Fort Wayne, in the northeast sector of the state, is at the center of dozens of wineries and vineyards. Take I69 north and south from Ft. Wayne and I469 to the south/southeast. 
– Indianapolis, in the center of the state, provides access to DeTours of Indiana Wines, Beyond the Vines Wine Tours, Indiana Wine Trail, and the Hoosier Wine Trail. I-65 runs northwest to southeast and I 69 runs northeast to southwest, cross-crossing the city. 
– Bloomington is the best bet for easy access to Indiana's Upland Wine Trail, which is the state's most established. The trail is to the southeast and accessible from I65 and Hwy 150. This region can be accessed by flying into Louisville, Kentucky, and taking I64 west or I65 north.
Indiana has a thriving wine industry with 116 wineries and vineyards scattered across the entire state and two official American Viticultural Areas (AVAs). Most vineyards are concentrated around the southeast corridor and to the south in the lush agricultural growing basin flanking the Ohio River.
Ohio River AVA
Founded in 1983, Ohio River Valley AVA also contains portions of Kentucky and Ohio, and West Virginia. It encompasses 16,640,000 acres across these four states. The region first came into wine prominence in 1798, when the Kentucky Vineyard Society was formed to spearhead viticulture projects in the region. Nicholas Longworth planted Alexander and Isabella grapes in the region in 1823 and then Catawba in 1825, spurring others to focus on native grapes and French-American hybrids that thrived in the climate and survived the harsh winters. The Ohio River Valley became the largest wine-producing region in North America before it was plagued by odium, a mildew that, when unchecked, destroys grape vines. In 1919, Prohibition halted most wine production in the United States. The wine industry lingered dormant until the 1960s when wine-curious farmers became enologists and brought the wine business in the region back to life.
Indiana Uplands AVA
Founded in 2013, Indiana Uplands AVA is 4,800 square miles located in south-central Indiana that encompasses 19 counties and stretches from Monroe and Morgan counties 110 miles south to the Ohio River and the border with Kentucky. The latest count is 19 vineyards across 200 acres and 17 wineries, including the oldest and most prolific winery in Indiana, Oliver Winery
TOP GRAPE VARIETIES
White Wine Grapes
Briana
Cayuga Blanc
Chardonel
Frontenac Gris
Itasca
La Crescent
Niagra
Pinot Blanc
Serval Blanc
Vidal Blanc
Vignoles
RED Wine Grapes
Catawba
Cayuga
Chambourcin
Concord
Cynthiana
De Chaunac
Marechal Foch
Marquette
Noiret
Norton
Steuban
Traminette is Indiana's signature grape, which is a cross between the European grape Gewürztraminer and an American hybrid grape called Joannes Seyve, that was created in 1965 at the University of Illinois to be cold-hearty and survive blustery winters.
It is popular across the Midwest and eastern sectors of the United States because it is easy to grow and produces deliciously refreshing white wines that range from bone dry to sparkling and even dessert wines.
Traminette is a floral white grape with prominent acidity and aroma notes that include peach, mango, green pear, white rose, apricot, clove, citrus peel, orange blossom, green melon, passion fruit, and in some cases honey and pineapple. It pairs well with spicy and aromatic foods like Mexican, Indian, Thai, and Vietnamese cuisine. It is exceptional with succulent seafood, salty cheeses like feta and manchego, and picnic fare including salads, fried chicken, and bbq. Try it with creamy pasta dishes and holiday buffet meals, particularly Easter and Thanksgiving. Traminette is incredibly versatile.
In 1796, John James Dufour, a Swiss immigrant, started the country's first successful wine venture in the Ohio River Valley near Vevay, Indiana.
Vevay is central to Switzerland County, the state's south-easternmost county, bordering Ohio to the east and Kentucky to the south. The actual winery opened in 1799 on the other side of the river, in Kentucky. Known as First Vineyard, it was backed by the Kentucky Vineyard Society whose members included then U. S. Secretary of State Henry Clay, U.S. Secretary of the Treasury George Bibb, Kentucky Governor Garrard, both U. S. Senators John Brown and John Edwards, and editor of the Lexington Gazette, and other prominent figures, all who offered financial backing to the venture. It is said that Daniel Boone was the initial surveyor and presidents Thomas Jefferson and James Madison were gifted wines from First Vineyard during their administrations.
Nicholas Longworth planted Alexander and Isabella grapes in the region in 1823 and then Catawba in 1825, spurring others to focus on native grapes and French-American hybrids that thrived in the climate and survived the harsh winters. The Ohio River Valley became the largest wine-producing region in North America before it was plagued by odium, a mildew that, when unchecked, destroys grapevines. In 1919, Prohibition halted most wine production in the United States. The wine industry lingered dormant until the 1960s when wine-curious farmers became enologists and brought the wine business in the region back to life.
Indiana Wine Sips…
Huber Orchard, Winery, & Vineyard, family-owned for seven generations, has been in business since the 1840s, resuming its award-winning wine production in 1978.

Law professor, Dr. William Oliver began growing grape vines just outside of Bloomington in the early 1960s as a hobby. Oliver Winery & Vineyards. Oliver spearheaded the 1971 Indiana Small Winery Act, allowing for new commercial wineries to operate, paving the way for a thriving wine industry in the state. He opened Oliver winery in 1972 and holds the title of the oldest modern winery in Indiana.
PLAN YOUR INDIANA WINE COUNTRY VACATION
INDIANA WINE TASTING ITINERARIES
Stay & Dine
Where to Stay
Southern Grace Bed & Breakfast just on the south side of the Ohio River in Kentucky, is a five-star luxury bed and breakfast bedecked with antiques, fine crystal embellishments, and a collection of beautiful antique furnishings. It is just across the river on a working farm with access to fly fishing, hiking, and paddle boating. It is 10 minutes from Indiana wine country. 
Listed on the historic register of Indiana, Kintner House Inn is a bed and breakfast in an elegant mansion, located in Indiana's first state capital, Corydon. The beautiful inn is nestled in the heart of southeastern Indiana's winery district. Visit Indiana's first state capital building and preserved historic district before a day of exploring some of Indiana's finest wines. 
French Lick Springs Hotel & Resort was established as a luxury destination in 1895 to entice the wealthy and well-heeled to the healing waters of the natural mineral hot springs.  The opulent 28,000 square foot, 12-room Baden Spa was added in 1901. The French Lick Spa has 28 rooms across its 27,000 square feet.
It has a lively casino, swimming pools, and four world-class golf courses. The resort has 15 dining options ranging from white-tablecloth fine dining to casual eateries and grab-and-go options along with a complete in-room option.
Where to Eat
Big Woods Bloomington is part of a local restaurant group serving American-focused gastro-pub fare, that includes twelve establishments around the state including  Quaff On! Brewing Co.,  and Hard Truth Distilling Co.
The group behind FARM Bloomington is focused 100% on wellness with an eye on the environment. FARM blends locally sourced ingredients with international flavors and techniques to create exceptional cuisine. Perfect for small groups and private parties. Check out the FARM store for delectables and souvenirs. 
Satisfy your sweet tooth at Schimpff's Confectionery candy shop and museum in Jeffersonville. Immigrants from Bavaria, the Schimpff family began making candy in Louisville in the 1850s and in Jeffersonville in 1871, Their present location was founded in the 1890s by Gustav Schimpff Sr. and his son and has been a family-owned tradition ever since. Schimpff's Confectionery is considered Indiana's first business. 
10 West Restaurant and The Hideout Bar in Elizabeth is a Hamilton County's local treat. Chef Bill Wampler prides himself on a creative menu including extraordinary dishes of surf, turf, farmers market salads, sandwiches, and house-crafted pasta dishes. Chef Wampler says, "It's about good, quality, consistent food."
When to Visit Indiana Wine Country
Most Indiana wineries have tasting rooms that are open throughout the year. Visit vineyards at the peak of summer from June to early September for lush and beautiful scenery. Summer is the best time for concerts, festivals, events, weddings, and other wine-centric activities.
Autumn in wine country is gorgeous but it is also a time when the winemakers and grape growers are the busiest with harvest and crush. It is not the best time to visit. Indiana's winter and spring can be cold, snowy, and harsh, so sticking near the cities is ideal.
Sipping is subjective and with so much great wine in Indiana, you'll find most everyone has their own favorites. But, with more 100 wineries in Indiana, we've tried to narrow down some of the top sips in the state so you can find your perfect pairing.
Oliver Winery
& Vineyards
Whyte Horse
Winery
At the Barn
Winery

SIP MORE: Uncorking the Top Wineries in Indiana
INDIANA WINE FESTIVALS
Vintage Indiana Wine Fest takes place each June highlighting the best Indiana wines, local cuisine, crafts, and entertainment.
The Swiss Wine Festival is celebrating 50 years in August 2022. The festival celebrates Indiana's lengthy wine history with a dozen wineries over four entertainment-packed days.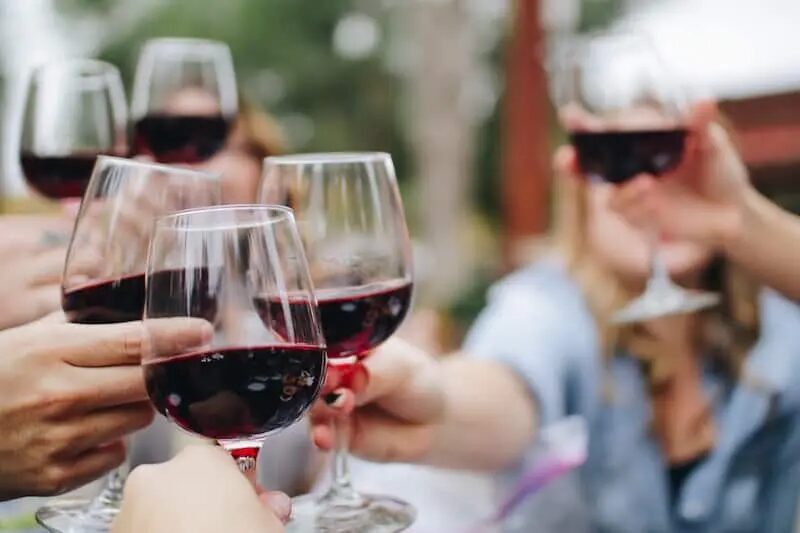 Even the most dedicated oenophiles don't focus on wine 24/7. There are a number of hours to fill each day, even when you pack your itinerary full of wine tastings. Friends, couples, families and groups will all find ways to keep busy no matter which Indiana AVA they decide to visit. The itineraries listed above have even more ideas on things to do in Indiana.
Cataract Falls on the Mill River in Owen is an impressive set of two waterfalls near the restored Old Mill bridge. The first has a drop of about 20 feet, and the second, down river has another steep drop of about 18 feet.
Indianapolis Motor Speedway is home of the world-famous INDY 500 and dozens of NASCAR and Formula 1 auto races. Visit the Indianapolis Motor Speedway Museum to learn the fascinating history of auto racing.
Lake Michigan South Shore in northwest Indiana is an idyllic destination for summertime fun and wintertime reflection. It's perfect for hiking, camping, and exploring Indiana's sand dunes. Outdoor activities include water sports, fishing, golf, and sailing. Check out the fine dining, arts, and shopping scene.
Indianapolis Museum of Art displays a world-class collection of fine art in contemporary and classic styles. IMA hosts a summer film series and artistic classes and immersion experiences.
Fort Wayne Children's Zoo focuses on family fun and animal conservation with an eye on education. The zoo is open all year round and hosts seasonal events aimed at raising funds to support the zoo and its foundation.
French Lick and West Baden Museum opened in 2007 to celebrate the 150-year history of French Lick, its people, and its culture. The museum exhibits a unique collection of memorabilia from its notorious citizens, historic events, and regional landscapes.
Sip in More of Indiana Wine Country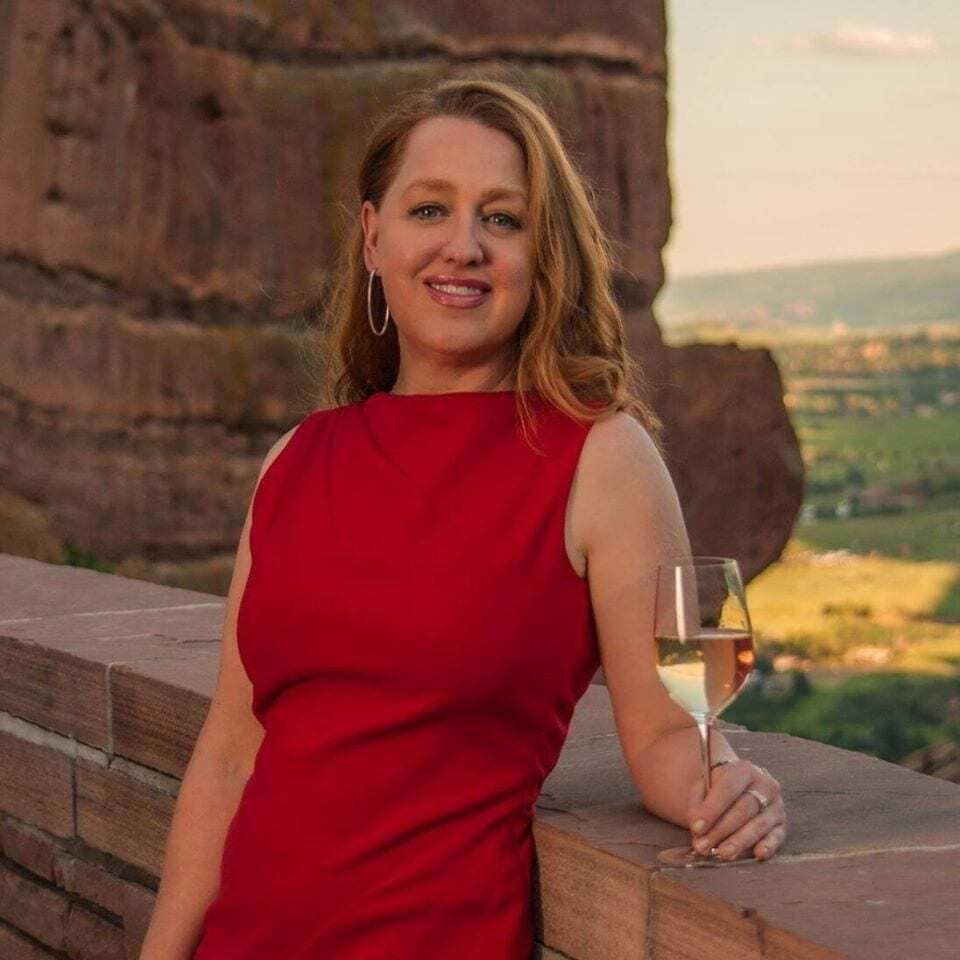 Simone FM Spinner is a wine writer, consultant, judge, speaker, and published author. She is a certified sommelier with 13 advanced wine certifications, a bachelor's and master's degree in wine studies, and is pursuing her doctorate researching wine, climate change, and legacy. She is the Women of the Vine & Spirits 2020 WSET Diploma scholar.