CARPE TRAVEL WINE 101:
GET TO KNOW THE GRAPES
Semillon (sem-ee-yawn) is a full-bodied white wine like Chardonnay, but with flavors closer to Pinot Grigio or Sauvignon Blanc. The thick-skinned golden grape is recognized by its autumnal colors in the vineyard. Although the fruit is usually bright golden-green, it is not uncommon to find pink- and copper-colored berries near harvest time. The longer the Semillon grape stays on the vine, the darker and more gnarled it becomes.
As France's third most planted vine, Semillon serves as an important blending grape in White Bordeaux alongside Sauvignon Blanc, Muscadelle, and a small number of lesser known varieties.
FUN FACT
Three common styles of Semillon include White Bordeaux , barrel-aged Semillon, and dessert wines.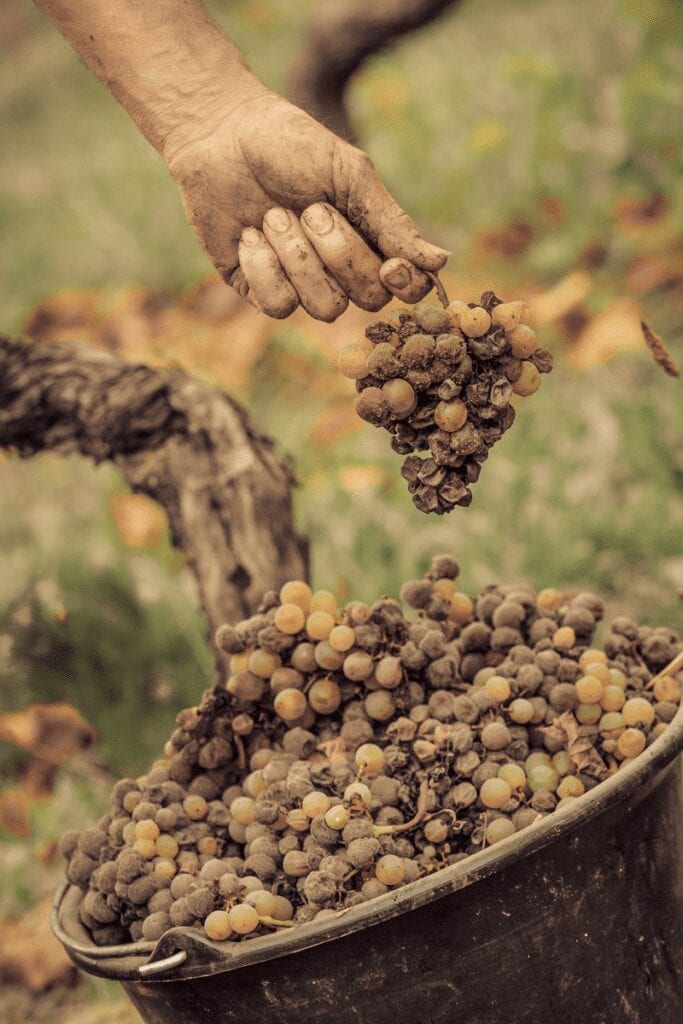 Primary fruit flavors are lemon peel, yellow apple, Bartlett pear, and green papaya with an oily feel in the mouth. Tastes range from zippy like Sauvignon Blanc to rich, creamy, lemon-flavored, like an oaked Chardonnay. The grape's place of origin is in Bordeaux where it is frequently blended with Muscadelle to give more fruit flavors to White Bordeaux wines. Speaking of Bordeaux, its famed dessert wine Sauternes (from the village of the same name) certainly deserves some focus when talking about the taste profile of Semillon wine. Made from grapes of noble rot, Sauternes is primarily Semillon with small parts the wines Sauvignon Blanc. The wines broad, well-structured base is from the Semillon grape, giving beeswax and apricot aromas while Sauvignon Blanc lends herbal aromatics and enough acidity to keep the rich wine tasting fresh.
HOT CLIMATE VS COOL CLIMATE SEMILLON
HOT CLIMATE SEMILLON
Hot Climate expressions produce tropical notes like mango, papaya, and even fig. To add buttery flavors, oak is often used for aging. Warm climate regions include California, South Africa, Argentina, and Southern Australia.
Cool Climate Semillon
Cool climate Semmillon wines are less ripe, higher in acidity and frequently confused with Sauvignon Blanc. Unoaked Semillon throws acidic citrus flavors like lime, lemon, and grapefruit. These highly aromatic wines feature lots of floral aromas. Cool climate regions include Bordeaux, Hunter Valley, and Washington State.
How to enjoy Semillon
Semillon Wine Pairings
The best Semillon food pairings include lemon chicken, shrimp scampi, poached lobster, truffle popcorn, fruit salad, ginger pork, Thai food, and Greek food. More food and wine pairings.
Practical Tips for Drinking Semillon Wine
Glassware: A conventional white wine glass works just fine. For dessert wine from Semillon, use a small dessert wine glass.
Shelf life: Up to 10 years; a cellar-worthy white wine. A higher end dessert Semillon wine can last 30 to 40 years.
Bottle Prices: Average bottles cost $30. A half (375 ml) bottle of top, aged Sauternes can run you as much as $1000 and more.
When is the right Semillon mood?
Great Hostess
Dinner
Wine Nerds
Unite
Anything On
The BBC
Vegan-friendly
Classical or Vocal
Jazz
Dames, Dukes,
Duchess, Divas
Romantic Dinner
Golf Day
Out