Indiana has a thriving wine community across the state. With several wine trails, 116 wineries and two AVAs, there is a lot to sip in Indiana. The best way to immerse yourself into Indiana's wine scene is to focus on the regions around one of the state's major cities and its wine trails.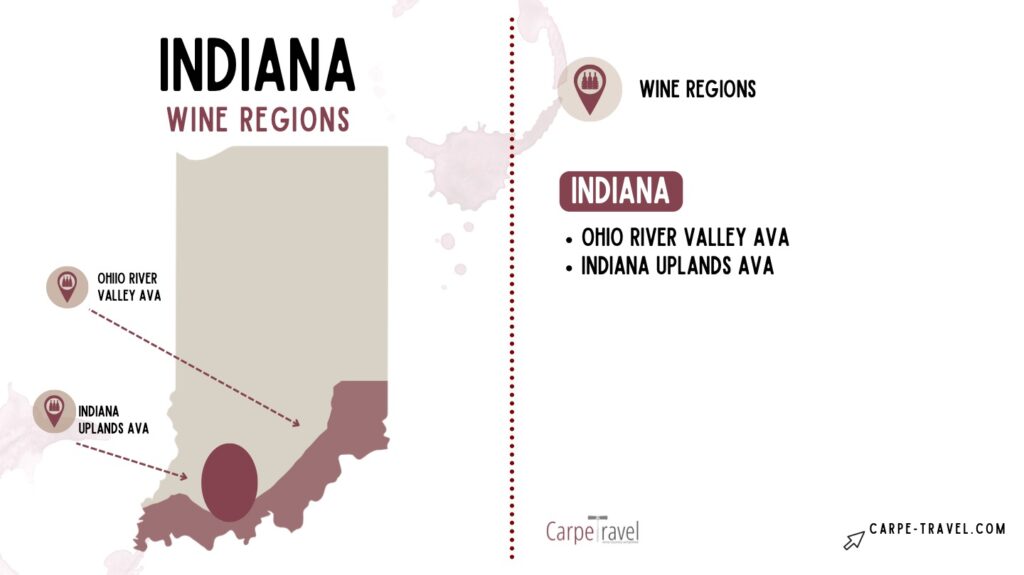 Indiana Uplands Trail
Bloomington, Indiana
Indiana Uplands Trail is Indiana's most prominent and established wine trail. It was founded in 2003 to highlight the wineries of the region even before it became an official AVA. Of the nine wineries, Oliver Winery is the oldest, continuous winery in the state. The Huber family first planted their vines in 1840, and had a thriving viticultural business until Prohibition ended it. The Hubers resumed grape production in the 1980s. How to Sip in Bloomington & the Indiana Upland Wine Trail in 3 Days
Visiting Bloomington is the best bet for easy access to Indiana's Upland Wine Trail. The trail is to the southeast and accessible from I65 and Hwy 150. This region can be accessed by flying into Louisville, Kentucky, and taking I64 west or I65 north.
Must Sips: Wineries on the Indiana Uplands Trail
Best Vineyards & Turtle Run
Best Vineyards Winery and Distillery started as a research project property with 1000 grape vines for Purdue university's Grape Council in 2000. These days, there are more than 2500 vines and a sister property called Turtle Run. Both wineries craft wine and spirits from international, French-American hybrid, and native grapes as well as estate-grown fruit. Now, Turtle Run Winery is owned by Jim and Laura, a couple with an eye on wine purity, not just for quality, but for health concerns. Jim and Laura make a variety of wines and never add a drop of sugar to their products.
Brown County Winery
Brown County Winery is a boutique winery in the Village of Nashville, Indiana, an exciting yet quaint artist enclave and tourist destination near Bloomington. Founded in 1985, the small winery grew rapidly into the successful business it is today. With two tasting rooms and free tastings seven days a week, Brown County Winery is a must visit.
Butler Winery
Butler Winery is a small family winery founded in 1983, making it the fourth oldest modern winery in the state. They focus exclusively on French-American hybrid grapes that are cold hearty and thrive in Indiana's climate. Butler crafts a broad range of dry and semi-sweet wines that are available at their winery and their Bloomington tasting room.
French Lick Winery
French Lick Winery began producing wine in 1995 with just eight varietals. TheirHeaven Hills vineyard was planted in 1998 and French Lick now produces 30 wines ranging from sweet to dry, fortified and sparkling wines, aiming to please every palate. In 2016, they added a distillery and produce an impressive range of spirits.
Huber Orchard's, Winery,& Vineyards
Huber Orchard's, Winery,& Vineyards
Simon Huber immigrated from Baden Baden, Germany, purchasing 80 acres of lush farmland for wine grape vines and a family farm. Now in its seventh generation and with 600 acres, Huber is the largest grape grower in the state. Huber resumed its wine production in 1978, planting 65 acres with Cabernet Franc, Cabernet Sauvignon, Malbec, and Seyval Blanc.
Oliver Winery & Vineyards
Oliver Winery & Vineyards just outside of Bloomington opened its doors in 1972 making it the state's oldest modern winery. Crafting adult beverages to please any palate, Oliver produces sweet and dry table wines, sparkling wine, fruit wines, wine spritzers, and hard fruit ciders. (In 2017, Travel + Leisure rated Oliver Winery a top 25 winery to visit in the U.S.)
Owen Valley Winery
Owen Valley Winery is located in the rolling hills of southern Indiana in a rural part of the state. It is family owned and operated by the multi-generational Leaderbrand family working together on their vision for an exalted and secluded wine experience. You will find French American hybrid and fruit wines in their tasting room.
Winzerwald Winery
Winzerwald Winery is a fifth generation family farm nestled in the Hoosier National Forest. Honoring their European heritage, Dan and Donna Adams produce wines from grapes commonly grown in Germany and Austria, including Riesling, Blaufränkisch, Gewürztraminer, Grϋner Veltliner, and French Pinot Meunier. Winzerwald produces spiced glühwein, fruit wines including blueberry, cherry, cranberry, peach and strawberry infused wines.
Indiana Wine Tour Companies
Hoosier Wine Trail
Indianapolis, Indiana
Indiana's Hoosier Wine Trail is located along and not far from I-64 in Southern Indiana. Travel the back roads or head straight down I-64 to visit the boutique wineries on this trail. Must sips include, River City Winery, Indian Creek Winery, Blue Heron Vineyards, Monkey Hollow, and Pepper's Ridge Winery.
Indiana Wine Trail
Indianapolis
The Indiana Wine Trail focuses on the original heart of Indiana wine country in southeast Indiana where winemaking has been a tradition since 1790. There are currently five wineries on this trail to sip, Ertel Cellars, Holtkamp Winery, Lanthier Winery, Stream Cliff Winery and The Ridge Winery.
South Shore Wine Trail
Chicago, IL
The South Shore of Lake Michigan is a destination for vacations, celebrations, and winery hopping. Brewery tours are also available. A few must sips include, Aftermath Winery, Anderson's Winery, Carpenter Creek Cellars, LambStone Cellars, Misbeehavin' Meads, Running Vines Winery, Shady Creek Winery, Butler Winery, and Whyte Horse Winery.
Fly into Gary or Chicago for access to the South Shore Trail just to the east of both cities. Take I94 east from Gary.
State Line Wine Trail
Champaign, IL or Indianapolis
This trail boasts four Hoosier wineries and one across the border in Illinois, plus many road-side attractions. Indiana wineries on this trail include, Castle Finn Vineyard & Winery, Windy Ridge Vineyard & Winery, TJ Haase Winery, WaterTower Estates, and Meier Winery & Vineyard.
The State Line Wine Trail along the border between Illinois and Indiana is in a remote agricultural region and can be accessed from Champaign, Illinois or Indianapolis. Take I70 southwest from Indianapolis or I74 east from Champaign.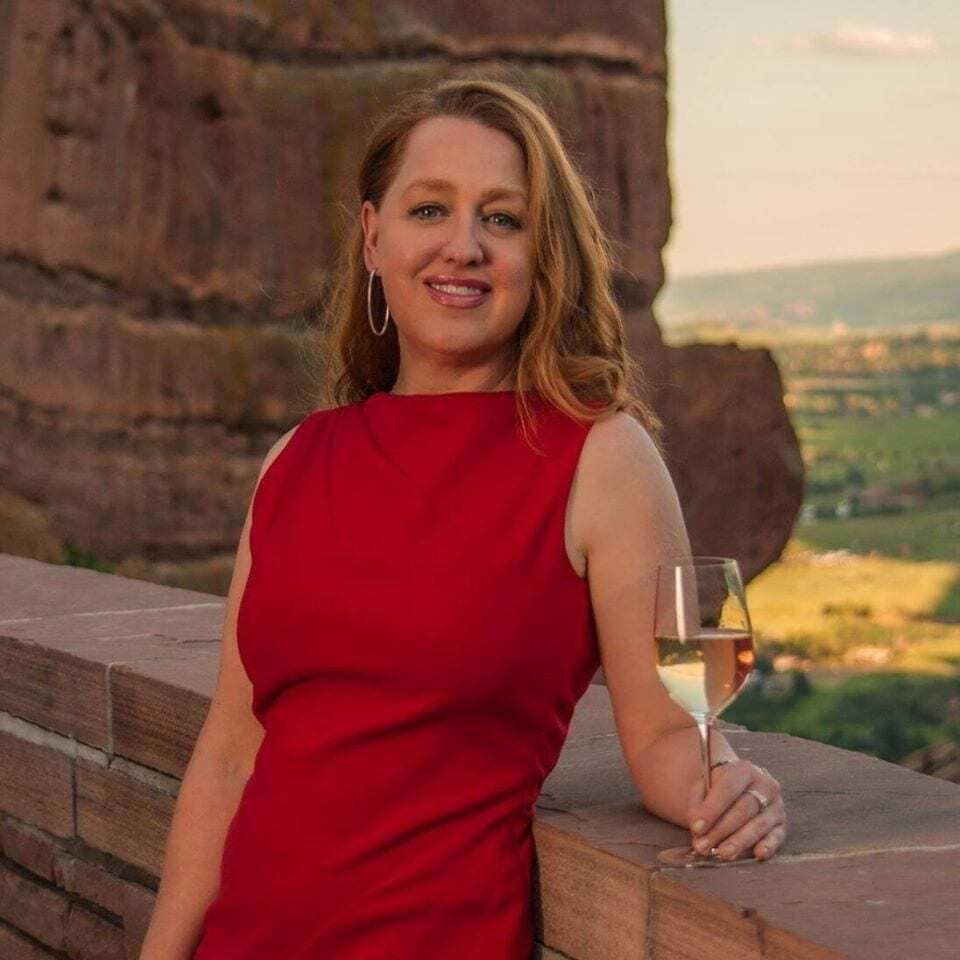 Simone FM Spinner is a top-rated university wine lecturer and certified sommelier with thirteen advanced wine certifications, a bachelor's and master's degree in wine studies, and is pursuing her doctorate studying the socioeconomic and cultural effects of climate change on wine. She is a sought-after wine consultant, public speaker, and published author. She organizes wine events and international wine tours through her company Wine Rocks & Chasing Grapes™©. Her website is WineRocksLLC.com