Temecula wine country is waiting to be uncorked.
Temecula Valley boasts more 40 wineries, so you're bound to drink something delicious when sipping through wine country. To help you decide, we've selected a handful of top picks for Temecula Valley wineries you MUST visit.
If you're planning a wine vacation to the Temecula Valley, make sure to check out our full guide on the region and suggested Temecula wine tasting itineraries.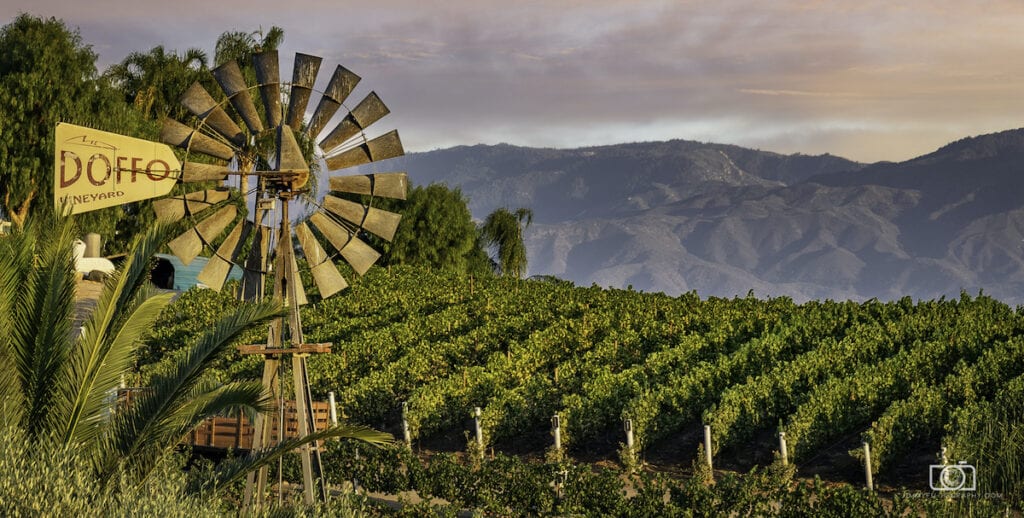 Where to Sip
Temecula Wineries
---
Bottaia Winery
A quick view of Bottaia Winery's website confirms the insta-ready aesthetic visitors can expect in person: a chic pool, sunset views, and a range of fun food and wine experiences. Perhaps it's the Italian wine focus that inspires the Mediterranean Coastal setting. Bottaia focuses on grapes from the boot farmed with sustainable viticulture practices and made with a blend of modern techniques and Old World traditions. For a day in the sun, book a private cabana or lounger by the pool and relax with drinks and snacks served from the café. For a more serious experience, try the charcuterie pairing or "winemaker for a day" blending class.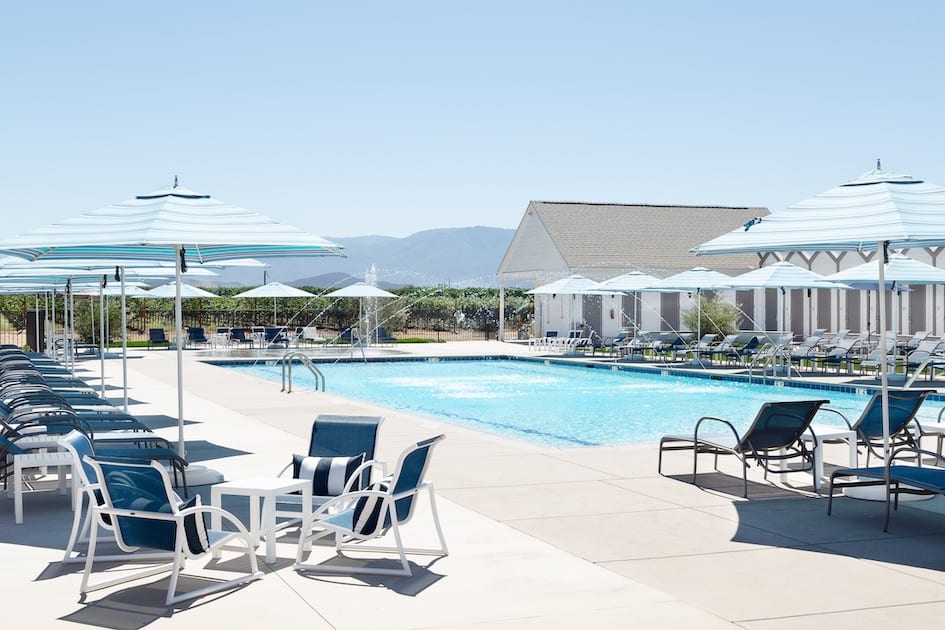 Italian winemaking roots spurred former musician and alcohol distributor Robert Renzoni to open his eponymous Tuscan-style winery in Temecula. Renzoni's great-grandfather worked the vineyards of Fano near the Adriatic Sea, a legacy he honors through his focus on Italian varieties. For most Italians, food is an essential part of the wine tasting experience; the restaurant at the winery delivers on that promise with its popular dishes at the Trattoria like pancetta mac & cheese and margherita pizzas. While the taps flow with plenty of local beer, it's the wines that draw visitors back year after year. Renzoni has identified nearly 20 grapes worth growing—highlights include Montepulciano, Sangiovese, Barbera and Vermentino.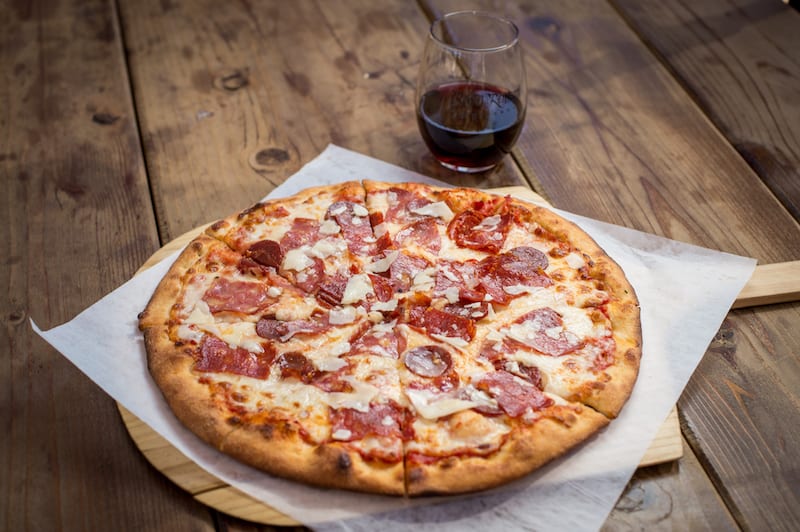 Hart persists as the oldest Temecula winery still run by its founders, dating to 1973 when high school teacher Joe Hart bought a dozen acres. The winery opened in 1980, with plantings swelling to include Sauvignon Blanc, Roussanne, Cabernet Franc, Cabernet Sauvignon, Merlot, and Tempranillo. The winery sits on the western edge of Temecula at 1500 feet above sea level though they source Syrah and Cabernet Sauvignon for their reserve line from the Volcanic Ridge Vineyard at 2400 feet above sea level. Hart's tasting room is a lot of fun, attracting friendly wine drinkers in all stages of their education. Don't miss the Mission grape, a heritage variety brought by the Spanish in the 1800s.
What Wines Will You Be Sipping?
Given the climate's approximation of the Mediterranean, Temecula growers plant grapes similarly suited to southern coastal Europe. In fact, a large array of grapes thrive in Temecula. Rather than focus on a flagship variety like Cabernet Sauvignon in Napa, producers experiment widely.
For whites, look for Rhône Valley grapes like Viognier, Marsanne, and Roussanne. Italian varieties Arneis, Falanghina, and Vermentino stand out.
For reds, Italian grapes do well – think Sangiovese, Montepulciano, Aglianico, and Barbera. Same goes for Rhône Valley reds Syrah, Grenache, and Mourvèdre. Of course, red Bordeaux varieties, Chardonnay, and even Malbec, can be found given the international popularity of these wines.
With 30 vintages under their belt, Baily Winery is one of Temecula's oldest and most experienced. In 1981, Carol and Phil Baily left metropolitan Los Angeles with their two sons for a life in the country. A winery and 25 acres of vineyards, ensued. Today, Baily offers two tasting rooms for their approximately 15 wines: one on Rancho California Road for current releases, and the Baily Estate tasting room at the production facility on Pauba Road for library wines or aged, older reds. Visit during lunch to sample salads, fish, steak, and pasta at Carol's Restaurant, either inside before the floor-to-ceiling fireplace or out on the patio.
Fans of traditional Méthode Champenoise sparkling wines should book a tasting at the expansive Carter Estate Winery and Resort, the only winery in Temecula to bottle ferment its sparkling wines. In addition to bubbles, the winery's main draws are its fireplace bungalows set amidst the vines, fabulous swimming pool, and grill room restaurant. Founded by Jim Carter, a former Ohioan who fell in love with the Southern California landscape, his first project, the South Coast Winery Resort & Spa, landed him a slew of awards. In 2015, Carter endeavored on a new adventure, opening Carter Estate on 109 acres of California Certified Sustainable Vineyards.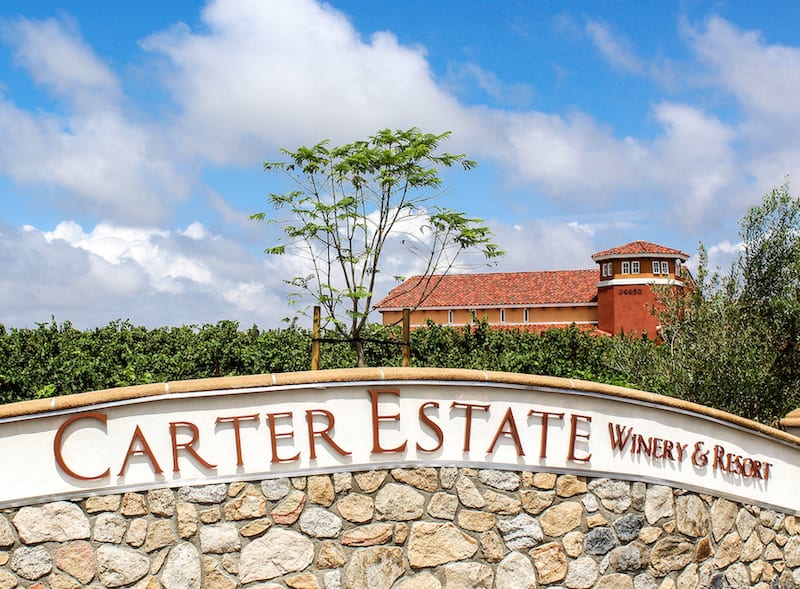 This 2018 winner of Winery of the Year Temecula Valley Xenia Hospitality Awards, beckons with its dramatic backdrop of Temecula's dusty rolling hills which turn mauve at dusk. In fact, the entire setting feels like a throwback to California's mid-century heyday from vintage motorcycles to the classic windmills which pumped water from the ground. Red Spanish colonial tiles and vineyard views complete the transporting look of this winery founded by Argentines in a garage. Marcelo Doffo took inspiration from his winemaking uncle during a trip to Italy. Upon return, he tried his hand at fermenting grapes in his body shop, earning a home winemaker award in 1997. The acknowledgement prompted him to buy land and plant vines in Temecula. A near death experience from a heart attack convinced him to turn his attention fully to wine with the aid of his children. Doffo Winery focuses on reds like Malbec, Zinfandel, and Syrah, while the MotoDoffo line, which sells bikes and gear, experiments with smaller batch blends.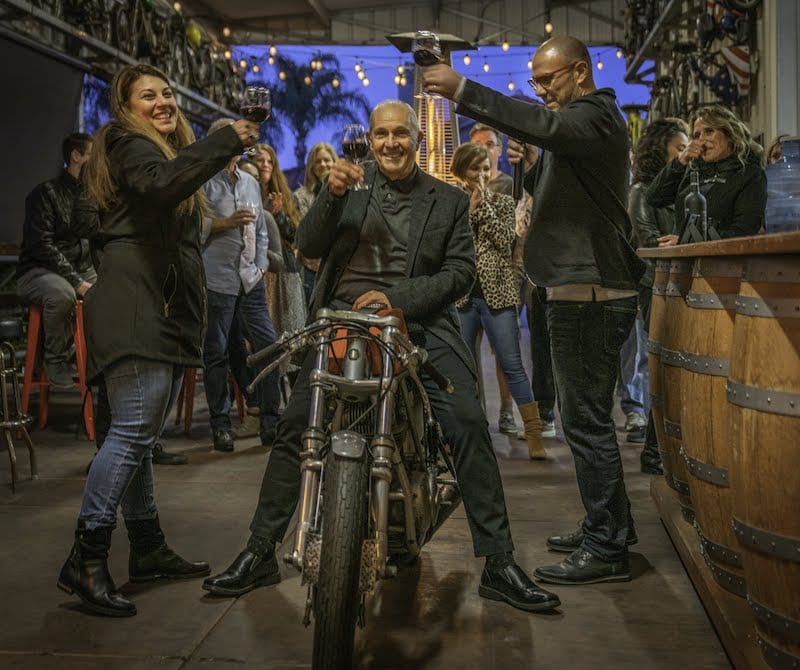 Run by second-generation winemaker Joseph Wiens, Wiens Family Cellars creates nearly 60 different wines. While that might sound overwhelming, the winemaking team prides itself on experimentation, using fruit from small plots around the higher elevation mountain sites of La Cresta and De Luz. Varieties range from juicy whites to Italian grapes like Aglianico and Montepulciano, as well as California-famous Cabernet Sauvignon. The winery opened publicly in 2006, after Joseph's father, Doug, relocated from his earlier vineyard project in Lodi in the early aughts. At this self-proclaimed "home of big reds," guests can sample flights of sparkling, whites, and reds, or focus on the spirit of the cellar and sip "big" wines like Refugio Cabernet Sauvignon and Chateau Grand Rouge.
---
Sip in More of Temecula…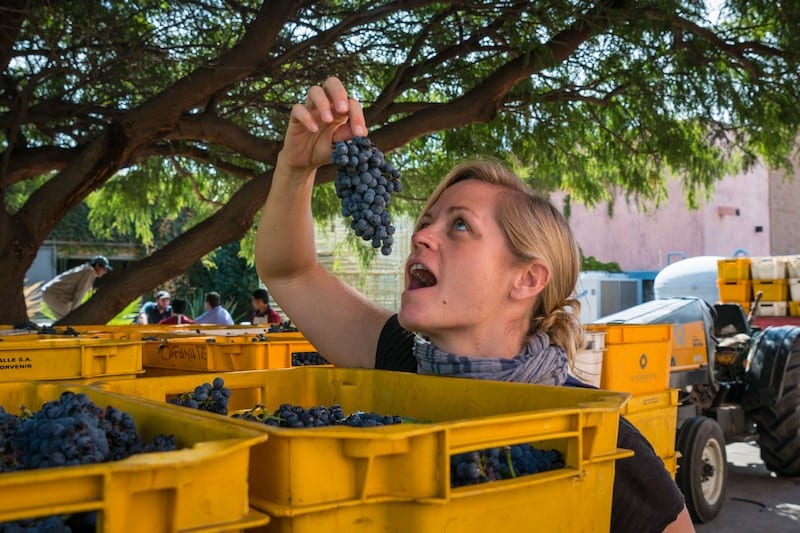 Lauren Mowery is a freelance writer, photographer, and contributing travel editor at Wine Enthusiast. She has covered coffee, wine, spirits, food, and travel for national publications including USA Today, Hemispheres, Forbes, Lonely Planet, AAA, Vinepair, Fodor's Guides, Saveur, Punch, and Eating Well, among others. Mowery is a graduate of the University of Virginia and Fordham Law School and is halfway towards earning the Master of Wine distinction held by only 416 people in the world. Her forthcoming book Chasing the Vine: Finding Wonder, Rebirth and Jet Lag on the World's Most Farflung Wine Trails debuts in 2022.