Zinfandel (zin-fan-dell) is a full-bodied dark-skinned red wine. The origins of the grape are found in Italy and Croatia. Recent DNA testing proves the Zinfandel grape is identical to Italy's Primitivo grape. If you're a Zinandel wine lover check out some Primitivo!
When you taste Zinfandel it often explodes with candied fruitiness followed by spice and often a tobacco-like smoky finish. The primary flavors of Zinfandel are Blackberry, Blueberry, Boysenberry, jam, 5 spice powder, sweet tobacco, Nutmeg, Vanilla, Gravel, and Star Anise.
Zinfandel wine is lighter in color than both Cabernet Sauvignon and Merlot. However, although a light-bodied red wine like Pinot Noir, Zin's moderate tannin and high acidity make it taste bold.
Generally speaking, most Zinfandel wines have higher alcohol levels ranging from about 14% – 17% ABV.
Fun Fact
When buying Zinfandel wine look at the % ABV noted on the bottle. A lighter Zin will have about 13.5% ABV whereas a bold and spicy Zinfandel will have around 16% ABV. It's also good to look at the elevation of the area as higher elevation = richer Zinfandel wines.
WHERE TO FIND THE ZINFANDEL GRAPE
The top producing Zinfandel regions include Napa, Sonoma, Paso Robles, and the Sierra Foothills. Old vines can be found in Lodi and Russian River Valley.
Outside the U.S., the variety is grown in South Africa and Australia, where it has been bottled as both Zinfandel and Primitivo.
UNITED STATES
California is home to many regions producing award-winning Zinfandel wines, a few include Paso Robles, Sonoma (Dry Creek and Russian River Valley), Napa Valley, Lodi (Central Valley, Modesto), Amador County (Sierra Foothills, El Dorado County).
ITALY
In Puglia, it's not uncommon to find Primitivo blended with another local Puglia grape called Negroamaro. The style is lighter but very true to the Zin style.
WHAT ABOUT WHITE ZINFANDEL?
Did you know that White Zinfandel is perhaps the first American game-changing wine since sparkling Catawba back in the 1800s…and one of the wines the put the United States wine industry on the map, contributed to it becoming as a major wine-producing country and the world's largest wine consumer. Back in the 1970's The Sutter Home winery in California led the way with producing White Zinfandel when it found that its Zin's saignee had residual sugar, making it taste good. Voila! A new wine to sell. Today 85% of the total Zinfandel production is White Zin. White Zin is a perfect introductory wine for those starting to explore the wonderful world of wine due to its sweet taste and is lower in alcohol.
Other Names to Look for When Exploring Zinfandel
Primitivo
Pribidrag
Kratosija
Crljenak Kastelanski
Tribidrag
HOW TO ENJOY Zinfandel WINE
Zinfandel food pairing
Zinfandel wine pairs best with Quail, Turkey, Pork, Bacon, Ham, Veal, Peppers, BBQ, Grilled Meats, Burgers, Sausage, Ragu, Stew, and Smoky Food.
Practical Tips for Zinfandel Wine
Glassware: The wine should be consumed out of a red wine glasses.
Shelf life: Around 2-5 years.
Bottle prices: The average bottle costs between $10 – $65.
Buying tips: When buying Zinfandel wine check the % ABV noted on the bottle. Lighter Zins have about 13.5% ABV whereas a bold and spicy Zinfandel has around 16% ABV. The higher the ABV, the higher the alcohol.
Zinfandel WINE RECOMMENDATIONS
Looking for Zinfandel recommendations? Here are a few suggested sips.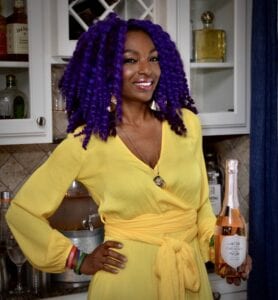 Carpe Travel collaborated with Maia Parish to compile the grape varietal overviews. Maia Parish is an award-winning events producer, sommelier, wine judge, and media consultant. She lives in Denver, Colorado and likes to eat copious amounts of food. You can find her here www.linktr.ee/thewinemistress.