Our Paso Robles Wine Travel Guide shares a brief history of the region, terroir, where to sip, where to stay and things to do.
The Paso Robles wine region has really evolved over the past decade, becoming a world class wine region and one of the most renowned in the state of California, after Napa Valley and Sonoma. However, while the region sees a little over a million and a half visitors per year, it gets nowhere near the traffic and crowds that pour into Napa and Sonoma Counties each year (which saw close to 4 million and 10 million in 2018) due to its location 3+ hours from both San Francisco and Los Angeles.
It is this lack of overwhelming crowds combined with Paso Robles beauty and proximity to the ocean (just a 30-minute drive), increasing number of high quality wine producers, and warm, comfortable hospitality that make the region one of the best places in California to enjoy a long weekend in wine country.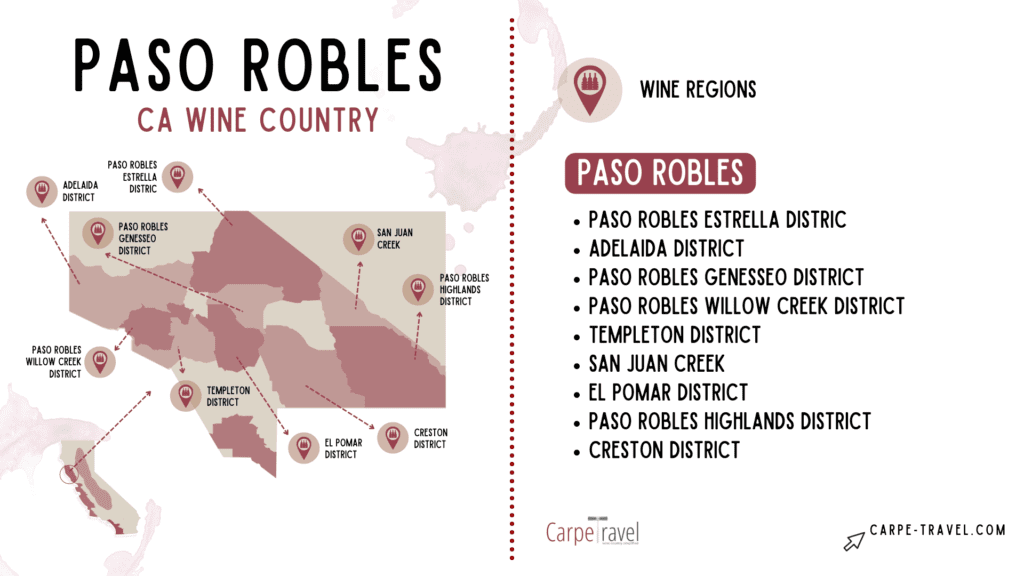 BEST TIMES TO VISIT
The warmer weather in Paso Robles makes it a great year-around destination. The summer months – June, July, August – are the busiest times to visit Paso Robles. The shoulder seasons, April/May and September/October still provide warm weather but fewer crowds and lower prices. If you're flying into Paso Robles, San Luis Obispo County Regional Airport- SBP is the nearest airport (32 miles away).
HISTORY
Paso Robles was named for its local oak trees, El Paso de Roblas, "The Pass of the Oaks." In November 29, 1889 the town name was officially changed from "Roblas" to "Robles".
Spanish conquistadors and Franciscan missionaries introduced wine grapes to the Paso Robles area in 1797. The Padres of the Mission San Miguel were also the first to produce wine in the area. It wasn't until 1882 that commercial winemaking was introduced to the region. Andrew York, a settler from Indiana established the Ascension Winery, which is now York Mountain Winery.
As far back as 1795, Paso Robles has been spoken of and written about as "California's oldest watering place"—the place to go for springs and mud baths. There are now only three locations left in the are that offer the healing mineral baths – Paso Robles Inn, River Oaks Hot Spring, and Franklin Hot Springs. If you have the time for soak, do it.
The Paso Robles wine region is home to 11 AVAs, grows more than 40 different grape varieties and has 300+ wineries (and counting).
Paso Robles has a maritime climate due to the Santa Lucia Range that protects the area from the cold and wet weather of the nearby Pacific Ocean. The Templeton Gap in the Santa Lucia Range allows cool maritime air to push through and drop the nighttime temperatures 30-40 degrees. As a result, Paso Robles has one of the longer growing seasons with warm sunny days for the grapes to ripen and longer cooler nights.
TOP GRAPE VARIETIES IN PASO ROBLES
Many vineyards in Paso Robles do dry farmed vines. Meaning, there isn't any irrigation set up and there are no lines to support the fruit. It's all up to Mother Nature to yield the grapes. This process is more risky and less fruit is yielded since there is more stress put on the vines BUT the fruit that is produced is more concentrated and robust.
There are more than 200 wineries in Paso Robles, which makes narrowing down your choices extremely difficult, we suggest these must-sip to your itinerary.
Austin Hope
& Treana
Rotta
Winery
Tablas
Creek
Best Wine Tasting Rooms in Downtown Paso Robles
There are a number of Paso Robles wineries that have opened tasting rooms in the main downtown square. This is a great option to sip in a few more wineries you may not have the chance to visit at the winery. This is also a great way to sample the local wines if you're arriving to town a bit later in the day as the downtown tasting rooms in Paso Robles tend to stay open later (6-7pm). A few of our favorites include…
Tudor Wines – Justin – Asuncion Ridge Vineyards – LXV Wine – CaliPaso Tasting Room
Plan Your Paso Robles Wine Vacation
WHERE TO STAY IN PASO ROBLES
JUST Inn at JUSTIN Vineyards & Winery
Allegretto Vineyard Resort
The Inn at Opolo
SummerWood Winery and Inn
Hotel Cheval
Paso Robles Inn
The Piccolo
WHERE TO EAT
Paso Robles is home to 5 MICHELIN-Recommended Restaurants – Six Test Kitchen, The Restaurant at Justin Winery
Sip In More of Paso Robles…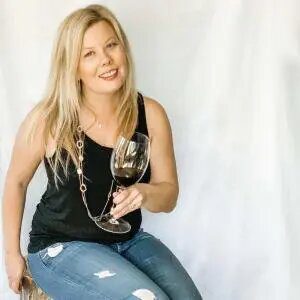 Elaine Schoch (pronounced the German way – Shock) is the editor and founder of Carpe Travel as well as an award-winning travel writer, wine judge, certified by the Wine & Spirit Education Trust (WSET) Level 2 and certified American Wine Expert. She is married to The Husband and has two kids, Princess One and Two – who's interest and knowledge in wine is quite extensive. Not to mention the stamps in their passports.