Paso Robles + Four Days = The Perfect Pairing!
Having not ventured out into wine country for the last year we felt it was time…but staying state-side is still a must so we decided to sip in a little Paso Robles wine country. With California wine country slowly starting to open up and vaccination rates increasing, supporting the wine industry plus visiting wine country is the perfect pairing. (How to sip safely in wine country.)
We had four days for wine tasting in Paso Robles so I wanted to share how we sipped it in to help you make your next wine country vacation a grape escape.
Best Hotels Within Walking Distance of the City Park (main square)
We chose the Paso Robles Inn for this visit because the location, price and service were perfect for us. Some rooms are available with a large hot tub jacuzzi on the patio with privacy curtains, a nice way to end a day of wine tasting.
We arrived late afternoon for our Paso Robles wine tasting adventures and got right to it. After checking into our hotel room, we had time to visit some of the wine tasting rooms located in Downtown Paso. It's a great way to try some of the Paso Robles wineries your won't be able to visit out among the vines. It's also a fun way to get into the spirit of your wine country adventure!
You most likely will not need a reservation, walk-ins are encouraged. Keep in mind that most of the tasting rooms close at 6pm.
For your first night in Paso Robles – depending on when you arrive – you might want to purchase some wine bottles for your room. It seemed odd to me how few options there were for retail wine purchases within walking distance. We ended up shopping at Third Base Market & Spirts, in a gas station, on Spring Street. Be sure to pick up some snacks for your wine country road trip, there are not many places to shop once you leave Downtown.
Day One: Paso Robles Wine Tasting
On your first full day of Paso Robles wine tasting, head East. Within a few miles, you will pass many wineries. Make Eberly Winery your first stop.
Gary Eberly is one of the current – day "pioneers" in the industry. He is one of the original co-founders of the Paso Robles Appellation in 1983, the first to label his wine with the AVA and the first to commercially produce a 100% Syrah.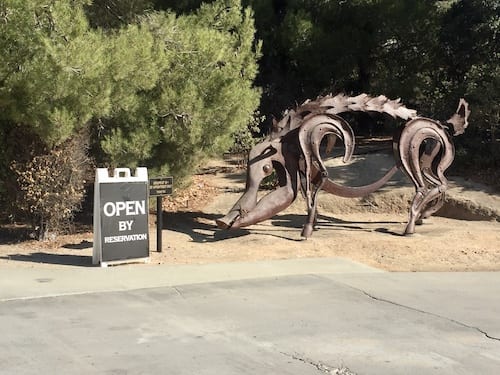 The covered patio looks out over the vast acres of vineyards and offers plenty of space for social distancing. Our table host, Kirk, was quite the precious (and precocious) gem. He was full of humor and educated and entertained us for hours. He was generous enough to share several wines that were not part of the day's tasting menu, and of course they were all available for purchase. Eberly offers generous discounts and nearly-free shipping on wines purchased at the winery.
Reservations: Required until COVID restrictions end
Address: 3810 CA-46 Paso Robles, CA 93446
Phone: 805-238-9607
Hours: 10am-5pm daily
Plan your mid-day stop at Bianchi. It is just a short drive from Eberly. If you are visiting on a weekend, they offer lunch, which is always a challenge to find in wine country. Some days you may want to pack a lunch so that you do not have to return to town to eat. And I can assure you, wine tasting will make you hungry! It is a lovely setting for lunch with a large patio adjoining a beautiful koi pond.
Reservations: Required until COVID restrictions end
Address: 3380 Branch Rd. Paso Robles, CA 93446
Phone: 805-226-9922
Hours: 10am-5pm, closed Tuesday and Wednesday, lunch available Saturday and Sunday
For your third appointment of the day, make it Robert Hall Winery, which is also close to Eberle and Bianchi. Keeping your wine tastings near one another helps to limit your driving and allows you to have more time at each tasting.
Robert Hall Winery specializes in Bordeaux and Rhone varietals. There is a word of caution for you – as the day progresses, you will start to get "palate fatigue" and these wines will seem to be perfectly rich and smooth. However, when you try them at home, they may seem overly extracted, with high alcohol. If you enjoy this style, consider joining their wine club, which allows 30% off everything you might purchase during your Paso Robles wine tasting adventure.
Reservations: Required until COVID restrictions end
Address: 3443 Mill Road Paso Robles, CA 93446
Phone: 805-239-1616
Hours: 10am-5pm daily
Best Restaurants in Paso Robles (near the main square)
Make all your restaurant and winery appointments at least three weeks in advance. There are not that many options for all the demand.
Day Two: Paso Robles Wine Tasting
Today head west of Paso Robles for a leisurely brunch and tasting at the top-of-the-line, "new kid on the block" DAOU Winery in the Adelaide hills.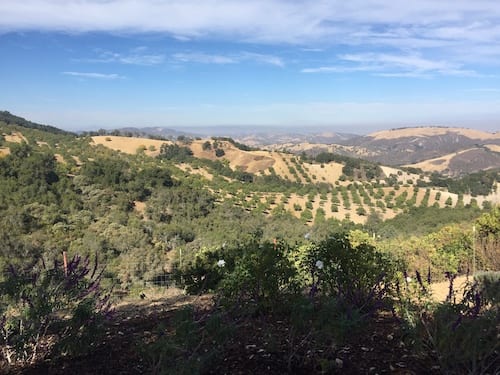 The spectacular setting is at the top of a mountain with extensive views of the vineyards and walnut groves. The view is equaled in the high-level of hospitality and world-class Bordeaux-varietal wines. I know this is a lot of superlatives, but you need to experience this for yourself.
There is a full Mediterranean menu on which to feast while you taste through the extensive line up of wines. Tasting these wines with food, is really the best way to get to know them. It took several hours to taste through the menu and the wines, so allow yourself time to sip back and enjoy.
The quest for perfection is evident in every aspect of your visit. These wines consistently receive rave reviews from the major trade publications. DAOU is not to be missed.
Reservations: Required until COVID restrictions end
Phone: 805-226-5460
Hours: 10am-5pm daily
Pro tip– Wine tastings can be expensive. Remember that you can share a single tasting with another person, or two. Not only does this save money but keeps you legal to do your own driving. Always have a designated driver.
Next up is a relaxing afternoon at your next hotel, The Allegretto Vineyard Resort, just a few miles from Downtown Paso Robles. This resort is a destination in and of itself, which is why we split our hotel stays from Downtown Paso Robles to staying among the vines.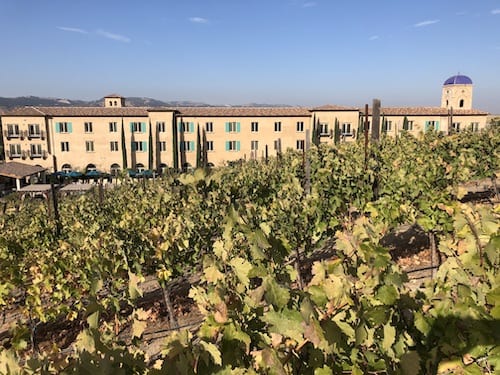 There are marvels around every turn and a small vineyard on the hill behind the hotel. Request a room at the rear of the hotel with a view of the vineyard and the pool.
The Ayers brothers, Douglas in particular spent a lifetime dreaming of this special property and are continually adding artistic elements to the grounds. The property is steeped in energetic crystals, worldly symbolic creations and artworks.
A guided tour is offered and recommended. Allegretto makes its own label wines which can be sampled, by appointment, in the tasting room. The grand courtyard at the center of the property is a bonus space in the evenings, as you can enjoy a recap of the day with your travel companions by one of the many fire pits. Remember to pack a jacket for the chilly evenings…all year long.
Be sure to schedule a wine tasting at the hotel's tasting room. You will have a personal host to taste you through the line up of Allegretto wines, which of course, are available for purchase to take to your room. There is a convenient restaurant on the property, Cello Ristorante & Bar. Cello features a Mediterranean-inspired menu, lots of outdoor dining and dramatic firepits.
Pro tip-Use the DAOU corporate rate discount offered to DAOU wine club members. It is significantly better than the AAA rate.
Going Beyond the Vines
On our visit we were able to add an incredibly unique outdoor art installation to our itinerary, Bruce Munro: Field of Light at Sensorio. This open-air exhibit was opened in 2020 and has been extended until at least the Fall of 2021. It is not to be missed, if it is available to visit. Plan ahead and book your tickets on-line.
The best time to visit is just before sunset as you will watch the sky change during the approximately one-hour time you are walking around. The gravel path is only about a half mile but be sure to wear flat shoes. The silhouettes of the trees make for stunning photos. Just take a look……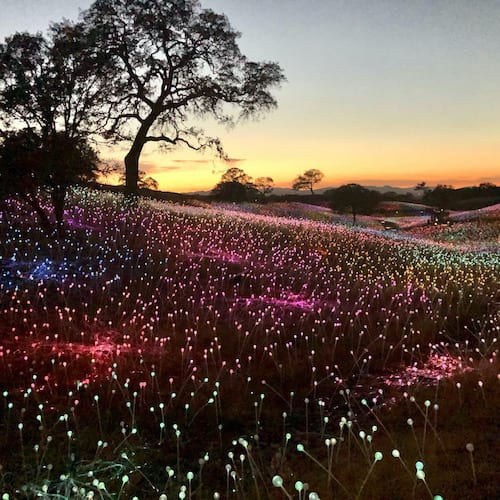 Day Three: Paso Robles Wine Tasting
Today you will head west again into the Adelaide hills to Justin Winery. You may be familiar with this winery, as it is well-distributed throughout the U.S.
There was an extensive line-up for this tasting, including the highly rated Icosolese and Justification. The winery offered several bottlings that are not available outside of the winery, including Syrah and Reserve Tempranillo (my personal favorite).
On the weekends there is a full-service restaurant and weekdays there is a limited menu offered. At Justin they insist on providing a fresh glass with each pour. Just for fun, we asked them not to clear them away. There were only two of us tasting and we nearly filled the table!
You can book many different types of wine tasting and tour experiences at Justin, based on your time and interest, including a chocolate pairing.
Reservations: Required until COVID restrictions end
Address: 11680 Chimney Rock Paso Robles, CA 93446
Phone: 805-238-6932
Hours: 10:30am-4:30pm daily
Pro tip- When planning your wine tasting appointments for the day, it is best to start your day at the location that is the farthest from where you want to end your day. Each subsequent appointment will be a little closer to your hotel or wherever you want to end the day. This is a very relaxing way to tour wine country and assures that your last wine tasting is a short drive "home". Always scope out a few tasting rooms on your route as "bonus" stops. Should you get ahead of your schedule, you can always call and ask if they can accept your group, on short notice.
Next up, Halter Ranch, a boutique winery with very limited distribution. We chose to visit because it was recommended and that they served lunch. There's nothing like a big hamburger during a day of wine tasting… If your time permits, you can even schedule a guided hike on the property. You might need it after that burger.
Reservations: Required until COVID restrictions end
Address: 8910 Adelaida Rd. Paso Robles, CA 93446
Phone: 805-226-9455
Hours: 10am-5pm Thursday-Monday
Just across the road from Halter Ranch is Tablas Creek, one of the iconic Paso Robles wineries specializing in Rhone varietals. This was one of our most anticipated visits.
I have followed Tablas Creek for decades and signed up for their wine club the year before. I have always loved Rhone varietals, from around the world. These wines are modeled after their sister property in Chateauneuf du Pape, Chateau Beaucastel. The Haas family (of California-based importer, Vineyard Brands) and the Perrin family of Chateau Beaucastel partnered to find a vineyard with heavy limestone to influence the perfect grapes for the Rhone blends. The property is farmed Biodynamically and organically.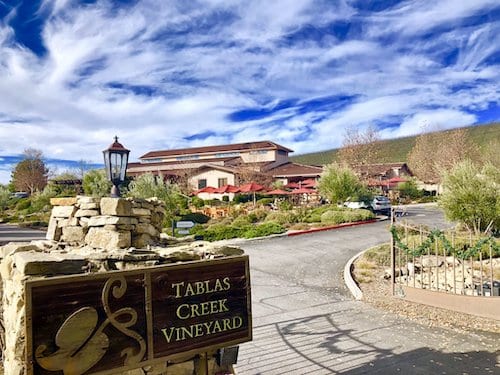 Tablas Creek has expanded their patio area to accommodate small groups at individual tables with a dedicated host who will share as much information as you wish. If you are a member of the wine club, your tasting will be complimentary.
Reservations: Required until COVID restrictions end
Address: 9339 Adelaida Rd.
Paso Robles, CA 93446
Hours: 10am-5pm Daily
Day Four: Paso Robles Wine Tasting
Heading east, the first stop is Sculpterra Winery and its stunning sculpture garden. The artwork is the inspiration for the wines and a good reason to visit the winery.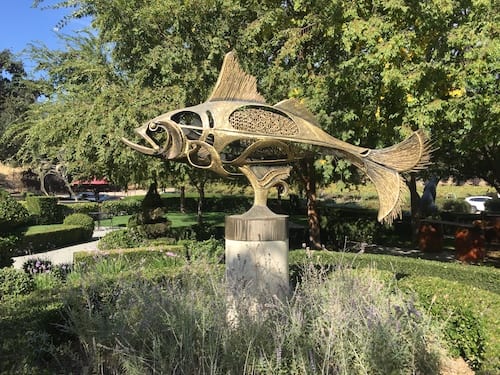 Sculpterra's wines are not widely distributed, so if you like them, you should plan to take some home. Our plan was to have lunch at Firestone Walker Brewery Company which was very conveniently located for our itinerary. However, they are not open everyday for lunch, and we missed out on the famous BBQ tri-tip which is a specialty of the Central Coast region. If you have the chance to try it, do! Otherwise, it's a perfect day to pack a picnic lunch and nosh in-between your tastings.
Reservations: Walk-in's welcome
Address: 5015 Linne Rd. Paso Robles, CA 93446
Phone: 805-226-8881
Hours: 10am-5pm Daily
Your afternoon stop is at Austin Hope & Treana. They have done a beautiful job of creating individual living rooms for outdoor tastings.
The staff was young, energetic, and sincere, if not the most knowledgeable of crews. The visit was casual and fun. You will not feel rushed. The specialty of the house is Cabernet Sauvignon at several levels of quality. (See Carpe Travel's Interview with Austin Hope.)
Reservations: Required until COVID restrictions end
Address: 1585 Live Oak Rd. Paso Robles, CA 93446
Phone: 805-238-4112
Hours: 10am-5pm Daily
Try to save time in your schedule so you can spend a half day at Tin City, a warehouse collection "incubator" for small wineries and breweries. Thursday-Sunday is the liveliest. There is a "fair-like" atmosphere with large crowds stopping in at the many tasting rooms, breweries and shops in the open-air complex.
Tin City It is full of talented, passionate entrepreneurs, you will likely meet many of them during your visit to their establishment. Their tasting rooms are their connection to consumers and their most important marketing tool.
There are plenty of options for catching a bite to eat while you are there. You may be treated to one of the many live music performances if your timing is right. If you have an Amazon Prime account, you can watch a documentary on Tin City, to get you in the spirit for your visit.
Address: 450 Marquita Ave. Paso Robles, CA 93446
Phone: 805-434-5474
Hours: varies by establishment, not all open every day
Where are your favorite Paso Robles wineries to sip in?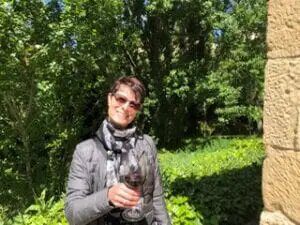 Michelle Bainbridge has had a career in wine sales and marketing and continues to be involved in wine education and wine-focused travel. Visit her blog at wheresthewineblog.com.
Sip in More of Paso Robles…