Immerse yourself in wine country at these winery hotels
It's one thing to visit wine country, it's another to immerse yourself in it. Staying on a working vineyard at a winery hotel is the perfect way to do just that.
With every one of the 50 states in the United States producing wine, a visit to a winery hotel can easily be done – even outside of Napa Valley or Sonoma. Albeit, a stay at a winery hotel in these two regions is something not to miss… We've uncorked a few wonderful winery hotels throughout the country to sip in, including those in Napa Valley and Sonoma as well as some underrated wine regions – Alaska, Idaho, Colorado, New York, Washington – to help enhance your next wine country experience.
Let us know in the comments if you have other recommendations for a stay at another winery hotel. Cheers!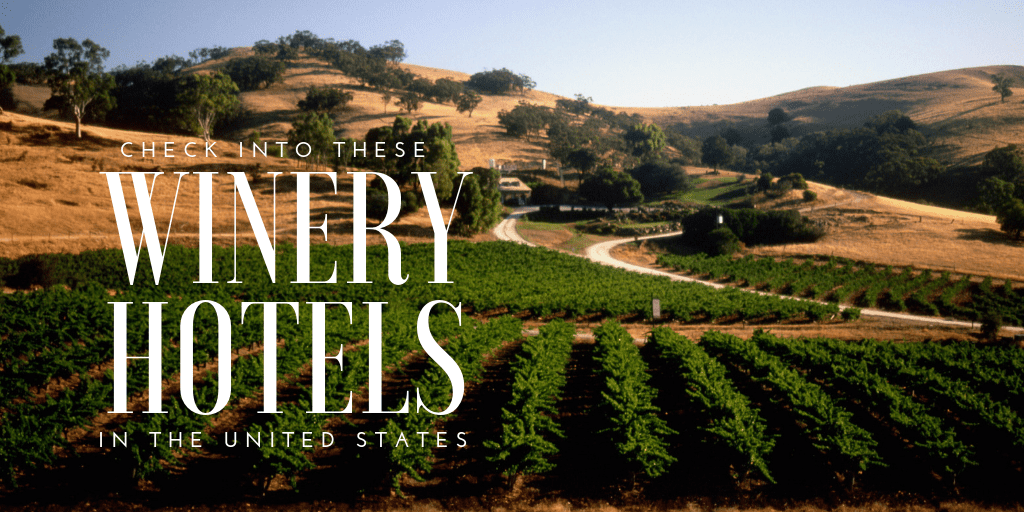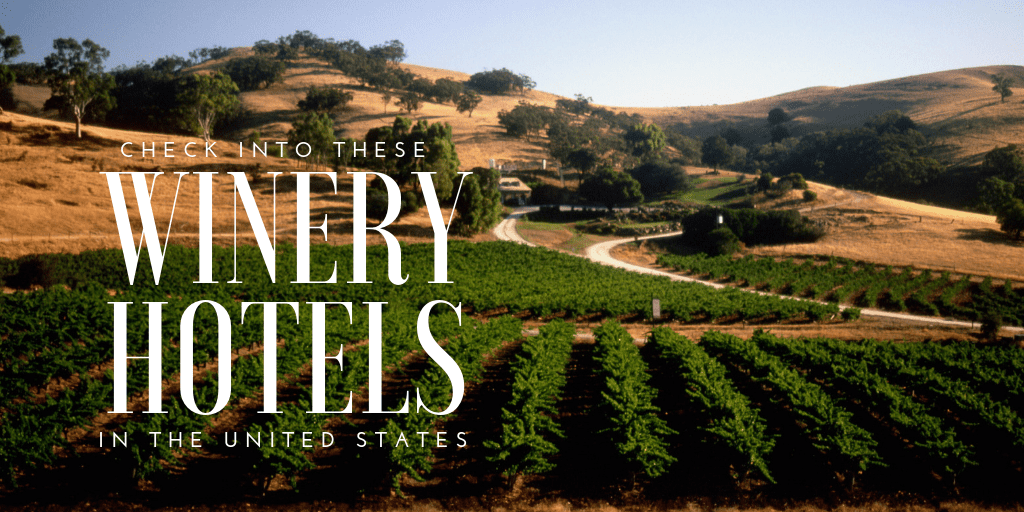 Bear Creek Winery and Lodging, Homer, Alaska
Wine country in Alaska. While it's a pretty small wine scene in Alaska, you can find wine country nonetheless. For wineries with lodging, Bear Creek Winery is one to check out not only for its wine but its lodging options. The intimate establishment provides guests with the chance to stay among the vines in one of its three luxury suites.
60203 Bear Creek Dr., PO Box 164, Homer, AK 99603-9440 | 907-235-8484
Reviews and booking for Bear Creek Winery and Lodging
Château Élan, Braselton, Georgia
Château Élan is a 3,500-acre winery and resort in the hills of north Georgia, it is the first winery of its kind in the region since National Prohibition. This award winning winery is just 30 minutes north of Atlanta, offering locals and visitors to Georgia a unique wine country experience, complete with wine tastings at its winery, four golf courses, eight restaurants, European-style health spa, a wine market, equestrian show center and tennis center. You may find yourself feeling like you've escaped to a hidden European chateau, not a winery hotel in the middle of Georgia!
100 Tour De France, Braselton, GA 30517 | (678) 425-0900
Reviews and booking for Château Élan
Wine Country Inn, Palisades, Colorado
We're ALMOST cheating by listing the Wine Country Inn in Colorado's wine region, the Palisades. This winery hotel is not owned and operated by a vineyard, but the Victorian style hotel sits in the middle of 21 acres of vines that produce grapes, which are crushed and bottled as the Inn's signature label wines. And, it is adjacent to two wineries. So, it can still be deemed as a winery hotel…at least according to us.
777 Grande River Drive Palisade, Colorado 81526 | 970-464-5777
Reviews and booking for Wine Country Inn
Bitner Vineyards B&B, Snake River Valley, Idaho
The Bed & Breakfast at Bitner Vineyards is in the heart of the Snake River Valley. The bed and breakfast offers guests a tranquil oasis overlooking the beautiful Bitner vineyards. Exit through your bedroom's French doors onto your personal patio and enjoy the gorgeous natural landscape! A stay at this unique venue in the heart of Idaho Wine Country includes a continental breakfast, a 10 percent discount on all wine purchases, and a $20 gift certificate to The Orchard House restaurant. There aren't a lot of opportunities to sleep among the vines in Idaho's up and coming wine region – yet. This winery hotel is a must if you're looking for the full experience in Idaho.
16645 Plum Rd, Caldwell, ID 83605 | (208) 455-1870
Reviews and booking for Bitner Vineyards B&B
Rolling Hills Estate Winery, The Champlain Valley of New York
Sleeping among the vines…and views in the Champlain Valley of New York. In addition to being a winery, Rolling Hills Estate Winery is also a working farm – guests get to reap the bounty and it's all included in their stay. Fresh produce, USDA hormone-free cuts of beef, pork and lamb, eggs, maple syrup (right from their trees), milk and so much more. Guests can partake in wine tastings, wine tours with the winemakers and other wine enthusiast activities at the winery and private Tasting Barn. They can also partake in farm-to-table world-class chef-prepared five-course masterpieces and spend days on the large, private beach and evenings around the fire pit outside of the Tasting Barn while star-gazing. More on Rolling Hills Estate Winery
Westport NY 12993 | 914-844-1068
The Inn at Glenora Wine Cellars, Finger Lakes, New York
Glenora Wine Cellars opened its doors in 1977 as the first winery on Seneca Lake and has been producing award-winning wine ever since. The winery is also home to the Inn at Glenora Wine Cellars, a unique winery hotel in the Finger Lakes. Each of its 30 rooms feature a private patio or balcony that overlook vineyards and Seneca Lake. For a more secluded stay, book the two-bedroom Vineyard Cottage located alongside the vineyards. Overnight stays include a glass of sparkling wine at check-in, a bottle of the properties own wine – Glenora Wine Cellars, plus complimentary wine tastings at the winery. Beyond wine, you can enjoy regional cuisine featuring seasonal, locally-sourced menus at Veraisons Restaurant, located at the Inn.
5435 State Route 14, Dundee, New York | 1-800-243-5513
Reviews and booking for The Inn at Glenora Wine Cellars
Belhurst Castle, Finger Lakes, New York
Overlooking Seneca Lake in the Finger Lakes region, Belhurst Castle is home to the Belhurst Winery, adn worth checking out if you are looking for wineries with lodging in this area. Built in the 1800's as a private residence, now turned luxury wine resort, the property does an exquisite job blending 19th century charm with cozy, modern-day comfort. The historic castle still hones its original beamed cathedral ceilings, mosaic tiled fireplaces, and period décor helping you feel as if you've taken a step back in time. You can begin your wine tasting upon arrival by heading to the free-flowing wine tap located in the lobby or booking a tasting at the hotel's winery. For dinner, take part in a wine and dinner pairing at Edgar's Steakhouse. If you're looking for a more casual setting, head to Stonecutter's inside the castle. Make sure to visit the Isabella Spa-Salon for a little indulgent pampering.
4069 West Lake Road Geneva, New York 14456 | (315) 781-0201
Reviews and booking for Belhurst Castle
The Farmhouse at Veritas, Virginia
The Farmhouse at Veritas is a six-room bed and breakfast adjacent to Veritas Vineyards and Winery in Afton, Virginia – the heart of the Monticello American Viticulture Area. Built in July of 1839, The Farmhouse stood as a family home for nearly 200 years when in 2012 it was opened to the public. Its elegance, simplicity, and comfort have withstood the test of time creating the firm foundation of quality and authenticity that the Farmhouse prides itself on today. Since opening its doors, guests near and far have had the opportunity to experience the down-to-earth luxury fostered in this region. Every detail of The Farmhouse – from the well-appointed guest rooms to the farm-to-table, Chef prepared breakfasts and dinners – showcase the bounty of Nelson County's food, scenery, and perhaps most importantly, its wine.
72 Saddleback Farm Afton, Virginia 22920 | (540) 456-8100
Reviews and booking for The Farmhouse at Veritas
The Glass House Winery Bed & Breakfast, Virginia
The Glass House Winery Bed & Breakfast is one of the newer wineries with lodging in Virginia wine country. This five-room bed and breakfast offers luxurious ensuite bathrooms and views overlooking the Glass House Winery and Vineyard as well as the Blue Ridge Mountains in the distance.
5898 Free Union Rd., Free Union Virginia 22940 | (434) 964-2190
Reviews and booking for The Glass House Winery Bed & Breakfast
Hermann Hill Vineyard and Inn, Hermann Missouri
Located on top of a hill overlooking the town of Hermann in Missouri, Hermann Hill Vineyard and Inn offers an exquisite view of not only the quaint little town of Herman, but of the Missouri River and the surrounding vineyards, including those on its own property. Each room at Herman Hill include a full size working hot tub, private patio and a steam shower in the oversized, luxurious bathroom.
The rooms themselves are beautifully decorated, totally updated with new furniture, plush linens and a cute little sitting area for you to watch the sunrise or simply sip some local wine. One of the more personalized things about the Herman Hills Inn I loved during my stay was the 9 o'clock cookie delivery. Every evening the owner personally delivers fresh baked cookies to each room, along with a scoop of ice cream topped with a bit of local Missouri port wine. It's a delicious way to end the evening. (See my full review of the Herman Hill Vineyard and Inn.)
711 Wein Street, Hermann, MO 65041 | (573) 279-1265
Reviews and booking for Herman Hill Vineyard and Inn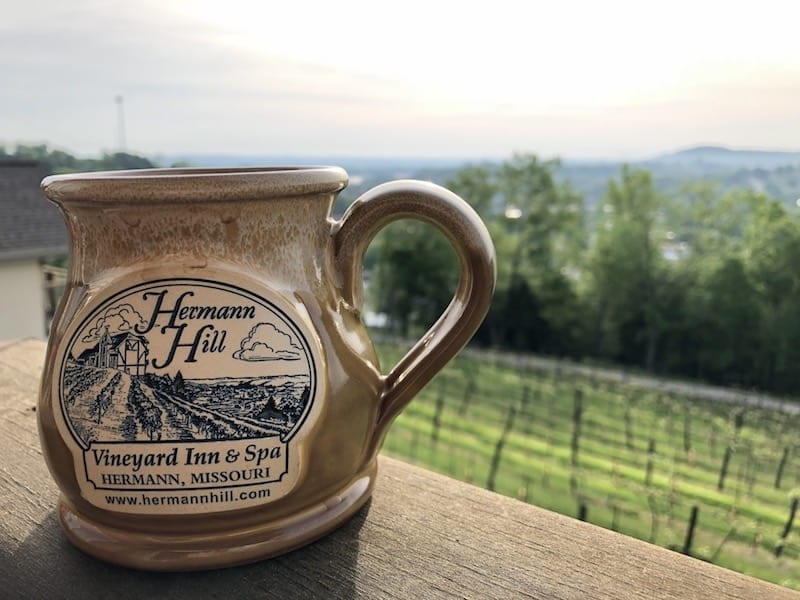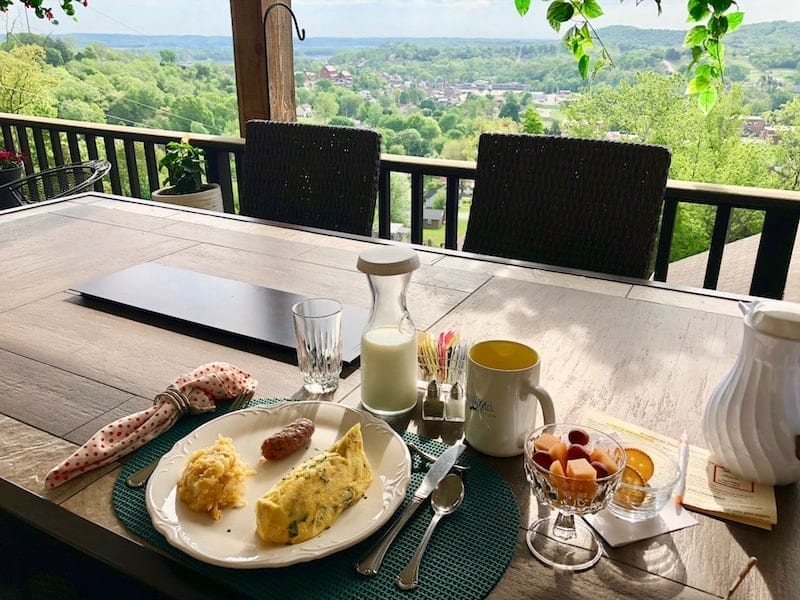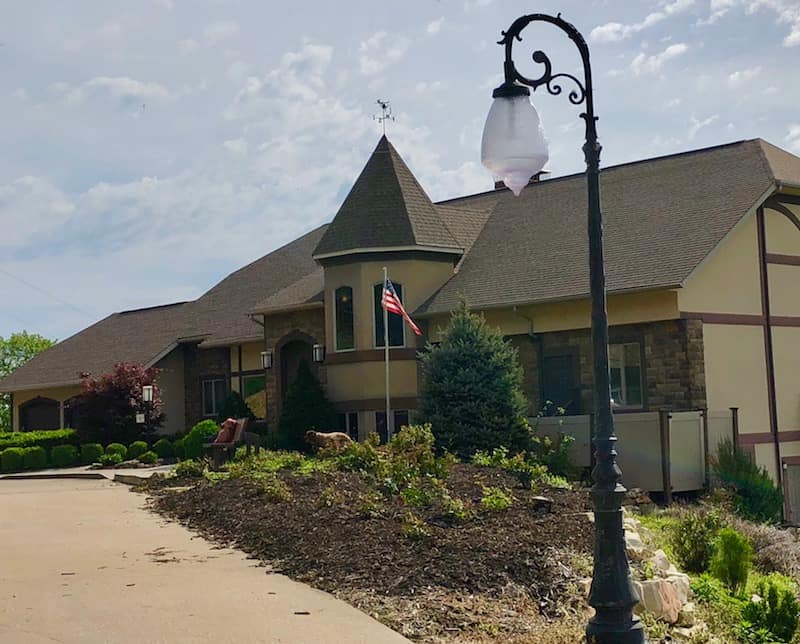 Inn at Black Star Farms, Suttons Bay, Michigan
Michigan is an upcoming wine region, especially up near Traverse City, complete with wineries with lodging. Wine lovers can experience wine country in its fullest at the Inn at Black Star Farms. The Inn at Black Star Farms is located on a 160-acre Suttons Bay estate in the heart of Northern Michigan Wine Country, nestled below a hillside of vineyards with sweeping pastoral views, just 12 miles north of Traverse City along scenic M22 in Leelanau County. Your stay at this winery hotel includes a gourmet, farm-fresh breakfast, nightly hospitality hour with wine and hors d'oeuvres, a bottle of our house wine, and a VIP tasting at their exclusive onsite Barrel Room. (If you're arriving by car, say an electric one, you can enjoy complimentary charging at the onsite Tesla charging station.)
10844 E Revold Rd Suttons Bay, MI 49682 | (231)944-1251
Reviews and booking for Inn at Black Star Farms
The Villa Suites at Gervasi Vineyard, Canton, OH
Having received multiple awards, The Villa Suites at Gervasi Vineyward is one to sip and stay at when you're visiting Ohio. This Tuscan-Inspired Inn offers a variety of lodging options. The six Gervasi Villas are each comprised of four individual suites (24 suites). Guests have the option of reserving an individual suite or an entire Villa. Talk about a great way to stay and sip with a group of friends (or a large family)! In addition to the Villas, the Gervasi Vineyard Farmhouse is also available for overnight stays and consists of four bedrooms, two bathrooms, living room, sitting room, study, dining room, full modern kitchen, and other features. The Inn offers guests a complimentary continental breakfast and several innovative dining opportunities, including one of USA Today's 10 best winery restaurants, The Bistro.
1700 55th St NE, Canton, OH 44721-3401 | (303) 497-1000
Reviews and booking for The Villa Suites at Gervasi Vineyard
The Inn at Grace Winery, Pennsylvania
Located in the 1734 and 1815 wings of our beautiful manor house and in the surrounding cottages, the Inn at Grace Winery offers 15 distinct luxury accommodations, including seven private rooms in the Manor house as well as eight cottages scattered throughout the original outbuildings. This is a pet friendly winery hotel as well, pets are even welcomed with their own welcome basket!
50 Sweetwater Rd, Glen Mills, PA 19342-1709 | (610) 459–4711
Reviews and booking for the Inn at Grace Winery
The Vineyard B&B at Lost Creek Ranch, Texas Hill Country
The Vineyard B&B at Lost Creek Ranch is an intimate and luxurious boutique bed and breakfast nestled in the Central Texas Hill Country, just 45 minutes west of Austin and about a 30-minute drive to the popular wine trail, Wine Road 290 (this area is no stranger to wineries with lodging). Each of the well-appointed rooms are named and decorated after popular wine varietal characteristics. For instance, the Shiraz Room is done is an eclectic style that will be appealing to many tastes while the Zinfandel Room furnishings are accented by spicy colors like orange and lime green to create a zesty ambiance. Pick your favorite varietal and pair it with your stay, or discover a new favorite varietal after sipping in the stunning views from your patio, overlooking the vineyard and vast miles of open hill country.
1125 Ranch Road 2233, Sunrise Beach Village, TX 78643 | (844) 784-3822
Reviews and booking for The Vineyard B&B at Lost Creek Ranch
The Inn at Abeja, Walla Walla, Washington
The Inn at Abeja is located on a 38-acre vineyard and includes a mix of guest accommodations that were originally outbuildings that have been restored to spacious individual guest rooms. This winery hotel is located on a sprawling property that also includes creeks, gardens, and lawns for guest to enjoy in addition to the vineyard and wine tasting option.
2014 Mill Creek Road, Walla Walla, Washington | (509) 522-1234
Reviews and booking for The Inn at Abeja
Ponte Vineyard Inn, Temecula, California
Located in the heart of Temecula Wine Country and surrounded by 300 acres of mature vineyards and views of rolling hills, you'll find the Ponte Vineyard Inn, the newest addition to the Pequot Winery. This 90-room boutique winery hotel offers elegant interiors, posh amenities, and a relaxing ambiance combined with fine dining and breathtaking vineyard views.
35001 Rancho California Road, Temecula, CA 92591 | (951) 587-6688
South Coast Winery Resort & Spa, Temecula, California
South Coast Winery Resort & Spa is one of the top Temecula Wine Country hotels, known for providing guests with a relaxing vacation, wine tasting tours, and acclaimed dining experiences. Guests can lounge on the terrace of their private villa or hotel tower suite, surrounded by rolling vineyards for a delicious winery getaway experience.
34843 Rancho California Road, Temecula, California 92591 | 951.587.WINE (9463)
Reviews and booking for South Coast Winery Resort & Spa
Auberge du Soleil, Napa Valley, California
Auberge du Soleil is terraced along a sunlit hillside and nestled among a 33-acre olive grove, the "Inn of the Sun" is renowned for its culinary roots, sweeping vineyard views and exceptional service. It's no wonder the hotel has become known as Napa Valley's most iconic luxury property and named by Condé Nast Traveler editors' #1 "Favorite Wine Country Hotel" ~Gold List 2018.
180 Rutherford Hill Rd., Rutherford, CA 94573 | (707) 210-0771
Reviews and booking for Auberge du Soleil
Wine Country Inn, Napa Valley, California
Wine Country Inn is a boutique hotel smack in the middle of St. Helena, surrounded by miles of the world-famous vineyards of Napa Valley. Over 80 percent of the rooms at the Wine Country Inn provides stunning vineyard views, and there is also a winery house for tasting some of the best quality wines in the world.
1152 Lodi Lane, St. Helena, California | (707) 963-7077
Reviews and booking for Wine Country Inn
Allegretto Vineyard Resort, Paso Robles, California
On the east side of Paso Robles, tucked away on 20 acres of vineyards and olive and fruit orchards, you'll find Allegretto Vineyard Resort. Designed with Mediterranean architecture, lush gardens and vineyards for as far as the eye can see, Allegretto is the perfect wine country sanctuary. Every one of the 171 guestrooms at the Allegretto is European-inspired elegance with high ceilings, pillow-top mattresses, fine linens and luxurious amenities, to create a custom in-room experience. Each room features a balcony or patio opening to spanning garden and vineyard views.
Leaving the resort to explore the surrounding wineries is optional when you stay at Allegretto. It's easy to spend the day sipping on Allegretto's own private label wine while lounging poolside in a private cabana. This is of course after you've spent time pampering yourself in the spa, and indulging on rustic northern Italian cuisine at Cello Ristorante & Bar.
2700 Buena Vista Dr, Paso Robles, CA 93446 | (805) 369-2500
Reviews and booking for Allegretto Vineyard Resort
JUST Inn at Justin Vineyards & Winery, Paso Robles, California
Renowned for crafting premium Bordeaux-style blends, JUSTIN Winery was named American Winery of the Year for 2015 by Wine Enthusiast. The winery is an exquisite destination unto itself with a luxurious three-suite Inn tucked behind the restaurant and tasting room, all surrounded by vineyards. A stay at The Inn includes breakfast delivered to your door and a winery tour and tasting, but don't miss the restaurant's five-course, farm-to-table, wine-pairing dinner. Afterwards, take a glass of wine outside to the concrete-and-glass gas fire pits lining the edge of the patio. The dark night skies above this quiet, remote vineyard turn out an expansive blaze of stars once the sun sets.
11680 Chimney Rock Rd, Paso Robles, CA 93446-9792
CaliPaso Inn and Winery, Paso Robles, California
This private Inn and winery is nestled in the rolling hills and vineyards of Paso Robles, yet it's only about five miles from the historic downtown. When it comes to wineries with lodging in Paso Robles, this winery hotel holds its own. Each of the seven guestrooms and suites at the CaliPaso Inn and Winery offer exquisite décor blending luxury and comfort. Features include fireplaces, private balconies or patios overlooking its vineyards and surrounding countryside. The Inn also offers the opportunity to stay in The Winemaker's Cottage, an exclusive 1,500 square foot two-room suite, living room, full kitchen and dining room that can comfortably seat ten. A visit to the onsite tasting room is a must. The winery is known for Cuvee Blanc, Chardonnay, Tempranillo, Zinfandel, and its Estate Grown Cabernet Sauvignon.
4230 Buena Vista Dr, Paso Robles, CA 93446-9533 / (805) 226-9296
Reviews and booking for CaliPaso Inn and Winery
SummerWood Winery and Inn, Paso Robles, California
At the SummerWood Inn you'll find an intimate feel of a bed and breakfast, yet with the amenities and concierge service of a luxurious retreat. This winery hotel sits on the grounds of the SummerWood Winery, which produces American Rhône and Bordeaux style wines. The nine-room Inn has a modern farmhouse design with a backdrop that sets the stage for a perfect wine country getaway. As a guest at the Inn, you will enjoy a farm fresh cooked-to-order breakfast each morning. When you return to the Inn each afternoon you can savor seasonally-inspired appetizers and delectable desserts perfectly paired with SummerWood wines.
2130 Arbor Rd, Highway 46 West and Arbor Road, Paso Robles, CA 93446 | (805) 870-9751
Reviews and booking for SummerWood Winery and Inn
Kenwood Inn and Spa, Sonoma, California
Located in Sonoma Wine Country's fabled Valley of the Moon, Kenwood Inn & Spa is a hideaway offering a retreat to wine country for guests. Designed with serenity in mind, this winery with lodging features a Mediterranean-style Inn that sits on more than two-and-a-half peaceful acres, surrounded by vineyards, orchards, and ancient oaks. The grounds are landscaped with greenery and flowers, three courtyards, a sparkling pool, two hot tubs and fountains.
10400 Sonoma Hwy, Kenwood, CA 95452-8015 | (707) 289-9514
Reviews and booking for Kenwood Inn and Spa
Geyserville Inn, Alexander Valley (Sonoma County), California
If you want to get away from it all and immerse yourself into a true vineyard setting, the Geyserville Inn is an excellent choice. Located among the picturesque vineyards of the Sonoma's Alexander Valley, the Geyserville Inn provides a relaxing B&B setting with the elegance of a modern boutique hotel.
21714 Geyserville Avenue, Geyserville, California | 1-877-857-4343
Reviews and booking for Geyserville Inn
Sip in More Wine Country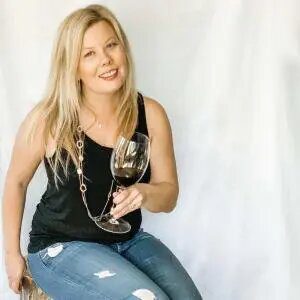 Elaine Schoch (pronounced the German way – Shock) is the editor and founder of Carpe Travel as well as an award-winning travel writer, wine judge, certified by the Wine & Spirit Education Trust (WSET) Level 2 and certified American Wine Expert. She is married to The Husband and has two kids, Princess One and Two – who's interest and knowledge in wine is quite extensive. Not to mention the stamps in their passports.