By Brooke Herron, Contributing Writer
Just an hour north of Sonoma County and 15 minutes south of Ukiah you'll find Hopland and its 15+ wineries and tasting rooms. This Northern California wine region often gets overlooked as travelers pass through on their way to the Anderson Valley or the Mendocino Coast, but it's definitely worth a stop. The wines being produced in Hopland are outstanding, as are the wine tasting experiences.
In the past, Hopland had a reputation as a somewhat funky place with just a few wineries, making mostly rustic, affordable red wines. A good place to stop for a tasting and some pizza on your way to more important places. However, the region is home to many phenomenal vineyard sites including some of the oldest vines in Mendocino County, and a 'downtown' district that has slowly and quietly evolved to include more tasting rooms and some fantastic dining options.

What hasn't changed is the regions' affordability. Guests who come to Hopland after visiting wine regions such as Sonoma or Napa Valley will be pleasantly surprised by the much lower tasting fees as well as the more reasonable bottle prices. Remember the days when tasting fees in Sonoma County were $5, $10, $15, or free and when you'd still run into winemakers or winery owners pouring their own wines or leading tours? That's the way things still are in Hopland, a place mid-way between northern Sonoma County and the Anderson Valley where tasting rooms and restaurants offer the relaxed, countryish vibe of rural Mendocino combined with a passion for food, wine, and locally, organically, grown and made products.
Expect friendly, warm service, good food and wine, and a more money left over after tasting fees (refundable with purchase in many cases) to buy wine to take home with you.
7 Wineries in Hopland Not to be Missed
Pick and choose between the following wineries in Hopland to build your own perfect Hopland Wine Tasting Itinerary.
While Campovida's winery estate is now used for private events and wine club reservations, the winery has opened a tasting room in the space connected to their restaurant and pizzeria, Stock Farm, in central Hopland. The winery works with unique grape varietals (particularly for the area) such as Negroamaro, Nero d'Avola, Sangiovese, and Grenache and focuses on sourcing fruit from organic and biodynamic vineyards through long term relationships with local Mendocino County farms.
As Campovida's tasting room is connected to their restaurant, which serves fantastic food and is one of the only places in town that offers a restaurant lunch service, it's highly recommended to make Campovida your lunch stop. The building also features a fantastic bar and bakery and connects to the Thatcher Hotel, a boutique luxury hotel
Address: 13601 Old River Road, Hopland, CA
Just down the street from McNab Ridge's tasting room, McFadden's Blue Quail tasting room sits between the Graziano Winery tasting room and Steep Coffee and Tea. A CCOF certified organic winery and farm, McFadden grows grapes as well as vegetables, herbs, and rice on their 160 acre Potter Valley farm. The grapes they grow and work with include Chardonnay, Pinot Gris, Sauvignon Blanc, Gewurztraminer, Riesling, Pinot Noir, and old vine Zinfandel. Visitors to McFadden's Blue Quail tasting room can also purchase products from the McFadden farm such as dried herbs, rice, garlic, and grass feed beef.
The Blue Quail tasting room is known for friendly, welcoming staff, a casual vibe, and fresh, balanced wines including their highly regarded Alsatian varietal whites (Riesling, Gewurztraminer, and Pinot Gris) which are pleasingly aromatic and fruit forward without being cloying or sweet.
Address: 13275 S Hwy 101 Ste 5 Hopland, CA 95449
Situated on a 400-acre ranch that is home to sustainable vineyards, Tuscan and Spanish olive trees, vegetable gardens, and beehives, Saracina is a haven for wildlife as well as grapevines. The winery features a modern tasting room, outdoor patio, and wine caves, and offers a number of different ways to visit their property and enjoy the wines. Tasting experiences include their signature tasting option (only $15) which includes a seated exploratory tasting of the winery's current release wines guided by one of the winery's knowledgeable hosts, a two hour picnic and wine tasting experience called 'Scampagnata, or their 'Heart and Soul' tour which starts in the wine caves and continues on into the barrel room and vineyards (with wine of course!).

Wines that Saracina produce include Sauvignon Blanc, Chardonnay, Rosé, Pinot Noir, Malbec, Zinfandel, and a couple of different red blends that incorporate grapes like Carignane and Petite Sirah. The winery is very highly regarded, and often referred to (by those in the wine industry) as 'the best winery' in Hopland.
Address: 11684 South Highway 101 Hopland, CA
For those that like bold, broad, and voluptuous reds, aromatic whites, tasting wines made from unusual varietals, and finding wines at bargain prices Graziano is a great choice. The winery, founded by the Graziano family who have been farming in the region for over 100 years, focuses on growing and producing a wide and eclectic variety of Italian grapes including Pinot Grigio, Arneis, Moscato Bianco, Tocai Friulano, Sangiovese, Montepulciano, Negroamaro, Aglianico, Vermentino, Greco di Tufo, Ribolla Gialla, Fiano, Falanghina, Sangiovese, and Barbera. They also grow Zinfandel, Carignane, Petite Sirah, Cabernet Sauvignon, Pinot Meunier, and Pinot Noir.
In the Graziano tasting room, guests will find wines with several different labels. These different labels were created by the family to represent the different region or grape variety focus of each line. They include Enotria, specializing in the heritage of the Piedmont region of northwest Italy, Saint Gregory, for their Pinot Noirs, Monte Volpe, focusing on grapes with origins in the central and southern Italy and the Friuli region, and Graziano, which produces the heritage grapes of Mendocino such as Carignane, Zinfandel, etc.
With bottles of white wine starting at only $13 and reds starting at $20, Graziano also offers some of the most affordable wines in the region.
Address: 13275 US-101 #3, Hopland, CA
Situated just across the street from Stock Farm, is MacNab Ridge Winery's modern, open, airy and friendly tasting room. Founded by local Richard Parducci over thirty years ago, McMab Ridge is a family owned winery that works closely with the local grapegrowers they have purchased grapes from for decades. The focus here is on red wines but they also make a Sauvignon Blanc and Rosé.
The winery's updated tasting room, located in the heart of downtown Hopland, offers guests a relaxed, comfortable, and unpretentious experience as well as very good wines at affordable prices. Guests may or may not be greeted by a friendly dog named Scout, but will definitely be greeted by a friendly human.
Address: 13450 South Highway 101, Hopland, CA
Perched on a hill, Alta Orsa's vineyards offer a unique vantage point over the surrounding wine region.
The winery and vineyards ( a 160 acre property with 12 acres of hillside vineyards) which were originally established in the 90s by Topel Winery, changed hands in 2018 and are now run by Alta Orsa winemaker Martin Bernal-Hafner and his business partners.
Focused on Cabernet Sauvignon, Syrah, Pinot Noir, Chardonnay, Alta Orsa currently produces under 2,000 cases of wine and works with both estate fruit as well as grapes that they purchase from growers in different regions. All vineyards the winery works with are farmed sustainably without any use of pesticides or harmful organic sprays, and they utilize regenerative soil practices such as no tilling, planting cover crops, and dry farming.

A visit to Alta Orsa will likely include a winemaker sighting or winemaker-led tasting and tour depending on the day/time of year/winemaker's availability, and is free of charge as of now. The winery is very small, and has limited staff, but are happy to receive and to share their wines and property with visitors. It is recommended to be flexible about the time/day of your visit when reaching out to book an appointment with Alta Orsa, and as of now (Fall 2022) weekdays are easier than weekends for the winery to facilitate.
Address: 1850 Duncan Springs Rd, Hopland, CA
Terra Sávia is situated on a 35 acre certified organic farm that features vineyards, olive orchards, a working olive mill, and a large plant nursery. Proprietor Yvonne can be found pouring wines at the tasting bar when she's not gardening, tending to rescue animals, or drying herbs for tea) procures herbs and flowers from for her loose leaf tea blends, and an animal sanctuary. The tasting room is housed in the large warehouse like building where the estate mills their olive oil. The space features various seating areas as well as an eclectic display of art and furniture. Guests can taste both the estate's olive oils and wines (primarily full bodied reds but the winery also makes a delicious rosé as well as a Chardonnay and a couple of sparkling wines) at the tasting bar or purchase wines by the glass.
For those interested in spending the night on a vineyard property, the Terra Sávia estate also features a guest house overlooking the vineyard that's available to book for nightly stays.
Address: 14160 Mountain House Rd, Hopland, CA
Detailed guide on where to sip, stay and things to do in Mendocino County
Where to Eat, Drink, and Stay in Hopland
Stock Farm
Serving up fantastic wood fired pizzas, small plates (such as polenta, grilled farm fresh veggies and burrata), sandwiches, and salads made with fresh, local ingredients, Stock Farm is a welcome addition to downtown Hopland. The restaurant here is open for lunch and dinner and is connected to the Thatcher Hotel. The building and complex house Stock Farm, Campovida's new tasting room, the bar at the Thatcher Hotel (think elegant craft cocktails), and Café Poppy making it a great stop for tasting, drinking, eating, or coffee/pastries.
Rock Seas
Comfort food with a locavore twist. Rockseas is a small, independently run restaurant located in downtown Hopland just a couple of doors down from the McNab Ridge tasting roo. The restaurant doesn't yet have a website or online reservation system (at the time of writing this article) so calling ahead to make a reservation is recommended as both locals and visitors love this place. Examples of dishes on Rockseas menu include Mac and Cheese (made with onions, pancetta, and crawdad), Caesar Salad with white anchovies, and pork and grits (made with sustainable and locally raised pork-sourced from pigs that Rock Seas owner and Chef Roxy raises herself!). Rock Seas has a warm, casual, homey ambiance and focuses on working with local products from the spirits behind the bar made by local distilleries to the mixed media artwork on the walls to the ingredients on your plate.
The Thatcher Hotel
A haven from the hustle and bustle of city life, the Thatcher is surrounded by the iconic, rolling Northern California hills and the poetic Russian River landscape.
From the copper steeple, curated library, and custom handmade furniture to the iconic bar, rotating art, and expansive outdoor courtyard, this restored Victorian hotel exudes a historic meets modern feel. The building was established in 1890 by founder and pioneer William and has been reinvented as the Thatcher Hotel. The boutique 8-10 room hotel features an old timey/antiquey feeling reading room, a polished 20s era-esque themed bar, a French style bakery, on-site restaurant-pizzeria and tasting room, bocce ball courts, and a pool.
The Thatcher Hotel Bar
With an elegant Great Gatsby mansion-esque facade of green marble, brass, and wood the Thatcher hotel beckons travelers to indulge in a craft cocktail, glass of natural wine, or locally brewed beer made with local hops (ask for the story!).
Wine Tasting Experiences In/Near Hopland
Sip in More of Mendocino Wine Country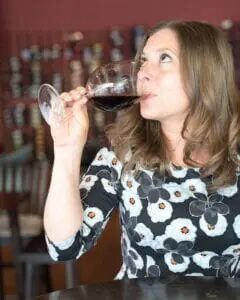 A 19-year wine industry veteran and marketing strategy consultant, Brooke returned home to Sonoma County in late 2019 after four years of living and working abroad. When she's not working on marketing projects for clients you can find Brooke hiking, enjoying a good glass of wine, or sitting somewhere with an ocean view.