Mendocino's wine roots were planted inland, in vineyards around Hopland, Ukiah, Talmage, and across the McDowell Valley, Potter Valley, Yorkville Highlands and Redwood Valley, particularly renowned for its old vines. There's no better place to start your journey exploring the Mendocino wine country than Hopland. Make sure to read our full wine travel guide for Mendocino, one of California's best-kept secrets.
Fly into San Francisco Airport, grab a rental, and hop on the 101 North. The scenic drive takes around two hours, with plenty of opportunities for delicious side trips in Petaluma, Sebastopol, Healdsburg, Geyserville and Cloverdale. You'll know you're getting close when you see more evergreens trees than towns.
Hopland Wineries To Hit & Taste
Check websites for the latest days and hours, and any updates on COVID-era restrictions before heading out. All of the wineries in Hopland we mention here sell wines that range in price from about $12-$60.
Start the day at Brutocao. The Brutocao story began in 1910, when the family emigrated from Treviso, Italy. Len Brutocao married into a grape-growing clan, and they combined forces, eventually opening their own line of Italian-inspired wines in 1980. Today, the third generation, David, Len and Steve run the show, and Hoss Milone makes the wine. The wines taste like Northern California, filtered through the Old World, and the hospitality feels the same way.
Don't miss the Brutocao Cabernet Sauvignon, with notes of blackberries, mocha, dates, baking spices. Their Tuscan-inspired Hopland Tasting Room is right in the heart of town, and is open almost every day. In addition to sipping wine, you can play a game of bocce ball on one of their six Olympic regulation courts.
Founder and winemaker Martin Bernal-Hafner serves up a taste of the thirsty new wave of winemakers shaping the terroir in Mendocino. The 160-acre mountain property, about 10 minutes off the main drag in Hopland, up steep, narrow, winding mountain roads, features 10 acres under vine, which are farmed organically and regeneratively at about 1,400 feet above sea level. Tastings at Alta Orsa are conducted by Bernal-Hafner, who will walk you through the vineyard, explaining the distinct blocks, and how the terroir of each block tells its own story in the bottle.
Make sure to try the Estate Reserve Cabernet Sauvignon, where the slate soils show themselves in graphite, mocha, blackberries and round, lush red fruits. Make sure you stop by to say "hi" to the new team of working goats. (They love to have their heads scratched).
Now, head over to Barra. The winery's 5,000-square-foot tasting room in Redwood Valley features 40-foot ceilings, a circular tasting bar, indoor fountain and phenomenal views of the vineyards, which have been farmed organically since 1955. Tastings are $10 and include sips of both Barra and their offshoot Girasole. Proprietor Martha Barra and her late husband Charlie honor the region and his roots as the child of Piedmontese immigrants. Make sure you try the CORO Mendocino blend of Zinfandel, Petite Sirah, Cabernet Sauvignon and Sangiovese, which is brimming with ripe purple plums, black cherries, strawberries, licorice. And definitely take them up on the offer of the complimentary olive oil tasting!
Nestled in Redwood County, Frey Vineyards goes way beyond organic, and opting for almost no manipulation in the cellar. The fairly standard addition of sulfites is out the window at Frey. Unfortunately, Frey is still in the final stages of rebuilding its facilities after a horrific 2017 fire that wiped out several of its buildings. They hope to be able to welcome visitors in the fall of 2022—check the website for updates, because when it opens again it will be a must-visit for anyone interested in the history and future of biodynamic farming.
Other Sips + Bites
Snacks and sips in Hopland are hearty, and reasonably priced. Menu items range from $2-$16. Check websites for latest hours.
Start your day of drinking organic wine and exploring the beautiful forestland with (what else?) organic coffee and tea. STEEP also sells incredible pastries and crystals, just in case you feel the need to adjust your vibe.
Healthy indulgence is on the menu at The Golden Pig, where all of the ingredients are sourced locally, and the imaginations in the kitchen run wild. Don't miss the hearty, perfectly dressed Kale Caesar, the toothsome Pork Schnitzel (breaded Dijon pork loin, aged Swiss, red onions, pickles and arugula, cloud-soft bun) or the bright and sunny Ceviche (North Coast fish, fresh lime juice, ginger, avocado, housemade chips).
An organic farm, winery and vineyard primarily, but also a fantastic restaurant serving a menu that is updated with the seasons. Order at least two wood-fired pizzas, and whatever the kitchen is cranking out as a special that night. Expect flavorful, well-dressed and roasted greens and roots, imaginative pizzas.
Off the Hopland Wine Trail
Whether you want to move or relax, there are innumerable ways to experience the distinct culture of Mendocino outside of the wine glass.
Ride the SKUNK
If you want a front row-seat to the majesty of the old-growth Redwood forest (the operative word being seat), hop on the Skunk Train. In operation since 1885, this train snakes through ancient groves, across pristine mountain waters, over wooden trestle bridges, through stone tunnels and scenic meadows. There are two 75-minute roots, one departing from Fort Bragg, the other from Willits. Both stop for and allow you to get out and explore.
Explore more than 5,300 acres of oak woodlands, grassland and chaparral at the UC Hopland Research and Extension Center, designed to be a living lab open to the public. The mission of the Center is the maintain, study and enhance the ecosystem through adaptive management and educational activities.
If you've ever been tempted to go off-grid, start here. The 12-acre renewable energy and sustainable living site is visited by around 200,000 people a year. Founded in 1978, it is a one-stop shop for remote off-grid living, solar panels … and straw bales! Consider staying onsite at the Tumbleweed Tiny House or The Hobbit House for a taste of the simple life.
Where To Stay in Mendocino's Hopland Wine Region
Sink into restored Victorian glory at the Thatcher Hotel. Built in 1890 by pioneer William Thatcher, it is brimming with new life thanks to the family behind Campovida and the Stock Farm, who reopened it in 2019. It features 18 spacious rooms, a curated library, farm-to-table café, backyard patio with cozy fire pits to enjoy a good conversation, dipping pool and grand bar featuring local wine, classic cocktails and local beer. Prices start around $250 a night.
Snag a comfortable room at the Stock Farm Inn. Each roomy suite comes with a small kitchen, enormous bathroom with a soaking tub, private balcony, and access to the back patio + pool.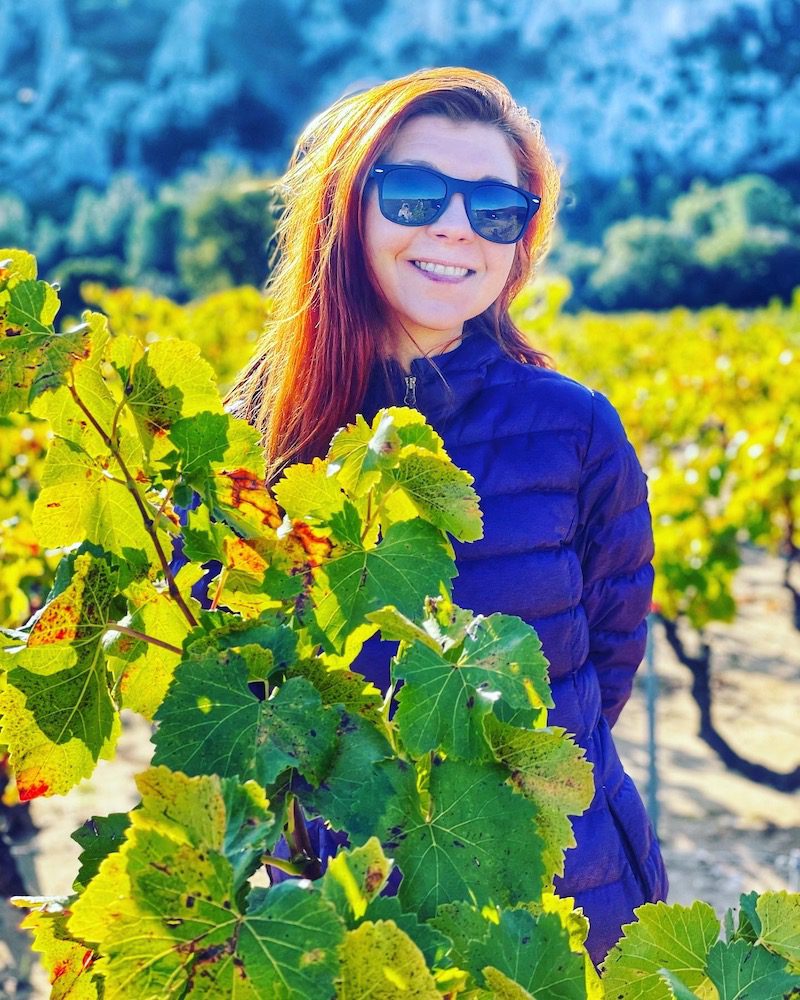 Kathleen Willcox
Kathleen Willcox writes about wine, travel and culture from her home in Saratoga Springs, N.Y. She is keenly interested in sustainability issues, and the business of making ethical drinks and food. Her work appears regularly in Wine Searcher, Wine Enthusiast, Wine Industry Advisor and many other publications.