Pick and choose among the places on this two-day itinerary to craft your perfect 48 hours sipping in Anderson Valley wineries.
By Brooke Herron, Contributing Writer
The Anderson Valley has become an increasingly popular wine destination over the past decade, especially for Northern Californians who love to visit the Mendocino Coast.
The region's slightly farther and harder to reach location means that things have evolved at a slower pace here than in wine country hot spots such as the Sonoma or Napa Valley, or even the Russian River or Dry Creek Valley (in Sonoma County). There are fewer crowds and a more low-key way of life in the Anderson Valley. You won't even find a real supermarket. But, the slower pace and comfortably friendly vibe are guaranteed to make you want to stay an extra night…
Pick and choose among the places on this two-day itinerary to craft your perfect 48 hours sipping in Anderson Valley wineries.
HOW TO GET THERE
How to get there: Just a little over two hours from San Francisco, the trip to the Anderson Valley can feel much longer due to the incredibly twisty-turny portion of highway that leads visitors into the Valley, but the bounty that awaits makes the journey worthwhile.
One you arrive in Boonville, all of the wineries you'll be visiting can be found sitting right along highway 128, so it's very easy to get from place to place in very little time and without any risk of getting lost.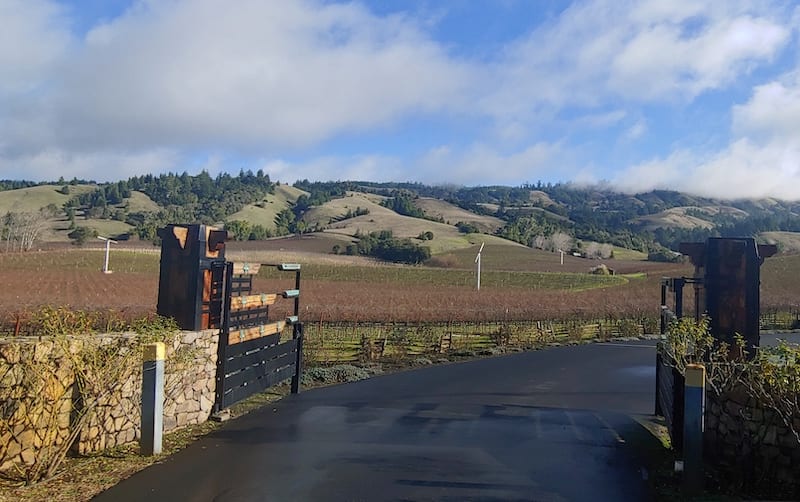 Sipping in the Anderson Valley Wineries
Day One
---
Pennyroyal, one of the newest additions to the Anderson Valley, is a great option for both lunch and wine tasting. A winery, farm, and creamery, Pennyroyal raises goats and sheep, and tend their farm, gardens, and winery as sustainably as possible. They make excellent wines and farmstead cheeses and offer a small menu of dishes prepared with fresh produce from their gardens.
Try one of Pennyroyal's farm tours and cheese tastings, followed by a wine tasting in their tasting salon or a glass of wine and a light lunch on their expansive patio. The winery produces excellent Sauvignon Blanc and Pinot Noirs (these are their flagship wines) in addition to a few other wines, including a sparkling wine.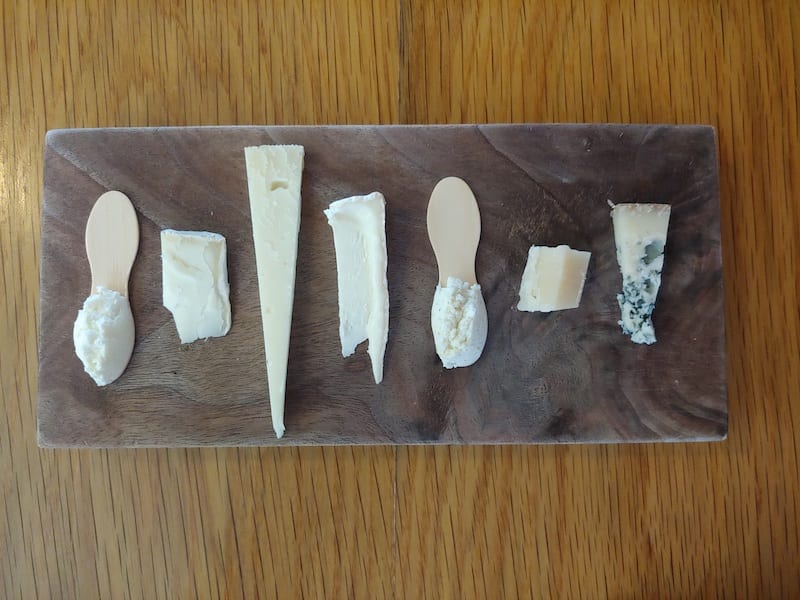 Owned by Jason and Molly Drew, Drew Family Wines vineyards and winery are located up in the hills in Elk, but their tasting room is located in The Madrones annex in Philo next to Longmeadow Ranch and Wickson restaurant.
While all of the wines that Drew makes are phenomenal, their pinot noirs are of course the focal point. Those who like clean, elegant, high acid, cool climate Pinot Noir won't be able to leave the Drew tasting room empty-handed. Their lean but layered coastal wines sing with just the right amount of tension. In addition to Pinot Noirs, Drew makes a beautifully bright, crisp, and lush Albariño (which sells out quickly every year as they make very little of it) and a delicious Chardonnay as well as a farmstead heirloom cider.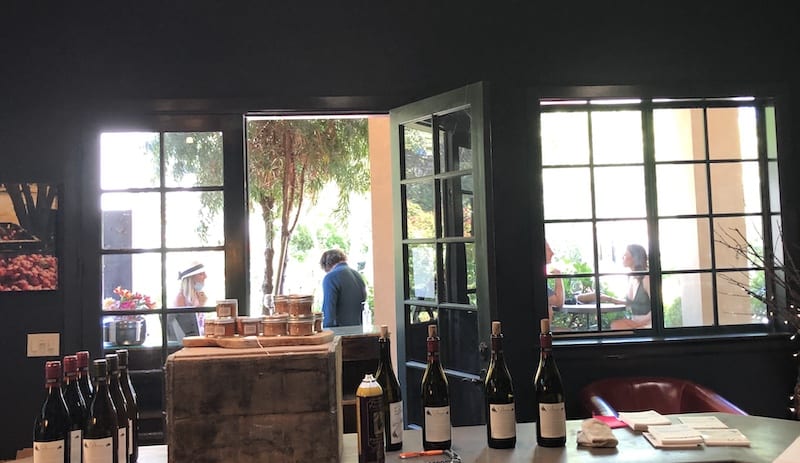 In the mood for something a little different? Stop next door (in The Madrones complex) at Smith and Story and visit Lord Sandwich, the Instagram famous wine dog, while enjoying a taste of Smith and Story's unique wines. The style and origin of the wines made at Smith and Story are different than anywhere else you'll taste in the Anderson Valley, as owners Alison Smith-Story and Eric Story produce wines from a variety of regions around the country and world (including the Anderson Valley).
Try their German Riesling, Sonoma Valley Sémillon, or Sonoma Valley Cabernet Franc in between your Pinot Noir tastings at other wineries. Smith and Story are open for tastings, wines by the glass or bottles on their patio Thursday-Saturday at 11 am, 12pm, 1pm, 2pm, and 3pm.
Toulouse's open redwood deck offers guests a tasting experience that includes one of the best views in the Valley over the Navarro river and nearby Hendy Woods. They make a range of sustainably farmed estate grown wines from aromatic whites such as Gewurztraminer and Pinot Gris to a series of vineyard or blend specific Pinot Noirs.
The staff at Toulouse is always warm and welcoming and the tasting experience is fun and relaxed. Toulouse is currently open daily, by appointment, for outdoor tastings.
Dining in the restaurant at the Boonville Hotel is a relaxed experience. Perry Hoffman (Head Chef and nephew of owner Johnny Schmitt) have successfully created an environment that bridges the gap between local roadhouse, down home eatery, and California wine country dining. Relax at a table in the hotel's outdoor courtyard and enjoy a 4-5 course prix fixe menu (with a choice of main) whipped up by a former Michelin-starred chef and his team. Dishes very often integrate items from the hotel's own garden.
Sip something from their well thought out and extensive local wine and craft beer menu, while enjoying the smattering of conversations (there's always a good mix of locals and visitors dining here) and mellow classic rock in the background. The Boonville Hotel restaurant is open for dinner Thursday through Monday.
Sipping in the Anderson Valley Wineries
Day Two
---
Start the morning with a vineyard tour and tasting at Navarro Vineyards. Tours include a walk in and around the estate and vineyards, and last about one hour (including a tasting). Guests are welcome to bring their own picnic or purchase local cheeses and meats from Navarro's deli case to enjoy with glasses of wine at picnic tables out on their deck overlooking the vineyards, after the tour.
Known for their gorgeous property, great hospitality, and wide range of stunning, aromatic white wines, Navarro (founded in the 1970s) is a beloved institution in the Anderson Valley. Must-taste wines include their Gewurztraminer, Pinot Blanc, Riesling, Muscat Blanc, and l'Ancienne Pinot Noir.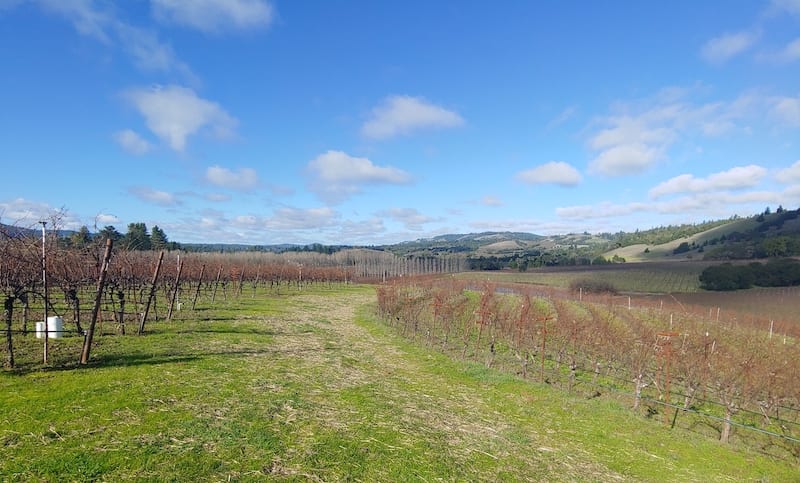 Located inside The Madrones, Wickson is a new (and welcome) restaurant addition to the Anderson Valley serving modern California cuisine with locally sourced ingredients melded with global influences. Their specialty? Woodfired dishes such as pizza, handmade sausages, fish, veggies, and chickens. Owners and chefs Alexa and Rodney work directly with farmers in Mendocino and Sonoma Counties, fishers and foragers on the Northern California coast, and brewers and Anderson Valley wineries to create a seasonal, plant-forward menu.
Wickson is open Friday-Sunday for lunch and Friday-Monday for dinner. Monday is "Local's Night" with a different menu featuring pizza or ethnic inspired cuisine. Dine outside on The Wickson Terrace.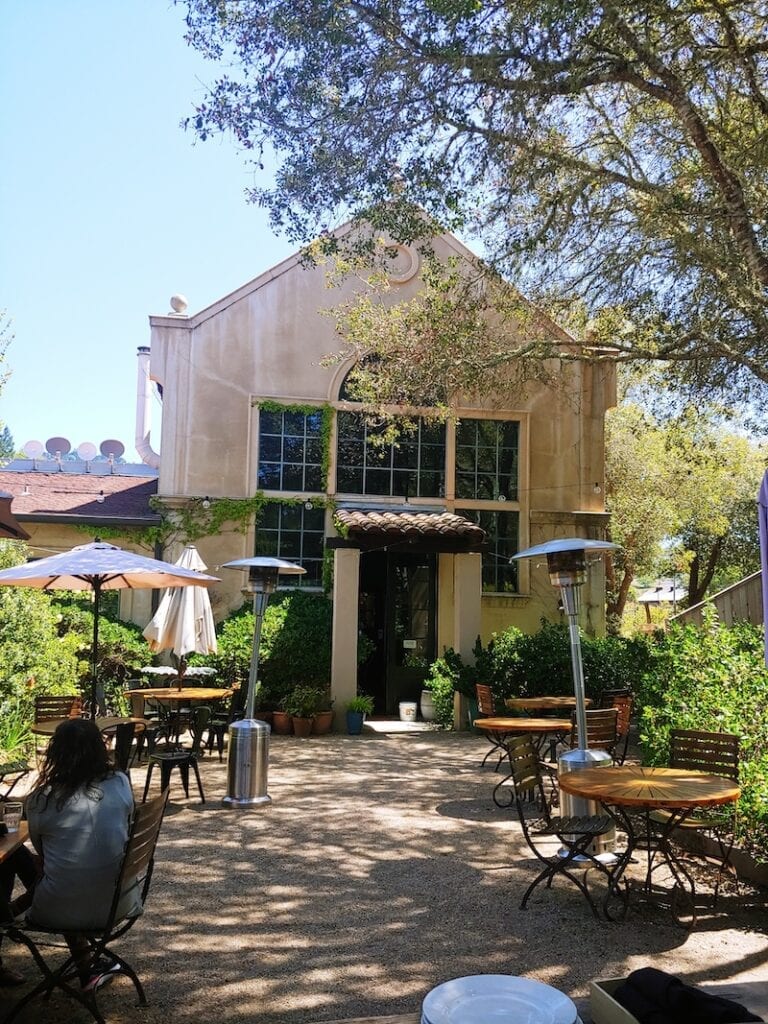 Start your afternoon with bubbles at Roederer Estate, perhaps the most renowned California sparkling wine producer in the world. Owned by the famed Champagne house, Louis Roederer, this winery crafts some of the most elegant Champenoise method sparkling wines made outside of France. While the Roederer Estate building may look unassuming and relatively plain from the outside, inside you'll find tasteful and elegant design (reminiscent of a Champagne house) and on their patio, visitors will be treated to gorgeous views.
Try Roederer's signature sparkling wines, Chardonnay and Pinot Noirs or take advantage of the opportunity to do a magnum comparison tasting to taste the difference between larger and smaller format bottles. Like most wineries in California since Covid-19, reservations are needed for tasting appointments at Roederer. They have four tables for up to four guests available in the Tasting Room, their patio is open for bottle service, and guests can reserve a table and pre-order their selection for a contactless experience.
Where to Stay
In The Anderson Valley
---
Self-described as 'a modern road house in the heart of Mendocino county' the Boonville Hotel is perfectly located to enjoy both everything Boonville and the Anderson Valley have to offer, but also to take advantage of dining on-site at The Boonville Restaurant without having to worry about whether you can have that second or third glass of wine. When staying at the hotel, the restaurant is just a few steps from your room!
The hotel features 15 comfortable and well appointed rooms including a few more private (and luxurious) bungalow and casita style accommodation options distributed around the property.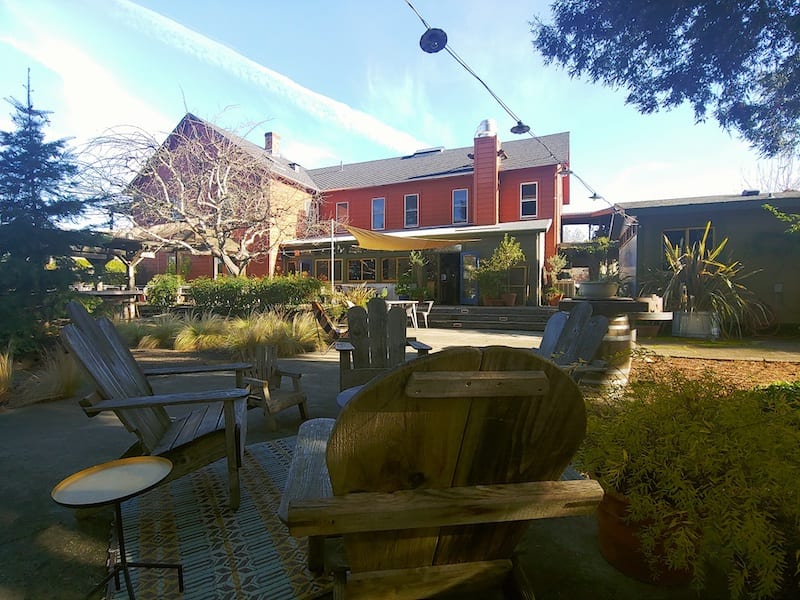 Set on 32 acres of organic orchards, The Apple Farm in Philo is an idyllic retreat from the outside world. Owners Sally and Don Schmitt and their daughter Karen and her husband all help run the farm and business and can be found around the property driving tractors, tending to animals, or working in the orchards and gardens.
There are three independent guest cottages and a guest room (within the larger main building) located on The Apple Farm. Guests staying in the cottages will get to enjoy the experience of being in a completely rural setting, yet while also getting all of the creature comforts of a luxury hotel (beautiful decor, luxury bedding, etc.).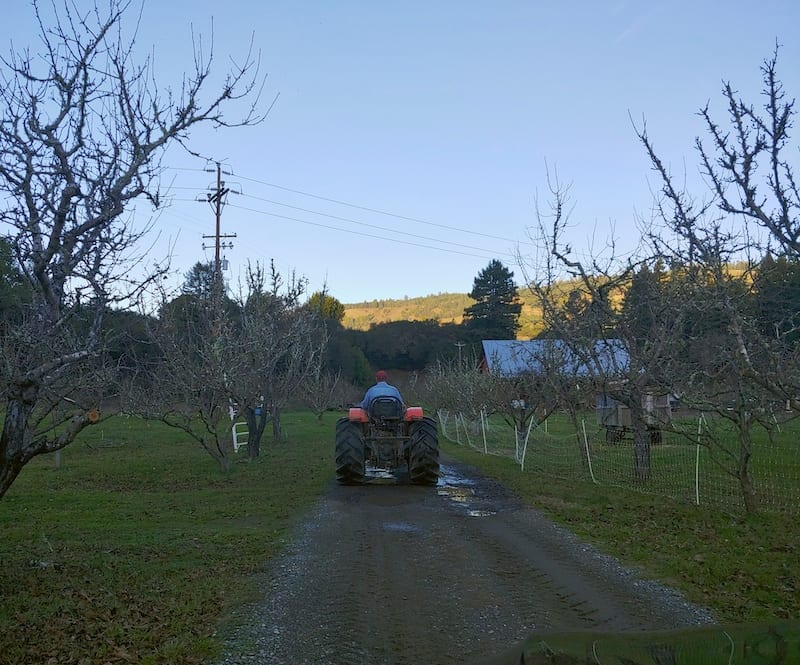 ---
Sip in More Sonoma Wine Country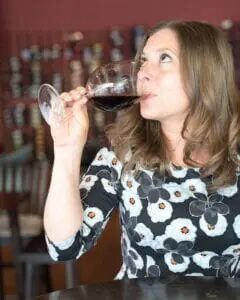 A 19-year wine industry veteran and marketing strategy consultant, Brooke returned home to Sonoma County in late 2019 after four years of living and working abroad. When she's not working on marketing projects for clients you can find Brooke hiking, enjoying a good glass of wine, or sitting somewhere with an ocean view.