5 Ways to Preserve Both Taste & Value When Storing Your Wines at Home
I purchased my first wine fridge 13 years ago at Home Depot. I vividly remember the guy in his orange apron helping me load it saying, "who needs a fridge that holds 30 bottles of wine?" I paused thinking, "is this fridge going to be big enough?" I have since learned a lot about how to store wine at home – like doubling or tripling your wine storage capacity. That 30-bottle wine fridge wasn't enough…
The most important thing when it comes to storing wine at home is how to maintain its taste and value. A wine fridge is great for this but there are other storage options for all different levels of wine lovers. It's easy to create a functional space in your home where you can store your wine while matching your existing space, style and decor. Here are a few wine storage basics you need to know.
To be candid, I'm not someone who "collects" wine. I like to drink my wine. With that said, not all the wine I purchase on my trips to wine country are ready to sip when I get home. They need to age… I also buy a lot of wine on my travels to store at home because it's not wine I can find/buy outside the winery or it has limited production. When you find a wine you love – grab a bottle plus a case.
These wine storage tips are designed to be flexible and accommodate what's best for your budget, space and general needs.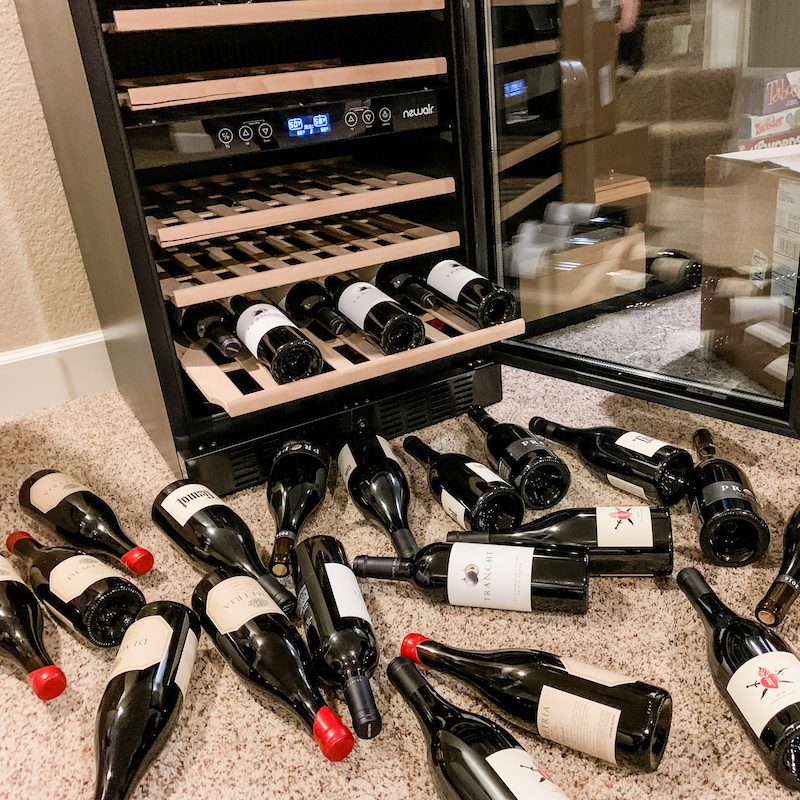 Options for Storing Wine at Home
Wine Racks
My first home wine storage system consisted of a six-bottle wine rack sitting on top of a blue bookcase in my apartment. For smaller spaces or for wine you plan to sip sooner rather than later, wine racks work just fine. You can purchase wine racks for various prices and there are many styles to choose from. Depending on your space and storage needs, they range from holding six to eight bottles to over 20 bottles. For those with limited space, take a look at wine racks that hang on the walls. Not only do they add a cool, decorative feel to the space but it's an efficient way to store your wine at home.

Wine Fridge or Wine Cooler
A wine fridge is a great option when you're looking to have bottles on hand for a dinner or cocktail hour. If you plan on storing only a few bottles, a wine cooler would work for you as well. The main difference between these two appliances is size, and their prices can vary depending on the purchase.
To help reduce your energy usage – yes, we're all about trying to be sustainable wineos here – place your wine fridge in a cool place, away from direct sunlight. This will help the appliance to not have to work so hard. It will also reduce your monthly energy bills.
Wine Cabinet, Room, or Wine Cellar
If you want to focus on collecting fine wine, a more optimal storage solution will be necessary. (Most wine doesn't require ageing as it's ready to drink within a few years of being bottled.) Having a wine cabinet, modified wine room, or wine cellar added to your home is a great investment! The best part is it will help preserve the quality of your wine and can be fun decorative addition.
A wine cabinet is typically made of wood and contains horizontal spaces for you to place your wine.
A modified wine room will be able to store more wine than a cabinet but will have a simpler design than a wine cellar.
A wine cellar is usually completely devoted to storing, and sometimes even serving, wine in.
These last options can be more expensive but will add value to your home. (If you're planning to add a wine cellar or a modified wine room, you might want to consider refinancing your mortgage. This will help lower your existing monthly payment while allowing you to use the extra cash to customize your addition.) The investment of both the cellar and preserving the value of your wine will be well worth it when you're sipping wine from your last trip to wine country.
What to Know When Storing Wine at Home
Temperature Is Key
When storing your wine at home temperature is the most important factor. If it's too cold or too hot you're wine will know the difference. When storing your wine for a long period of time, you don't want to just use the counter or the regular fridge. You want to make sure to store your wines are at the optimal temperature -generally 50 – 59 degrees Fahrenheit.
Too cold of an environment can freeze the wine – below 25 degrees Fahrenheit – and too hot of a space can make it age faster – above 68 degrees Fahrenheit – both of which would compromise the quality of the drink. It's also important to consider humidity levels. If it's too dry, the cork may dry out leaving your wines open to premature aging. Optimal humidity levels for storing wines at home are 60 – 70%.
Avoid the Light
While UV rays are needed on the vineyards, they're totally not when wine makes it to the bottle. UV rays from the sun can damage the flavors in bottled wine so avoiding bright lights and sunlight are important. This is why so many people store wine in a darkened cellar or basement.
Store Horizontally
Keeping your wine stored horizontally so the liquid is touching the cork is supposed to prevent the cork from drying out, which would then allow air to enter the bottle and kill the wine. Keep in mind if wines with screw caps don't need to be kept horizontal. But storing bottles horizontally is a pretty efficient use of space screw cap or not.
Avoid Vibrations
Avoid moving your wine around a lot as to minimize vibrations. Why? When you move wine around a lot it can distribute the sediments in the wine, dulling the taste. I personally don't think this it too much of an issue since it would take a lot of movement to shake up your wine. Just to be safe, maybe don't store your wine on top of – or next to – your Sonos speaker or guitar amp.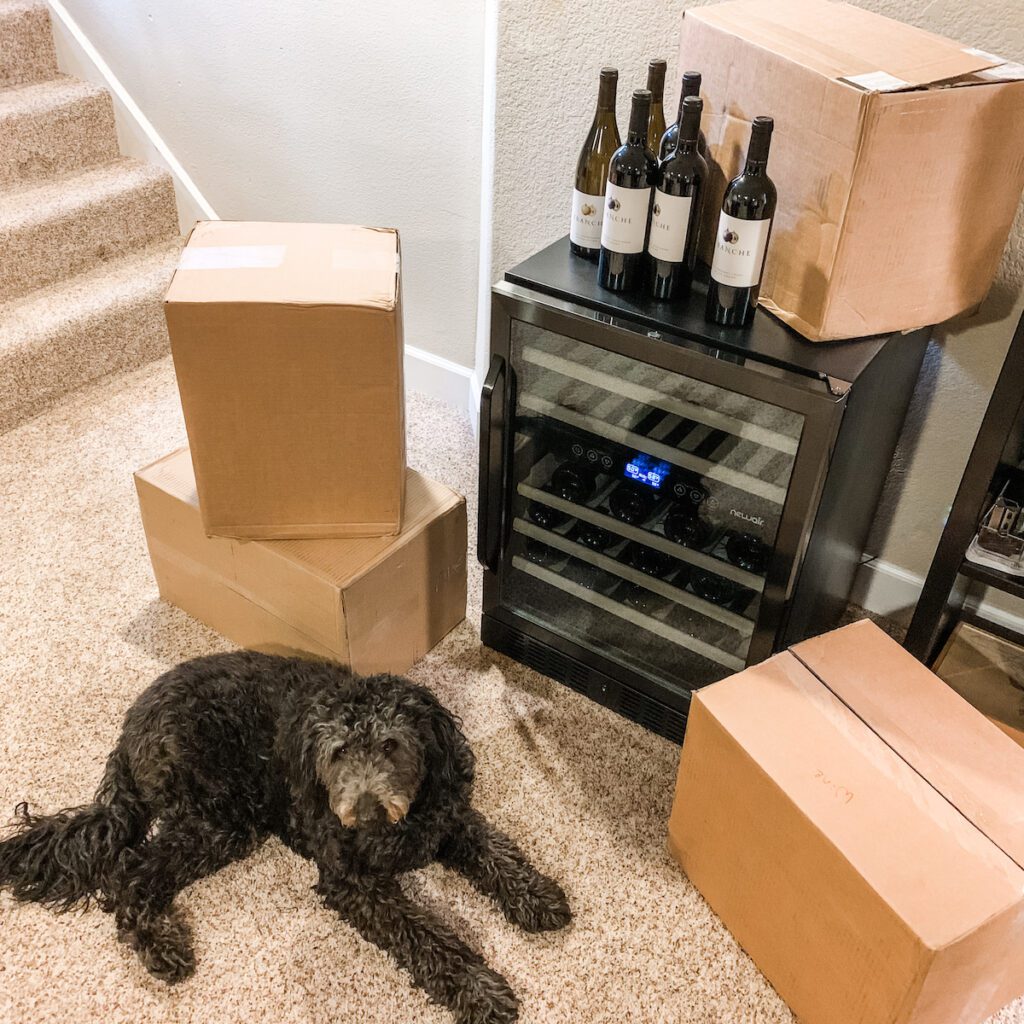 Organize Your Wine Collection
As you start collecting more wine, you'll want to make sure you are keeping them organized in your new storage space so you can quickly find the wine you're looking for. The easiest organizational tip is separating reds from whites. Or, wines you want to drink now go on top while those to save are placed on the bottom racks. Going a bit deeper you can organize your wines by region, grape type, and/or year. Whatever makes it easy for you to grab the bottle you're looking to sip.