By Brooke Herron, Contributing Writer
Like many other wine regions in California, there were vineyards planted in Lake County for the purpose of making table wines in the mid to late 1800s until Probition forced the cessation of legal alcohol production. It was in the 1960s that farmers first started planting grapes for commercial winemaking purposes again. Among the earliest to start planting vineyards were local fruit and nut farmers.
Today, California's Lake County region has over 8400 acres planted with vineyards along with six established AVAs, and close to 25 wineries. The region's natural beauty, hills and mountains, and proximity to Napa and major Bay Area cities make it a great alternative California wine tasting destination for those who don't want to deal with the crowds and high tasting fees in the Napa Valley.
Where is Lake County, CA?
Most of Lake County wine country is stretched out from south to north (Lower Lake to Upper Lake) to the east and west of highway 29. Lower Lake County is less than an hour's drive north of the Napa Valley and only about 100 miles from San Francisco and Sacramento.
5 Wineries in Lake County, CA Not to Miss
Situated at 2266 feet elevation in the Red Hills AVA of Upper Lake County, Boatique Winery was built in 2015 by historic wooden speed boat enthusiasts Robert and Madi Mount. The vineyards on the property however, were planted in the 90s.

The 47 acre estate features rich, volcanic soils and high elevation vineyards planted primarily with red Bordeaux varietals and Petite Sirah. The winery also owns and farms Sauvignon Blanc vineyards elsewhere in Lake County. The lineup of wines featured in Boatique's tasting room includes Sauvignon Blanc, Cabernet, several red Bordeaux varietals, and a blend.
Boatique offers a number of different wine tasting experiences including the option to pair tastings with charcuterie and cheese, book a Cabana tasting on the veranda, or to do an estate tour paired with a customized tasting and food pairing in a private setting (the 'Captain's Table' experience). All experiences include the option to view the estate's collection of historic wooden speed boats. Reservations are required in advance for all experiences, though for regular tastings the winery accepts reservations as late as just an hour in advance.
Address: 8255 Red Hills Rd, Kelseyville, CA 95451
Rosa d'Oro Winery is the only winery located in the newly designated Kelsey Bench AVA which is an area known for its volcanic soils and high elevation vineyards.
For those interested in unique Italian varieties, Rosa d'Oro is a must-visit winery in Lake County. The winery grows and produces between 8-10 Italian varietal wines, including an Aglianico, Barbera, Dolcetto, Nebbiolo, and Sangiovese. Their focus on sustainable farming and low intervention winemaking is a nod to Old World tradition.
Rosa d'Oro's tasting room is open to walk-in guests on Fridays, Saturdays, and Sundays or by appointment.
Address: 3155 Merritt Road, Kelseyville, CA
Six Sigma is a 4300 acre cattle ranch and winery with 40 acres of vineyards in Lower Lake County. The ranch will also soon be the first glamping site in Lake County, with farm, and winery, and soon-to-be glamping destination. (The ranch is currently in the process of building 40 glamping cabins and will be ready to welcome guests within 4-5 months.)
When you visit Six Sigma Ranch and winery, you'll have to drive down a 2-mile dirt road along Asbill Creek (named for the first family of settlers in the region, who arrived in the late 1800s) before reaching the former stagecoach stop and cabin that now serves as the winery's tasting room. Nestled underneath century old Oak trees, Six Sigma's indoor tasting room is small and cozy, while their outdoor seating area features picnic tables.
Tasting experiences offered at Six Sigma include regular tasting flights which are available on a walk-in basis during business hours and all-terrain Pinzgauer vineyard tours and tastings by appointment. The winery's Pinzgauer can hold up to ten people, and takes guests on a journey through the estate, including the winery's high elevation hillside vineyards before finishing with a tour of the cellar and/or a tasting in the barrel room or tasting room.
Six Sigma specializes in Cabernet (which they blend with other Bordeaux varietals they grow on the property) and Tempranillo from high elevation vineyards but also make a Sauvignon Blanc and rosé of Tempranillo.
Address: 13372 Spruce Grove Rd, Lower Lake, CA
This modern and newly renovated space and tasting room owned by local ranchers and vintners, the Shannon family, features features wines from five different brands from the Shannon Family of Wines.

The menu offers a variety of different flights, consisting of five wines each, with one of the wines being a 'customer's choice' selection allowing customers to select one wine from the list to include. The ambiance here is friendly and comfortable yet professional, making this modern, refined space the perfect addition to Lake County wine country.
Guests can opt for a tasting flight or enjoy a glass or bottle of wine and nibbles. The wine selection is substantial, including more than five Sauvignon Blancs made in different styles with fruit from different AVAs in Lake County, a number of Cabernet Sauvignons from different vineyard sites, and an assortment of other wine varieties including a Petit Verdot, Nero d'Avola, Cabernet Franc, and Grenache Rosé. There are also a variety of food options on offer in the display case that include cheese and charcuterie, salads, sandwiches, and salads catered by a local chef's business and farm fresh lamb and beef products from the Shannons' 2000 acre ranch.
Address: 4350 Thomas Drive, Kelseyville, CA 95453
Located at the top of a mountain with vineyards set at 2200 feet elevation on red, volcanic soils, Wild Diamond Vineyards is known for their fantastic views, unique wines, and warm hospitality. The high elevation of Wild Diamond's vineyards contributes to more intense sun during the day and cooler, frost free temperatures at night, resulting in intense wines with plenty of structure and tannins.
The winery produces wines under a few different labels with different focuses: Bordeaux varieties, Rhone varieties, and Old World varieties. Current release wines include Cabernet Sauvignon, Cabernet Franc, Merlot, Grenache, Mourvèdre, Albariño, and a red Bordeaux Blend and GSM.
Wine tasting at Wild Diamond Vineyards is available by appointment. Tasting experiences include 4-5 wines, served on the winery's patio overlooking the vineyards with a view of Lake Berryess(weather permitting) or inside their converted shipping container tasting room.
Address: 15015 Spruce Grove Rd., Lower Lake, CA 95457
Where to Stay & Eat in Lake County, CA
For a comfortable and unstuffy (elk burgers, fish and chips, clam chowder, salads…) but slightly more polished ambiance, head to the Blue Wing Saloon at the Tallman Hotel for dinner or drinks in Upper Lake. In Kelseyville, try the Saw Shop Public House, which features a menu that will satisfy both gourmands and fans of hearty, unpretentious fare and a cozy, locals' spot vibe. Both feature both indoor and outdoor seating. The Tallman Hotel also hosts weekly live music nights.
For accommodation, the best hotel in Lake County is the Tallman Hotel, which offers a range of rooms and suites. For those who prefer an apartment with a fully equipped kitchen, Suite on Main in Kelseyville offers lovely, well appointed apartments within walking distance of cafes and restaurants.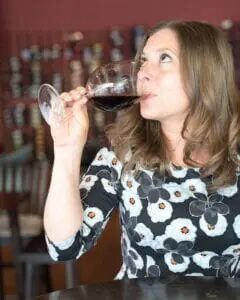 A 19-year wine industry veteran and marketing strategy consultant, Brooke returned home to Sonoma County in late 2019 after four years of living and working abroad. When she's not working on marketing projects for clients you can find Brooke hiking, enjoying a good glass of wine, or sitting somewhere with an ocean view.