One look at the Italian Riviera's sparkling sea and you just know why it is a popular travel destination – who doesn't love beaches, sun, and seafood? Well, add Liguria wines to your list of reasons to visit the Italian Riviera.
WHERE IS LIGURIA & ITS WINE REGIONS?
The coastal Liguria wine region spans about 250 km (150 miles) along the Mediterranean Sea running from La Spezia, a populous port city to Ventimiglia, Italy's border city on the south of France. The Italian Riviera is a popular tourist stop for travelers going between Northern Italy and Tuscany.
Liguria Italy is accessible via the large port city of Genoa or by the rural coastal railway system, north to south. Don't expect the train travel to be terribly speedy, but it is certainly picturesque. Because the region itself is quite small, you can drive the coastline in about 3.5 hours, with longer travel times by train.
Key winemaking areas in Liguria including the Cinque Terre and Dolceacqua and visits to both are easily possible during your time in the area.
A SHORT HISTORY OF THE LIGURIA WINE REGION
As the second smallest wine producing region in the country, Liguria Italy makes about 7.6 million liters of wine a year.
For scale, the Veneto is Italy's top wine producing region with a production of more than a billion liters of wine in 2021, led by the Valpolicella and Prosecco.
While Liguria's production numbers are low, it's fascinating considering the area's history includes the near extinction of a once thriving wine culture due to phylloxera.
Winemaking in Liguria dates back some 25 centuries ago to Etruscan and Greek times. Most notably, in 600 BC with the healthy wine trade between Liguria and the Greeks in Marseilles.
Fast forward to recent history and the area's Cinque Terre vineyards were nearly wiped out due to phylloxera in 1920. The region's wine industry remained dormant until revitalization began in earnest around 1973 with the formation of the area's social cellar (cantina sociale or Cooperative Winery) and agricultural cooperative. Today, about 350,000 bottles of wine are produced a year in the Cinque Terre wine region with 200,000 of those bottles from the Cooperative Winery.
At this time, vineyard terracing and dry stone walls were restored. Then in 1999, the Cinque Terre National Park was established, bringing tourists to the area in droves.
THE LIGURIA WINE REGION DOCs
Today, the Liguria wine region doesn't have any DOCG wines – Italy's highest designation of wine quality. But, it does have eight total DOCs:
Cinque Terre (Sciacchetra)
Colli di Luni,
Colline di Levanto,
Golfo del Tigullio-Portofino / Portofino,
Pornassio/Ormeasco di Pornassio,
Riviera Ligure di Ponente, Rossese di Dolcecacqua / Dolceacqua,
Val Polcevera
Key winemaking areas in Liguria to visit are the Cinque Terre and Dolceacqua. Visits to both are easily possible during your time in Liguria.
Cinque Terre Wine Region
The Cinque Terre National Park covers the production area for these Liguria wines.
The zone's steep terraces and famous dry stone walls protect the vines from the wind. The area is known for its mild climate and excellent sun exposure. You also see fig trees all along the vineyards, which act as both shade to the vines during the warm days and are used to strategically mark borders and exits of the steep stone stairs. Pruning, harvest, and the like can only be done by hand and without trucks or tractors. A monorail system transfers grapes up the hillsides during harvest. The monorail tracks dot the famed Cinque Terre Hiking Trails.
Of course, Cinque Terre's popular hike through its vibrant five fishing villages is one of Liguria's most well-known locations. As a result, Cinque Terre wine gets plenty of attention.
The two best known Cinque Terre wines are Cinque Terre Bianco DOC and Sciacchetrà. Sciacchetrà is a fortified wine made from dried vermentino, bosco, and albarola grapes left on racks after harvest and through the end of autumn.
THE CINQUE TERRE GRAPES
Bosco: minimum 60%
Albarola: up to 20%
Vermentino: up to 20%
Dolceacqua Wine Region
In the immediate hinterlands of Ventimiglia is the small village of Dolceacqua; just a few kilometers from the sea. The importance of Dolceacqua to Liguria wines is with the red grape of rossese.
In a land of white grapes, Rossese di Dolceacqua, produced since 1972, is the top red grape in the Liguria wine region.
Liguria Wines: The Grapes
Rossese
If you are a red wine drinker, don't expect a lot of options in Liguria. Rossese is Liguria's primary red grape, notably found to the west in the province of Imperia. The area is a patch of land enclosed between two narrow, parallel valleys; Val Nervia, home to the municipality of Dolceacqua, and Val Verbone. The two valleys run perpendicular to the sea until they break on a ridge of rock where they split from the Maritime Alps.
The rossese grape has a long history in Liguria, though no one seems to agree on who brought it to town – was it the ancient Greeks or the Etruscans? Word on the street is that Napoleon Bonaparte was such a fan of rossese that upon tasting it, he sent barrels home to Paris. Its more recent claim to fame was in 1972 when Rossese di Dolceacqua became the first Liguria wine to obtain DOC status.

In terms of taste, this land wine tastes of the sea. What does that mean? In the glass it shows medium density, ruby ​​red, which with aging becomes garnet. The nose immediately makes you think of fresh fruit and floral scents with notes of Mediterranean scrub and aromatic herbs. With bottle refinement, the olfactory notes gain greater complexity and stratification of withered flowers, red jammy red fruits, and spicy notes with Mediterranean scents. On the palate, the strong flavor gives subtle tannins, good acidity, and alcohol content.
Vermentino
The calling card grape of Liguria Italy, vermentino is a decidedly coastal grape also found in Sardinia and on the Tuscan coast. Vermentino thrives under intense heat and dry conditions. It is believed that Spaniards brought the vermentino grape to the Italian Mediterranean by way of Corsica.
Vermentino from Liguria is more delicate than the more full Sardinian expressions. In the Liguria wine region, the grape is used for varietal wines, meaning wines that are 100 percent vermentino. Find varietal wines in eastern Liguria, most notably in the zones of Colli di Luni and Golfo del Tigullio DOC. It is also found in blends in Cinque Terre Bianco and Colline di Levanto. Further west, find varietal expressions in Ponente and blends in Levante wines.
Vermentino wines tend to be round and soft with great fruits. West side wines show notes of its surroundings – wild fennel, and herbs. The grape itself has enough structure to hold up to fermentation and aging in small oak barrels lending creamy notes and savory flavors.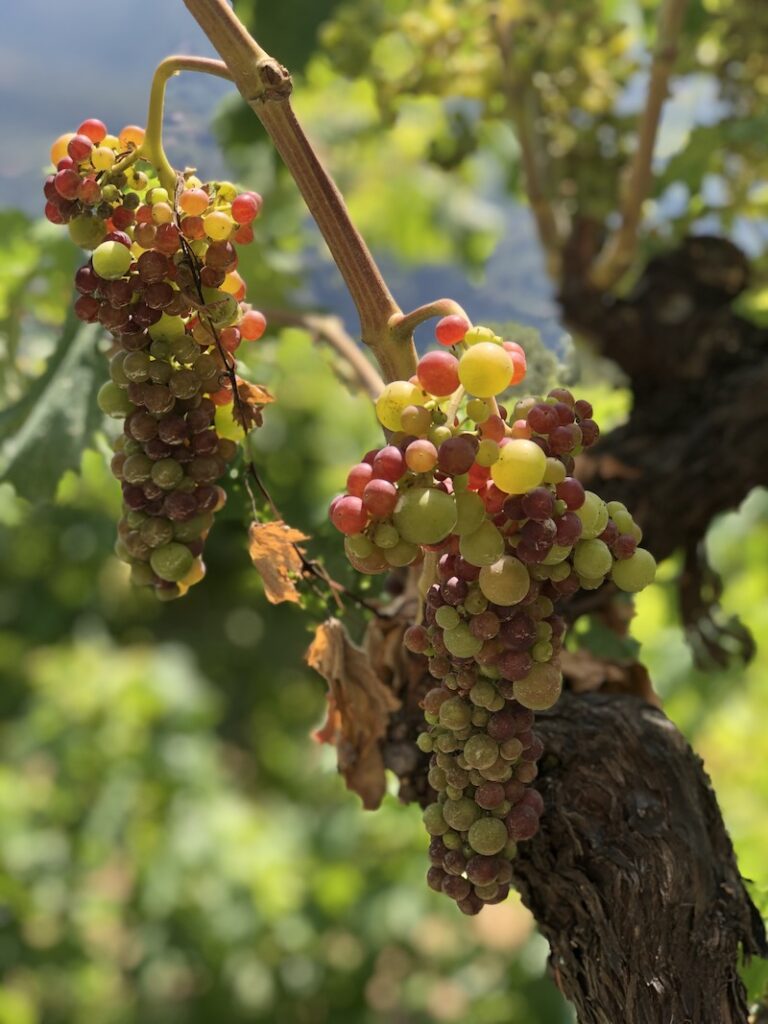 Pigato
Also a white, pigato is essentially the same grape as vermentino. Its brown dots on the skin are its most distinguishing visual tell when grapes are side by side. In terms of taste, pigato is generally more intense and perfumed.
Pigato flourishes at higher altitudes, starting around 300 meters / 985 ft. Its sister grape of vermentino does better nearer to the sea. The pigato grape, like vermentino, throws salinity and acid, but it is slightly lighter with aromatic herbs, an unmistakable result of its love of altitude.
WHERE TO SIP IN Liguria
Take to the hills inland of the Italian Riviera in Dolceaqua, home of the previously mentioned Liguria red wine of rossese. There are a small number of producers, so hiring a guide is a good idea for the best experience to best navigate the rural hillsides. One of the area's best producers, where your visit includes some time in the vineyards (with magical sea views) is at the historic Terre Bianche estate dating back 1870, when the first rossese vineyard was planted by Tommaso Rondelli. Visits by appointment only.
Of course, no Italian Riviera experience is complete without a visit to the famed Cinque Terre. Take in Cinque Terre wine with a hiking experience through the villages and a seaside vineyard exploration through the area's terraced vineyards. Guided services include hikes with a vineyard visit followed by a cellar visit with tasting and tasty local bites.
And don't miss a stop at the Cantina Cinque Terre Cooperative, which became a driving force in the rebirth of Liguria wine. The Coop was established in 1973 to not only promote local viticulture, but to protect and conserve the land and its biodiversity. To contact the Cantina Cinque Terre directly to schedule your visit, click here.
More Liguria wine favorites below, but keep in mind…
Appointments are always required.
They may not speak English, so request on booking or hire a guide.
Other Cinque Terre Wineries to Visit (appointment required)
Other Dolceacqua Wineries to Visit (appointment required)
Ka Mancine: A small, historic family-owned winery where you get a deep dive into the area's top red of rossese; and the whites are certainly not to be missed.
Rondelli: A small winery in the hills of Dolceaqua with unique wines and experiences.
PLANNING YOUR LIGURIA VISIT
WHERE TO STAY
A great option is to make the colorful port city of Genoa your home base, then explore Liguria wine, food, and culture from there with transfer by train, boat, and car.
Lodging options in Genoa include Hotel de Ville in the historic center; the building's foundation dates back to medieval times.
Or, stay in one of Italy's oldest hotels, 5-star Grand Hotel Savoia with a 120-year history. Situated in Genoa's historic center, about 50 meters from the Principe train station, you can easily access the renowned Genoa Aquarium and enjoy the onsite spa.
For a quieter experience in one of the less touristy village, stay at Cenobio dei Doge in Camogli. Featuring a swimming pool, private beach access, and two ristorantes, the hotel is just magic. You'll be located just off the boardwalk, but only minutes from the heart of one of Liguria's most charming fishing villages.
For those looking to stay in the famed Cinque Terre, try Hotel Porta Roca in the 5Terre's largest village of Monterosso al Mare. Find two bars and an onsite ristorante plus unmatched – and unobscured seaside views. 
WINE TASTING TOURS
Information coming soon…
Experiences in Liguria Italy are endless. Hiking, boat rides, mountain biking, or just lounging by the sea, there is plenty of sun and fun in the Italian Riviera.
The Cinque Terre is the most well-known, but of course the crowds can be suffocating, so consider exploring during the shoulder seasons or look at Cinque Terre alternatives all up and down the coast:
Levanto: Find it about 4 miles / 6.4 km from the northern most Cinque Terre village of Monterosso al Mare. Levanto has epic hiking trails and sandy beaches (a rarity in the Italian Riviera).
Camogli: My personal favorite with excellent dining, a magical boardwalk, hiking options to Portofino, and a great choice for boat rides. Camogli is about an hour north of the Cinque Terre.
Finale Ligure: An outdoor enthusiasts dream. Final Ligure, about 40 miles / 65 km from Genoa, rent mountain bikes (with plenty of guides available for all levels), hike or climb.
For larger cities, check out La Spezia and Rapallo. Here, you'll find lower prices and activities like cooking classes, tons of dining options, and more that are easily accessible from your lodging.
Liguria is famous for its pesto, so try a seaside pesto making class for a hands on lesson making pesto the old-fashioned way, from mortar. The experience can include pasta making and lunch with other local foods like focaccia.
Don't miss the vibrant port city of Genoa – Europe's second largest historical center. Book a walking tour to explore area food and culture through its maze of alleyways (caruggi), piazzas, all rich in architectural styles.
During a trip to Genoa, don't miss the largest aquarium in the whole of Italy. The 33,000-square-foot Aquarium of Genoa sits in the city's Old Harbor area and hosts more than 1.2 million visits annually. An excellent choice for wine travelers with kiddos. 
And, don't miss the idyllic secluded San Fruttuoso cove, situated near to Portofino Regional Natural Park – only accessible by boat or foot. Take in the Abbey of San Futtuoso and soak in the sun at the beach. Because it is so difficult to access, San Fruttuoso retains its wild charm and ancient beauty. Definitely worth time in your Liguria Italy travel plans.
Sip in More of Italy
---
Valerie and her son Il Ragazzino reside in Barolo, Piedmont, Italy, by way of Denver, Colo. She runs a custom Italy travel planning business while moonlighting as a marketing consultant for European wine and travel companies. She has been featured in Wine Enthusiast, Food & Wine Magazine, Open Skies (Emirate Airlines inflight magazine), and more. Follow her expat and wine chronicles here https://linktr.ee/valeriekq.