Storybook villages of half-timbered houses. Facades in pastel hues to match window box flowers. Castles, canals, and vineyards stretching from town to the hinterland. For the first-time visitor, Alsace overwhelms the senses whiles prompting the question: am I in France or Germany? As France's easternmost region along the Rhine River on the German border, the answer is, well, a bit of both. Germany and France have traded the region over centuries, creating a singular Franco-Germanic impression evident in the architecture, culture, and food. The shared influence also impacts winemaking styles from grapes to bottle shape, making Alsace a fascinating wine tourism destination.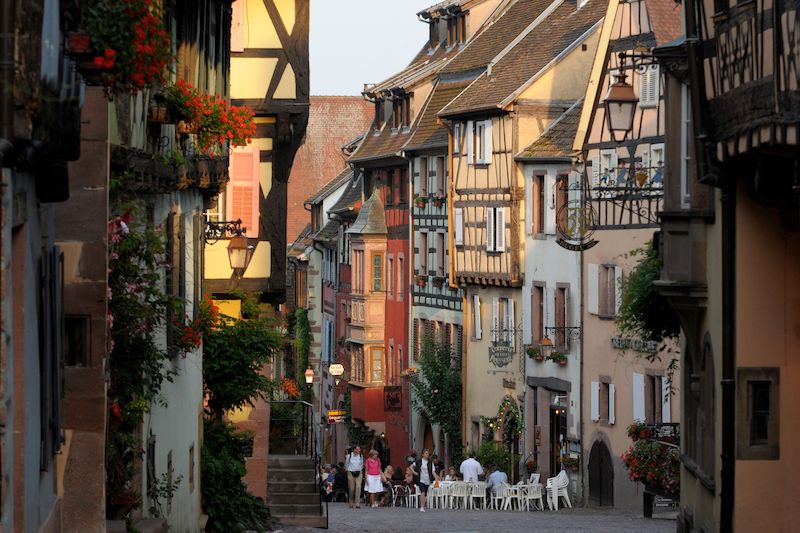 WHERE IS ALSACE?
Given the ping-pong nature between France and Germany it's understandable to question where Alsace is. Short answer, the most eastern side of France along the Rhine River, which separates France and Germany. The capital city is Strasbourg (SXB), a good option to fly into.
WHEN TO VISIT ALSACE?
The warmer months of June, July and August are great for wine country. Shoulder seasons – April, May, September and October are a bit slower and less expensive for visitors. If you love skiing Alsace is a perfect destination for pairing wine and winter adventures.
Overview of the Wines of Alsace
Wine practically flows through the veins of Alsatians. It's a region rife with intimate, terroir-driven vineyards passed down between generations. Stewardship guides viticulture, in part through pride and respect for the land, and in part through default of the landscape. Steep slopes necessitate handpicking while vineyard proximity to homes and neighbors—animals and children—encourages organic farming. Today, an increasing number of wineries are using biodynamic practices.
The specifics of the macro-terroir—climate, aspect, elevation, even soil types—all contribute to the growth of organic farming. As evidence, Alsace comprises 12.8 percent of France's certified biodynamic vineyard area, yet the region's 39,000 acres of grapes account for less than 5 percent of France's total vineyard acreage.
The same properties that facilitate organic farming also allow producers to make a range of wines in varying styles. The most impactful feature of the landscape is the Vosges Mountains which block cold fronts and create a rain shadow across the vineyards tucked along the foothills. This mostly sunny, semi-continental climate can turn hot and dry come summer. Thus, for a northerly region, grapes enjoy a long growing season which is perfect for slow-ripening varieties.
Wines of Alsace are produced under three appellations: Alsace, Alsace Grand Cru, and Crémant d'Alsace.
The first two regions span still white wines (dry and sweet), and the latter covers sparkling. Grand Cru wines come from 51 designated vineyards. A mosaic of fine, precisely delineated soils allows for this wealth of Grand Crus, each meeting strict geological and climatic criteria. Soil types range from sandstone and marl to limestone and granite. AOC Alsace comprises 70 percent of total production, Crémant d'Alsace runs around 27 percent, and AOC Grand Cru is the smallest at 3 percent.
When reading an Alsace wine label, you might notice that grape names are spelled out. Alsace is one of the only regions in France that lists them, and of course, this makes it easier for American consumers to know what they're purchasing.
Another tip for understanding the wine style you're buying is to check the alcohol percentage. Anything over 13% is typically dry, below that, it may have some residual sugar.
WINES OF ALSACE
WHITE WINES OF ALSACE
Alsace's still, white wines comprise 90 percent of the region's production. The six main white grapes, in order of vineyard plantings, are Pinot Blanc (22%), Riesling (21%), Gewurztraminer (19%), Pinot Gris (16%), Sylvaner (5%), and Muscat d'Alsace (2%). The region is synonymous with aromatic, dry, unoaked, food-friendly wines and many can age in bottle for years, growing in complexity, especially the Grand Crus.
RED WINES OF ALSACE
Pinot Noir makes up 11 percent of Alsace's vineyards and is the only red grape of note. In the past, Pinot Noir struggled to ripen beyond light, pretty wines. Today, as climate change brings drier, warmer weather, Pinot Noir grapes ripen with greater concentration which positions Alsace as a region to watch for Pinot Noir lovers.
BUBBLES
Crémant d'Alsace, the region's sparkling wine, is known for its freshness and round texture, a trait attributed to aging technique and grape typicity. The wines are made in the traditional method (like Champagne) and feature a blend of Pinot Blanc, Pinot Gris, Riesling, Pinot Noir and Chardonnay (only used in Crémant production). Crémant d'Alsace Rosés are 100% Pinot Noir.
SWEET WINES
Though still and sparkling wines get most of the attention, don't forget to try the noble sweet wines of Alsace. Vendanges Tardives (VT) is a late harvest wine made from Gewurztraminer, Riesling, Pinot Gris, or Muscat d'Alsace. Grapes must be hand-picked and often have "noble rot" or botrytis which gives a distinct honeyed character.
Sélection de Grains Nobles (SGN) features the same varieties but with multiple rounds of hand-harvesting and grapes that are 100 percent botrytized. These are rare, small-production wines that must be experienced at least once in life.
---
---
PLANNING YOUR ALSACE WINE VACATION
KEY TOWNS FROM NORTH TO SOUTH ALONG THE ALSACE WINE ROUTE
For wine lovers, Alsace is a dream destination. A road dedicated to wine production and tourism called the Route du Vin or Wine Route runs 105 miles long and 9 miles wide. It is the oldest established wine route in the world and approaching its 70th anniversary. Closed to highways, the north-south path cuts through the region's lush vineyards, offering hotels, restaurants, and wine cellars in villages along the way.
Plan for at least three days to explore the Alsace wine route, though try for five.
---
GETTING AROUND
It's easy to hire a car, take the train, or book a taxi from the villages out to wineries. However, one unique tourism feature to take advantage of is the Kutzig Open Shuttle Bus. The bus stops along in villages from Marlenheim at the top to Thann at the bottom.
---
KEY TOWNS ALONG THE ALSACE WINE ROUTE & WHERE TO STAY
Strasbourg
The capital of Alsace and one of France's largest cities, Strasbourg has changed nationalities multiple times. This political border ping-pong gives the city a strong cultural identity. The mix of architectural styles reaches back to medieval times, from timber-framed buildings to the Gothic cathedral. The city sits just 20 minutes east of the northernmost tip of the Alsace wine route. Many travelers start their exploration here due to train access, and proximity to Germany, or to simply wander cobblestone streets, eat, and soak up the city's beauty.
Where to Stay: Hostellerie des Château (30 minutes outside the city, but a country hotel at the start of the wine route that's four stars and not to be missed.)
Ribeauville
Ribeauville is located on the Alsace wine route about 45 minutes south of Strasbourg in a car or bus. A lovely village on its own, the ruins of hilltop castle provide that extra touch of romance to the backdrop. The Grand Rue, or main street, and its offshoots, feature buildings dating from several architectural eras between the 15th and 18th centuries. Renaissance-era fountains provide central focal points to city squares. Surrounding vineyards have existed since the Middle Ages, and many producers have old cellars visitors can tour.
Where to Stay: l'Hotel & Spa Ribeauvillé
Riquewihr
Riquewihr sits just south of Ribeauville and is another must-stop town that commonly ranks high on travelers' favored lists. Though tiny (pop. around 1250), it's dense with pretty streets, earning it membership in the Association of the Most Beautiful Villages in France. It's also an important winegrowing community along the Alsace wine route, with hotels, restaurants, shops, and Winstubs dedicated to vinous hospitality.
Where to Stay: The Hotel à l'Oriel
Kaysersberg
Beloved for its charming, cobbled streets and half-timbered houses lining the picturesque Weiss River, Kaysersberg is a popular stop on the Alsace wine route. Castle ruins and medieval sites, like the Ste. Croix Church, testify to the village's long history.
Where to Stay: Le Chambard
Colmar
Boasting a superb location amidst the vineyards, the pretty village of Colmar provides an ideal springboard for exploring the region. Excellent tourism facilities include biking, hiking, catching a taxi, to joining a tour or hiring a car to visit nearby wineries and country restaurants.
Where to Stay: Hotel Le Colombier
Eguisheim
Located just south of Colmar, the medieval enclave of Eguisheim was designed in a pattern of concentric circles around a castle, making it an interesting stop for its architecture and walkability. The colorful village has been ranked as "One of the Most Beautiful Villages in France" since 2003, for good reason. Come summer, it explodes with flowers, while in winter, Eguisheim transforms into a festive Christmas market.
Where to Stay: Husseren Hotel & Spa
Thann
The last town on the wine route, Thann sits near one of the most famous Grand Cru sites in Alsace, the Rangen Vineyard. To catch a view of the vines, famous for their world-class Riesling, walk 20 minutes on foot to the ruins of the Engelbourg castle, which is also worth a look.
Where to Stay: Thann is more of a day trip stop. Lodging in town is limited, plan to stay at one of the above locations and drive in.
While hundreds of wonderful wineries fill the region, these seven have great wine and offer easy an easy booking experience, especially for first-time visitors and non-French speakers. For more information and help planning, you can visit the Alsace Wine Route which provides English translation.
Located 20 minutes southeast of Colmar, this independent, family-owned winery has operated in Voegtlinshoffen for over 300 years. The family owns over 160 acres of vineyards and produces Grand Cru, AOC Crémant d'Alsace, and AOC Alsace wines from Voegtlinshoffen, Steinbach, and Colmar. The property has a wine bar with a roof terrace offering views as far as the Vosges Mountains. You can tour the cellar, book a Segway tour, or just sip and relax. Reservations are recommended but not required.
Located 30 minutes southeast of Colmar, you can book tours and comparative tastings at this family-owned, 100 percent estate production winery. The modern tasting room is open Tuesday through Saturday and requires an appointment. You can book the discovery tasting, which includes five wines; the prestige tasting, which includes the Domaine's four Grand Crus; or the adventure tasting which takes guests on a vineyard tour in a 4×4, a tour of the historic cellars, followed by a tasting of 11 wines from the Domaine's best vintages.
Located 20 minutes northwest of Colmar, this cooperative winery proves that some of the best wines in Alsace come from collective winegrowing and winemaking. The co-op, the oldest in France, produces wines from all seven grapes, some of which are organic. If your travel party includes a non-drinker, they can taste the co-op's non-alcoholic line. The large contemporary building also includes a wine museum that's worth a look. Tastings remain free, and bottle prices start at a wildly low 6 Euros, so bring your wine suitcase.
Located 20 minutes northwest of Colmar, Trimbach family winemaking spans 13 generations dating to 1626. The Trimbachs originally hailed from Switzerland, then relocated to France in the 1500s to work in silver mines. Jean Trimbach moved to Riquewihr to become a wine grower and the rest, well, is a very long history. Today, the family's 143 acres of vineyards and the remaining grapes they purchase are certified HVE3 and all are moving towards organic certification in 2023. The cellar is open Monday through Friday and occasionally on Saturday, family schedules permitting. It's best to book an appointment, as if they're full, you'll be disappointed.
Located 25 minutes northwest of Colmar, Hugel hosts its tastings and cellar tours in the heart of Riquewihr. Hugel has earned global recognition for its wine quality, undoubtedly tied to a long history of winemaking dating to 1639. A wood carving of the family crest, hung over the Hugel home built in 1672, remains the brand logo today. Hugel makes wines ranging from AOC Alsace to Grand Cru plus sweet wines. The entire range HUGEL wines can be sampled in the tasting room which is open every day from Easter to Christmas.
Located 20 minutes north of Colmar in Ribeauville, this family estate founded in 1835 offers several wine tourism experiences. Every day at 2:30, catch a one-hour guided tour with three wines. If you're visiting in December, book the gourmet cellar stroll which includes bites and sips along the walk, with the main course served seated between the 100-year-old tuns. Bott Frères produces white and rosé crémant, plus different quality tiers of still wines from tradition, réserve personnelle, to the Grand Crus, and Vendanges Tardives.
Located 20 minutes northeast of Colmar in Zellenberg, Jean Huttard has remained an independent winegrower since 1860. They recently renovated a vineyard house into a modern tasting room. A sleek cement bar invites you to grab a stool and sip through sustainably farmed sparkling and still wines. Beyond the bar, you can book activities like biking with a wine picnic, dining in the vineyard, and a yoga and wine session. All must be booked online.
Sip in More…
---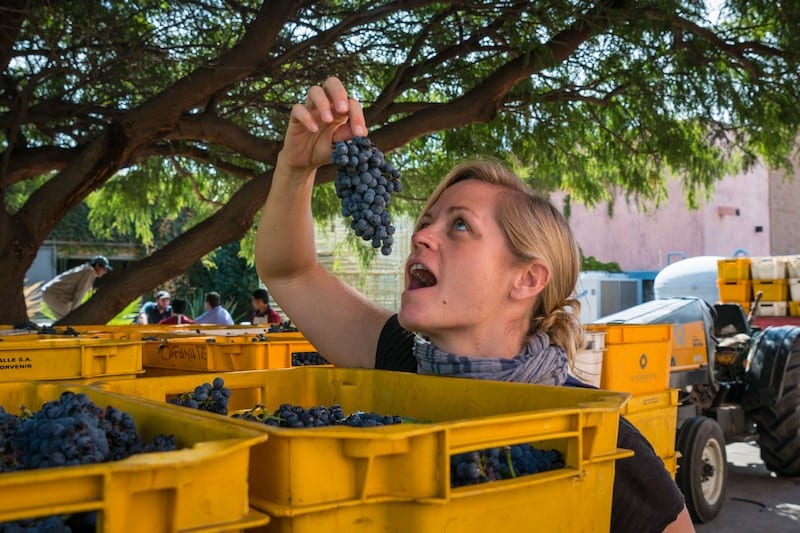 Lauren Mowery is a freelance writer, photographer, and contributing travel editor at Wine Enthusiast. She has covered coffee, wine, spirits, food, and travel for national publications including USA Today, Hemispheres, Forbes, Lonely Planet, AAA, Vinepair, Fodor's Guides, Saveur, Punch, and Eating Well, among others. Mowery is a graduate of the University of Virginia and Fordham Law School and is halfway towards earning the Master of Wine distinction held by only 416 people in the world. Her forthcoming book Chasing the Vine: Finding Wonder, Rebirth and Jet Lag on the World's Most Farflung Wine Trails debuts in 2022.