Chambertin, Romanée-Conti, Clos de Vougeot, Montrachet, Corton and Musigny. The wines of Bourgogne, or Burgundy, as we've long called it in English, inspire a magical response from wine lovers—eyes glaze over while a faraway smile tilts their lips when they hear these hallowed names. Why does this timeless historic region in eastern France prompt such immense aspiration and fealty, especially as the wines continue to rise in price at a meteoric pace? For enthusiasts, Burgundy epitomizes the pinnacle of authentic, terroir-driven Pinot Noir and Chardonnay capable of flavors, complexity and age-ability found nowhere else in the world. Fortunately, the best way to understand Bourgogne is also the most delicious – by visiting Burgundy, France.
WHERE IS BURGUNDY?
Burgundy is located in the eastern portion on France, its largest city is Dijion.
WHEN TO VISIT BURGUNDY?
There is never a bad time to visit Burgundy. But, the shoulder seasons promise to offer lower prices, fewer people and decent weather (March-May and September-November).
Burgundy presents a paradox for many wine drinkers – the appellation system manages to be both simple and complex. At times, it feels like the more you know, the less you know. For serious oenophiles, the region offers endless fascination and the fulfilling challenge of studying its wines over a lifetime. For others who simply want to pick out a good bottle at a restaurant or store, learning the basic appellation d'origine contrôlée (AOC) and quality hierarchy and memorizing a few underappreciated regions, goes a long way.
It's also helpful to know a bit about the historical evolution of Burgundy, or Bourgogne, as the French prefer the world call it.
HISTORY OF BURGUNDY (BOURGOGNE)
Production of wine in Bourgogne dates back 2000 years to Gallo-Roman times. The first written evidence of the existence of vineyards dates to year 312. However, the development of growing techniques and the delineation of vineyards through the exploration and understanding of site-influence on grapes started in earnest in the Middle Ages with the 11th century monks of Cluny and Citeaux. For example, the Benedictines, through their Abbey of Cluny founded in 910, became the first large-scale vineyard holder for centuries. The Cistercians, founded in 1098 and named after Cîteaux, created the largest walled vineyard called Clos de Vougeot in 1336. The vineyard still produces some of the most sought-after and expensive wines of the Côte de Nuits today. In the 15th century, the Dukes of Bourgogne expanded the recognition and influence of Bourgogne's wines across Europe. The implication: Burgundy has had a long and well-funded head start in understanding its terroir—that subtle chemistry
BURGUNDY'S FIVE WINE PRODUCING REGIONS
Burgundy sits at the confluence of multiple climatic forces: the Mediterranean in the south, the continental conditions of the north, and the Atlantic Ocean to the west. This unique geography contributes to Burgundy's semi-continental climate, enabling wine growers to work with varieties long established as ideal for the area. Those grapes encompass Pinot Noir (39.5%) and Chardonnay (51.4%), the two most important and well-known, plus Aligoté (5.8%), and a bit of Gamay, Sauvignon, and others.
Chablis
Chablis sits northwest of the Côte d'Or and the city of Dijon, at its northern tip, by around 85 miles. Consequently, Chablis's cooler climate contributes to its iconic style of lean, bright, mineral-driven Chardonnay. Chablis has four tiers of quality: Grand and Premier Crus, village-level, and Petit Chablis
Côte d'Or
The Côte d'Or, meaning the golden slope, forms the heart of the region and is typically the area most people think of when referencing Burgundy. The Côte d'Or traces a geological feature called an escarpment which runs 40 miles from southern Dijon in the north to the villages of Santenay and Maranges in the south. Typically, wine classifications, from Bourgogne-level to Grand Cru, are dictated by a vineyard's location on the escarpment. The Côte d'Or is divided in two with the Côte de Nuits in the northern half, and the Côte de Beaune stretching along the southern half.
Côte de Nuits
The Côte de Nuits produces some of the most expensive Pinot Noir in the world. It's home to many famous Grand Cru including Clos de Vougeot. The region starts in Marsannay in the north and runs south to Nuits-Saint-Georges. When driving the famous Route des Grands Crus (Wine Route), you'll pass a swath of prestigious villages from Gevrey-Chambertin, Morey-Saint-Denis, Chambolle-Musigny, Vougeot, Flagey-Echezeaux, Vosne-Romanée, ending at Nuits-Saint-Georges.
Côte de Beaune
The Côte de Beaune includes both Pinot Noir and Chardonnay, though the most famous villages for Premier and Grand Cru Chardonnay can be found here, including Corton, Meursault, Puligny-Montrachet, and Chassagne-Montrachet. For Pinot Noir, you might recognize Volnay and Pommard.
Côte Chalonnaise
The Côte Chalonnaise sits south of the Côte de Beaune. Pinot Noir and Chardonnay dominate production though the small but fascinating village of Bouzeron is a historic Aligoté-only appellation. The main wine producing areas to visit are Rully, Mercurey, Givry, and Montagny, a bit further south. Amazing value can be found in the Côte Chalonnaise and should be included on your itinerary. There are no Grand Crus in Côte Chalonnaise.
Mâconnais
The Mâconnais sits below the Côte Chalonnaise. In Mâconnais, 70 percent of vineyards are devoted to white wine, mostly Chardonnay. As for red wine, you'll find more Gamay than Pinot Noir. There are no Grand Crus in Mâconnais, though several villages and Premier Cru are well-known in the US. Viré-Clessé occupies the heart of the region, while Saint-Véran and Pouilly-Fuissé sit at the southern end. The Mâconnais is a gold mine for Chardonnay at prices far below the Côte de Beaune.
UNDERSTANDING THE BURGUNDY QUALITY PYRAMID
Burgundy applies a four-tier quality classification system to its wines which in theory, is deceptively simple and encompasses 84 AOCs.
Comprising the base of the quality pyramid are 7 regional AOCs that account for 52 percent of production – so most of it! These wines are produced anywhere throughout Burgundy and are typically bottled as Bourgogne AOC. Examples include Bourgogne Aligoté and Mâcon-Villages. While affordable, quality can be hit or miss unless you're familiar with the producer or importer.
There are 44 village AOCs which makes up 37 percent of production. These wines bear the name of the village on the bottle, whether Mercurey or Pouilly-Fuissé. This range offers great value as the wines typically provide a taste of the terroir with structure and the ability to age.
Vineyards carved into precisely delineated plots, are called climats in France. This term earned status on the UNESCO World Heritage list for centuries of studying the microclimate and specific geological conditions that give way to distinct and superior wines. Climats comprise the next quality categories of Premier Cru, which is 10 percent of production, and Grand Cru, which is 1 percent of total production. Only 33 climats have earned the distinction of Grand Cru. For example, Chablis has 40 Premier Cru climats and 7 Grand Cru climats including Valmur and Les Clos.
PLAN A WINE VACATION TO BURGUNDY
Planning a trip to Burgundy is both exhilarating and daunting. The chance to see living history manifested in a bottle of wine while meeting the families behind hallowed vineyards and domaines offers the trip of a lifetime for wine lovers. However, if you've followed the vintage news of the past few years, you might know that they've grown smaller and smaller while global demand continues to increase. Pricing reflects this phenomenon. It's a fact that many cellars cannot accept tastings from the public because they don't have enough wine to share. Making matters worse, many wineries have limited bottles to sell, even if you're eager to buy without trying.
WINE TOURS IN BURGUNDY
Working with a local guide, one fluent in English and French and knowledgeable of most of the domaines—and which ones have wine to taste, sell or both—practically pays for itself in time and opportunity. A guide also drives while you sip your way through Burgundy relaxed in the passenger seat.
One of the best guides in the business, one used by the BIVB for American journalists (including myself), is Stevie Bobes, with Wine Ambassadeur.
FIVE DAY ITINERARY FOR WINE TASTING IN BURGUNDY
This program covers a range of interests including next generation and organic winemakers, properties with interesting tourism experiences, and lesser-known appellations for buying better value wines.
Chablis
Chablis, both the wine region and the charming village that anchors it, deserves at least two days for tasting, especially for lovers of bright, ethereal Chardonnay. Though the town falls quiet at night, waking in for a morning walk through cobblestone streets as the boulangerie and shops start to open, drives home the joy of life in the French countryside.
Where to Stay in Chablis
Hostellerie des Clos This boutique 3-star property sits in the center of Chablis. The hotel has a wonderful restaurant, its menu featuring classic local dishes like eggs poached in red wine and lake fish, and boasting a deep cellar stocked with local treasures.
Château de la Resle, a small design-forward hotel with nine rooms, encourages honest conversations between staff and guests regarding climate change. The property continues implementing environmentally friendly elements into its offer including organic cleaning products and reduction of meat in meals.
Where to Wine Taste in Chablis
Jean-Marc Brocard was created in 1973 by Jean-Marc Brocard. His son Julien now runs the family estate which covers nearly 144 hectares, 66 of which are certified organic, and 40 are biodynamic. The domaine welcomes thousands of visitors each year to its location in Préhy offering tours of the cellar and vineyards plus tastings of their extensive line of wines. The boutique is well-stocked with wines for purchase.
Domaine Louis Moreau If you'd like to buy "affordable" older Grand Cru Chardonnay, a statement that's relative of course, don't miss this domaine. The Moreau family settled in Chablis in 1814. In the late 19th century, the family's love for wine inspired them to purchase Chablis Grand Cru and Chablis Premier Cru plots. Today, Anne and Louis Moreau run the business, expanding with a shop for consumer sales in 2017. They keep several back vintages available on-site for customers.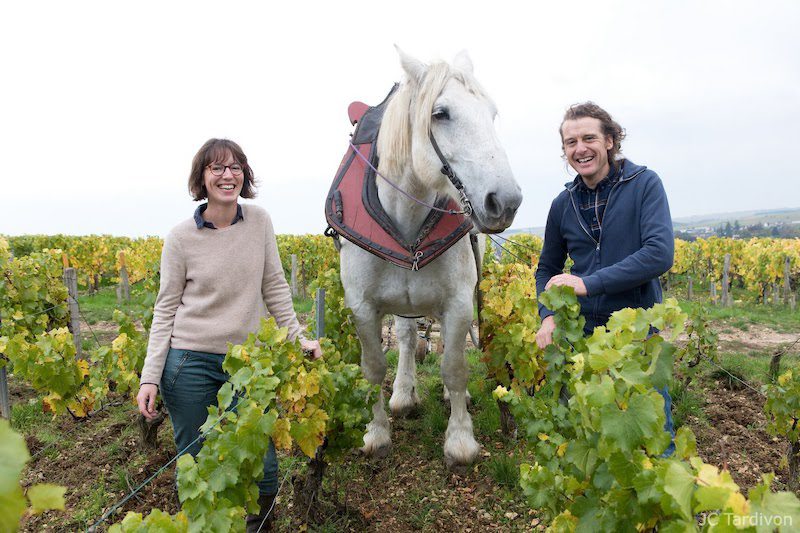 Domaine des Malandes Lyne Marchive founded this estate in 1973. In 2018, her children took over with son Richard Rottiers at the helm, and daughter Amandine handling sales. Visitors can book a simple tasting of six wines in the cellar or spring for the tour of their Grand Cru vineyards with a vertical tasing of older vintages of Chablis Grand Cru.
Domaine de la Croix Montjoie Though not in Chablis but rather the lesser-known appellation of Vezelay, this beautiful, restored farmhouse and domaine is worth visiting on the transfer between Chablis and Dijon. The wines, both Chardonnay and Pinot Noir, offer stunning value and the setting provides picturesque views across rolling farmland. If you have time, don't miss the historic hilltop village of Vezelay nearby.
---
Dijon
Dijon sits at the north of the Côte de Nuits and has the only train station with connections to Paris in the region. Dijon is a good base for not only exploring Pinot Noir country but also the region's gastronomic opportunities, from Michelin-star restaurants, the fabulous covered market at Les Halles, to the newly debuted Cité Internationale de la Gastronomie et du Vin.
Where to Stay in Dijon
Grand Hotel La Cloche, set in the historical heart of Dijon, earns its five-star status with 88 rooms, the exceptional restaurant Les Jardins by La Cloche, and an extensive spa with both treatments and aqua therapy.
Where to Wine Taste in Dijion
Cité Internationale de la Gastronomie et du Vin With a wine school, multiple restaurants, a beer bar, cheese shop, and stores dedicated to all things edible (including myriad brands of the city's famous Dijon mustard), the stunning new center for food and wine will whet your palate for the days ahead. Don't miss the wine shop where you can start a tab to buy samples of regional wines on the enomatic machines including village, Premier and Grand Cru wines.
Domaine Jean Fournier The Fournier family has lived in Marsannay sincethe 17th century, with writings from the reign of Louis XIIIattesting to the presence of a Fournier in the village. Today, the dynamic Laurent Fournier runs the certified organic domaine. He's dedicated to raising the profile of Marsannay, including fighting for Premier Cru status for certain villages with superb Pinot Noir. He's also a staunch advocate of the lesser known, but thrilling white wine, Aligoté. The wines aren't sold on site, but in the village of Marsannay at the local vin de cave.
Domaine d'Ardhuy Well-positioned in the Côte de Nuits, it's hard to miss this stunning brick manor house set back from the Route de Grand Crus. Established by Gabriel and Eliane d'Ardhuy, the pair acquired prized parcels in Puligny-Montrachet, Gevrey-Chambertin, Clos de Vougeot and Corton-Charlemagne. Seven daughters run the property today, including the surrounding eight acres of vines first planted by the monks of the Abbey of Cluny. Sit outside under the tree during summer months for a tasting with a view.
---
Beaune
From the fabled Hospices de Beaune, historic underground cellars of Maison Joseph Drouhin, to wine and cheese shops like l'Athenaeum and Fromagerie Alain Hess, respectively, Beaune oozes charm and deserves a full day for wandering (and shopping.)
Where to Stay in Beaune
Hôtel de la Poste Located in the center of Beaune, this 38-room hotel provides an ideal base for exploring the shops, restaurants, and caves or wine shops, on foot.
Hostellerie de Levernois, just outside the city, is surrounded by 14 acres of garden and forest, offering 26 rooms and suites in a traditional Burgundian house. Guests can walk or bike off a lunch of garlic snails and parsley ham with Aligoté at the property's classic Bistrot du Bord de l'Eau.
Where to Wine Taste in Beaune
Maison Joseph Drouhin Founded in Beaune in 1880, Maison Joseph Drouhin's cellars have expanded from the historical cellars of the Dukes of Bourgogne and the Kings of France in Beaune (12th-18th centuries) to the Moulin de Vaudon, an 18th Century watermill in Chablis. Today, the fourth, and soon fifth, generations run the business. Drouhin remains one of the most important domaines in Burgundy (their wines are also more readily available in the US), with more than two thirds of the vineyards classified as Premier and Grand Crus. For visitors eager to find something rarer than what's on retail shelves at home, the shop has plenty (relatively) of wine for purchase.
Domaine Jessiaume Though wine for purchase is extremely limited, it's worth booking an appointment for a tasting of the organic Chardonnay and Pinot Noir at this domaine in Santenay. Founded in 1850, Domaine Jessiaume spans 23 acres in Côte de Beaune from Beaune to Santenay, including Pommard, Volnay, and Auxey-Duresses. Originally a family business, the Domaine is now owned by Doctor Jean-François Le Bigot. The winemaking team, led by William Waterkeyn, has turned to organic farming and minimalist handling in the cellar.
Domaine Xavier et Guillemette Besson This family estate located in Givry in Côte Chalonnaise has been owned by the Besson family since the 1930s. Son Henri-Vital joined his parents in 2014 and took over management of the estate in 2017. Though not certified organic, the family practices La lutte raisonnée or conscientious farming like sowing cover crops between vines to promote biodiversity. Their Pinot Noir from different sites are excellent and great value – and available to buy directly from the winery.
Domaine Aubert et Pamela de Villaine Located in Côte Chalonnaise, Bouzeron is an Aligoté-only appellation between Chassagne-Montrachet and Santenay to the north, and Rully and Mercurey to the south. During the Middle Ages, the monks of Cluny planted vineyards on the slopes of this sunny valley. Local growers decided to keep Aligoté on the best sites rather than rip it out as was done in other appellations. That means Bouzeron has some of the best old vine Aligoté. If you can taste with Pierre de Benoist, the nephew of Aubert de Villaine, you're in for a delightful afternoon of ruminations on history, science, philosophy, and biodynamic farming.
Château de Chamirey No trip to Côte Chalonnaise would be complete without a stop at the stunning 17th century Château de Chamirey. The property overlooks some of Mercurey's most favored vines. On a warm afternoon, grab a seat on the second-floor balcony and savor the views appreciated by prior generations. In 1934, the Marquis de Jouennes, the grandfather of the present owners, Amaury and Aurore, produced his first bottle of red Mercurey. The shop downstairs always has wine to sell, whether a Mercurey Blanc or Premier Cru Clos du Roi, so it's a great stop if you've not yet filled your wine suitcase.
Sip in More of France
---
---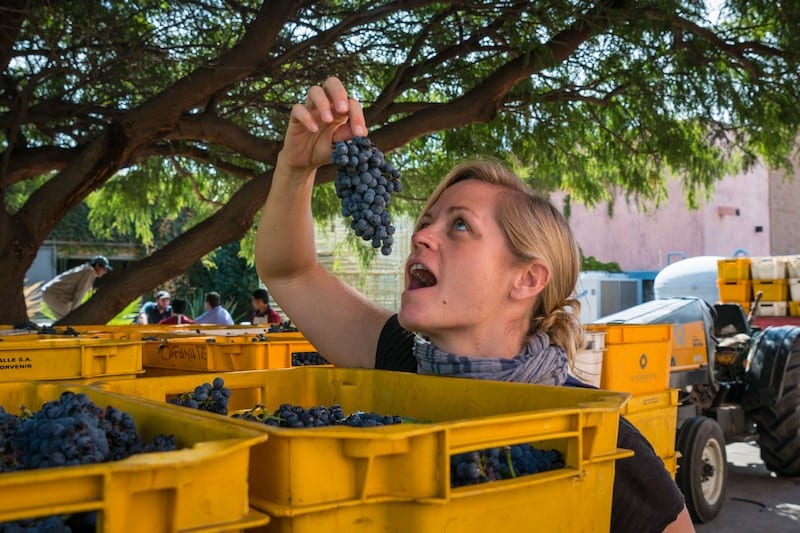 Lauren Mowery is a freelance writer, photographer, and contributing travel editor at Wine Enthusiast. She has covered coffee, wine, spirits, food, and travel for national publications including USA Today, Hemispheres, Forbes, Lonely Planet, AAA, Vinepair, Fodor's Guides, Saveur, Punch, and Eating Well, among others. Mowery is a graduate of the University of Virginia and Fordham Law School and is halfway towards earning the Master of Wine distinction held by only 416 people in the world. Her forthcoming book Chasing the Vine: Finding Wonder, Rebirth and Jet Lag on the World's Most Farflung Wine Trails debuts in 2022.