By Lauren Mowery, Contributing Writer
The Amalfi Coast inspires dreams of sun-kissed days on the water and glamorous evenings with pasta, seafood, and Italian wine. For wine lovers, this storied 34-mile stretch of coastline is also home to a wine appellation dedicated to indigenous grapes taking ones exploration to new levels. Whether a beachfront restaurant in Positano or a hilltop café in Ravello, there's a glass of delicious local wine at your fingertips, we have the perfect Amalfia Coast itinerary for wine lovers.
The Amalfi Coast for Wine Lovers
Any trip to the Amalfi Coast will likely start or finish in Naples, the 4000-year-old capital of Campania or the "shin" of Italy's boot. Naturally, one should spend a few days gorging on Neapolitan pizza (if you only have time for one, make it 50 Kalò) and drinking good, cheap local wine across its prolific bars. In fact, stocking up on Campanian wine from a supermarket or enoteca, especially if you're renting a car, isn't the worst idea given the eye-watering prices you'll find along the coast
When in Positano…
Nobody goes to the Amalfi Coast and skips the iconic Insta-pic of arriving by boat, capturing the colorful houses cascading down to the water behind them. Houses and hotels built into the cliffs, centered around a tiny bay with the mountains framing the setting, certainly provides a superb backdrop while also implying something else: a lot of uphill walking. In fact, a word of warning: the Amalfi Coast doesn't cater to the unfit or immobile.
There are plenty of spots to drink great wine in Positano. A few favorites include…
This wine bar and shop operating since 1953, features Positano's largest retail array of blue-chip Italian wines along with a robust selection of Campanian labels. Try a sip of limoncello, the citrus-infused liqueur that's a staple of the region with a dinner of Amalfitano specialties.
Open since 1949, Chez Black has become the see-and-be-scene beachfront restaurant. Oozing with character from its blue clamshell logo to hand-painted ceramic plates and nautical décor, Chez Black excels at pasta, whether the regional classic "alla Nerano" featuring zucchini or spicy local lobster. The wine list reads like textbook Campania with choice picks from the region's best producers.
Another family-owned staple in Positano since 1958, Da Vincenzo serves up beautiful seafood in a cozy colorful room. You'll find three generations of the Porpora family running plates of pasta and grilled octopus while pouring very good house wine.
Hotels with great wine lists include Hotel Palazzo Murat, centrally-located right off the pergola-covered pedestrian zone near the waterfront. Grabe a candlelit table in the flower-ringed courtyard and sip on Falanghina or Fiano before dinner.
Le Sirenuse, as expensive as it is famous, has four places to drink and dine. The owners take wine seriously enough to dedicate a page on their website to its production on the Amalfi Coast. Go for a glass of Greco di Tufo and soak up the views from chic and trendy Franco's Rooftop Bar; at Aldo's Cocktail Bar and Seafood Grill, try spaghetti with local clams while sipping on a perfumed Falanghina; or save up for the pricey experience of dining at Michelin-recommended La Sponda.
Before dinner, grab a glass of wine at the Hotel Cove Dei Saraceni lobby bar. Splendid views of Marina Grande beach and the east side of town in a traditional setting (think wrought iron furniture and classic terracotta tiles) with very little competition for a seat makes it an insider's choice.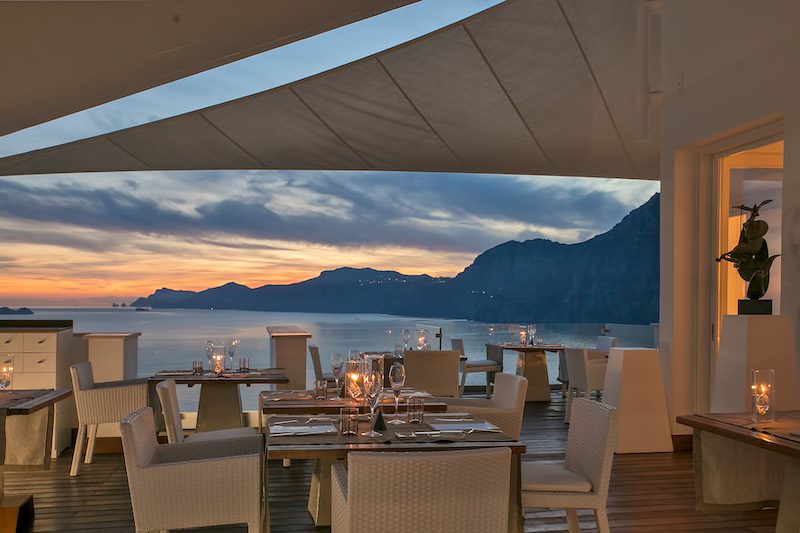 When in Praiano…
Fifteen minutes past Positano, you'll find sweeping views and an actual sunset to savor with your wine.
Casa Angelina is a rare breed of hotel on the Amalfi Coast: dressed in white, it's the region's only modern, minimalist property. From every room, find breathtaking views of Positano, not just your room or the terrace bar but also the glass elevator. Cocktails before dinner are a must, especially anything integrating local lemons. After a drink, head to a corner table at Un Piano Nel Cielo for upscale Campanian food. The sommelier takes wine deadly-serious and will help you compose the perfect pairings from a list of 4000 bottles.
For a less fussy look at Campanian cuisine, carry on past Casa Angelina about a mile to restaurant Kasai. Fresh seafood and pasta take center stage, especially the Amalfi coast's local pasta called paccheri served with succulent red prawns. Try wines from nearby winery Marisa Cuomo to wash it all down. Or head there next.
When in Furore…
The village without a village, Furore comprises a smattering of houses, a gorgeous hidden beach, and Marisa Cuomo Winery. Marisa Cuomo makes a dozen wines, though the flagship Furore Bianco Fiorduva breaks with regional norms. A blend of Fenile, Ripoli, and Ginestra, these indigenous grapes grown in limestone on a pergola, are allowed to over-ripen on the vine before fermentation in oak barrique. The result is deep and round, with notes of candied lemon peel, flowers, and orchard fruit. Book lunch and a tasting.
When in Conca dei Marini…
Monastero Santa Rosa Hotel & Spa won my heart as the best all-around stop on the coast for its combination of sweeping clifftop views, manicured gardens, infinity pool, and outstanding Amalfitano restaurant and wine list. Originally a Dominican monastery built in the 17th century, the converted hotel boasts a Michelin-starred restaurant, Il Refettorio, which serves lunch and dinner during summer on the terrace. The kitchen, run by Chef Alfonso Crescenzo, turns out food as close to god as the hotel's former resident nuns. Interesting fact: the delicately layered, flaky pastry called sfogliatella, typically stuffed with ricotta, almond, and orange peel, was invented by nuns in the monastery four centuries ago.
When in Amalfi…
Small but mighty, Amalfi once rivaled the maritime powers of Venice, Genoa, and Pisa during its run as a 12th century republic backed by a population of 80,000. Today, concurrent with the rest of the coast, tourism is the beating heart of its commercial fortunes. As such, the small streets and warren of alleys, feature plenty of spots for an aperitivo, glass of wine, or lemon granita.
Seaside on the beach of Spiaggia Marina Grande is Ristorante Marina Grande, one of the coast's most famous restaurants with a wine list commensurate to its reputation. If you're unsure of selecting a bottle, order from the rotating roster of wines by the glass instead.
Sample handcrafted limoncello at Antichi Sapori d'Amalfi. While the neon yellow liqueur seems ubiquitous, Anitichi takes special care in the production of their version.
Hiding in plain sight is La Caravella, a 60-year-and-strong culinary institution legendary for its Michelin-starred food and comprehensive wine list of rare, old, and unusual bottles.
Just beyond and above the city sits Hotel Santa Caterina. If you wish to eat, sleep, and drink in one spot, book a room and dinner(s) here. With multiple bars and restaurants, you'll be spoilt for choice. The hotel's private wine cellar supplies Campania's best bottles to Michelin-starred Ristorante Glicine.
When in Ravello…
There's a lot to be said for leaving the best for last, and for me, Ravello proved the glittering jewel in the coastal crown. High in the heavens above Amalfi, Ravello has an enviable density of views, gardens, and millennia-old villas. Another reason to love tiny Ravello: the town's clear devotion to wine.
Off Piazza Vescovado, Ravello's charming square, are several small paths. Try them all, you can't get lost. You'll eventually roll past Enotavola Wine Bar, Babel Wine Bar Deli & Art, or Wine & Drugs. Look for wines made around Ravello and nearby Tramonte, two tiny Amalfi regions that are difficult to taste from elsewhere along the coast.
Palazzo Avino, constructed in the 12th century, remains a family-owned property located on San Giovanni del Toro. Once forming part of Ravello's aristocratic quarter during the Middle Ages and Renaissance, today it's an enchanting 5-star hotel of manicured grounds and 1-star Michelin restaurant Rossellini's. Go for the The Journey into Memory tasting menu, which draws from Chef Giovanni Vanacore's childhood experiences, and pair it with all Campanian wines.
Also dating to the 12th century, Hotel Villa Cimbrone sits high on the cliffs encircled by heart-stopping gardens which the public browse during the day. The wine and dine-worthy experience comes at the hand of Chef Lorenzo Montoro at Michelin-starred restaurant Il Flauto di Pan. Go for the ten-courses inspired by local flavors paired to regional whites and reds, including a sparkling wine made on the slopes of Mt Vesuvius.
On the road up or down from Ravello, stop at Casa Vinicola Ettore Sammarco winery to taste bright whites, fruity rosatos, and earthy reds made from local grapes. If you're wined out, sample the grappa and cream liqueurs in flavors of coffee, lemon, banana, and strawberry.
Sip in More of Italy