The best wineries in Georgia to uncork
Did you know the state of Georgia was once a major producer of table grapes and a significant amount of wine was vinified in the 19th century? As one of the centers of the global temperance movement, Georgia was an early adopter of Prohibition, passing laws against production and consumption in 1907, 12 years before the nation adopted the policy. After passing the 21st amendment repealing Prohibition (the 18th amendment), home wine producers went into business all over the United States, including wineries in Georgia. But it wasn't until the 1980s that Georgia's modern wine industry was born. 
Today there are two official AVAs and 57 wineries in Georgia and more popping up each year. There is a lot to sip in this budding wine country. But where to start? To help, we've pulled some of favorites based on the quality of wine and wine tasting experiences to be had at wineries in Georgia. This list is laid out by towns to make your Georgia wine tasting easy to plan and sip in. To sip in more of Georgia's wine country, see our full Georgia Wine Country Travel Guide.
Wineries in Ringgold
The Georgia Winery was the first modern winery when it was established in 1983. It is as famous for its events as it is for its rosé wines. Check out its website calendar for a schedule of Paint & Sip Parties, Saturday Tours, Solve & Sip Murder Mystery Disco Nights.
Wineries in Braselton
The world-renown Château Élan Winery Spa & Resort is just outside of Atlanta making it the most southern winery in Georgia. The 3500-acre property is anchored by a luxury hotel and spa but offers exclusive wine bungalows for glamping. The beautifully manicured resort is a perfect place for weddings, retreats, hiking, and an indulgent weekend away. You will also find two 18-hole golf courses on the property. Sourcing grapes from its vineyards, Italian-born winemaker Simone Bergese crafts 30 wines including their signature Scarlet Reserve Sangiovese and Syrah blend, Duncan Creek Muscadine, and Duncan Creek Cabernet Sauvignon.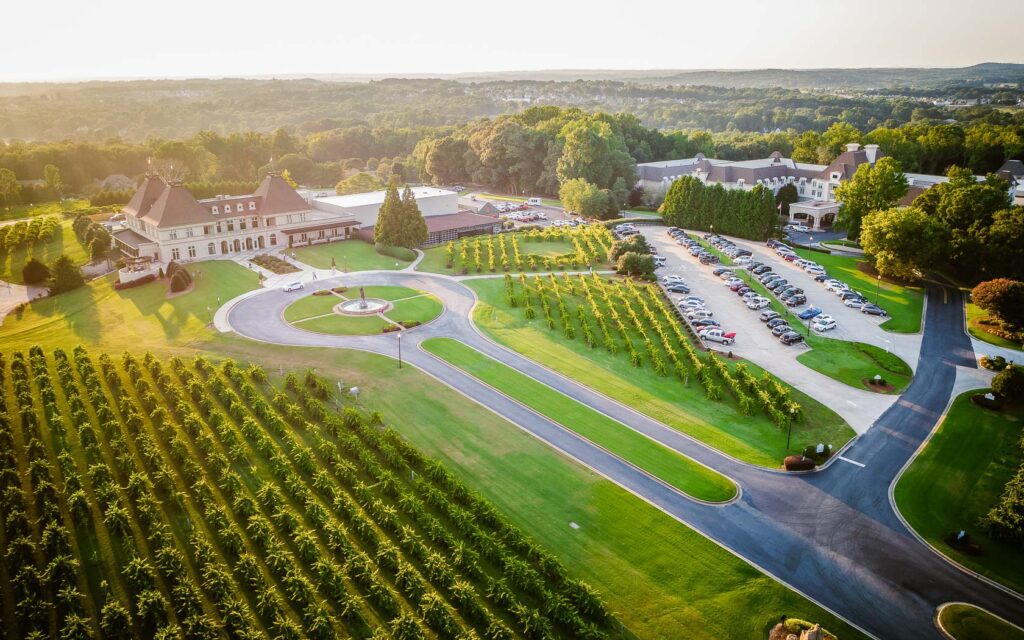 Wineries in Hiawassee
Hightower Creek Vineyards uses only local fruit and crafting wines with regional character. It makes honey mead, red, white, and rosé wines with pop culture names like Dueling Banjos, Deliverance, and Chatuga Red. Offering great wine, live music and event spaces for weddings, meetings, and other gatherings its one of the wineries in Georgia not to miss.
Wineries in Jasper & Ellijay
Fainting Goat Vineyards and Winery is as the base of Burnt Mountain was named after a day toiling in the vines, the goats came later. Bring a weekend picnic lunch and come for the actual fainting goats; Ronnie, Reagan, Dolley, and Mamie, and for the wine. You will find lush red wines including Cabernet Sauvignon, Zinfandel, Malbec, and Lenoir, along with crisp white wines, fruit and dessert wines, and a few rosés too.
Ott Farms and Vineyard in Ellijay sits on 20 acres high up in the mountains and boasts a 180' view. With just over six acres under vine, the winery produces a variety of wines from the Seyval Blac, Traminette, Vidal Blanc, Chambourcin, Lenoir, and Cabernet Franc grapes. Visit their tasting room to taste through their current releases. Ott Farms also hosts live music events complete with food trucks, weddings, meetings, and local arts and crafts in their gift shop. This Georgia winery knows how to pour into a good time!
Where is Georgia Wine Country
Georgia wine country lies in the hilly and mountainous northwest region of the state but it is just four hours to the beachy shoreline of Savannah. It boasts moderate climates all year-round so many tasting rooms will be open no matter what season you visit. Wine harvest is in the autumn, so if you visit then, call ahead for accommodations. Springtime in Georgia wine country is lush with bud break and new wines are often released in the spring. Summer in the south can be hot and humid and early autumn offers a break from that. Georgia wine country is to be enjoyed during every season.
Out-of-towners fly into Athens-Ben Epps Regional Airport or Hartsfield-Jackson Atlanta International Airport. Just 45 minutes from Athens, take US-129N and GA-124S. Atlanta is just over one hour and fifteen minutes away via I-285E and I-85N. Pick up a rental car at the airport and head to Braselton, as it makes for the best starting point for visiting Georgia's wine country and embarking on Georgia's Official Wine Highway.
Wineries in Dahlonega & Dahlonega Plateau AVA
Kaya Winery in Dahlonega is the region's largest and highest at 1600' in elevation. Rent a luxury cottage on the estate, host your wedding or celebration amongst the vines, take an intimate tour of the vineyards and winery, dine in or opt for a personalized picnic basket, no matter what you decide, Kaya Winery has options to please. Choose from their Pinot Noir, Chardonnay, Viognier, Cabernet, or Malbec, and be sure to take a few bottles home because Kaya doesn't ship outside of the state.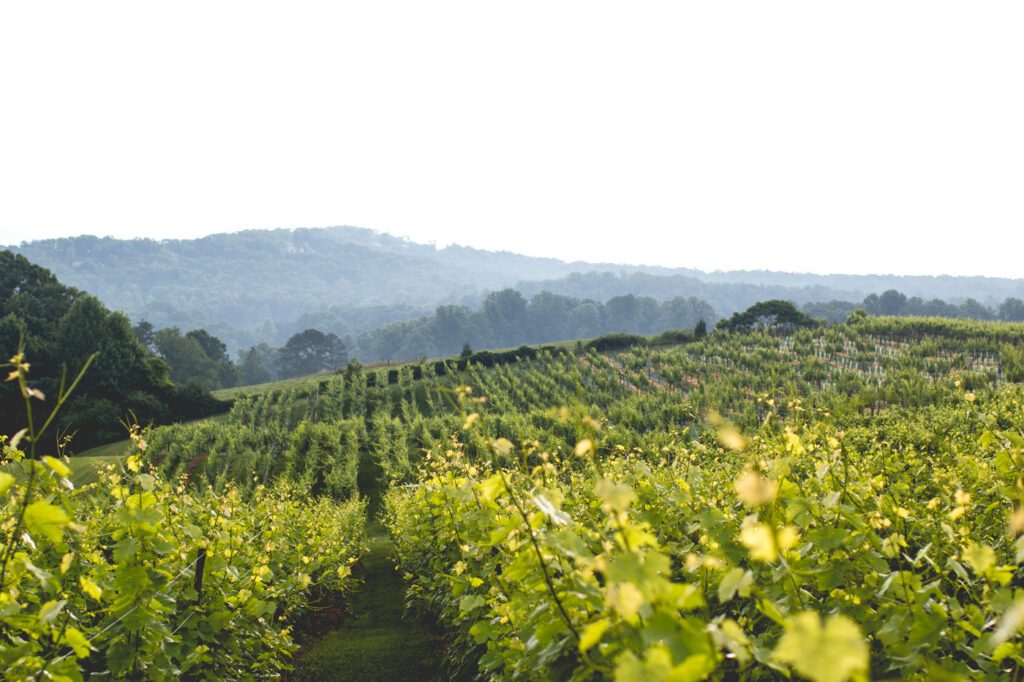 Dahlonega Resort and Vineyard is the anchor for the Dahlonega AVA region. At the base of the Blue Mountain Range foothills, the Dahlonega Resort and Vineyard offers yoga retreats, spa treatments, fine dining, and a chance to relax in nature. Such a treat in our hurried world. Choose from private cabins and villas or a complete inn and spa package. WInes are sourced from sister property, Kaya Vineyards.
Montaluce Winery & Trattoria looks like a pastoral Italian country estate. Not only can you enjoy Montaluce grape and fruit wines, honey mead, and dining at their renowned Italian-themed Trattoria de Montaluce, you will find outdoor activities including fly fishing, hiking, and exploring nature.
Picturesque Wolf Mountain Vineyards & Winery in Dahlonega has a gorgeous tasting room with views of the mountains. Wolf Mountain offers a wide range of wines including award-winning sparkling wines, fortified Port-style wines, and classic dry reds, whites, and rosés that pair well with gourmet offerings and simple picnic fare alike. Reservations are not needed for tastings but brunch books up, so consider calling ahead. Wolf Mountain is a perfect wedding venue or a great place to hold small gatherings.
Multi-award-winning Frogtown Cellars is best known for its blends crafted from the 25 varietals they grow in their vineyard. Superstar wine critics recognize Frogtown Cellars as an impressive up-and-coming winery and a place to explore outside of mainstream wine country.
Frogtown devotes 44 acres to growing 25 grape varietals including international varietals and domestic hybrids; Cabernet Sauvignon, Sangiovese, Malbec, Nebbiolo, Chambourcin, Teroldego and Norton, Chardonnay, Sauvignon Blanc, Seyval, Petit Manseng, Vidal, Greco di Tufo, and Muscato. They produce just over 10,000 cases of estate-grown wine annually. Not only do they make fantastic wines, but they also make delicious cuisine at The Italian Bistro.
New on the scene, Cavender Creek Winery takes a different approach to its wines and presentation. Preferring a down-home and rustic feel, the winery is a repurposed old cabin found in Tennessee, dismantled, and painstakingly reconstructed creating the cultural centerpiece and guesthouse for Cavender Creek Winery. Hybrid and indigenous grapevines were first planted in 2006, including Petit Manseng and several Norton blends, including Donkey Hotie and Blackjack. Just shy of a decade growing grapes, Cabernet Sauvignon, and Cabernet Franc was planted and the winery began sourcing grapes from other regions, including Sauvignon Blanc, Viognier, Chardonnay, Chenin Blanc, Cabernet Sauvignon, Cabernet Franc, Pinot Noir, Merlot, and Zinfandel. With a new 4000 square foot tasting room and several options for on-site lodging, come to Cavender Creek for a relaxing, full-immersion experience.
Three Sisters Vineyards & Winery was the first family farm winery in the state when it was founded in 1995. It has 184 acres of vines and farmland and is committed to using 100% estate-grown fruit in its wines. Three Sisters has a tasting room with a cherry wood bar where you can explore their wines while pairing them with nibbles and chocolates from their kitchens. Three Sisters grows a variety of grapes including Cynthiana, Cabernet Sauvignon, Cabernet Franc, Merlot, Vidal Blanc, Chardonnay, and Pinot Blanc. Three Sisters does have small event space for meetings and weddings but no on-site lodging. Call ahead for an appointment.
Georgia Wines – What Wines Will You Be Sipping?
Claiming soils and terrain similar to that of Piedmont, Italy, known for their stellar Barolo, Barbaresco, and Moscato d'Asti, Georgia produces award-winning Traminette, Merlot, Viognier, and other wines from vinifera grape varietals and hybrid grapes.
Wineries in Cleveland
Yonah Mountain Vineyards & Winery is an immense 200-acre estate nestled on Yonah Mountain, just outside of Cleveland. The winery specializes in wines crafted from Sauvignon Blanc, Chardonnay, Petit Manseng, Cabernet Sauvignon, Merlot, Cabernet Franc, Malbec, and Petit Verdot, that can be sampled during your visit to the tasting room or on a special wine cave tour. That's right, Yonah Mountain has the state's only wine caves. Sign up for a monthly exclusive reserve wine tasting hosted by winery owner, Bob Miller.
Wineries in Helen
Habersham Vineyards & Winery is one of the oldest in the state. Founded in the alpine-themed town of Helen in 1983, Habersham offers an old-world experience in the heart of Georgia. Winner of the 2021 Travelers Choice award on Trip Advisor, Habersham has its very own Wine Fest and offers live music events too. Habersham and their sister property, Creekstone Winery specialize in traditional Vitis Vinifera French grapes and French-American hybrid grapes for their signature labels. However, they produce a Southern Harvest label that is devoted to native Muscadine grapes. With event spaces and three tasting locations, Habersham makes it easy to love their still and sparkling wines.
Wineries in Toccoa
Currahee Vineyard & Winery is nestled at the base of Georgia's most famous mountain (think the 506th Airborne Infantry Regiment known as the Band of Brothers, "three miles up, three miles down"). Family-owned and operated since 2008, the winery crafts 12 wines from Vitis Vinifera, Muscadine, Lenoir, native grapes, and even fruit from their orchards. The estate is a perfect place to hold weddings, family gatherings, corporate meetings, and parties. They offer live music on Sundays and picnics in the vineyard by appointment.
Tiger Mountain Vineyards produces award-winning wines from European varietals. Winemaker Lisa Ezzard is the sixth generation to farm these lands, taking the helm from her father Dr. John Ezzard. The high-altitude property peaks at 2000' in elevation. The granite soils are reminiscent of famous wine regions in France. Dr. Ezzard was the first in the region to see the potential of the terroir for wine grapes. Using European varietals, hybrids, and native grapes, Lisa produces a dozen wines that reflect her father's passion for wine.
Tiger Mountain offers private and group tastings, cheese and wine pairings, chocolate and wine pairings, exclusive winemaker barrel tastings, as well as live music weekends, and even a Memorial Day music festival. Wine tastings are Monday through Wednesday by appointment only, and drop-ins are welcome the rest of the week.
12 Spies Vineyards & Farm is a small family-run vineyard with a laid-back feeling. The name harkens to a story about Moses and some of the wine labels are playfully sinful. 12 Spies produces a range of wines from Revelation Red, Holy Moses, And Sinful Scarlet Sweet Red to Symphony, Malbec, Chardonnay, and Pinot Noir. Come for tastings, live music, or special events, and join the wine club. 12 Spies ships to many states in the USA.
Crane Creek Vineyards is adjacent to Brasstown Bald peak, the highest elevation in the state. Owner and winemaker, Eric Seifarth, gained his passion for wine in Northern Italy, and learned his enology trade there too. The property boasts vines and a working farm. Taste through their exceptional line-up of red, white, rosé, sparkling, and super-secret small batch wines at their exquisite Stone House Tasting Room, and don't forget to visit their Farm House Market, a boutique culinary shop, for picnic and gift ideas.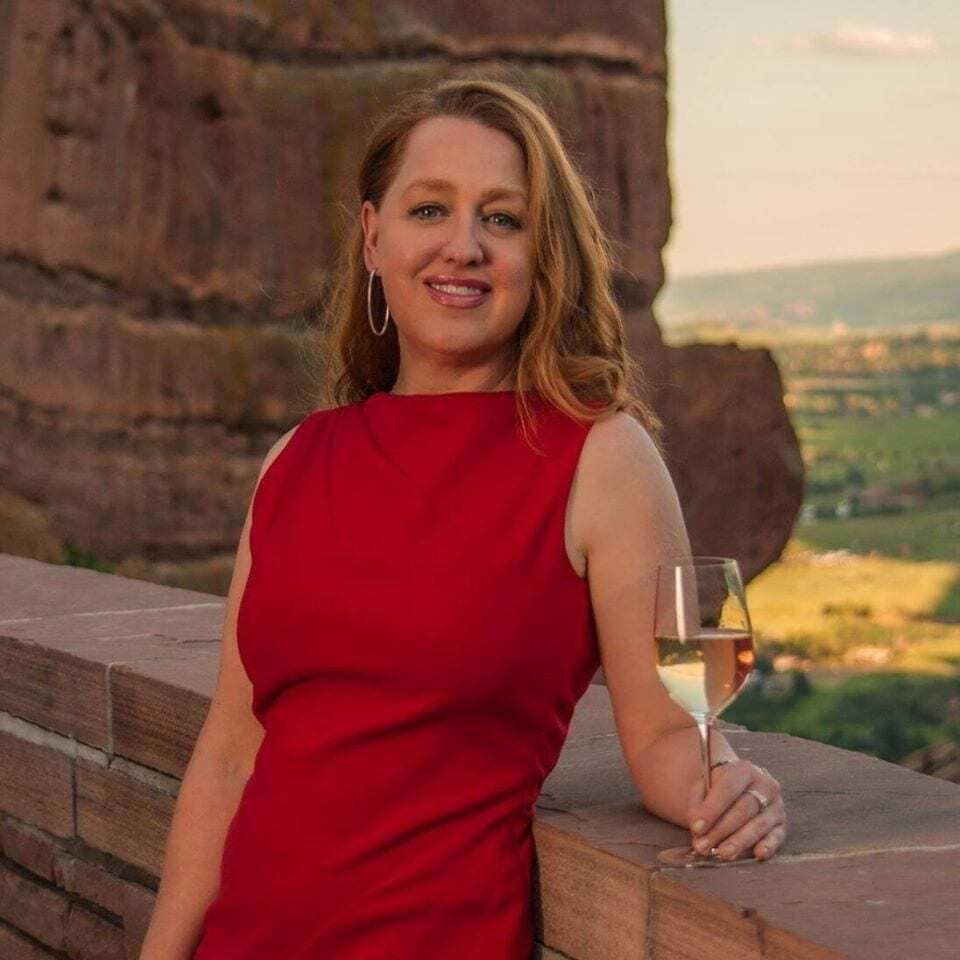 Simone FM Spinner is a wine writer, consultant, judge, speaker, and published author. She is a certified sommelier with 13 advanced wine certifications, a bachelor's and master's degree in wine studies, and is pursuing her doctorate researching wine, climate change, and legacy. She is the Women of the Vine & Spirits 2020 WSET Diploma scholar.