Whenever we imagine a wine trip to Italy, we typically think Tuscany, Piedmont, Venice… But, with a dreamy landscape that boasts mountains, valleys, and beaches, a warm, Mediterranean climate, regional cuisine that is at once rustic and upscale, and, most importantly, an exciting local wine movement, Sicily needs to become your new favorite Italian wine destination.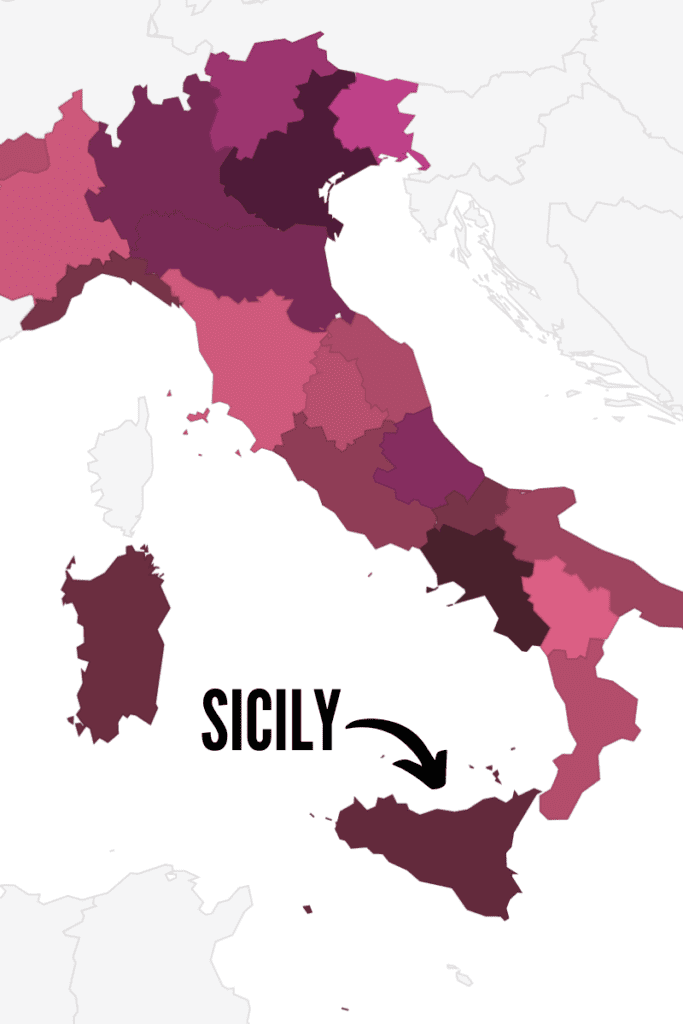 Sicily has a robust history that is marked by conquest. Its prime location at the tip of the Italian boot in the Mediterranean long made it a target for foreign interest, and it was ruled by everyone from the Arabs to the Phoenicians to the Greeks to the Normans, and many in between. You can see flashes of these different civilizations in life and culture in Sicily. In a way, this cultural patchwork is what defines Sicily's own identity. It's also what makes the island such an interesting place to visit – in particular for wine lovers.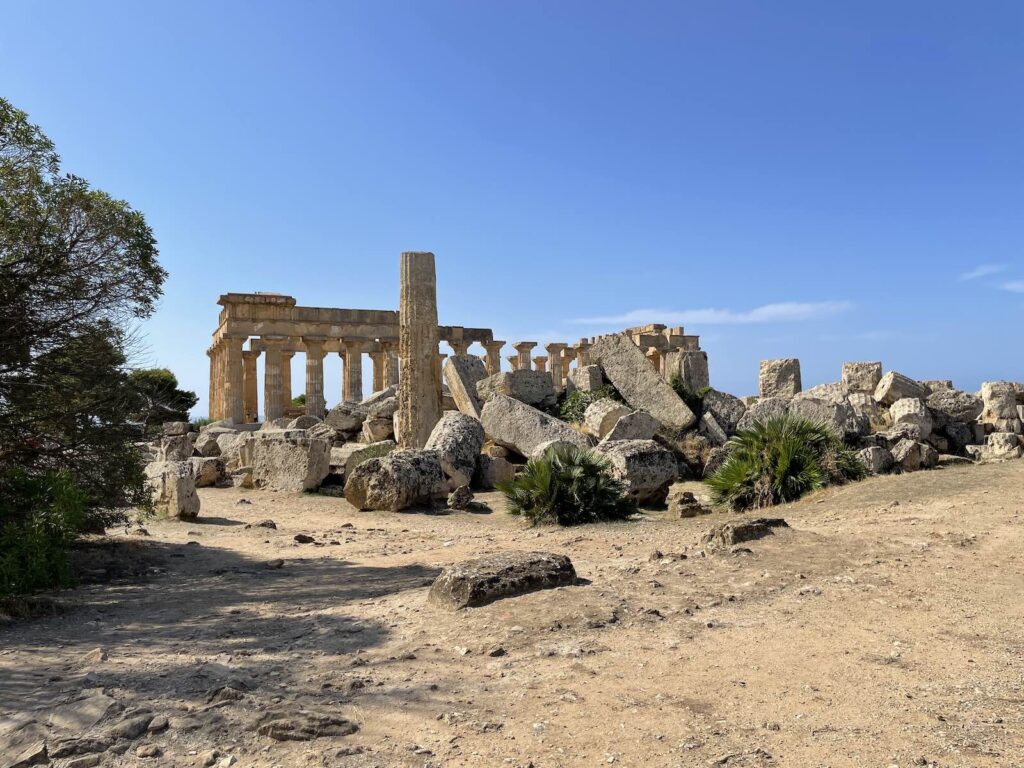 GETTING TO THE SICILIAN WINE COUNTRY
Getting to Sicily from the United States will require a flight connection in Rome or Milan (or other European airports), at least at the time of this posting. There are four airports you can fly into in Sicily – Palermo Falcone-Borsellino Airport, Trapani Vincenzo Florio Airport, Catania Vincenzo Bellini Airport and Comiso Aeroporto. Traveling by train is another option. All trains will arrive at the port of Villa San Giovanni or Reggio Calabria and then board a barge that crosses and makes four stops along the way – Messina Centrale, Palermo, Catania and Syracuse. For the purposes of this guide, we suggest you fly into Palermo.
There was a time when Sicily was known primarily for the famous sweet, fortified cooking wine known as Marsala, which is still produced here. It was also a hub for bulk wine that was sold to other, more prominent wine regions. However, over the past decade or so, Sicily has slowly and surely emerged as a destination to watch for the production of diverse and exciting wines from native grape varieties like Catarratto, Frappato, Grillo, Inzolia, and Nero d'Avola, as well as unique expressions of international grapes like Chardonnay and Syrah.
Many of the best wineries in Sicily are doing important work in the vineyard and cellar to elevate these native grapes to a point of global recognition and appreciation. As a result, Sicilian wine is experiencing a great revival both locally and abroad.
Needless to say, there is no better way to experience a region's wine than – you guessed it – by traveling to Sicily itself. The best Sicilian wine is a Sicilian wine sipped alongside the winemaker, while hearing the incredible stories of the region firsthand. So dig up that passport and get booking your next Italian wine vacation.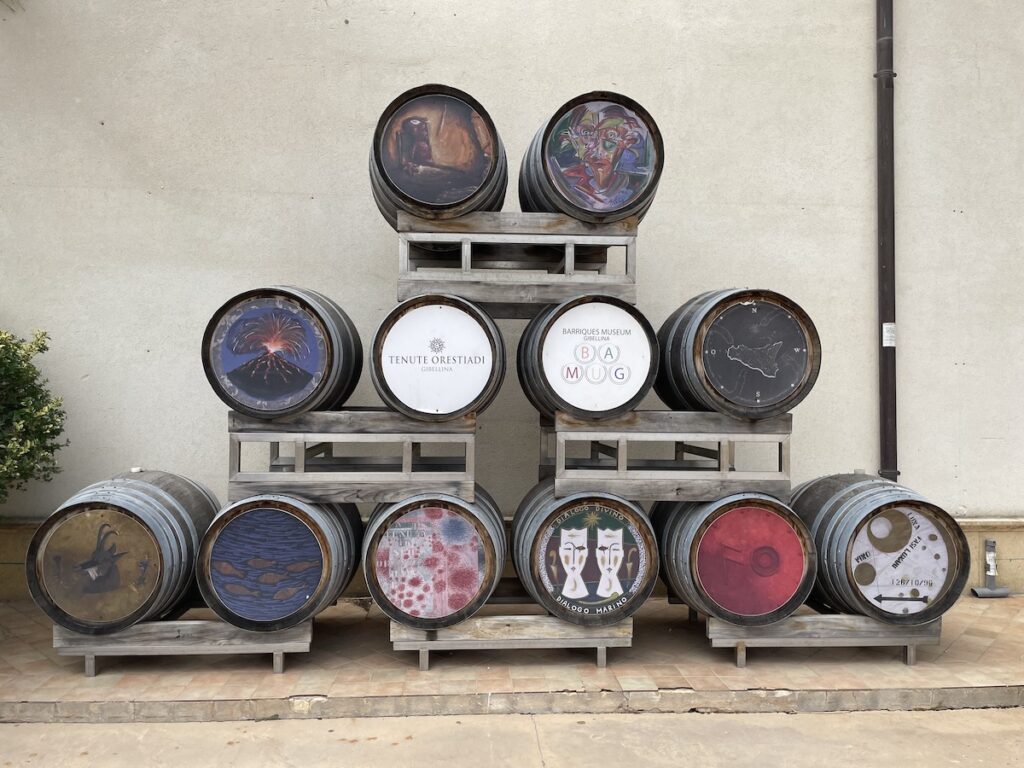 The best wineries in Sicily we suggest you sip…
For a totally unique fusion of wine and art, visit Tenute Orestiadi. Sip beautifully-produced wines made from Cataratto, Grillo, and Nero d'Avola, as you peruse wine barrels hand-painted by local artists in the Barriques Museum, a contemporary art museum installed in their working barrel room.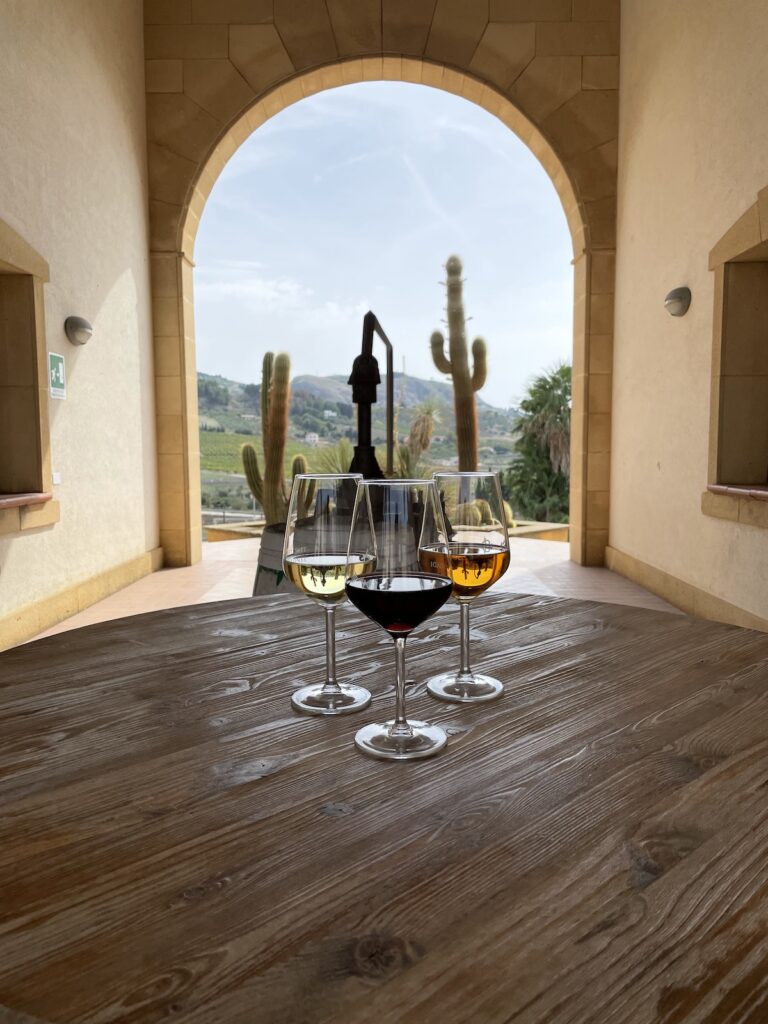 Make the daunting pilgrimage up winding mountain roads to the spectacular Di Giovanna Winery in Sambuca di Sicilia. Book a three- or five-wine tasting, or splurge on the Terre Sicane experience, which includes a two-night stay at the historic 14th Century Abbey of Santa Maria del Bosco, a guided hike through the Monte Genuardo Nature Reserve, a winery tour, and a tasting of Di Giovanna wines and other Sicilian gourmet products. Don't forget to bring home a bottle of their olive oil – some of the best you will have in your life. For a close look at the ways in which Sicilian winemakers are embracing organic, biodynamic, and sustainable farming practices, be sure to visit family-owned and operated Cantina Funaro, located less than a mile from the town of Santa Ninfa, and sip gorgeous expressions of Inzolia, Catarratto, Grillo, Nero d'Avola and Perricone, as well as classic varieties like Chardonnay and Syrah, some Metodo Classico sparkling wines, and some really interesting unfiltered, natural-style Sicilian wines.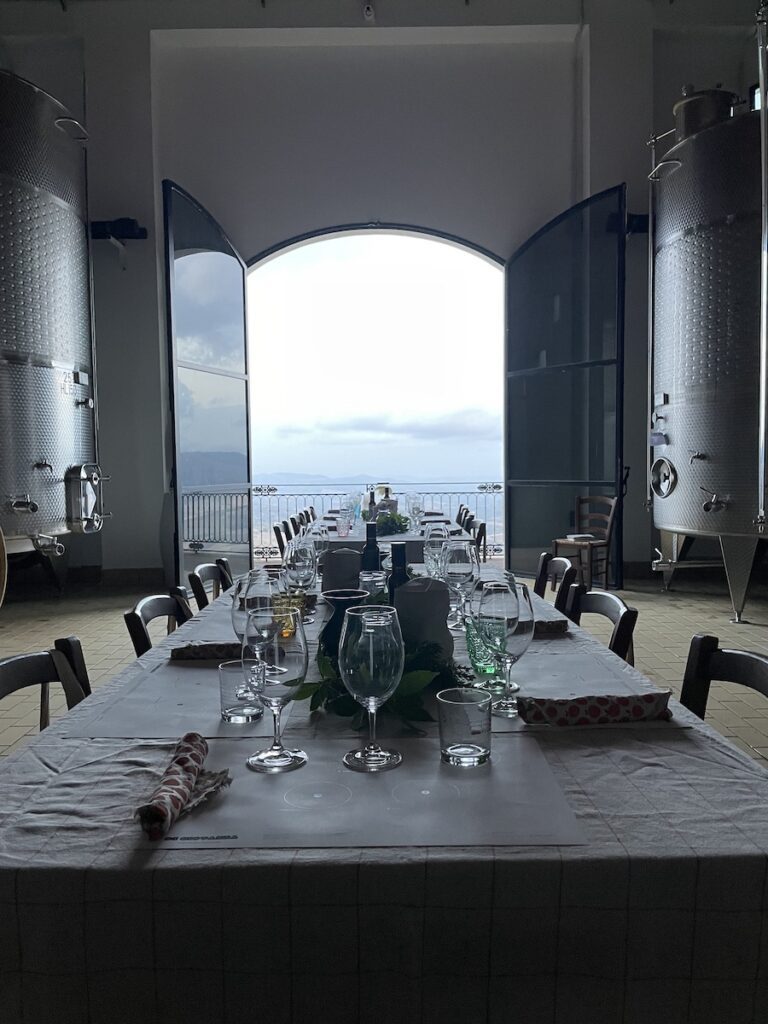 A stop at Cusumano is a must. If you are lucky, the legendary Diego Cusumano will personally walk you through some of the estate's Sicilian wines – including several styles of Nero d'Avola,and Nero d'Avola-based "Super Sicilian" blends, from lean and focused to opulent and ageworthy – which are as magnetic and packed with personality as he is. Finally, a trip to Sicilian wine country wouldn't be complete without a visit to some of the iconic wineries that have put Sicily on the map, including Planeta, which offers lodging and wine experiences at its various properties in Menfi, Noto, Etna, and Palermo, and Duca di Salaparuta in Marsala – where you can explore some of the best Sicilian wines of Florio, Corvo, and Duca di Salaparuta under one roof.
WHERE TO STAY
A day or two in the heart of Palermo is an absolute must, and the Grande Hotel et Des Palmes is a glorious place to make your home base. Originally built as a private residence for a famous family of English entrepreneurs, this majestic five-star hotel features a dramatic lobby with the Neobistro and Mixology Bar offering hand-crafted libations and bites, luxuriously yet comfortably-appointed guest rooms and suites, and a sophisticated rooftop restaurant. It's also walking distance – or a quick Ape Calessino ride (a must-do for any fun-seeking traveler) – from most of Palermo's sites, restaurants, and bars.
If you prefer international hotel groups, the NH Palermo is a solid and slightly more economical option. Located a stone's throw from the waterfront, it has a gym and pool open during the summer months, plenty of services for those combining a little business with their leisure, comfortable rooms, and an expansive breakfast buffet with hot and cold options.
Since you will inevitably spend a few days visiting wineries in Sicily, be sure to book a room at the picturesque Il Vigneto Resort, located in the small town of Menfi. Il Vigneto offers simple accommodations, a sparkling pool, a highly-rated restaurant featuring typical Sicilian cuisine and fresh fish, and wellness options like bicycles to rent so you can pedal your way to the miles of gorgeous beaches nearby.
Whether it's art, history, nature, shopping, or just good ol' eating and drinking that you're into, there is plenty to do and see on the Island of Sicily. Palermo is a great place to start. Consider doing an organized Sicilian Food Tour, or explore one of four historic street markets on your own, and nosh on famous Sicilian street food like arancini (deep-fried balls of rice stuffed with a variety of fillings to suit your palate), pizza-like sfincione, pancake-like chickpea fritters called panelle, and, of course, the ultimate Sicilian delicacy, cannoli.
When you're done, stroll through the vast Botanical Garden of Palermo. Founded in 1789 by the University of Palermo, this 25-acre open-air museum houses about 12,000 species of living plants, and offers regular events and exhibitions, as well as Talea, a delightful café featuring tapas-style cuisine, local wines, coffee, and cocktails made with aromatic fresh herbs from the gardens themselves.
A visit to the Santa Caterina d'Alessandria Church and Monastery offers an eye-opening trip back in time to when the monastery was home to cloistered nuns of the Dominican order from 1311 to 2014. Climb up to the top of the terrace for sweeping, 360-degree views of Palermo, or pop into the historic bakery on site, which offers freshly prepared cakes and pastries made with the nuns' original recipes.
Outside of the city center, take a self-guided tour of Il Grande Cretto, the monumental, 86,000-square-foot land art installation created by Italian painter Alberto Burri as a sobering memorial to the town of Gibellina, which was decimated by a catastrophic earthquake in 1968.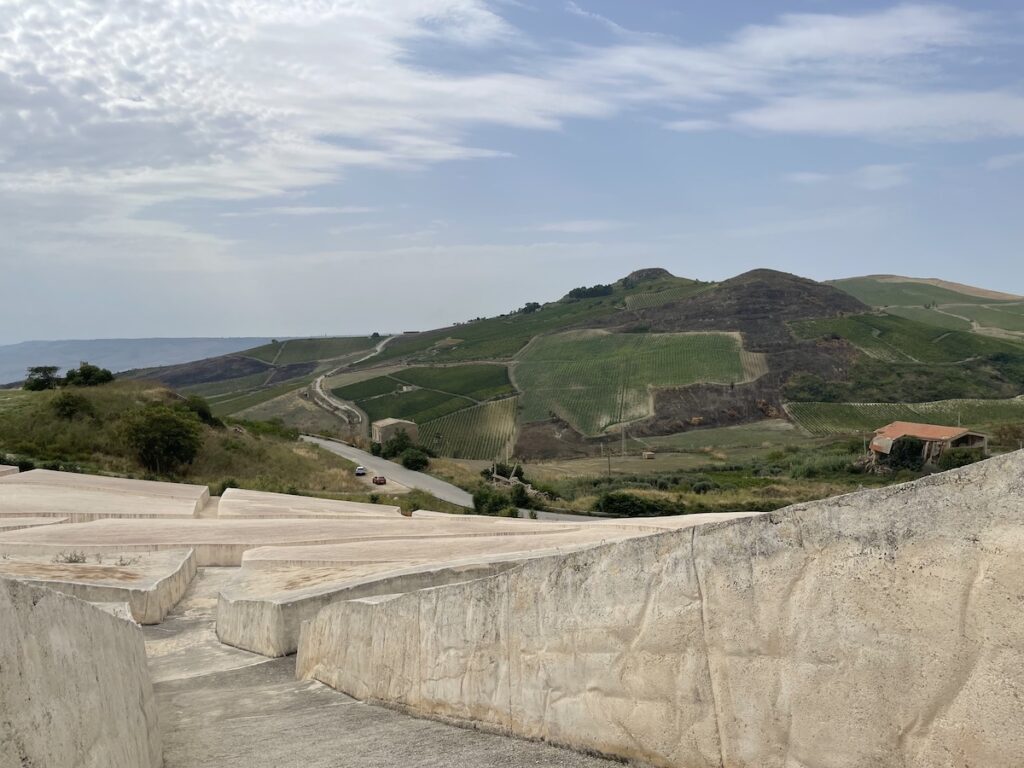 From there, be sure to visit the nearby Museo delle Trame Mediterranee, which houses a collection of important archaeological and modern works expressive of the people and culture of Gibellina, on display with the aim of protecting this heritage after the city was rebuilt following the earthquake.
For one last dose of the extraordinary history the island of Sicily offers, explore the breathtaking Selinunte archaeological park – the largest in Europe – with ruins dating back to 650 BC. Here, you will find remnants of seven Temples that tell the story of one of the most important Greek colonies in Sicilian history. There are various tour options not to mention a little refreshment cart where you can sample flavorful granita while taking in views of the Mediterranean Sea.
---
Devin Parr
Devin Parr is a leading personality in the wine industry. She is a freelance writer and the Founder and Managing Partner of Devin Parr & Associates, a consulting agency in the beverage, travel, and tourism space. She holds her Wine and Spirit Education Trust (WSET) Diploma, and was named one of Wine Enthusiast Magazine's Top 40 Under 40 Tastemakers in 2017. When she's not traveling the world in search of the best sips, you can find her training to one day earn her black belt in karate. Follow her adventures in wine, parenting, and martial arts on Instagram at @thesocalwinegal.
Sip in More of Italy