Where to stay in Crete when exploring the Greek wine region .
The Greek island of Crete's status as a star wine and food destination is enhanced by its bounty of beautiful hotels serving excellent local cuisine. Here's seven fabulous options, scattered around the island. For the ultimate trip, stay two weeks and visit them all. If you haven't seen Carpe Travel's Cretan Wine Travel Guide, get more detail on where to sip and things to do on the island of Crete.
Where to Stay in Chania
Hotels in Crete
Divino Suites
Few hotels, inns or Airbnb home rentals boast a better location than Divino Suites. Owned, renovated, and designed by a Chania local, the sexy oversize apartments on the town's waterfront feature modern furnishings and finishes. Soak up views of the historic Venetian harbor from a standalone tub or king-size bed. Catch up on emails or upload vacation photos from a desk or pink velvet couch in the living room. Spacious showers feature trendy metal finishes, double sinks, and cultured marble in warm tones. Pop open a bottle of local wine and watch the city's famous sunsets from the balcony. Book on AirBnB or hotel sites like Agoda.com.
One of the most beautiful hotels in Crete, Domes Zeen sits 15 minutes by foot west of Chania on the coast. Originally designed as a Thomas Cook all-inclusive, the Zen-style collection of bungalows was renovated and improved by the Greek-based Domes Resorts group after the 178-year-old British holiday firm folded. If you have Marriott points to burn, book your room direct with Domes; the site will send you to Marriott's luxury collection portal, a boon for members. (You can also book through Agoda.com for – possibly – lower prices if you're not using points.)
The change-of-hands was clearly for the better: Domes Zeen Chania features stunning minimalist rooms and villas in dark tones using natural materials from leather, wood, to stone. Many rooms feature private pools and ocean views as bungalows cascade down the hill from the street entrance to the beach. While tempting to hang around one's patio, the sleek pool affronting the restaurant and bar deserves a few hours. For an all-inclusive property, or simply a standalone restaurant, Domes Zeen Chania boats destination-worthy dining. The Cretan-inspired food—think succulent whole, grilled fish—matches the excellent local wine list that's worth exploring with the knowledgeable sommelier.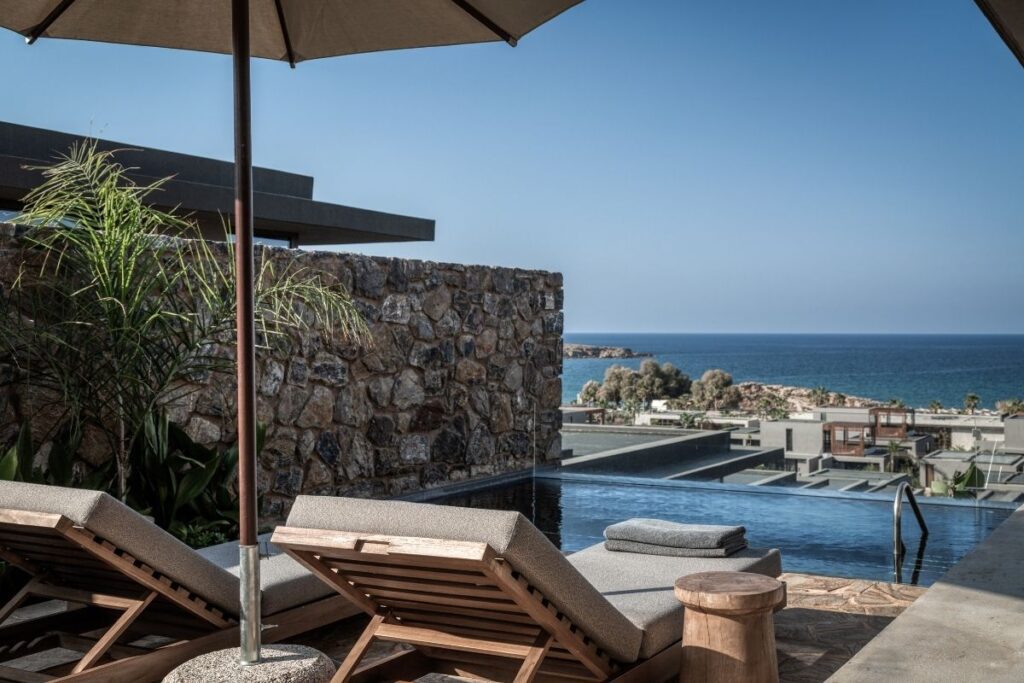 Just outside of Chania, Metohi Kindelis blends the rusticity of a working organic farm with a private 16th century Venetian home turned quaint self-catering property. Long occupied by the Kindelis family—Danai Kindeli and her uncle live and manage the property on-site—the duo turned three adjacent rooms and suites into vacation rentals with private pools. Vintage furnishings complement the building's old stone bones, which are surrounded by gardens and orchards. Upon check-in, guest fridges are filled with fruit from the property, including figs, strawberries, and mangoes, depending on the season. Fresh local eggs, bread, cheese, Greek yogurt, jams and butter provide enough sustenance for guests to create a lavish Cretan spread each morning. During high season, expect to book at least five nights. Ask Danai about her carefully selected wine list—she sources bottles from the island's best producers, including from her friends at Manousakis.
---
Where to Stay in Rethymno
Hotels in Crete
Traveling around Crete one notices a common architectural theme: hillside hotels built on terraces to enhance views from guest rooms. The Royal Senses Resort, a stunning new property in the Hilton Curio collection, was developed in a similar amphitheater fashion. Rooms and suites furnished in neutral, natural materials, run up the hill with pool villas on the highest tier, reached by a funicular. The main entrance, dining room, and bars are located on the ground level, with the spa and intimate fine dining restaurant Cretamos tucked away on the second floor. Cretamos's sommeliers conduct private wine tastings in the cellar, introducing guests to the island's best and most unique wines. For a fantastic example of Cretan lamb roasted on a spit, a traditional technique called antikristo, book dinner at Mitato. It may be an all-inclusive hotel, but Royal Senses serves outstanding Cretan food. (Read more reviews and book now.)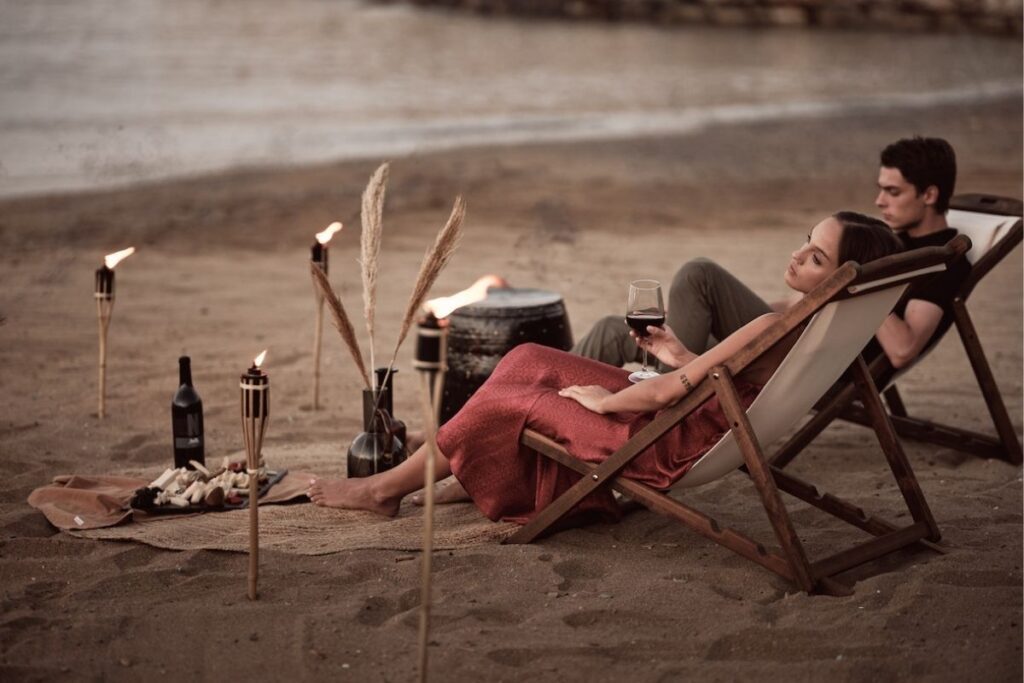 ---
Where to Stay in Elounda
Hotels in Crete
This well-established property in Elounda remains a perennial favorite for a reason: stunning views, unique architecture, and exceptional food. This benchmark hotel can be booked through the Luxury Resort Collection on Marriot's website, making it accessible to members with points. Be warned—summer high season stays may wipe out your points account, as the hotel is extremely popular with Americans. Multiple pools, a spa and well-equipped gym, and waterfront location, keep guests busy all day. Don't mind the stony beach—piers stretching into the crystal blue sea help guests dive into the tranquil water. Breathtaking views of Spinalonga Island, an archaeological ruin and former leper colony, set Blue Palace Elounda apart, as does the unique opportunity to sail on the hotel's traditional fishing boat. Called a caique, guests can book it for a private sail with wine and a picnic and to swim the sapphire waters the opposite side of Spinalonga. It's hard to choose Blue Palace's best dining experience—from shrimp saganaki at charming seaside spot Blue Door to lamb and other traditional dishes at romantic Anthós. The solution: do both. (Read more reviews and book now.)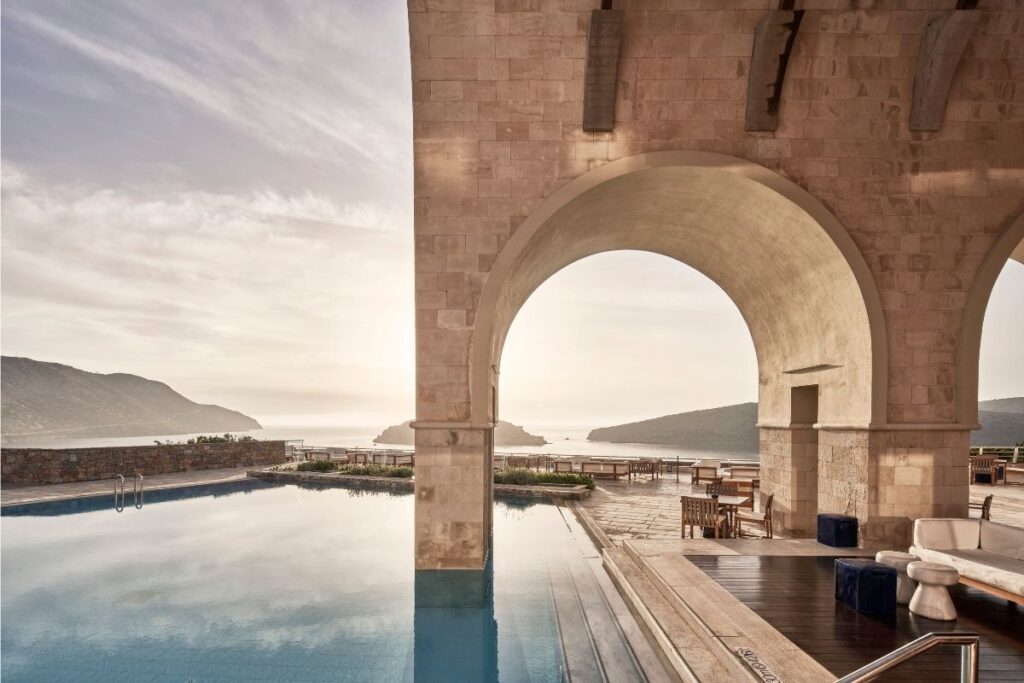 ---
Where to Stay in Ierapetra
Hotels in Crete
If one Cretan hotel attracts Brooklyn hipsters and global social media influencers, it's Numo Ierapetra. The cool vibes of this southern coast resort are established long before arrival, thanks to sleek photography and an active Instagram account. Stylish guest rooms range in size considerably, from cozy with a balcony to enormous, multi-room floorplans with private patios, pools, and lounge furniture to seat a family or three. But even those staying in the largest suites will want to hang by the pool once the DJ starts spinning and the cocktails begin flowing. The barefoot luxury ethos flows from the laid-back common spaces down to the beach, where a swath of black sand accommodates a dozen or so guests. Looking back from the clear velvety waters of the Libyan Sea, mountains framing the hotel create a Palm Springs desert mood. The ocean front restaurant Tamarisk sports one of Crete's best sommeliers who will guide you through the island's near-forgotten indigenous grapes like Plyto. Don't miss the traditional Crete tasting menu at Menoa. The farm-to-table cuisine of both restaurants has been guided by female chef Konstantina Voulgari, a San Pellegrino Young Chef of the Year finalist. (Read more reviews and book now.)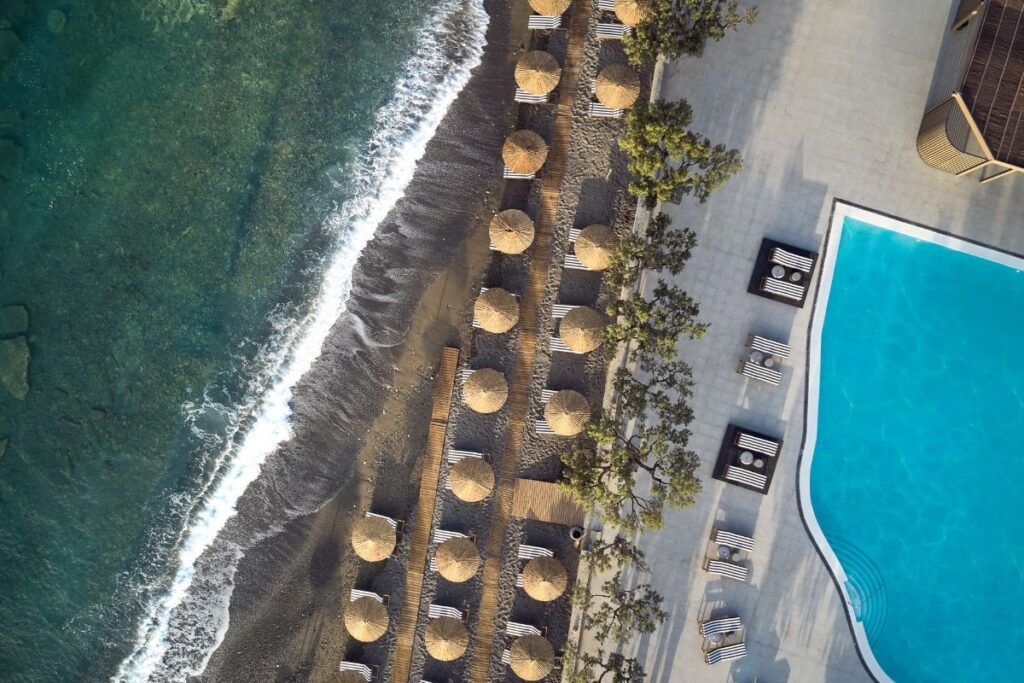 ---
Where to Stay in Heraklion
Hotels in Crete
Travelers seeking international glamor on a Greek holiday should look to Abaton Island. A metaphorical island in the tourist-trap sea of Malia, Abaton welcomes stylish jetsetters who wish to relax on Crete's northeast coast for a few days. The resort's polished Cycladic architecture evokes Miami-meets-Rome with glossy white marble, black accents, and double-height ceilings in the grand second floor lobby and ground floor Ladies & Gentleman Bar. Various dining options keep one-stop vacationers occupied. In addition to the daily buffet at the F-Zin Ivy League Restaurant, included with the rate, a la carte restaurants range from the seafood-focused Bony Fish, meat-centric WOW Steak, and Buddha Bar Beach based on the famous franchise. Visitors with a car should explore the food scene in Heraklion, visit vineyards, and tour the famous ruins of Knossos, all 30 minutes west of the hotel. The best guest suites at this hotel in Crete feature ocean views and private plunge pools, perfect for lazy days reading books before visiting the spa. (Read more reviews and book now.)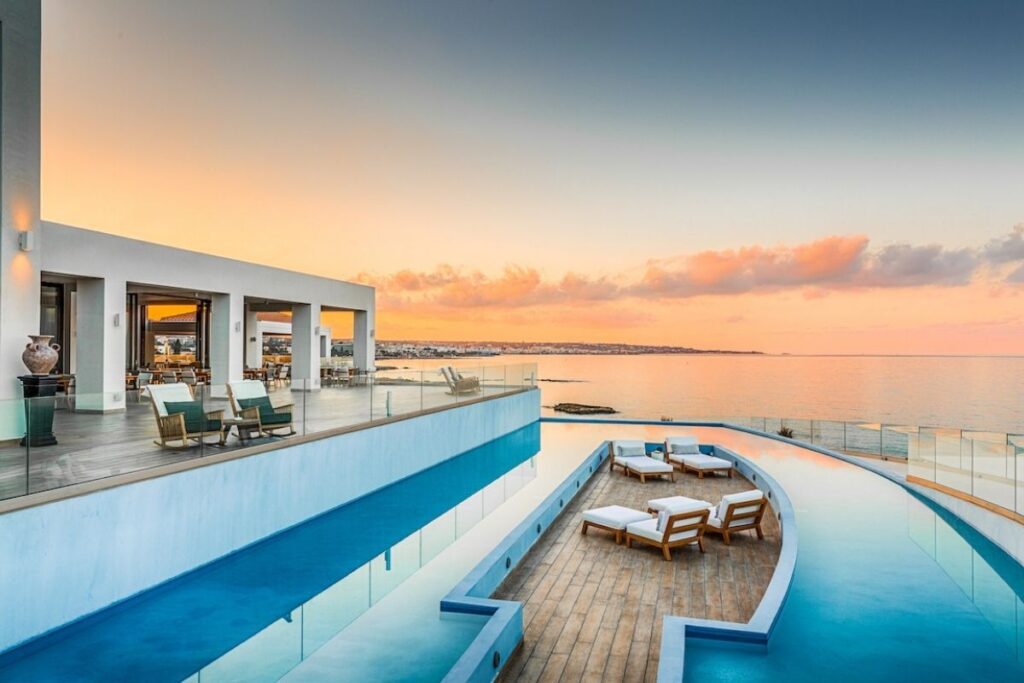 ---
Sip in More of Carpe Travel…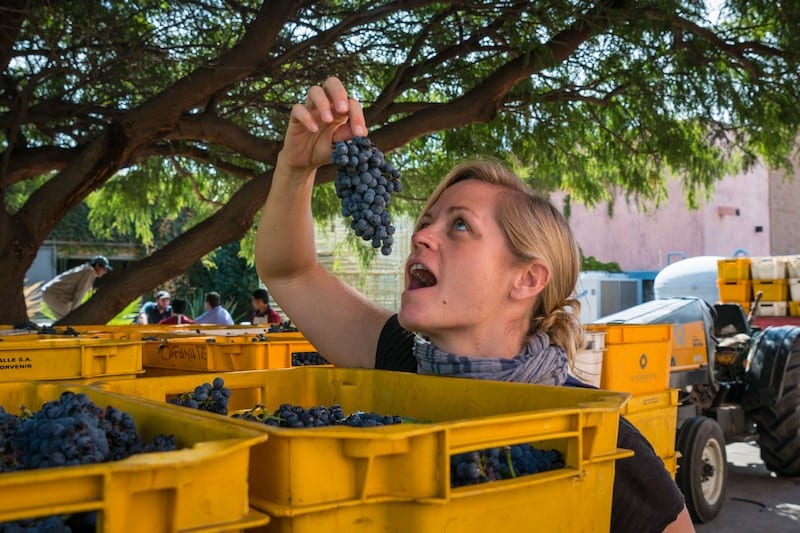 Lauren Mowery is a freelance writer, photographer, and contributing travel editor at Wine Enthusiast. She has covered coffee, wine, spirits, food, and travel for national publications including USA Today, Hemispheres, Forbes, Lonely Planet, AAA, Vinepair, Fodor's Guides, Saveur, Punch, and Eating Well, among others. Mowery is a graduate of the University of Virginia and Fordham Law School and is halfway towards earning the Master of Wine distinction held by only 416 people in the world. Her forthcoming book Chasing the Vine: Finding Wonder, Rebirth and Jet Lag on the World's Most Farflung Wine Trails debuts in 2022.