Have your holiday wine and dessert pairings take the cake…
The holiday season is officially upon us. It seems only natural to guide you through a few more holiday wine pairings, but this time I'm thinking about dessert. Cooking your meals and baking desserts can be time-consuming enough, let alone picking out a wine to go with each one. I'm here to help with ideas for your wine and dessert pairings.
From nutty logs, gooey caramelized banoffee pie, sticky toffee pudding, to spiced gingerbread cookies, the holiday season is chock-full of decadent desserts. Let's make your holiday dessert wine pairing skill from ordinary to extraordinary!
These are the general rule of thumbs when you plan a dessert wine pairing…
Wine must be sweeter and more acidic than the dessert.
It's best to keep the weight of the wine and the weight of the dessert the same. For example, a rich dessert will merit a richer, heavier wine, while a light dessert pairs well with a lighter wine.
Custard and Cream Based Desserts
Pair your custard-based dessert with a sweet white wine. Custard-based desserts go especially well with wines that have more acidity – tropical or citrus fruit flavor – to offset the density of the custard. Try Sauternes, Gewürztraminer and Moscato. Or for an easy dessert wine pairing that will go with most items on the table – Champagne (or another sparkling wine made the traditional/Champagne style). It literally pairs with everything.
Carpe Travel's Recommendations: Chateau Bastor-Lamontagne Sauternes 2016, Dr. Konstantin Frank Gewurztraminer 2020, Vietti Moscato d'Asti 2020, Gloria Ferrer Sparkling Wine
Fresh Fruits or Fruit Based Desserts
Pair the fruit-based desserts to the fruit notes in the wine. Stone fruits like peaches and tree fruit such as apple pair best with white wines. For white wine lovers, Try a dry Riesling, Chenin Blanc, Gewürztraminer or Cava. The acidity in these wines will balance the fruit while enhancing their natural flavors.
Darker fruit desserts like cherry, plum, or blackberry pair better with lighter red wine such as Pinot Noir or Gamay. Rose is also an easy fruit dessert wine pairing that will complement just about all fruit desserts.
Carpe Travel's Recommendations: Siduri Willamette Valley Pinot Noir 2019, Trefethen Dry Riesling
Dark Chocolate Based Desserts
Dark chocolate wine pairings can be a bit tricky since the chocolate itself contains a lot of natural flavanols – tannins – that give it a bitter taste. The key is finding a red wine that's sweeter than the chocolate, or in wine terms has more residual sugar. I personally don't think you can ever go wrong with a Port. Malbec, Bordeaux Blends, Zinfandel, Syrah are also good wines that will pair well with dark chocolate based desserts. For more ideas on what to pair with milk chocolate or dark chocolate, see my in-depth piece on  What Wines to Pair with Chocolate. 
Carpe Travel's Recommendations: Cantena Malbec, Seghesio Sonoma Zinfandel, Taylor's Vintage Port
I hope I've helped you make your holiday dessert wine pairings a little easier this year. Cheers and happy holidays!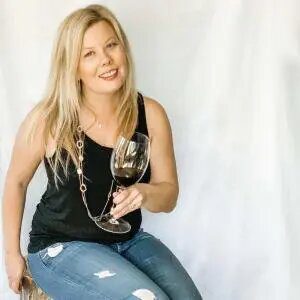 Elaine Schoch (pronounced the German way – Shock) is the editor and founder of Carpe Travel as well as an award-winning travel writer, wine judge, certified by the Wine & Spirit Education Trust (WSET) Level 2 and certified American Wine Expert. She is married to The Husband and has two kids, Princess One and Two – who's interest and knowledge in wine is quite extensive. Not to mention the stamps in their passports.