For curious wine travelers seeking unique experiences, Santa Barbara might be just what you're looking for.
Santa Barbara has been dubbed the American Riviera, and for good reason. You can go from stunning coastlines to downtown tasting rooms and into the hills of wine country itself in less than 45 minutes. But which does your palate desire?
In collaboration with Expedia.com, I've complied a short guide to understanding the options when it comes to sipping your way through the Santa Barbara wine country…
To make sure you are well rested for your incredible wine tasting trip, Santa Barbara offers a variety of amazing winery hotels to choose from. And, if you are looking to explore neighboring Santa Monica, here's some of the top rooftop bars to sip in.
Getting to Santa Barbara
Fly into SBA – Santa Barbara Airport
It's a 15-minute drive into town. Alternatively, Santa Barbara is 95 miles North from Los Angeles. Take I-10 to US-101 for a more scenic route along the coast or stick to US-101 for a more direct shot.
Things to Know About the Santa Barbara Wine Country
The movie Sideways put Santa Barbara on the map…or perhaps it was the other way around. Regardless, we're all pretty familiar with the famous line, "I am not drinking any f-#@! Merlot!"
That shouldn't be a problem in Santa Barbara given the region is known for Chardonnay, Pinot Noir, Syrah and Sauvignon Blanc…albeit 650 acres in Santa Barbara County are dedicated to Merlot so it can be found. (I personally, would love to sip a Merlot from the area, it's one of my favorite grapes! Millesime 2014 Merlot and Buttonwood 2016 are two well rated Merlot's from the Santa Ynez Valley that go to show Miles in Sideways doesn't know what he's talking about…)
The Santa Barbara wine country is made up of six American Viticultural Areas (AVAs). It's also home to the West Coast's only east-west transverse mountain range. This unique feature means that the winds go from east to west versus the usual north-south orientation of mountain ranges. As a result, the area is one of the coolest grape growing regions in California. Temperature range from 70–80 °F (20–27 °C) during the day and drop to 50 °F (10 °C) in the evening. Chardonnay and Pinot Noir grapes love this kind of weather…
Where to Sip in the Santa Barbara Wine Country
We're sticking to things to do among the vines in this post but stay tuned for ideas on what to do beyond the vines in Santa Barbara wine country.
The Santa Barbara Urban Wine Trail
It used to be that if you wanted to visit a winery you had to drive into the hills and seek out the tasting rooms at working vineyards. Not anymore, at least not in Santa Barbara. Nearly 30 wineries have opened tasting rooms in the downtown area allowing visitors to sip and sample some of Santa Barbara's finest without ever leaving the city. These wineries make up what is now called the Santa Barbara Urban Wine Trail.
The highest concentration of tasting rooms along the Santa Barbara Urban Wine Trail is the "Funk Zone". This popular neighborhood is just steps from the beach so you can literally surf in the morning and then head over to one of the 15 urban wineries (restaurants and boutiques).
A few suggested wineries in the Funk Zone include, Pali Wine Co., Kunin Wines, Santa Barbara Winery, and Riverbench Winery. If you can arrange to be at Deep Sea Tasting Room at sunset, you'll have a better understanding of why Santa Barbara has been dubbed the American Riveria.
The Presidio neighborhood is another area along Santa Barbara's Urban Wine Trail you should explore. Located right off State Street you'll find amazing shopping, high-end restaurants and a variety of premier wine tasting rooms. A few suggested tasting rooms to sip include, Au Bon Climat and Margerum.
Planning a Wine Country Vacation?
Experience Santa Barbara Wine Country Among the Vines
Want to get out of town and do wine country among the vines? Just head north and you'll run into one of the 200+ wineries within Santa Barbara County.
If you would prefer to have more of a plan – like myself – I suggest planning a visit to the Santa Ynez Valley. This is the one of the six designated AVAs in Santa Barbara County and home to the largest concentration of wineries.
Within the Santa Ynez Valley AVA there are five small towns – Santa Ynez , Los Olivos, Buellton, Solvang, and Ballard – all within a 10 mile loop, making it easy to stop, shop and eat during your wine country experience. But, don't think you can do all of them in a day or even a weekend!
When touring the Santa Barbara wine country – like all wine country's – you should plan to visit 3-4 wineries in a day. Doing more will kill your palate and you may not take the time to slow down and just sip in the experience…my favorite thing to do in wine country.
A few recommended stops include…
Presidio Winery, Brander, Bridlewood, Rusack Winery, Sunstone Vineyards and Winery, Beckmen
The following map can help you plan your route. I also suggest you check Wine Routes and its mobile app as it notes helpful information such as tasting hours, directions, if reservations are needed, wines poured and a lot more that can help you narrow down your stops.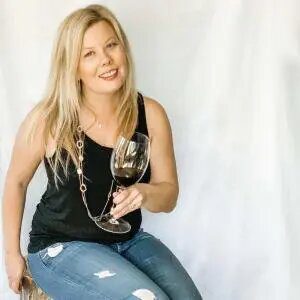 Elaine Schoch (pronounced the German way – Shock) is the editor and founder of Carpe Travel as well as an award-winning travel writer, wine judge, certified by the Wine & Spirit Education Trust (WSET) Level 2 and certified American Wine Expert. She is married to The Husband and has two kids, Princess One and Two – who's interest and knowledge in wine is quite extensive. Not to mention the stamps in their passports.