The Napa Valley is home to six main towns, each with their own story, wines and unique experiences. The most northern of the towns in Napa Valley is Calistoga, where you could spend an entire week just exploring the wineries, hot springs and local attractions. The following wine tasting itinerary pairs a combination of sipping in Calistoga and all the little, historic town has to offer. There are hundreds of amazing wineries and tasting experiences in Napa Valley. The ones noted in this itinerary are focused on keeping you in Calistoga to maximize your travel time.
Getting to know Calistoga
Located in the Northwestern sector of Napa, Calistoga is a small, historic town with a population hovering around 5,200. Founded in 1868 when the California Pacific Railroad laid tracks through the region, the town was already a busy resort destination. Samuel Brannan led an expedition from New York City to the west coast in 1846. Stumbling across the geothermal hot springs and geyser, he set down roots and opened Brennan's Hot Springs Resort. Basing the resort on the world-famous Saratoga Springs resort in New York, Brennan called the region the "Saratoga of California." A lexical error dubbed it the "Calistoga of Sarifornia," and the name was born. It has been called Calistoga ever since.
Calistoga is still known for its natural hot springs, with Brennan's Resort evolving into the Indian Springs Resort, a Mission-style hotel with an Olympic mineral pool, in a nod to the indigenous Wappo people, in the area before Spanish colonization in the mid-sixteenth century and the 1821 Mexican Independence. These days, Calistoga still boasts toney hot springs resorts, golf courses, and outdoor activities, but is most famous for its Calistoga AVA wine and the nearby Petrified Forest. The four-million-year-old redwood forest is frozen in time by a now-extinct nearby volcano, the ash turned the ancient forest to stone. Valley
Where to Stay in Calistoga
Calistoga is known for its healing hot springs. That said, staying at a property with direct access to the hot springs is an ideal way to soak and sip in Calistoga. The following hotels in Calistoga have access to the hot springs onsite.
Know before you go… Wine tastings in Napa Valley can range $50-$100 per person. Additionally, there are two main roads to access the wineries, the St. Helena Hwy and the Silverado Trail. Make sure to look at the map to ensure you're not going back and forth between the two. This will eat up valuable travel time.
Day One: Wine Tasting in Calistoga
Start your morning off with a soak in the local hot springs at Indian Springs Resort, Dr. Wilkinson's Back Yard Resort & Hot Springs or one of the other local lodging options with access to the hot springs. Sip your water to re-hydrate on your way to grab a picnic lunch before you head out for the day. The Calistoga Depot and Sam's General Store are great gourmet grocery spots that specialize in picnic experiences.
Make your first stop at Bennett Lane Winery to enjoy their big Cabs and Merlots. Calistoga is the warmest region in Napa Valley so you will find bigger red wines with higher ABVs here.
The famous Chateau Montelena Winery isn't far from here and is an American icon. It's a must visit. The winery changed the course for California and American wines in 1976 when its Chardonnay won the white wine segment of the "Judgement of Paris" wine competition. (Chateau Montelena's wine was in competition with nine other wines from France and California in a blind tasting.) It was Chateau Montelena's 1973 Chardonnay that ranked above all the other wines, solidifying Chateau Montelena and the Napa Valley as a leading region in the world for producing Chardonnay. If you haven't watched Bottle Shock, you should do so before your visit.)
Take a break from wine and veer off to see the Old Faithful Geyser. While not quite as dramatic as Yellowstone's Old Faithful Geyser, this smaller version in Calistoga is a spectacular wonder nevertheless. The geyser eruptions every 15 to 30 minutes; you can learn all about how geysers work in the Geology Museum, free with admission. This is a perfect spot to stop and picnic as well.
Clos Pegase Winery is not only a winery but an art gallery. The Cabs and Merlots they produce are stunning. If you'd prefer to eat at a winery, this would be your spot. They've partnered with Tre Posti to offer local and seasonally inspired food options that pair with it wines. Each picnic box serves two adults and requires 48 hours advance reservation. Another option is to reserve a private tasting in their wine cellar. It's an amazing experience…
If you're up for visiting another nearby winery, Sterling Vineyards offers an excellent wine tasting experience that includes riding in an aerial gondola – pairing wines with spectacular views of the Napa Valley makes for a perfect end to the day.
Day Two: Wine Tasting in Calistoga
There may be no more impressive winery tour in the Napa Valley than Schramsberg Vineyards sparkling wine cave tour and tasting experience. It's the closest a wine lover in the United States can get to touring a Champagne cave in France.
The Frank Family Vineyards tasting room was voted "Best Napa Tasting Room" in the 2022 Best of Napa Valley Reader's Choice Awards and has been selected as one of the top 10 best sustainable wineries to visit around the world.
The winery offers a variety of intimate, seated wine tasting experiences – perfect for sipping through its award winning selections of Chardonnay, Merlots, Cabernet Sauvignon and blends.
Founded in 1895, Larkmead Vineyards is another of the oldest estates in the Napa Valley that specializes in Cabernet Sauvignon. It is now a recognized leader in sustainability and forward-thinking climate change inspired practices.
Castello di Amorosa is a meticulous reproduction of a 13th-century Tuscan castle that will fascinate all ages with its dungeon, moat, suits of armor, and courtyard. Outside, there are emus, peacocks, and sheep. For the tasting, you'll sip six wines from its extensive wine menu including reserves (non-alcoholic options available). Tastings are limited to 75 mins.
BONUS: Tank Garage Winery is a fun Calistoga wine tasting experience you should try to fit in. Housed in a preserved 1930s gas station, this unique Calistoga winery is focused on producing limited-edition blends from grape varieties picked from some of California's most important or interesting appellations and regions. They work with partners all over the state to source fruit for their unique, limited-production, and one-off wines (literally, once they make a wine they won't produce that same wine again, so there is an ever rotating menu of new wines).
OTHER RESOURCES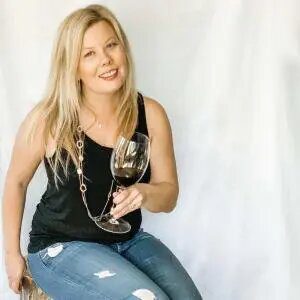 Elaine Schoch (pronounced the German way – Shock) is the editor and founder of Carpe Travel as well as an award-winning travel writer, wine judge, certified by the Wine & Spirit Education Trust (WSET) Level 2 and certified American Wine Expert. She is married to The Husband and has two kids, Princess One and Two – who's interest and knowledge in wine is quite extensive. Not to mention the stamps in their passports.