When people think about Napa Valley in Northern California, one thing usually comes to mind: Wine. Yet, the region offers more than bucolic vineyards, majestic wineries and iconic wines. Rugged coastlines and the Mayacamas Mountains are lush with foliage and wildlife making the area prime for outdoor activities like hiking, kayaking, forest bathing, bird watching, and foraging. Generations of farmers entice top culinary personalities to flock to the region so the dining is prime. Inspired by the natural beauty of the landscape and turquoise blue skies, artist enclaves have long attracted talented painters, sculptures, and musicians.
Take time out from sipping wine to explore the urban areas along the Silverado Trail and California Highway 29, from North to South. Each of the towns of Napa Valley have their own story, wines and unique experiences. Sip them in here.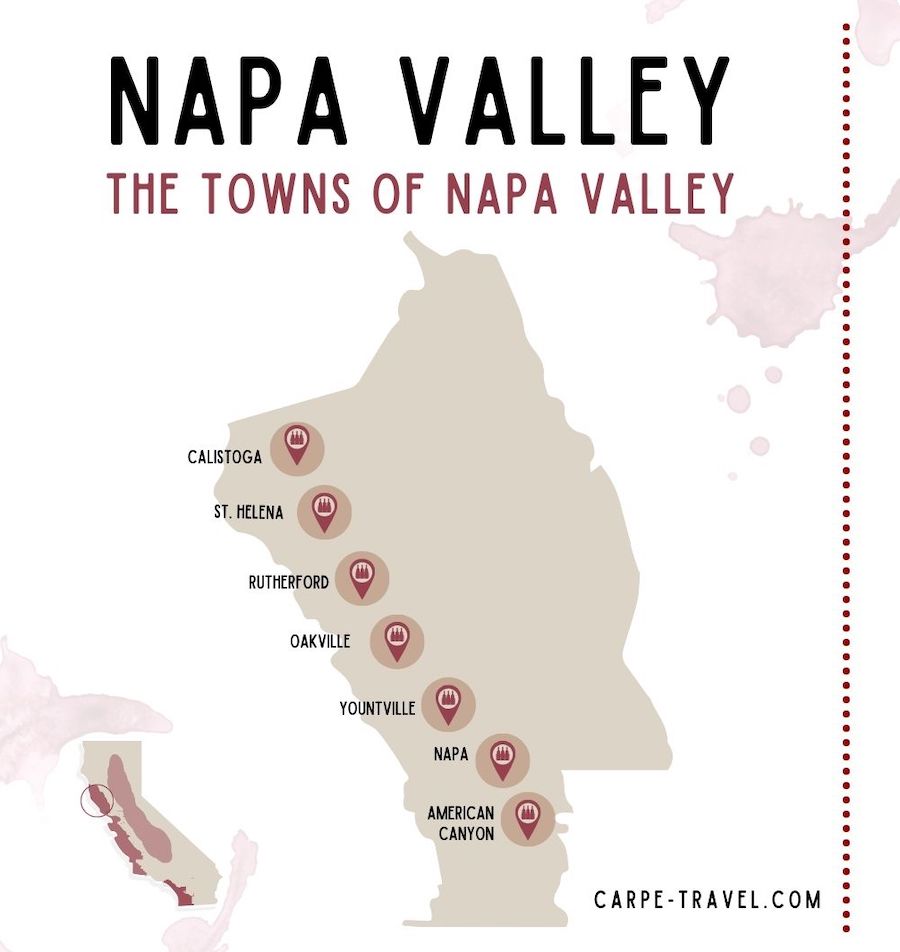 Discover the Towns of Napa Valley
Calistoga
Located in the Northwestern sector of Napa, Calistoga is a small historic town with a population hovering around 5,200. Founded in 1868 when the California Pacific Railroad laid tracks through the region, the town was already a busy resort destination. Samuel Brannan led an expedition from New York City to the west coast in 1846. Stumbling across the geothermal hot springs and geyser, he set down roots and opened Brennan's Hot Springs Resort. Basing the resort on the world-famous Saratoga Springs resort in New York, Brennan called the region the "Saratoga of California." A lexical error dubbed it the "Calistoga of Sarifornia," and the name was born. It has been called Calistoga ever since.
Calistoga is still known for its natural hot springs, with Brennan's Resort evolving into the Indian Springs Resort, a Mission-style hotel with an Olympic mineral pool, in a nod to the indigenous Wappo people, in the area before Spanish colonization in the mid-sixteenth century and the 1821 Mexican Independence. Anglo settlers arrived in Northern Napa Valley in the 1830s and began purchasing large "Ranchos" from (then) Mexico.
These days, Calistoga still boasts toney hot springs resorts, golf courses, and outdoor activities, but is most famous for its Calistoga AVA wine and the nearby Petrified Forest. The four-million-year-old redwood forest is frozen in time by a now-extinct nearby volcano, the ash turned the ancient forest to stone. It was first excavated between 1871 and the 1920s, the site is not to be missed. After a day of exploring Calistoga, enjoy a "Better Than Therapy Friendscation" at Dr. Wilkinson's Back Yard Resort & Hot Springs. Complete with volcanic ash mud baths and spring-fed mineral pools, plan for a day of pampering.
Where to stay in Calistoga
The Francis House, built in 1886 in French Second Empire design, is in the top 15 best-constructed hotels in the country. Solage Hotel, part of the esteemed Auberge Resorts Collection, is one of the most glorious properties in Calistoga. For those on more of a budget, The Craftsman Inn, Calistoga Wine Way Inn and The Bergson is also great option.

Where to sup
Fast food is legally banned in Calistoga so be prepared to enjoy sit-down meals or pack a picnic lunch and head for the great outdoors. After a day at Dr. Wilkinson's spa, pop into its House of Better restaurant for a healthful bite. Tempt yourself at Michelin-star Solbar, outdoor dining at its finest, complete with a 20-foot firepit, located in the Solage Hotel. Take a dip in the pool and sip an expertly crafted cocktail while pondering views of the Mayacamas Mountains from PicoBar, Try Café Sarafornia for bubbly and breakfast.
Where to sip in Calistoga
The world-famous Chateau Montelena opened its doors in 1882 and made history in the 1976 Judgment of Paris, beating out France's best white wines to win the gold medal for best Chardonnay, circa 1973. (If you haven't watched Bottle Shock, you should do so before your visit.) Add Castello di Amorosa, a replica of a medieval Tuscan castle to your list and Schramsberg, founded in 1862, and best known for its preeminent California bubbly. The Schramsberg sparkling wine cave tour and tasting experience is the closest a wine lover in the United States can get to touring a Champagne cave in France.
St. Helena
South of Calistoga, St. Helena is home to just 5,500 permanent residents. Founded in 1876, the town got its start as White Sulphur Springs in 1848 when San Franciscans journeyed to the region to take in the healing waters. Henry Still purchased the land and formed the town in 1858, naming it after the nearby St. Helena mountain, with just a schoolhouse and Baptist church at the time. Over the decades, St. Helena became one of the prettiest towns in the region due to its naturally stunning landscapes. Andrew Carnegie opened a Carnegie Library in St. Helena in 1908, which now serves as a bustling community center.
Surrounded by rolling vineyards, inviting mountains, and gorgeous gardens, St. Helena is an outdoors lover's paradise. Rent a bicycle or enjoy a leisurely hike throughout the countryside. Neiman's Motorcycle Rentals and Trek Bikes St. Helena offer motorized and pedal sightseeing options. If leisure is more your thing, hire a hot air balloon from Napa Valley Aloft and float over the valley for the best views in sight. Visit the 1881 Napa Wine Museum & Oakville Grocery, circa 1881, and the Culinary Institute of America at Greystone housed in the former Christian Bros. Winery, to get insights into what makes St. Helena tick. Art lovers should visit Seven Stones Winery, Markham Vineyards, and Hall St. Helena, for their world-class indoor and outdoor art collections.
Where to stay in St. Helena
The legendary Meadowood Napa Valley is truly a treat for the entire family. With a private club and 250-acre wine estate, the intimate hotel is posh and private. Nestled amongst the vines, Vineyard Country Inn offers a cozy bed-and-breakfast vibe perfect for a romantic getaway. Wydown Hotel and Southbridge are great in-town options, perfect for walking and exploring the town of St. Helena.
Where to sup in St. Helena
Start the day with abundant sustenance at Gillwood Café or Sunshine Food Market. Check out Michelin-star Farmstead at Long Meadow Ranch or PRESS Napa Valley, for the ultimate in locavore farm-to-table dining.
Where to sip in St. Helena
With hundreds of options across St. Helena AVA, selecting a few wineries can seem daunting. Start with your wine style preference and go from there. Brawny Cabernet Sauvignon lovers will be satiated by iconic masterpieces at Merryvale, Duckhorn, and Hall St. Helena, but Rombauer offers the quintessential buttery Chardonnay.
Yountville
Famous for the French Laundry and Bouchon, Yountville, with a population of 35,000, is a culinary mecca. Founded in 1855 by viticulture pioneer George. C. Yount, Yountville's first moniker was Sebastopol but lost out to a nearby township of the same name. Yountville rebranded and incorporated in 1867.
North Carolina-born, George Calvert Yount, never missed an opportunity. A mountain man and entrepreneur, Yount converted to Catholicism, changed his name to Jorge Conception Yount, and became a Mexican citizen, just to purchase Rancho Caymus in a land grant in 1836. Yount planted the first grapevines in the valley in what was to become some of the most prized vineyard land in the world. Fast-forward 187 years, and Yountville is known for its esteemed culinary and enology scene. Check out the Napa Valley Museum to learn more about the region and its storied history. The Yountville Chamber of Commerce & Visitor's Center is the perfect place to begin your explorations. Immerse yourself in the eclectic arts scene or take in an indy film at the Yountville International Short Film Festival each February.
Where to stay in Yountville
Where better than the Hotel Yountville Resort & Spa? The vineyard estate and hotel with a courtyard pool is a relaxing respite after a day of sightseeing. If low-key luxury is more your style, check into Maison Fleurie or Lavender, for French-Country charm.
Where to sup in Yountville
Book well in advance for tables at Thomas Keller's The French Laundry and Bouchon Bistro, where it can take months to score a table. If you haven't planned in advance, you can still enjoy breakfast and nibbles at Bouchon Bakery. Lucy Bardessono's legacy is alive at Lucy Restaurant & Bar, offering a delectable menu crafted from food grown at her namesake organic garden and farm. Prepare to be dazzled at Regiis Ova Caviar & Champagne Lounge, where indulgence is key.
Where to sip in Yountville
You can't go wrong in the Yountville AVA. First up, cleanse your palate with refreshing sparkling wine at Domaine Chandon. Established in 1973 by the famed Moët et Chandon champagne house, Domaine Chandon was the first French-owned sparkling wine producer in Napa Valley. Cult classic Cliff Lede Vineyards offers a range of top-notch wines for tasting and taking home.
Napa
Founded in 1872, the City of Napa is the industrial heart of the region. Home to nearly 78,000 people, it is the county seat. Spanish explorers first visited the region in the sixteenth century but Mexican missionaries settled the area in 1823, opening Mission San Francisco Solano. Lured by the balmy Mediterranean climate and lush lands, Anglo-Americans made their way to the Napa Valley in the 1830s. Nathan Coombs founded the City of Napa as a trading hub in 1847, along the banks of the Napa River. Booming during the 1850s gold rush and 1860s silver rush, the town quickly grew into a city. Buttery-soft Nappa leather was invented here by Emanuel Manassee in 1875. With a scandalous past, Napa was known more for its thriving redlight district on Clinton Street, than its trade and industry. These days, it is all about the wine.
Take a riverwalk stroll through the restored historic city center. Enjoy an award-winning guided city or country bike tour with Napa Valley Bike Tours. Love water sports? Nearby Lake Berryessa is the largest in the region and offers kayaking, boating, water skiing, and other water-adjacent activities. Book a cabin at the Pleasure Cove and Marina and make a weekend of it. With more than a dozen perfectly manicured golf courses in Napa Valley, grab a bucket of balls and head for the putting range or schedule a tee time for 9 or 18 holes.
Where to stay in Napa
The Hotel Napa Valley is a hidden gem harkening back to the Gatsby age. Dripping in gilt and history, it is a quiet and cozy B&B near downtown. The Archer Hotel and The Napa River Inn offer first-class accommodations in the heart of the city. Enjoy the spa and views of the valley.
Where to sup in Napa
Oxbow Public Market serves up everything from flowers and wares to craft coffee and Hog Island Oysters. Make it an afternoon. Mustards Grill, Cordeiro's Steakhouse, and Bistro Don Giovanni are where you will rub shoulders with wine celebrities and locals alike.
Where to sip in Napa
The Napa Valley AVA is immense and divided into dozens of subregions and AVAs. Finding great wine isn't going to be a problem. Think Opus One, Far Niente, and Pine Ridge Vineyards. Book a limousine tour and let your driver decide. (Suggested drivers, Champion Limo Services, Platypus Wine Tours (the private tours they offer) and Jim The Limo Guy.) Carpe Travel has several recommendations for wineries in Napa to explore as well.
American Canyon
Just 35 miles north of San Francisco, American Canyon, formerly Napa Junction, is flanked by the Napa River to the west and Sulfur Springs Mountains to the east, with Napa Valley wine country to the north. It is home to the world-famous Owens Corning Masonry company and Italio-themed Mezzetta Family Co food producer.
Enjoy the slots and table games? Visit the Napa Valley Casino and try your luck at the poker and blackjack tables. Bird watchers and wildlife enthusiasts can spend the day exploring the Newell Open Space Preserve or American Canyon Wetlands Edge Park. Once a marshy swampland, Napa Valley began its conversion into farmland in the 1800s. A visit to the Wetlands Edge Park gives visitors a glimpse into its ecological past.
After a day of sightseeing, hikes, and gambling, head north to Napa to stay, sup, and sip. It's just 11 miles north on HWY 29.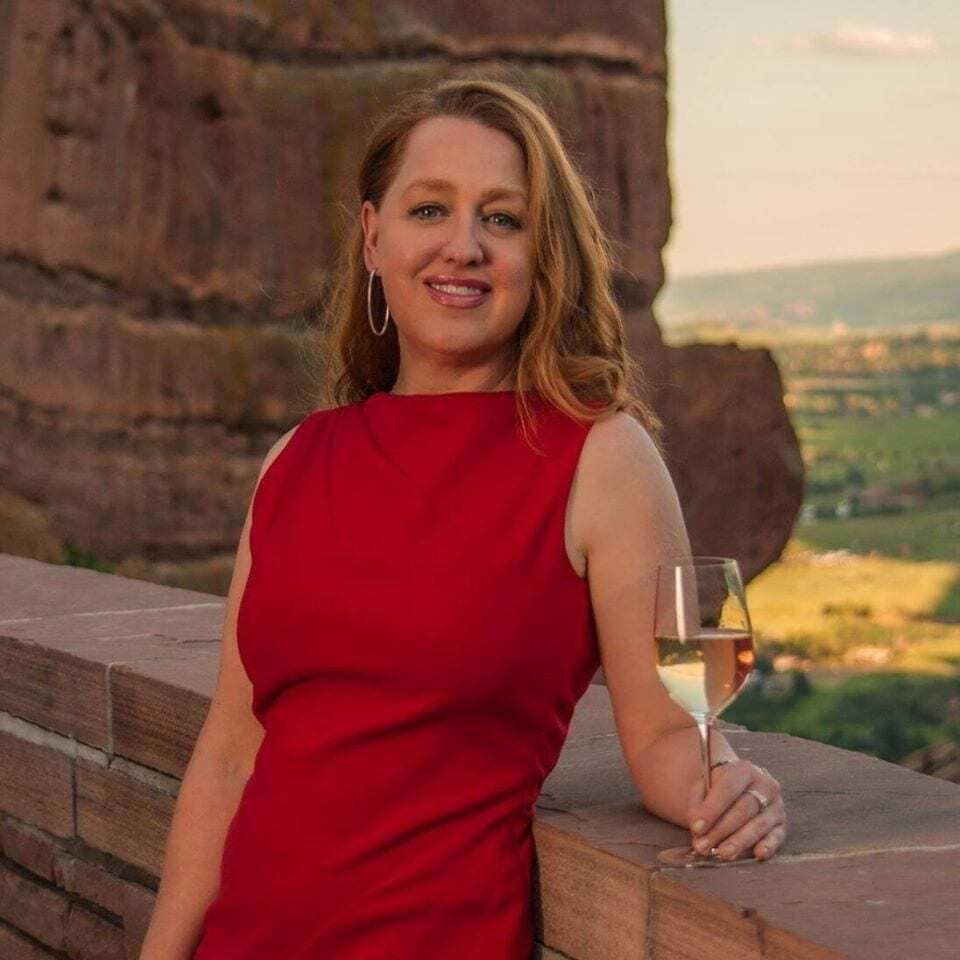 Simone FM Spinner is a top-rated university wine lecturer and certified sommelier with thirteen advanced wine certifications, a bachelor's and master's degree in wine studies, and is pursuing her doctorate studying the socioeconomic and cultural effects of climate change on wine. She is a sought-after wine consultant, public speaker, and published author. She organizes wine events and international wine tours through her company Wine Rocks & Chasing Grapes™©. Her website is WineRocksLLC.com