Wine tasting with kids is totally do-able. It just comes down to a little planning.
The first time we walked into a tasting room with our two kids they were two and four-years-old. We were on holiday near San Diego, California and felt it was a must… We only stayed for one flight, which we shared and quickly departed when a bachelorette party entered the tasting room. Not because our kids were acting up, but in fear that they would. Later that evening – while sipping a California Cab – we reflected on the experience of wine tasting with kids. Our girls had been amazing. It was us who were nervous.
But why were we nervous? Why should we avoid doing these things we love just because we have kids? We decided we shouldn't…and neither should you.
We've since evolved from popping into a tasting room here and there to doing full on wine country vacations with the kids. It can be done, if you plan ahead and know when to call it quits.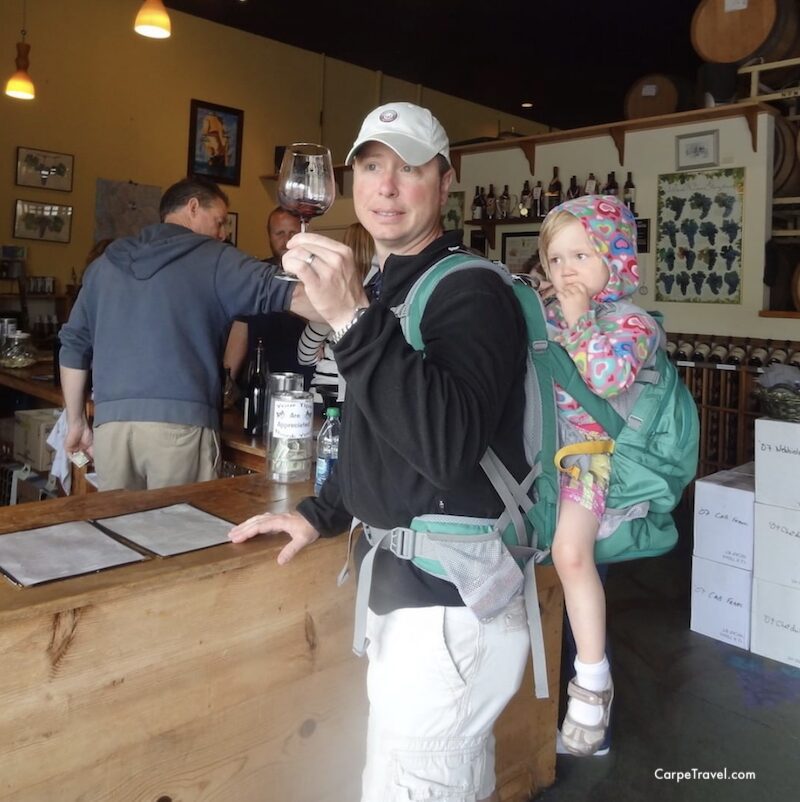 Here are a few tips I've learned along the way to help create a beautiful pairing when wine tasting with kids.
You can go wine tasting with kids…these tips will help make a beautiful pairing.
Kid Friendly Wineries
Do some research beforehand to make sure you visit kid friendly wineries. There are some places that do not welcome little ones, so know before you go.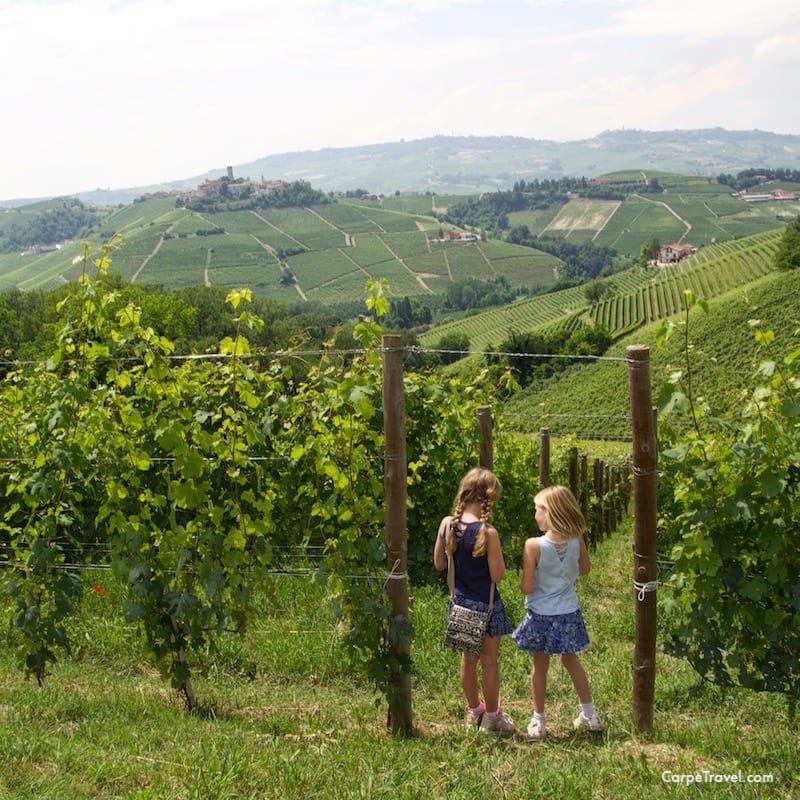 I like to find wineries that have playgrounds, swimming pools, large lawns, picnic spots, petting zoos, cooking classes and other things that can entertain kids. Yes, there are kid friendly wineries that have swimming pools! (See our list of the top kid friendly wineries in California.) There are soooo many more wineries working to be more of a family destination these days that it makes wine tasting with kids a fun activity for the entire family.
During a visit to Italy, we spent most of our time wine tasting at kid friendly wineries. It was amazing to have the girls play on a playground made out of old barrels while we sipped Barolo. But, their favorite of the kid friendly wineries offered a pool. What kid doesn't like to swim on holiday!
When you're state-side, you may not be able to find too many kid friendly wineries with pools. Although, there are a few in California (kid friendly wineries in California). One of our favorite kid friendly wineries – and summer go-to's in Colorado is Creekside Cellars in Evergreen. They have an amazing patio that overlooks a creek where my kids have spent hours feeding the ducks. If your kids are old enough they can walk down to the creek and play on the rocks. You might even be able to grab one of the picnic tables they've setup along side the creek. It's simple, yet totally entertaining.
Plan Activities Around Wineries
Don't just go from winery to winery, making stops in-between that offer something for your kids to do helps to break up the day while also feeding their interests. There are typically so many things to do beyond the vines in wine country. From hiking, biking, exploring museums or national parks to touring working farms.
I recommend visiting one or two wineries in the morning, then having lunch and doing a hike or other activity. If you're up for one more winery in the afternoon, then go for it.
Depending on how early your crew wakes up, another option is to do an activity in the morning such as a hike through the hills of wine country, hit a winery for a tasting and picnic lunch. Then visit one more winery before you head out for a late afternoon activity. Take a peek at some of our ideas for things to do with tweens and teens in Sonoma.
TIP: Don't push the number of wineries you visit in a day. Three to four should be around the max.
Pack Your Own Activities
Assuming there are not other activities at the winery specifically for kids, bring crayons and coloring books. My girls loved coloring the maps of the Barolo wine regions when we were in Piedmont. A lot of wineries will have these types of things on hand for kids, but others won't so be prepared.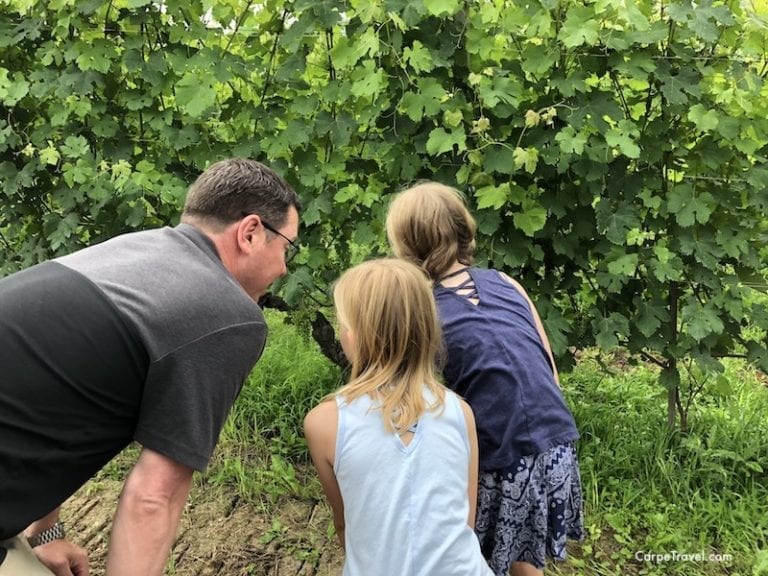 Encourage Participation and Learning
Encourage your kids to learn about the wine making process, after all wine was first grape juice. The entire wine making process is a really an interesting science experiment if you think about how it all takes place. From growing the grapes, to pressing the juices, to removing the stems and skins, to naturally occurring yeasts on the grape skins fermenting the juices into wine. And, then how the Oak barrels or steal tanks impact its smell and taste. There is a lot of science going on here that kids can better understand when they're seeing the vineyards and equipment in real time.
Something else I encourage parents to do is to talk about wine and the effects it can have on people – both good and bad. At our house, wine isn't taboo. Our kids sniff, swirl and learn about different types of grapes. (Yes, I'm a total cork dork! A name both my kids have adopted.) This is a great time to discuss how wine has a lot of health benefits, but if you have to much it can lead to poor choices and negative health benefits. Everything in moderation.
Create an Activity
One of my favorite things to do with my kids is to give them a job. Both of my girls love to take photos so I give them each a camera to capture what they see and are learning. It's fun to see a process I know and study through their eyes…it also helps them to pay more attention during the tours. My youngest was the best when we were in Hawaii touring Maui Wine when she helped clarify a few points I had missed in my notes. She was totally interested and paying attention!
The Fail Safe in Your Back Pocket
If all else fails, devices can be used. I'm rarely, if ever the parent who gives her kids a phone to play with when we're out and about. It honestly drives me crazy to see kids doing this…but I have allowed them to play on the iPad at a few wineries in Italy and there was NOTHING for them to do but sit there. It's ok if it's every once in a while. Moderation is everything…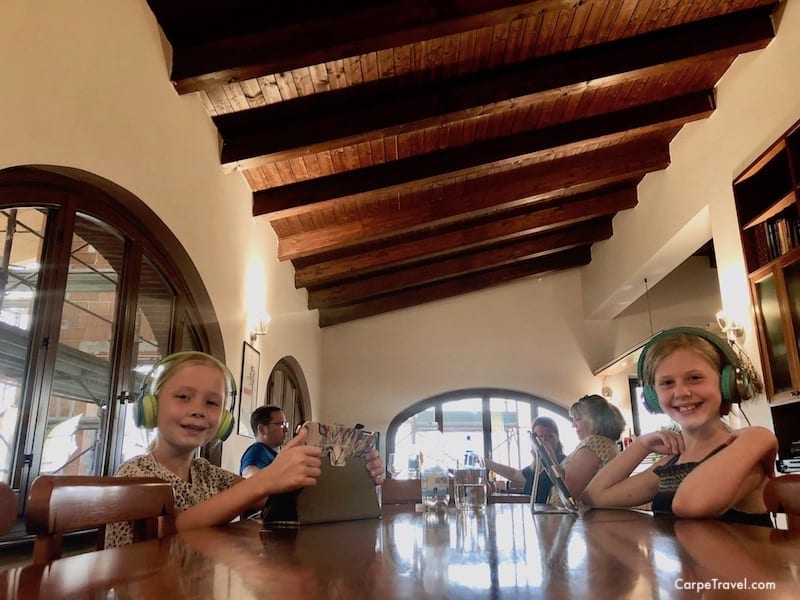 Sitters
Hiring a babysitter is always an option. I have personally never hired a babysitter when we're traveling – unless we are with someone who knows the sitter – simply because I am paranoid as The Husband calls it. But, I have used Care.com at home to find sitters, it's a great resource you can use throughout the United States. They do a lot of the pre-screening and background checks for you so you should be getting a qualified person.
Another option is to ask your concierge for recommendations and/or if your hotel or resort has a babysitting service. Kids Club's usually are not a viable option as you have to be on the property when your kids are there.
Another option is to travel with a sitter that you personally know. Your nanny, regular sitter, a grandparent, aunt, friend, etc. Again, I haven't done this simply because it's an added cost AND an added person to engage with during a family vacation. Have you taken someone with you on your holiday simply to watch your kids? I would love to know your thoughts on this.
Sip
Don't drink to where you're not cool to be around your kids. Split tastings with other adults and pace yourself, it's a marathon not a race. And, remember, you're still the parent so you need to act like it.
Know When to Quit
Be prepared to bail if your kids are being more annoying than the tipsy bachelorette party at the tasting bar. Or, if the environment is not conducive to your little ones. Remember, you want them to have a good time too!
Safety Comes First
If you're driving, have a designated driver or hire a driver. Be safe.
Have you taken your kids wine tasting? Do you have other tips?
Sip In More of Carpe Travel…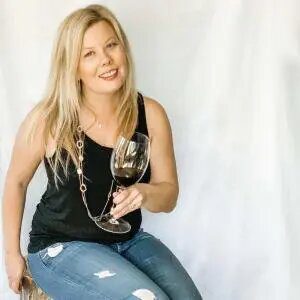 Elaine Schoch (pronounced the German way – Shock) is the editor and founder of Carpe Travel as well as an award-winning travel writer, wine judge, certified by the Wine & Spirit Education Trust (WSET) Level 2 and certified American Wine Expert. She is married to The Husband and has two kids, Princess One and Two – who's interest and knowledge in wine is quite extensive. Not to mention the stamps in their passports.