Vinothérapy: Restorative and relaxing wine-infused soaks, scrubs, and sips
Wine has a variety of health benefits when sipped in moderation. But did you know wine can also be used for skin care and luxury beauty treatments known as vinothérapy? What could be more decadent than full-immersion body soaks in wine-filled barrels, tubs, and pools?!?!
High in antioxidants called polyphenols and resveratrol, wine can moderate blood sugar, prevent cancer, reduce inflammation, and benefit your brain, lungs, and kidneys while giving you radiant skin and increasing longevity. Grapes and wine have found their way into luxury beauty treatments due to the same polyphenols and resveratrol antioxidants found in pomace; the pulpy residue of grape skins, seeds, and stems, remaining after the grapes have been crushed to extract the juice during the winemaking process. Many spas now offer vinothérapy services where they employ pomace for scrubs and masks. Grapeseed oil has also been used for nourishing and moisturizing massage.
Rich in omega fats, vitamins, resveratrol, and polyphenols, grapeseed oil is lightweight, purifying, anti-inflammatory, and anti-aging. Grapes contain vitamins E, C, and the antioxidants resveratrol and proanthocyanidin that fight pollution, free radicals, and UV damage. Wine-infused body care products are popular for subtle, taut, invigorated, healthy skin and shiny locks.
The Birth of Vinothérapy
Growing up on a world-famous Château Smith Haut Lafitte wine estate in Bordeaux, France, Mathilde Thomas-Cathiard noticed the anti-aging effects of crushed wine grapes on the hands of local winemakers. Along with her husband, Bertrand, the pair worked with the Pharmacy University in Bordeaux to identify key elements such as resveratrol and polyphenols with anti-aging and health benefits. Patenting their findings and coining the term vinothérapy, in 1995, Mathilde developed her nourishing and anti-aging wine-infused, resveratrol, and polyphenol-rich skincare line, Caudalíe, using wine and pomace (crushed grapes and seeds leftover from the winemaking process).
The Best Vinothérapy Spas
Vinothérapy spa treatments offer beautifying facials and body treatments, relaxing wine soaks, and restorative massages, along with detoxing, anti-aging, and slimming treatments.
Caudalíe Vinothérapie Spas
Based upon the wildly popular Caudalíe skincare line, Mathilde and her husband Bertrand launched the first of many Caudalíe vinothérapie spas in 1999 and boutiques in 2013 across Europe, Asia, and The Americas. Caudalíe Vinothérapie Spas specialize in wine grape facials, full-body grapeseed polish, a honey and wine bath, and body treatments meant to refine and perfect your skin. Melt away your stress with a botanical full-body massage, grape-infused body scrub, or a prenatal massage. With a robust menu of decadent wine-based spa treatments, you will leave satiated and completely rejuvenated. With multiple locations across the globe, Caudalíe Vinothérapy Spas set the bar when it comes to wine-infused sipping, soaking, and spa treatments.
In 1999, Mathilde and Bertrand Thomas-Cathiard opened their first vinothérapy spas amongst the vines of Château Smith Haut Lafitte. While exploring their wine estate, they discovered a natural hot spring that is the crux of Les Sources de Caudalíe Vinothérapie Spa and Hôtel.
Overlooking the historic city center, The Yeatman Porto is an ultra-posh Relais & Châteaux hotel. It hosts a Caudalíe Vinothérapie Spa complete with an outdoor infinity pool, Roman baths, and a Hamman experience.
Founded in 1858, Vinos de Los Herederos del Marqués de Riscal, S.A., and Marqués de Riscal City of Wine, is the number one winery in Europe. Visit its SPA Vinothérapie Caudalíe, and indulge in the skin-nourishing Grand Facial, followed by a crushed cabernet grape body polish, after a day of wine tasting and five-star dining.
Dating to 1790, the majestic Hotel Les Ottomans, with its dazzling interiors, was once the palatial Muhsin Zade Mehmed Pasha Mansion. Playing host to the political and artistic glitterati, Les Ottomans is the hottest ticket in town. Its Caudalíe Vinothérapie Spa incorporates Turkish Hammam and East Asian techniques for detoxification and purification. Istanbul, Turkey.
A global luxury brand, AIRE Ancient Baths in TriBeCa, New York City, features the best in decadent thermal spa experiences. Its unique ionic thermal baths with botanic-infused waters of different temperatures nod to the legendary baths of ancient Rome, Greece, and the Ottoman Empire. Elevate your experience with a relaxing massage and signature wine bath. Solo or coupled guests are immersed in an exclusive wine bath for 30 minutes while receiving an invigorating cranial massage followed by a grapeseed oil massage. Spanish Ribera del Duero grapes and wine are used for their potent antioxidants. Locations in London, Chicago, Copenhagen, Sevilla, Barcelona, AlmerÍa, and Vallromanes.
The Allison Inn and Spa located in the heart of Oregon's Willamette Valley wine region offers an enticing menu of Himalayan sea salt treatments, traditional aromatherapy, deep tissue massage, hydrotherapy facials, and pinot noir wine-infused treatments, scrubs, and a nourishing organic honey wine wrap, aimed at enlivening the spirit, mind, and body.-
With its deluxe wellness spa and an outdoor saline infinity pool, Rosewood Castiglion Del Bosco offers the ultimate in relaxation in the heart of Tuscany. Expect wine-themed facials, body treatments, and massages, and the incredible red wine body ritual complete with an exfoliating grape gel treatment with pomace oil and an invigorating full-body massage using fragrant body butter. Finish the experience with a glass of Brunello di Montalcino and refreshments.
Located in one of the top wine-producing regions in Portugal, Torre de Palma Wine Hotel dates back to 1338. Fully restored, Torre de Palma Wine Hotel was launched in 2014. Its spa offers a wine therapy massage that is available to guests of all ages. The hour-long treatment begins with a full-body exfoliation using essential oils, honey, dark sugar, and grape seeds to smooth and saturate the skin, claiming to smooth dimpled skin by draining toxins and fat, resulting in a taut appearance.
Cavas Wine Lodge, a Relais & Châteaux hotel and spa, nestled in Mendoza, is considered the top resort in South America. Its spa features temperate pools and baths and a full menu of classic massages and beauty treatments. The two-hour Express Wine Therapy experience includes an aromatherapy Swedish massage, a mud mask facial, and the Bonarda bath: an indulgent soak in bonarda grape wine extracts, essential oils, and stimulating salts.
Vinothérapy At Home: Wine Cosmeceuticals
Healthful elixirs like Caudalíe VinoPerfect Radiance Serum, Caudalie Premier Cru Anti-Aging Face Serum and Vintner's Daughter Active Treatment Essence and Active Botanical Serum are cult classics founded in resveratrol technology with proven skin-enhancing results. Both brands offer a full range of creams, serums, masks, and lotions for the ultimate in wine-infused skin therapy.
For more at-home luxury wine treatments, try VineᐧVera Reservatrol skincare line, Arcona wine hydrating mask and their wine oil, Antipodes grapeseed butter body scrub, SkinCeuticals Resveratrol B & E serum, Burt's Bees Thoroughly Therapeutic Honey and Grapeseed Oil Hand Crème, Nutriglow wine facial kit, Apivita Wine Elixir skincare range, and Secular® Red Wine Facewash.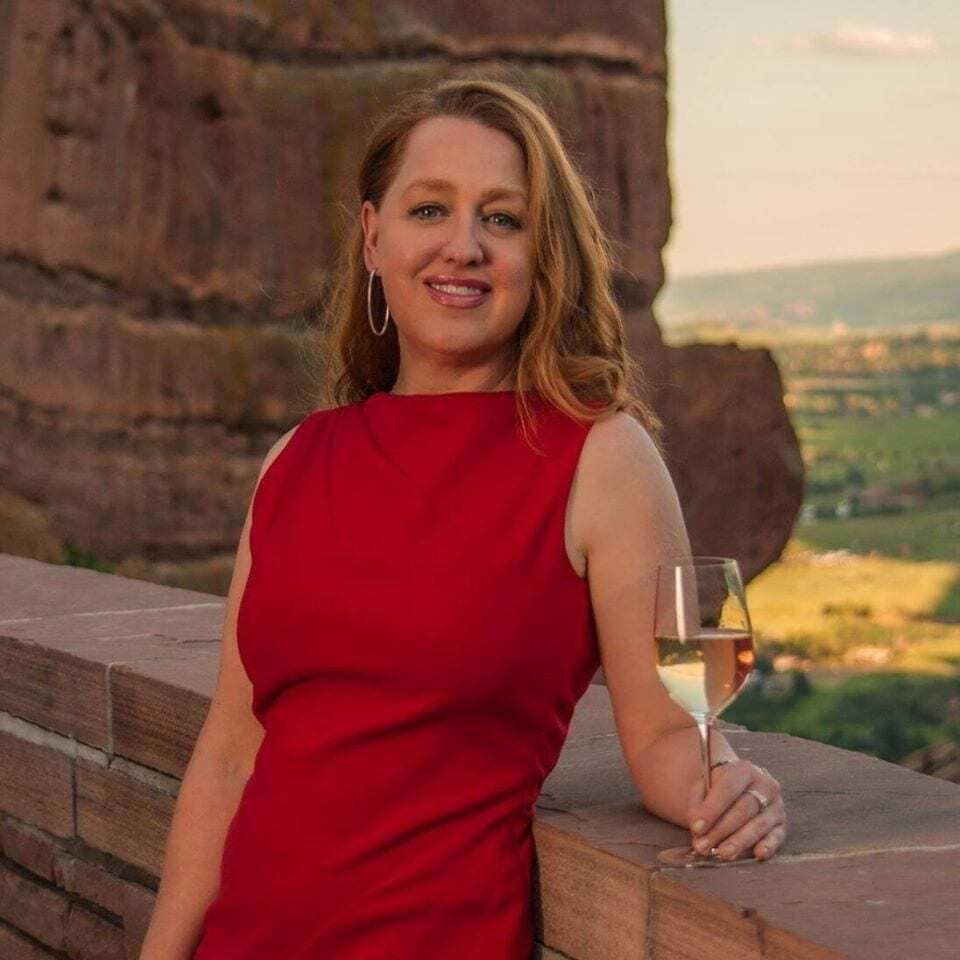 Simone FM Spinner is a wine writer, consultant, judge, speaker, and published author. She is a certified sommelier with 13 advanced wine certifications, a bachelor's and master's degree in wine studies, and is pursuing her doctorate researching wine, climate change, and legacy. She is the Women of the Vine & Spirits 2020 WSET Diploma scholar.