Wine 101 Guide to Lambrusco Wines, Pairings, Bottles to Try Now
Italians know a thing or two about wine and dining, so, when it comes to easy-drinking wines for casual lunches on your patio or backyard barbeques with friends, taking their lead by serving a chilled effervescent Lambrusco wine seems like a perfect choice.
What is Lambrusco Wine?
Lambrusco is a frizzante or spumante (slightly fizzy to prominently bubbly) red wine that hails from the Emilia-Romagna region in the central heartland of Italy. It is lower in alcohol, and crafted to consume fresh and young. It is produced either as a dry (secco), semi-sweet (semisecco), or sweet (dulce) wine. The dry (secco) style is the most popular with wine lovers but the semi-sweet (semisecco) Lambrusco wines are fantastic for food and wine pairings.  Lambrusco is traditionally produced frizzante but can be made as a full-on sparkling wine.
Ideal Serving temperature: 50-55'F.
Lambrusco Flavor Profile
A classic appertivo, Lambrusco glimmers translucent cranberry red with a cap of ample froth. Elegant and fruit driven, the wine exudes a perfume of vine-ripe strawberry, tangy raspberry, pomegranate, and sharp rhubarb notes with hints of woodsy herbs, black currant, hibiscus, bergamot, clementine peel, and a spritz of Sorrento lemon.
Lambrusco Food Pairings
Emilia-Romagna is famous for its regionally crafted Prosciutto di Parma, Modena Aceto Balsamic Vinegar, Mortadella, Parmigiano Reggiano, and Grand Padano. It is also the home of stuffed pasta like ravioli, cappellacci, spinach balanzoni, and tortellini, along with multi-layered baked lasagne, and signature Bolognese meat sauce. Adhering to the tested theory that what grows together goes together, Lambrusco will always be a fantastic match for these dishes. Modern-style dry Lambrusco wine pairs perfectly with succulent charcuterie and salty pecorino romano cheese, wood-fired pizza, barbeque, smoked fish, and sweet treats like flourless walnut cocoa cake or baked blackberry and Morello cherry pie à la mode.
Lambrusco Grapes & Regions
Ancient Etruscans first produced wine from the Lambrusco family of grapes before the rise of the Roman Empire. Its easy going style has been a perennial favorite across the one-time Roman Empire and Italian countryside ever since.
There are over 60 types of Lambrusco grapes planted across Northern Italy, with the most prolific being Lambrusco Salamino. Lambrusco's mainstay grapes for modern production include…
Lambrusco Grasparossa
Lambrusco Maestri
Lambrusco Marani
Lambrusco Montericco
Lambrusco Salamino
Lambrusco Sorbara
The Lambrusco DOC (denominazione di origine controllata) is produced in eight subregions across Emilia-Romagna: Colli di Parma Lambrusco, Lambrusco Grasparossa di Castelvetro, Lambrusco di Sorbara, Lambrusco Salamino di Santa Croce, Reggiano Lambrusco, Colli di Scandiano e Canossa Lambrusco, Modena Lambrusco, and Lambrusco Mantovano, each with its own signature style.
The DOC allows Lambrusco wines to contain up to 15 percent blending grapes, such as indigenous Ancellotta Marzemino, Malbo Gentile, and international Cabernet Sauvignon and Merlot, to enrich the color and add body and structure to the wines.
Modern Lambrusco producers are engaging with traditional production styles with the aim of improving quality and returning Lambrusco to its former glory. Winemakers are abandoning the charmant method of inoculating vats of wine with carbon dioxide, which results in wines with clunky bubbles lacking finesse. One by one, producers are opting for the metodo classico technique, perfected in the Champagne region of France, for allowing secondary fermentation to occur in the bottle, resulting in a pleasant, fine, frothing mousse.
Lambrusco Wines Worth Drinking
Broletto Lambrusco
30% each: Lambrusco Maestri, Lambrusco Marani, Lambrusco Salamino, 10% Ancellotta
100% organic
Broletto Lambrusco is a lush, aromatic Lambrusco from the heart of Emilia-Romagna. It is scented with wild strawberry, ripe rhubarb, blueberries, blackcurrants, and hibiscus along with herbal notes of oregano, thyme, and anisette. On the palate, experience blackberry crème brûlée with burnt sugar. Broletto Lambrusco shows bright but balanced acidity and just a hint of flinty minerality. Broletto Lambrusco is delicately fizzy and has a touch of sweetness that makes them perfect for classic brunch cuisine, quiche Lorraine, or Spanish tapas. Read reviews and buy Broletto Lambrusco here.
Paltrinieri LaRiserva Lambrusco di Sobara
100% Lambrusco di Sorbara
Paltrinieri hails from a small family-owned farm in the sub-region of Sobara. The winery produces various styles of Lambrusco with LaRiserva its most popular export. Small production, with just 17 hectares under vine, Paltriniere LaRiserva Lambrusco di Sobara is a rare treat. This wine shows slightly bitter yet aromatic notes of ruby red grapefruit, sour cherries, and ripe rhubarb, making it the perfect pairing for salty, fat-laden Proscuitto di Parma, fennel salumi, and cheese-filled stuffed shells. Read reviews and buy Paltrinieri LaRiserva Lambrusco di Sobara here.
Cantina di Soliera NV Testacaldi Extreme Metodo Classico
100% Lambrusco di Sorbara
Devoted to excellence and tradition, Cantina di Soliera never deviated from its metodo classico production technique. As a result, this exceptionally high-quality Lambrusco offers an elevated sipping experience. With a preference for Lambrusco Sobara grapes, the property dabbles in Pinot Noir and Chardonnay too for a different kind of bubbly (think Champagne and Franciacorta). Its Lambrusco is classically perfumed with an equal measure of tartness perfect for a stand-alone appertivo or paired with antipasto, pizza, pork tenderloin, or grilled salmon.
Medici Ermete Lambrusco Concerto Reggiano
100% Lambrusco Salamino
This scion of the Medici family has been fervently devoted to revitalizing Lambrusco's reputation by focusing on organic farming and exalted production techniques. Winemakers for four generations, Medici Ermente farms the first modern single vineyard Lambrusco. Deep ruby hues are enlivened with a bold and bubbly mousse, Medici Ermete Lambrusco Concerto Reggiano exhibits prominent ripe fruit balancing well-developed tannins and spiky acidity. This wine is impressive standing up to cuisine bold in flavors and textures and won't wither in the presence of spice. Try it with barbequed short ribs and mouth-watering brisket slathered with aromatic sauces, curry with a bit of heat, and chicken Milanese. Buy Medici Ermete Lambrusco Concerto Reggiano here.
Cantina Della Volta Lambrusco di Modena Spumante Rosso
100% Lambrusco Sobara
Cantina Della Volta produces some of the highest quality, award-winning Lambrusco wines available. The winery specializes in Lambrusco red, white, and rosé sparklers but it is their namesake Lambrusco di Modena Spumante Rosso that shines. With notes of Vignola cherry, fresh strawberry, red rose petals, and hints of citrus peel, this elegant and balanced wine is a delightful wine for celebrations, Sunday brunches, winter holiday meals, and cocktail parties. Buy Cantina Della Volta Lambrusco di Modena Spumante Rosso here.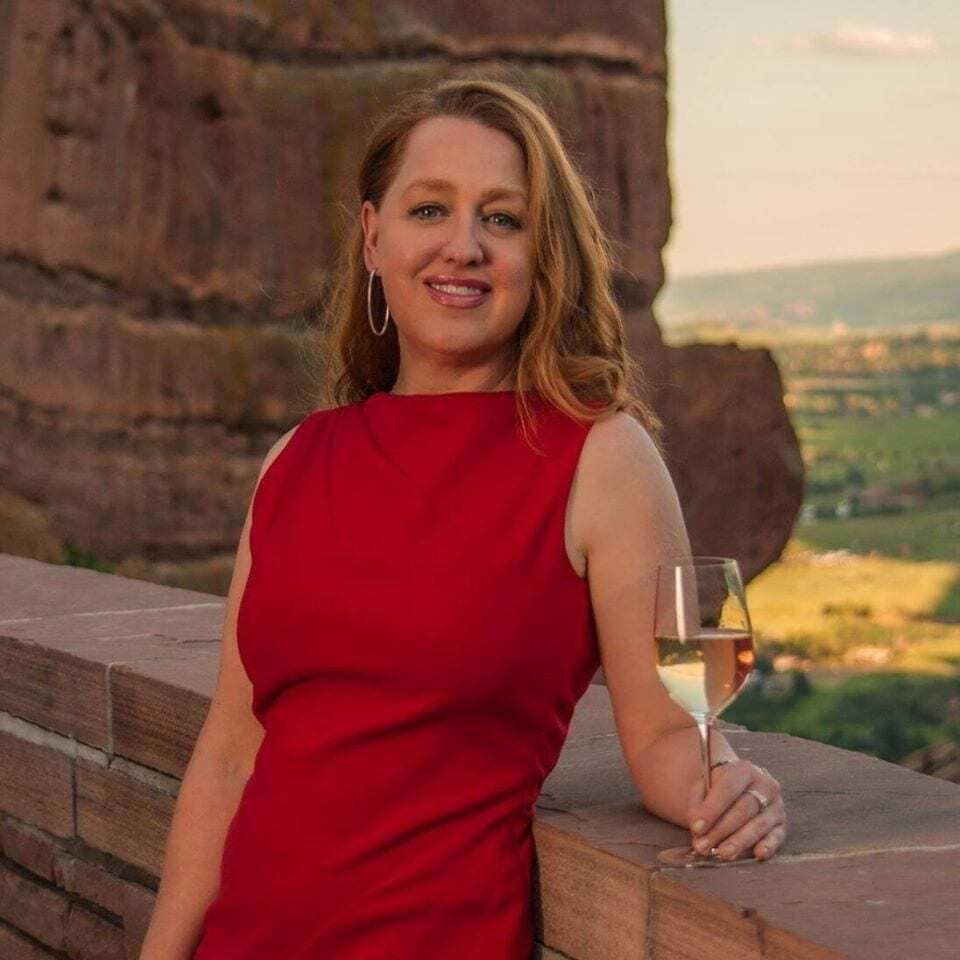 Simone FM Spinner is a wine writer, consultant, judge, speaker, and published author. She is a certified sommelier with 13 advanced wine certifications, a bachelor's and master's degree in wine studies, and is pursuing her doctorate researching wine, climate change, and legacy. She is the Women of the Vine & Spirits 2020 WSET Diploma scholar.