An insider guide to the best Rioja wineries, the regions history, and recommendations for restaurants and hotels.
If you know one Spanish wine region, it's Rioja. And for good reason! The wines that hail from Rioja are as complex, critically acclaimed and age-worthy as those from Napa Valley and Bordeaux, and generally, much more wallet-friendly.
But the food culture of Rioja, unlike its wines, has, until recently, flown under the radar. That's changing. A recent visit to the Rioja wine region proved that the dining, like the wining, can be equally transcendent and fun, whether you're grabbing bites from a humble pinchos emporium on a side street in Logroño or sitting down for a formal experience at a gastronomic temple to haut cuisine.
Read on for a download on the basics for exploring the Rioja wine region, and the best wining and dining options in the region.
What is Rioja?
Rioja is a Denominacion de Origen Calificada (D.O.Ca) located in a landlocked region northeast Spain. There are more than 600 wineries to explore with four classification levels.
Generic
Wines aged for a minimum of one year, with fresh and fruity characteristics. Ready for consumption at release.
Crianza
Red wines aged for at least one year in oak and 24 months in the cellar before being released. Whites and rosé wines must be aged for six months in barrels, with a minimum of 18 months in the cellar. Ready for consumption at release, will improve with some time in cellar.
Reserva
Red wines aged in oak barrels and bottles for at least 36 months, 12 of which must be in oak barrel. Whites and rosés must be aged in oak and bottle for at least 24 months, six of which must be in barrel. Ready for consumption at release, will improve with up to 10 or more years in cellar.
Gran Reserva
Red wines aged in oak barrels and bottles for at least 60 months, 24 of which must be in oak barrel. Whites and rosés must be aged in oak and bottle for at least 48 months, six of which must be in barrel. Ready for consumption at release, will improve with up to 50 years in cellar.
TERROIR & WINES OF RIOJA
The climate of Rioja is mild, and is protected by the Cantabrian mountains. It is much drier and warmer than other Spanish regions. While the region isn't flanked by the ocean, the River Ebro runs through Rioja, providing cooling breezes in the summer, and a mellowing, warming influence in the winter.
There are more than 161,000 acres of grapes under vine, in three regions: Rioja Alta (with 67,675 acres), Rioja Oriental (with 60,763 acres) and Rioja Alavesa (with 33,084 acres).
Traditionally, Rioja wine is a blend of grapes. Most of the production is red, and the Tempranillo grape dominates, with Garnacha, Mazuelo and Graciano often joining the party. The wine is typically highly structured—the tradition of French Oak aging helps ensure that—with a fruity character.
Increasingly, single varietal Rioja wines are emerging, as are whites (especially Viura) and rosés (especially fruit-forward Garnacha expressions).
While many Rioja wines (especially the generic and Crianza) are meant to be consumed young, others (especially the Reserva and Gran Reserva) can age not just for years, but decades before losing their complexity, freshness and indelible oomph.
HISTORY OF RIOJA
Winemaking began in Rioja more than 2,000 years ago. It flourished and evolved for millennia, but faced an existential crisis during the devastation of phylloxera, which began in the early 1900s.
Following the phylloxera plague, the First World War ground winemaking to a halt. But in 1926, Spain's first Consejo Regulador was established in the region, setting the stage for the D.O. system that defines and delineate winemaking quality standards today.
Now that you have the lay of the land, let's go wine and dine! While you could spend weeks wandering Rioja, three days will give you a serious taste of what this iconic region has to offer.
STAYING & GETTING AROUND RIOJA
Where to Stay
You will need a place to stay: A hotel in Logroño or Haro would be the most convenient.
The 14th century convent turned hotel Eurostars Los Agustinos offers ancient charm and modern convenience—and is less than a mile away from the central wine tasting district of Haro. (Prices start around $60 a night).
The mod Eurostars Marqués de Vallejo in Logrono offers avant-garde décor, an art gallery and breakfast. (Prices start around $60 a night).
Because Rioja is large (about 1,930 square miles) it's best to rent a car or work with a tour operator.
Reputable Rioja Wine Tour Operators We Like…
THREE DAYS WINE TASTING IN RIOJA
Day 1: Relaxed Rioja
One of the best things for Americans traveling in Rioja is the option to dress and comport themselves as they would at home: in other words, flip flops and a "hey, what's up?"— or ¡Hola! ¿Qué pasa?—attitude will not be sneered at. (The wine, scenery and food though … mucho major).
For a relaxed, but packed day of wine and tasting, there are few better ways to go than a double crawl—first wineries, then tapas.
Start the day in Haro, where some of the oldest, most renowned and largest Rioja wineries are perched, all within walking distance of each other. While most of the dozen or so wineries in Haro take walk-ins, it's smart to book ahead in the age of Covid.
Haro is a charming city to stroll, with a population of around 12,000 that explodes over the summer when festivals—including the famed Batalla del Vino where thousands of liters of wine are thrown at a crowd, San Juan, San Felices and San Pedro—occur. But year-round, there are plenty of restaurants to visit, plazas to trek through, ancient homes to appreciate.
Three Rioja Wineries to Try Day One
CVNE was founded in 1879, and has earned the adulation of generations of wine drinkers and critics (its flagship wine Imperial was named Best Wine in the World in 2013 by Wine Spectator, the first Spanish wine to earn that honor), for its dual approach to luxury and affordability.
Tours ($15) include a walk of the grounds and cellar—which was designed by Gustave Eiffel—followed by a tasting. Or you can just pull up a chair at the bar and sample their wines for an incredible $1-$5 a pop.
The winery is home to rotating exhibits as well: starting in March of this year, CVNE is hosting an exhibit called Dreaming of the Matter, by Pablo Palazuelo (1915-2007), one of the most important 20th century artists in Spain. More than 30 paintings and sculptures show the range and depth of this icon's work.
Bodegas Muga is a family operation founded in 1932, and a perfect example of how past and present meld in Rioja. Within the 25,000 square meter facility, Muga blends tradition and cutting-edge technology.
Visits take an hour to 90 minutes, and must be booked in advance. They include a history of the winery, information on their wine-farming and production practices, and a tasting. For $15, it's a bargain. For a bit more ($45), you can tour the winery, visit the vineyards, and immerse yourself in a holistic wine experience, surrounded by vines, with a tasting.
If you're looking for a tasting paired with adventure, book the Segway tour ($100) of the vineyards, and picnic and sip in the vines.
La Rioja Alta was established by five winemaking families in 1890, and as one of the oldest wineries in town, it merits a visit on heritage status alone. But there's much more to explore there: it is one of a handful of wineries in the world with an on-site cooperage.
Rioja's love of oak is well-established, but La Rioja Alta takes it to a new level, with their insistence on creating their own barrels of hand-selected American and French oak on site. Visiting the aging room, with barrels as far as the eye can see, is a signature Rioja experience.
Take the two-hour tour, which comes with four wines and shares an overview of the winery and region's history – $45. Stay for an authentic Rioja lunch for $60.
Take a siesta, you've earned it. Dinner time in Rioja doesn't even begin to begin until 8 p.m., so you have time.
Head to Logroño for the best tapas in the region on Calle Laurel. There is no bad place to go for the tapas—or pinchos—on and around Calle Laurel, so come hungry. The pinchos on offer will be micro in size, but big in flavor, so plan on packing in 5-10, paired with glasses of the local wine.
A few favorite places for tapas…
Bar Soriano for their addictively salty, garlicky mushrooms, slick with butter and grilled to perfection
La Tavina for seasonal veggie bites, seared sardines on pinches of oil-soaked bread and fudgy brownie bites
Bar Lorenzo for the hot crusty bread loaded with pork chops sauced in a mysterious but addictive dressing that definitely involves more butter, garlic and spice than you think you can handle. (Trust me: you can handle it).
Tapas and the local wines that accompany them, typically run $3-$5 each.
Day 2: Inspired Rioja – Alavesa
Rioja is relaxed, but it can also be otherworldly. Steeped in tradition, the mountainous, dramatic landscape is peppered with modernist architectural masterpieces that look like the beginning of an alien invasion.
Once inside though, the welcome is warm Rioja, and the wine—for the most part—embodies the classical hallmarks that have defined this region for centuries.
Take Bodegas Ysios, designed by Santiago Calatrava, a whimsical and majestic winery—with an elongated pavilion and curved roof meant to mirror the shapes of barrels lined in a wine cellar—hovering under the foothills of the Sierra Cantabria.
At once strikingly modern, yet in harmony with the landscape and vineyards that surround it, the philosophy of the winery and the building that houses it are perfectly enmeshed. Tastings range from the classic vineyard walk, winery tour and tasting ($35) to a winecar tour for two through the vineyard and barrel room, and an epic wine and food-pairing experience ($350 for two).
Now, head across the street to Javier San Pedro Ortega, where the motto is "Think Less, Feel More." Like Ysios, it offers a different version of Rioja than you might expect, while still hewing to trademark flavors and grapes you love.
Ortega, a fifth-generation winemaker, went out on his own with this bodega to create wines and experiences that are as much about emotion as they are about flavor. The tour here is a deep dive into sensory experience. As you walk through the winery and grounds, you'll taste wines blind, with small bites from the Michelin-awarded chefs, Iñaki Murua and Carolina Sánchez. The wines range from fun, young and aromatic to classic old-vine Rioja.
Another siesta, earned and needed—remember, dinner at 8. (Or, better yet, 9 or 10).
The fine dining scene in Rioja has evolved considerably in recent years, with a concentration of critically acclaimed (20 Michelin-starred restaurants!) eating emporiums that honor the seasonally-minded locavore traditions that make the region popular with adventurous carnivores (roasted game, chorizo and offal, including lamb tripe and trotters are classics), pescatarians (ask for whatever is fresh) and vegetarians (everything farm-fresh, doused in local olive oil and roasted to perfection) alike.
Recently, chefs have been introducing global flavors. For a taste of the world, filtered through a Rioja lens, check out the Michelin-starred Ajonegro in Logroño. Chefs Mariana Sánchez (from Mexico) and Gonzalo Baquedano (from Logroño) fuse traditional Mexican and Riojan cuisine. Think oysters ceviche (with citrus dressing and passion fruit), seaweed with green mole and smoked Cameros cheese and bacon, cochinita pibil tacos with Iberian costilla, pickled onions and sour cream and Mexican corn cake with sheep's milk ice cream, toffee and corn milk pastry cream. Prices range from $5-$23).
Day 3: Refined Rioja
You've relaxed, you've explored the extreme edges of Rioja's wining and dining offerings. Now it's time to treat yourself. (And in Rioja, luxury is still a relative bargain).
First stop: Herederos del Marqués de Riscal. The estate features not just—and this would be enough—a Frank Gehry designed hotel that looks like a gorgeous, beribboned, metallic gift-box wrapped by Dr. Seuss, but also a historic city of wine complex to explore, a Michelin-starred restaurant and a wine cellar with vintages dating back to the winery's first bottling in 1862.
You can taste history here—Marqués de Riscal was the first winery to bottle its goods, and it pioneered the now signature practice of bottle-aging—paired with top-flight cuisine.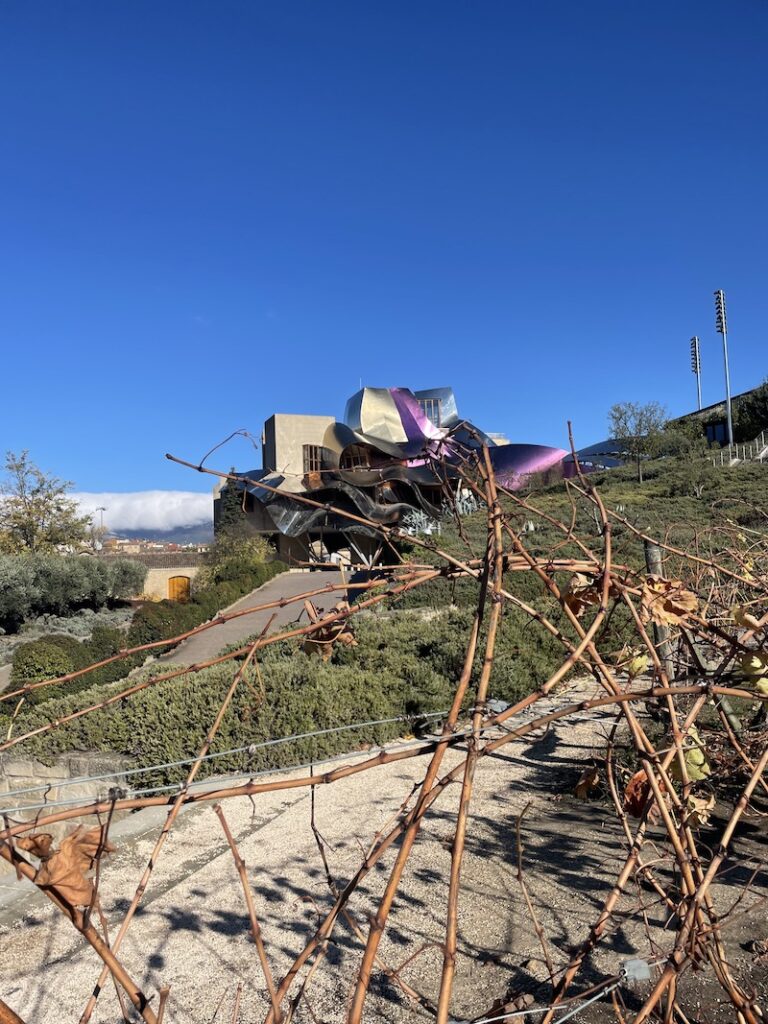 The restaurant is helmed by chef Francis Paniego, who is constantly pushing the limits of gastronomical excellence. A tasting menu ($150) features a cascade of rotating seasonal dishes. A typical menu will feature traditional dishes like Mamia with egg yolk and trout caviar, croquettes, white asparagus with caviar and mushroom mayonnaise, cod tripe over vanilla cream and an air of chilies, white wine duck with mushrooms and dried fruit praline, candied sole. To finish: Mantecado ice cream wrapped in pork rinds, with petit fours.
Retire, if you can, to the on-site spa.
Siesta.
Dinner!
One of the most exciting places to have a meal in Rioja is the (once again, Michelin-starred) Nublo. The restaurant is housed in a medieval corner of Haro in a 16th century former estate. Step inside, and you will find an elegant, modern reception room, that gives way to a gorgeous, but cavern-like restaurant space, with exposed stones and an open kitchen.
The menu is always a tasting menu, made from the best and freshest ingredients available, and prepared, exclusively, over fire. Chefs Miguel Caño, Llorenç Sagarra, Caio Barcellos and Dani Lasa aim to showcase pure flavor that nods to Rioja's traditional food culture, and the landscapes from which the native ingredients are plucked.
A recent menu included 16 courses, featuring classic and modern Rioja: beef and tuna belly tartare, pork rind with cod tripe, pigtail with herbs, a bread and butter ceremony, a mushroom stew with pine nuts, sirloin dry-aged in blue cheese, hazelnut doughnuts, petit fours.
At a certain point in a meal like this, you're left feeling as if you can't eat another bite. But then another magisterial plate comes out demanding your attention, and a mysterious section of your stomach that you never knew existed, opens. You'll leave sated, but hungry for more Rioja.
Thankfully, Rioja is always on tap, right at home. Rioja is an affordable and aspirational luxury that tastes as good today as it did yesterday, and it will when your children—and perhaps theirs—are old enough to drink that bottle you just purchased.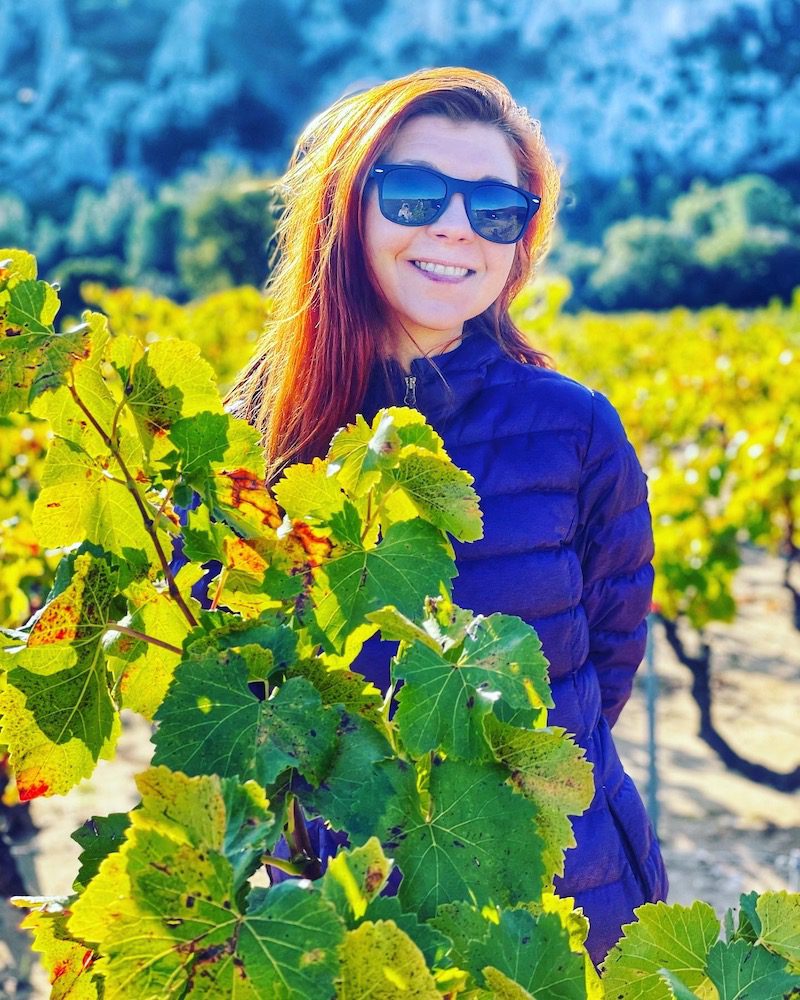 Kathleen Willcox
Kathleen Willcox writes about wine, travel and culture from her home in Saratoga Springs, N.Y. She is keenly interested in sustainability issues, and the business of making ethical drinks and food. Her work appears regularly in Wine Searcher, Wine Enthusiast, Wine Industry Advisor and many other publications.
Sip in more of Spain…