Why you should be drinking this terroir-driven bubble, and visiting the place it's produced.
Rhetorical Question: If you could get an Alfa Romeo Lungo Spider for the price of a Toyota Camry, would you? That's the question that Cava wine shoppers should be asking themselves—the Alfa Romeo, in this analogy, is Champagne—and the answer should be as automatic and enthusiastically positive. (And if you want to taste in-situ, the region where Cava is made rolls out the red carpet for visitors, who will also enjoy a Champagne experience on a beer budget.)
What is Cava?
Cava is a Spanish sparkling wine made in the traditional Champagne method, but is sold at a mere fraction of the price. The evolution of Cava is as complex as the wine itself, and well worth a deep dive, through your palate and through the stunning countryside in which it is made.
Where is Cava Made?
Unlike most European D.O.S, Cava is not restricted to a single region. However, the vast majority of Cava is made in a northeastern region of Spain called Catalonia. Most of the production in Catalonia happens in and around Sant Sadurni d'Anoia, a municipality in the Penedès wine region. Barcelona is 45 minutes by car, or an hour by bus or train.
BEST TIMES TO VISIT
This is Spain, so it is beautiful year-round. But if you want the full sunny experience, head out between April and September. For lower prices and fewer crowds—but plenty of sun, go in March or October. November-February, the lows will be around 40 and the highs will be in the mid-60s.
TERROIR
Because 95 percent of Cava wine is made in Comtats de Barcelona, this is the region we will focus on. The climate here is Mediterranean, with a long and sunny summer season offering optimum ripening potential for grapes. The terrain is diverse and characterized by a range of exposures, orientations, altitudes, wind patterns, levels of humidity and coastal influences. This naturally creates the opportunity for terroir-driven, versatile wines.
To help Cava obsessives further anticipate the flavors they'll find in the glass, the Comtats de Barcelona has divided the region into five sub-zones: Valls d'Anoia Foix, Serra de Mar, Conca del Gaià, Serra de Prades and Pla de Ponent.
HISTORY OF CAVA WINE
Josep Raventos, the head of his family's winery Codorníu in Penedès, launched an entirely new category of wine in 1872 when he made the first bottle of Cava a la Champagne, but with traditional grapes from the region—Macabeo, Xarel-lo and Parellada—in lieu of Champagne's Pinot Noir, Chardonnay and Pinot Meunier.
Cava took off quickly, and Pedro Ferrer, the founder of the wildly successful Freixenet was among the first to capitalize on the trend. Production of Cava spread, and was largely not regulated, systematized or controlled, with the first official appearance of the name Cava appearing in an official piece of Spanish legislation happening in 1959.
In 1972, the Regulatory Council of Sparkling Wines in Spain was established, and the denomination "Cava" became written into law. Still, the production wasn't limited to one region, and it wasn't until 1986 that the regions were prescribed: the Comtats de Barcelona where 95% of Cava is made, Ebro Valley in the northernmost part of the D.O., Vinedos de Almendralejo in the southwest most part of the D.O. and the Levante Zone, in the interior of the Valencia province.
Last year, more than 252 million bottles of Cava were sold, with markets outside of Spain guzzling about two-thirds of the delicious bubbles. There are 6,284 producers making Cava sourced from around 94,300 acres of vineyards. While Cava is still primarily considered a simple, fun porch pounder—and it still can be—there is a serious move toward premiumization.
PLANNING YOUR CAVA WINE ADVENTURES
WHERE TO SIP: CAVA WINERIES
Visiting wineries to sip Cava has never been better. Producers have realized how essential tourism is to their bottom line, and many offer incredible, immersive tasting experiences that spill deliciously beyond the glass. The following are just a few of the experiences on Cava's menu. Reserve ahead to avoid disappointment.
A biodynamic and organic producer, and a modern union of four families of winegrowers with roots that date back from 1448. The first biodynamic Cava maker in the world, a visit will include a tasting, plus a wealth of background information on Cava production generally and their particular blend of international and native grape varieties, with a walk through the vineyards, surrounding forest and cellars. For something different, try their yoga in the vineyards activation, or their brunch or cheese pairing.
If Vins El Cep represents Cava's historical roots, Bertha represents its modern face. Founded in 1989, the light-filled tasting room and outdoor lounge area faces the majestic Montserrat mountain range. Visits begin in the vineyard with a glass in hand, while you are guided through the influence of the terroir. You'll also stroll the cellar and learn how Cava is made and aged, then end your tasting with more Brut Natura Reserva Cava. You can also schedule tastings in the wine bar that pair Cava with local delicacies, yoga in the vines on the weekends and culinary classes and demos.
If you've ever dreamed of buying an ancient wine estate and living the la vida wino, visit Oriol Russell. The farmhouse dates back to 1638, and the extensive farm buildings and loungey wine bars look like an Anthropologie catalog, except this time the antiques are real. There are also peacocks and a plethora of fabulous rooms to explore, brimming with old Cava-making equipment, vintage photos and priceless furniture and artwork. They offer several food-pairing experiences, or you can just chill at the outdoor wine bar.
The Rovellats estate dates back 500 years, with the "Masia" estate house and group of buildings dating back to 1303. You can explore all of the buildings on tours, and in the process, take in incredible ancient art, a collection of vintage Cava print ads and a small museum of Cava and winemaking-equipment. Here, you can truly get a sense of what medieval life was like. Tourism activations include tastings and tours, Cava and food pairings and e-biking adventures through the vines.
A visit to the fourth-generation Cava producer Pere Ventura should include a trip to see their 95-year-old vineyards, and an exploration of their 1.86-mile warren of ancient cellars, delving 66 feet underground. As you walk down, you feel the change in humidity, lower temperatures and hear mysterious rivers of water flowing, just behind the walls. Pere Ventura is one of the six cellars in the world producing a Cava of Paraje Calificado origin.
WHERE TO STAY
You could stay in Barcelona and explore some of the incredible sites (La Sagrada Familia, Park Guell, Casa Mila) and fabulous bars (Paradiso, Dr. Stravinsky, La Burnessa). Stay in luxury (El Palauet Barcelona or the W), or snag a bargain (easyHotel or Hotel Soho), and train out.
If you're looking for a beautiful and authentic experience in wine country though, check out Mastinell Cava & Hotel. The five-star boutique hotel features a rippled roof that mirrors the curves of resting Cava bottles, a pool and outdoor lounging spaces with views of the vineyard. The En Rima restaurant offers elevated Catalan and Mediterranean cuisine. And there is, of course, the winery too, with both Cava and still wines.
CLASSIFICATION SYSTEM FOR CAVA
QUALITY GRADUATIONS
A new classification system designed to help wine lovers understand the range and diversity of Cava was introduced in 2021, with a new requirement that all producers—except those making the most entry-level Cava Laguarda—be made from organic grapes by 2025. Additionally, each bottle of Cava will include information on the year it was harvested.
In other words, Cava will be the only region in the world that I'm aware of producing organic, vintage-dated, method champenoise wine—for $20 a bottle.
The new quality gradations for Cava mean that wine lovers will know how, where and when grapes are grown and aged.
Cava De Guarda: Considered the entry-level Cava, this wine is made in the traditional method, and aged in the bottle for a minimum of nine months. The typical Cava here is light, fruity and citric with crispy speedy bubbles. You'll find green apples and pears; perfect for pairing with brunch, salad and seafood.
Cava Reserva: The next level up, Cava Reserva is made in the traditional method, and aged in the bottle for a minimum of 18 months. This extra time adds depth, aroma and complexity. Bubbles are abundant, with pleasant freshness, and notes of peach, apricots, toasted almonds; this is perfect for Taco Tuesday, roasted chicken and as a counterbalance to spice.
Cava Gran Reserva: Cava Gran Reservas is made in the traditional method, and aged in the bottle for a minimum of 30 months. This time adds layers of complexity, making it an extraordinarily elegant and gastronomic wine, worthy of celebrations and special occasions. You will find intensity here, with notes of baked apple, dried apricot, hazelnuts, brioche.
Cava de Paraje Calificado: The name means "qualified location," and this extremely rare Cava is unique to the place it is grown and bottled. It is made in the traditional method, and aged in the bottle for a minimum of 36 months. In addition, it must be made from vines at least 10 years old, the grapes must be harvested by hand, the maximum yield must be 8,000 kilos per hectare and the wine must be produced and bottled on-site. Only six wineries qualify for this distinction in Cava. (In other words, only 0.09% of producers qualify for this gradation).
GRAPES USED FOR PRODUCING CAVA
approved GRAPES for Cava production are a blend of international and traditional varieties
Macabeo is the most widely planted grape variety in Cava, with 59,194 acres under vine, with Xarel-o next in line with 24,278 acres and Parallada with 18,249 acres.
White Grapes for Cava
Macabeo: Likely originating in Catalonia, it was first mentioned in 1617 by Fray Miquel Agusti. It offers fresh, fruity, elegant flavors and has long aging potential. A classic Cava grape often paired with Xarel-lo and Parallada.
Parallada: Likely originating in Aragon, it is considered a classic Cava grape. It is early budding, late ripening and offers moderate acidity and aging potential. Highly aromatic, lending structure, fruitiness and elegance.
Xarel-lo: Likely originating in Catalonia, it was first mentioned in 1785. It is rich in sugars, adds body, structure and freshness, and has aging potential.
Chardonnay: An international variety authorized for Cava in 1986. It produces wines with body, delicate but distinct aromas and great persistence.
Subirat Parent: An old grape originating in Extremadura in southwestern Spain, first mentioned in 1448. Fruity and aromatic, highly productive with moderate acidity, but susceptible to fungi and disease.
Red Grapes for Cava
Red Garnacha: Undetermined origin, but thought to be possibly from Aragon, this early budding, late ripening grape offers notes of jam and red fruit.
Trepat: Originating in Conca de Barbera, it offers notes of strawberries and raspberries, and provides balanced acidity and moderate alcohol.
Monastrell: First mentioned in Catalonia in 1381, it likely originated in Valencia. Late budding and early ripening, it provides moderate acidity, but is a difficult grape to grow.
Pinot Noir: An international variety first mentioned in 1283 under the name Moreillan, this grape was authorized in 1998 for rosé Cava, and 2007 for white Cava. This fruit-forward, aromatic, low-tannin grape provides persistence and fine aromas.
---
---
Sip in More of Spain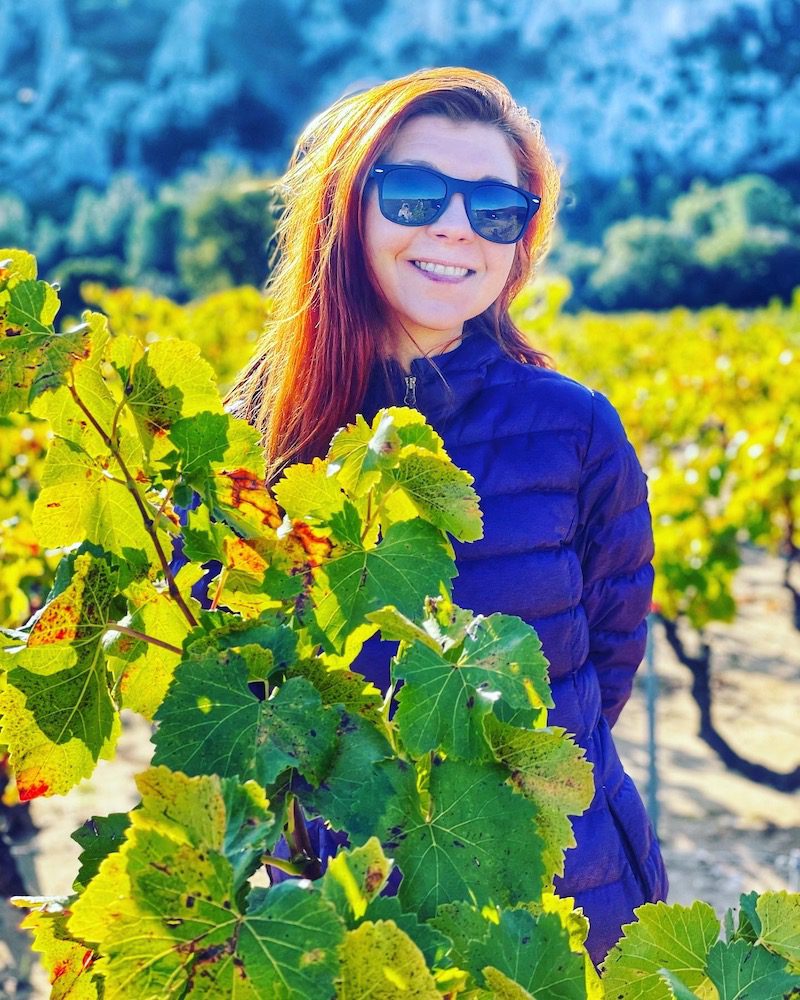 Kathleen Willcox
Kathleen Willcox writes about wine, travel and culture from her home in Saratoga Springs, N.Y. She is keenly interested in sustainability issues, and the business of making ethical drinks and food. Her work appears regularly in Wine Searcher, Wine Enthusiast, Wine Industry Advisor and many other publications.