Spain's Rioja wine region is world-renowned for its winemaking. It's also huge – 600+wineries – there is no way you can visit them all unless you're spending a lot of time traveling through the region. That said, one way to get a taste of Rioja is to visit the historic Haro Railway Station District, also know as Haro's Barrio de la Estación.
Home to seven bodegas – Spanish wineries – the historic town of Haro sits in the heart of Roja and was once the epi-center of the Spanish wine world…it has played a key role in exporting Rioja wines ever since. Back in the 1860's when the railway came through the tiny town Haro became the Mecca for Spanish wines. Being one of the first cities in Spain with a direct railway to France meant the wine trade – and its wealth – was pumped into this once sleepy town.
During that time period, vineyards in France had been decimated by phylloxera. French winemakers were moving south into Spain, which had not yet been effected by the hungry, little, vine eating pests. They were establishing vineyards near railways so they could quickly and easily ship wines back to France in bulk. The days of transporting barrels of wine by horse and buggy where over. With the French winemakers coming in, the area was introduced to traditional French winemaking methods as well, including French oak-aging techniques. The cooperage industry (barrel makers) also started to setup shop in Haro.
Five Spanish wineries seized the opportunity to open operations in Haro – vineyards and all. All five are still in operation and have expanded their vineyards into other parts of Rioja. In the last 90-ish years, only two more bodegas have joined the Haro Railway Station District. All seven have their own unique stories and wine making traditions, yet they've come together in a collective effort to represent wines of Rioja to make the Haro Railway Station District the perfect home base – or day trip – to sip in the region.
Wineries in the Haro Railway Station District
While not technically in the Haro Station Wine District, there are a few other bodegas in Haro to check out if time allows: Pablo Garcia Alvarez, Bodegas TIHOM, MASET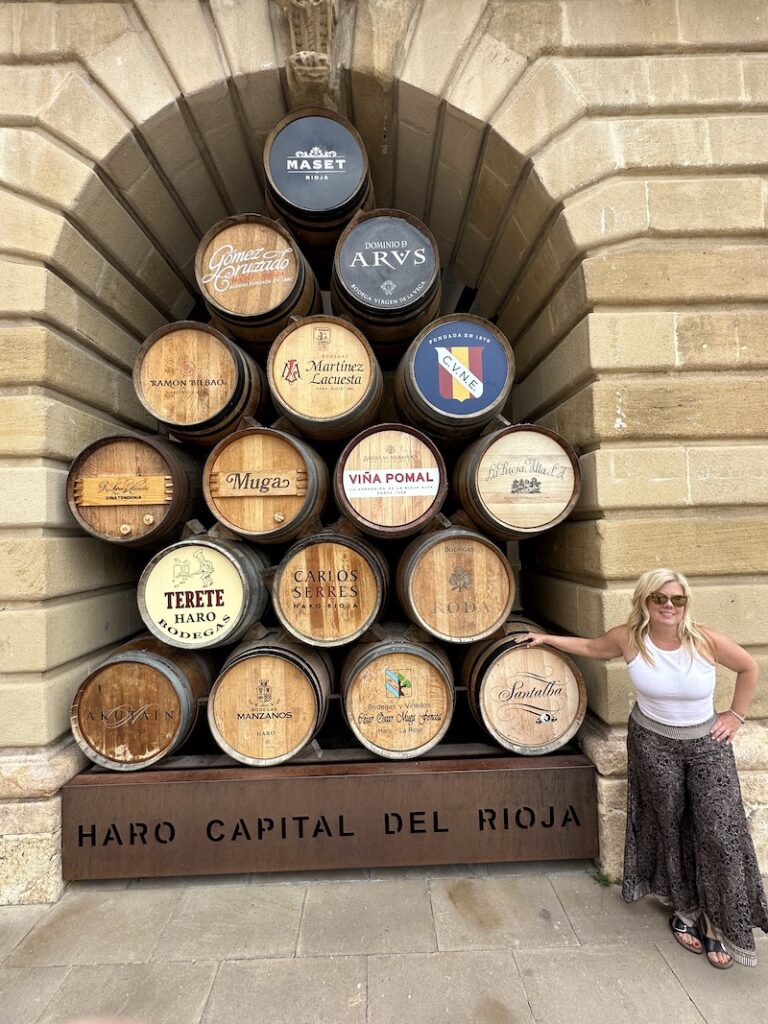 Visiting the Haro Railway Station District
Each of the seven wineries in the Haro Station Wine District are set alongside the same road, making it easy to park outside of La Rioja Alta and walk up and down the street. Reservations are encouraged but not totally necessary. I say this last part lightly. If you make a reservation, you will have a dedicated English speaking server who can direct you through the wines, the history of the winery and its story. However, you can also just walk into the tasting bar at most of the wineries Do not expect to have an English speaking server or get any background on the winery. It's just about the wine. If you go this route, I suggest you click through to each of their websites to read their histories. They are colorful…and make sipping that much more interesting.
In my case, I had made a reservation at La Rioja Alta at 10:15 am on a Tuesday. We were driving from San Sebastián to Marqués de Riscal in the town of Elciego (in Rioja) – Haro was on the way so it seemed like an efficient use of time. However, my family overruled the morning adventure for sleep…sooooo the reservation was canceled but the stopping in the the Haro Railway Station District was not.
We arrived around lunch time, noshed on delicious traditional Riojan food at a local restaurant, Beethoven I then headed to the Haro Railway Station District. This was when I found having a reservation wasn't necessary and we could just walk in for a tasting. We did luck out and have English speaking hosts at the three wineries we visited – La Rijoa Alta, CVNE and Muga – so we were able to learn a lot more about the wines and each of the bodegas.
If I were to do it again, I'd spend a night or two in Haro. Have lunch with the kids, then ditch them at the hotel to go sample the local bodegas. If we were staying at Hotel Ciudad de Haro or Palacio Condes De Cirac the kids could have chilled out at the pool with one of their books about Spain.
Restaurants in Haro
Head to La Herradura, the area in town know for wine tasting and tapas which are made up of these streets: Calle de Santo Tomas, Calle Mayor, Plaza de la Iglesia, Calle San Martín and Calle Bilibio.
Los Agustinos
Los Berone
Beethoven I is one of three restaurants (Beethoven I, II, and III). They focus on serving traditional Riojan food, and Beethoven II is excellent for burgers.
Arrope
The Perfect Itinerary for Sipping the Haro Station Wine District
When I redo my visit to the Haro Station Wine District…
Start the morning off – before sunrise – with a hot air ballon ride with Muga, where you will fly for about an hour over the vineyards then end with a tasting of wines back at Bodegas Muga. (You can arrange to have lunch at Muga but I would move on to sample more wines…)
Walk down to CVNE for a tour of its cellars dating back to the 19th century, a tasting of its reservas and grandes reservas, brands like Imperial, Real de Asua, Monopole and Cune. Then end with a meal designed by Miguel Caño, chef of Los Caños restaurant.
OR
Walk up to La Rioja Alta for a reserved tasting and arrange for lunch in the private dining room. This does require advanced reservations. If you head to CVNE first, skip the reserved tasting and lunch at La Rioja Alta and opt to walk in for a wine tasting between your other tastings.
If you can score a tour at Bodegas López de Heredia, do it! It was the first winery in Haro and is one of the few bodegas in the world with its own traditionally crafted cooperage with three master coopers. I was unable to st up a tour on their website, you can email them directly to see if anything is available.
If you're still up for more wine tasting, head to to Gómez Cruzado for a tasting only, unless you want to book a private tasting and tour. If you're in Haro for an extra day, I would suggest you hold this one for round two, along with Bodegas Bilbaínas (advanced reservations required) and Roda to round out your wine tasting in Haro.
Just to note, English speaking versions are typically only held in the mornings around 10:15 am, this holds true for most of the wineries in Haro. You can book a tour guide to take you through the Haro Station Wine District who speaks English, if you want to have a more flexible schedule.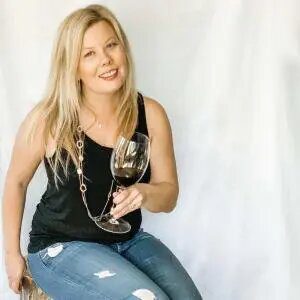 Elaine Schoch (pronounced the German way – Shock) is the editor and founder of Carpe Travel as well as an award-winning travel writer, wine judge, certified by the Wine & Spirit Education Trust (WSET) Level 2 and certified American Wine Expert. She is married to The Husband and has two kids, Princess One and Two – who's interest and knowledge in wine is quite extensive. Not to mention the stamps in their passports.